Puerto Deportivo Marina Ibiza is one of those Ibiza yacht marinas that truly deserves to be on this list.
Marina Ibiza is very popular among sailing aficionados who love water sports as there are plenty opportunities to practice them here by renting equipment. This is one of the most fashionable water sports marinas on the island and it is surrounded by an absolutely marvelous landscape.
The modern amenities provided by this port will enable you to enjoy a stress-free vacation, whether you choose to spend your days here or in a nearby hotel.
This luxury marina has all the basic services any vessel requires and some extra facilities such as restaurant and bar, dressing room, security, master harbor, seamanship, travelift, market, service station.
If you don't want to leave the port to have fun every night, you will be glad to hear that there are a couple of great clubs right here, such as Calma Bistro, Lio Restaurant Club Cabaret and Capuccino Grand Café.
If partying all night long is not quite your thing, you can always embark on a cultural trip around Ibiza and discover the local Museums, UNESCO sites and ancient vestiges.
Let's start our Ibiza marinas and ports top by mooring at Marina Botafoch, which is located in the city of Ibiza.
 Puerto Deportivo Marina Botafoch has a reputation for being kind of exclusive. It is one of the preferred destinations for the jet-set and this only increases its fame.
Many internationally well-known stars have been spotted near this marina, but this doesn't harm the cozy and welcoming charm of the place in any way. Whether you are a regular tourist or a VIP, you will benefit from the same discretion and top-quality treatment if you book a berth at Marina Botafoch
Marina Botafoch provides all the necessary amenities for a fuss-free vacation and a vast commercial area where you can shop for designer clothes or souvenirs, eat in a Michelin-awarded restaurant or simply relax in the evening in a bar listening to live music.
Ibiza's best ports top must include Marina Port Ibiza (known as Ibiza Magna), an exclusive port where the rich and famous often choose to book a berth in Ibiza, one of the most beautiful islands in the Mediterranean.
Marina Port Ibiza is located in the old town of Ibiza, at the feet of Dalt Vila. Due to VIP treatment and top-notch facilities, Marina Ibiza Magna is the kind of place where you are bound to return and always feel welcomed.
Several elegant bars and restaurants are available directly inside the marina, as well as bank services, 24h surveillance, sailing assistance and numerous other perks.
Finding accommodation nearby won't be an issue as there are plenty available options that are ranging in price and service from luxury to more affordable choices.
If you want to become fitter during this holiday or simply relax, that staff here can help you book a place in an aqua fitness, aerobics or swimming class. Beautiful sandy beaches are within easy reach as you moor here and the splendid turquoise water that bathes them will appeal to all your sense
Club Nautic Sant Antoni de Portmany is considered one of the best marinas in Ibiza where you can find a safe haven for your boat and enjoy the unique buzz of the town, especially at night and the amazing views during the day.
Club Nautic Sant Antoni de Portmany is carefully sheltered by a bay, being located inside its superb surrounding.
Hosted by the homonymous city, this port is a wonderful retreat. This marina is the perfect recipe if you want to combine a relaxing day with exciting nightlife. Near the marina, you will find charming beaches such as Cala Bassa Beach and Playa Cala Salada where you can relax undisturbed.
After sunset, there are countless bars and clubs that will welcome you with their tempting offers consisting of exquisite drinks, tasty refreshments and lively music.
As you stroll down the streets of Sant Antoni, you will be able to leave all your worries behind as you contemplate the deep cobalt sea and admire traditional architecture
Finally, let's end our list of the best yacht clubs in Ibiza with a premier port – Club Nautico Ibiza, a lively place where you will feel the vibrant atmosphere of this island.
With a long list of facilities and a professional staff, Club Nautico Ibiza has managed to gain a well-deserved reputation over the years. Famous for its nautical club, this port is a true reference point for sailors who want to compete in different regattas or people who want to take up this sport.
The club is also a popular gathering place for the local community and for those who provide nautical services. With a long tradition that dates back to 1925, the marina's club has developed into one of the most famous organizations of this kind in the Mediterranean, having trained multiple award-winning skippers.
More than 900 people have joined this club as members, so the site of the marina is always a busy place where guests are welcomed to socialize, learn more about sailing, attend different events or simply enjoy a drink and a tasty dish at the harbor's fancy restaurant.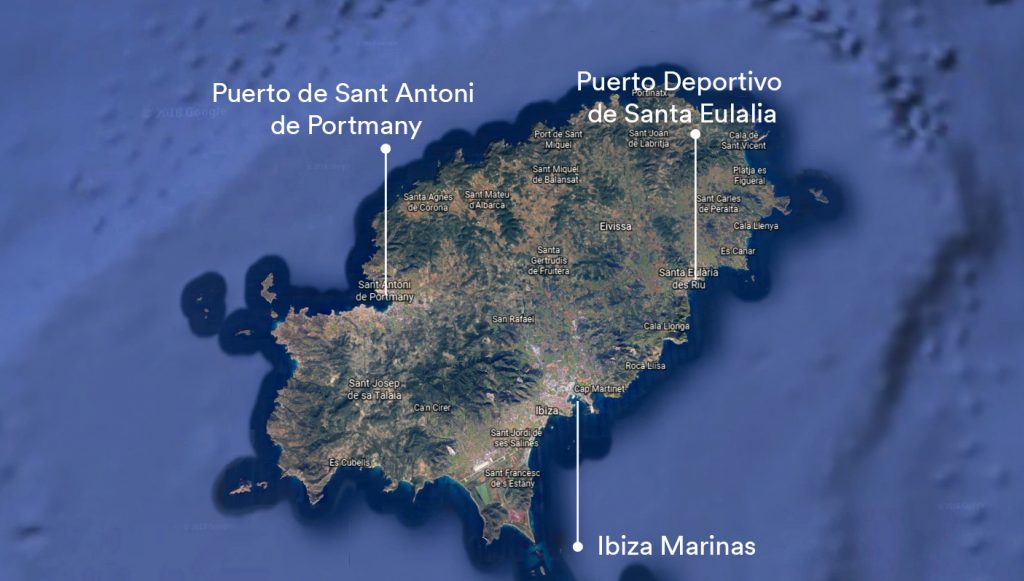 Ibiza is best defined by exciting nightlife; with numerous top clubs where internationally-acclaimed DJ's come to perform, this island is a place where you don't want to fall asleep. But if you do so, a paradisiac setting will guard you in your sleep.
Before we depart, we would like to highlight that all these ports deserve a visit during your Ibiza sailing holiday and we can help you secure a berth in any
Best Marinas in Ibiza are waiting for you with top-notch facilities and a splendid landscape.