The Best Mediterranean Anchorages
The best Mediterranean anchorages lie in stunning locations. Whether your destination of choice is France, Spain or Italy, there are plenty of anchorages waiting for you. Because the number of anchorages in the Mediterranean is so large, we are going to present you just a few of our top preferences. Read on and see where you can sail in your next vacation.
A good anchorage offers protection from wind and waves and a quality bottom. Check out the best boat anchors.
Cala Teulera's anchorage lies right next to the port of Mahon. The best thing about this anchorage is precisely its proximity to Mahon. If you make a stop in Cala Teulera you can replenish your boat with whatever you need. Also, this anchorage is perfectly shelter and good for swimmers or those who enjoy fishing. If the sea has a rough day, Cala Teulera is a great place to take a break until the waters calm down. You can also take a look at the best marinas in Menorca.
Fetovaia offers a terrific location, with beautiful views and a clear see.  The anchorage in Baia di Fetovaia is safe and there are plenty things you can do in the area. You can easily drop anchor hear without hitting rocks. Most people come here to spend the whole day on the beach or admire the landscape. There are places where you can eat and have a drink. The bay gets pretty crowded in the high season, but towards the evening, you can enjoy the quietness of the sea as there are no major party-locations in the nearby.
Capo San Marco – Tharros is one of the most remarkable archeological treasures in the Mediterranean. It is famous for its ruins, but also for its gorgeous views. If you like taking long walks and admiring nature and history, Tharos is THE place for you. Also, there are terrific white beaches next to the anchorage in Tharros and places where you can dine or have a coffee. The only disadvantage of anchoring here is that you are somehow unprotected against bad weather. So, it is better if you sail in this area on a tranquil day with mild wind.
Do you want a relaxing holiday? Check the top 10 best marinas in Sardinia.
Asprogiali, Kalamos Island
Greece has some of the best anchorages in the Mediterranean and here is one of them. Kalamos Island offers the typical Greek landscape where the azure sea blends perfectly with the surrounding vegetation. Asprogiali is a stunning beach located in the north-eastern part of the island. It is easy to sail hear and even easier to drop anchor as you are surrounded by calm waters and sand. The beach does tend to get quite busy in the peak season. However, if you don't find anchorage here, you can head towards the north-western part of the island which is usually less busy.
Cala di Paragnanu is located near the Bonifacio harbor which is one of the most famous harbors on the island. Due to its great facilities and landscape, Bonifacio is by no means cheap. Therefore, Cala di Paragnanu is a perfect second choice. Moreover, this Mediterranean anchorage provides a safe holding. The water in the area is clear, the beach is sandy, and it takes only around 30 minutes to get to Bonifacio on foot.
Saint Tropez needs no further introduction. This is where crème de la crème gathers in the summer, it's the top place for spotting celebrities, attending fancy events or shopping for unique clothes. But if you are only here to enjoy the sea and the sun, Porquerolles island is more than you need. You can anchor here and enjoy the beauty and tranquility of the surroundings and only turn back in the busy streets of Saint Tropez once you are fully rested. Porquerolles is all about connecting to nature and recharging your batteries, and anchoring in this place is fuss-free. 
Read more about the Best Marinas and Ports of Saint Tropez.
If you're sailing in the northern part of Corsica, Calvi is one of the destinations you shouldn't miss. This charming little town is the perfect place to relax, take a walk on cobbled streets, drink a strong coffee and a have swim in the crystal sea. The anchorage of Calvi is situated opposite the town, in a beautiful area, on a wide white beach.
Anchorage in the bay is discouraged during the season as the municipality installs several dozen mooring buoys in the bay. That's why we highly recommend booking a berth in Port Calvi. Take a look at the 10 best marinas in Corsica.
Andalucia is famous for its tasty cuisine and flamenco dance, however, many are those who decide to come here for a sailing experience too. If you are among them, you will find that some of the best anchorages in the Mediterranean are located here. One of our favorite places to anchor in Andalucia is Cabo de Gata.
Here, you can visit one of the most remarkable natural parks in Spain or enjoy the wide pristine beaches. Cabo de Gata is ideal for tranquility seekers. You can find different anchorages in the area and the waters are shallow.
If you love nature, Ficajola might be one of the best Mediterranean anchorages for you. This place is not large, but it has a splendid beach right next to it. And it is also guarded by a hill which tourists usually climb eagerly. Once you reach the top, you can get yourself a treat, for example, a delicious ice cream, a snack, or something to drink. The water surrounding Ficajola is crystal clear and the bay offers a lovely sight.
If your next holiday destination is Lefkada, you must take the chance to visit Egremni Beach. Let's be clear, the entire island is a paradise, but this part is the cherry on top of the cake. The crystalline water and pristine landscape you'll find here are amazing, everywhere you turn, you can take a perfect photo. Egremni can only be accessed by boat and the anchorage here is safe, with sand holding. One warning before you plan a trip here: choose a day when the winds are not strong. Otherwise, you might not be able to drop anchor in Egremi. Another good tip is to set sailing early in the morning and arrive here before noon so that you can avoid the breeze of the afternoon which makes sailing more difficult.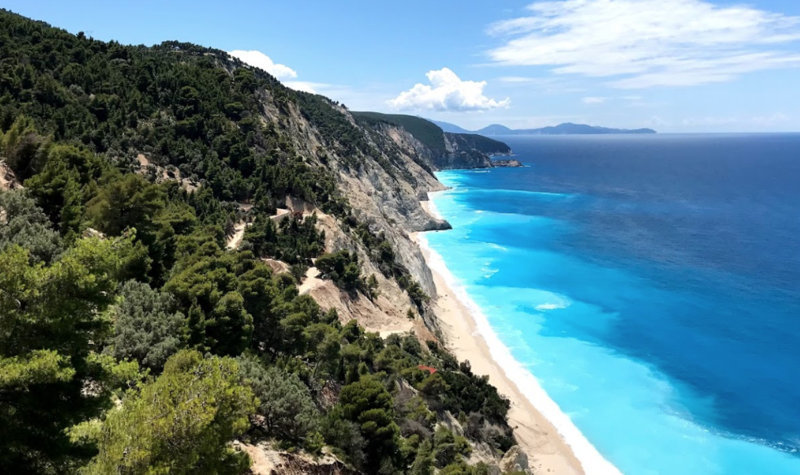 The best Mediterranean anchorages are scattered all across Southern Europe. It would be great if you could take the time to explore all of our recommendations and see for yourself how marvelous these locations really are. Whether you want to drop anchor in a secluded area and just enjoy nature or in a popular port that can satisfy all your needs, we are here to help you. Don't hesitate to reach out to us for any queries.