If you ever want to explore Croatia, the Dalmatian Islands are a must visit. Ms. Zrinka Vojak Bunjevac, the  Head of Marketing & Sales at Marina Hramina, had the courtesy to give us an inspiring interview about the spectacular surroundings of Kornati Islands, an ideal location that offers both lively tourism and relaxing leisure in a unique destination.
1. I kindly ask you to tell us about your location, about the natural and historical attractions that the visitors can discover when visiting your marina and its surroundings. We are also very interested in knowing more about the specific traditions that are familiar to this area.
Marina Hramina is located in Murter, a place on the North Dalmatian Island with the same name, at the very entrance of the National Park Kornati. The marina itself is located in the naturally well-protected bay Hramina, close to the village centre. Due to its geographical location and proximity to national parks Krka and Kornati, Marina Hramina is considered an ideal stationary and departure port.
The island of Murter is in the centre of the Adriatic coast, between Zadar and Sibenik and is the largest inhabited island of the beautiful Sibenik archipelago. A real treasure is Kornati National Park. The Kornati archipelago is a unique group of islands in the Mediterranean Sea, stretching over 300 square kilometres with 140 islands, islets and reefs and it is a true haven for boaters, divers and all visitors who are looking for adventure, leisure, tranquillity and magnificent nature.
The town of Murter offers: health centre and pharmacies, private accommodation – apartments and rooms, post office, bank, open air cinema, petrol station for service vessels and cars, car repair shops, scuba diving centre, tennis court and extraordinary  beaches.
Because of its position and unique natural environment, Murter Island is an irresistible stop for yachtsmen who can benefit from our 350 berths and 170 places on the marina's premises, service workshops and all the necessary facilities. If we also add the numerous restaurants and inns, the possibility for sport and recreation both on land and on water as well as the various cultural and entertaining events, we shall find enough reasons to visit Murter.
In the summer season we use to organize various sports and entertaining competitions. The Traditional festivities that take place in Murter are: St. Roko (16th August) and Murter festivity of Mala gospa (Nativity of the Virgin Mary – 8th September). When speaking of cultural events, the Festival of drama amateurs is of significant importance and takes place in May. Although very much a rural village, over its history, Murter has cultivated, nurtured and preserved the highest standards of culture, especially communal and spiritual expression. Authentic stone-vaulted streets, simple dwellings, stone walls covered with ivy, combined with modest but innovative ingenuity have all served to preserve the story of Murter from vanishing into the history books.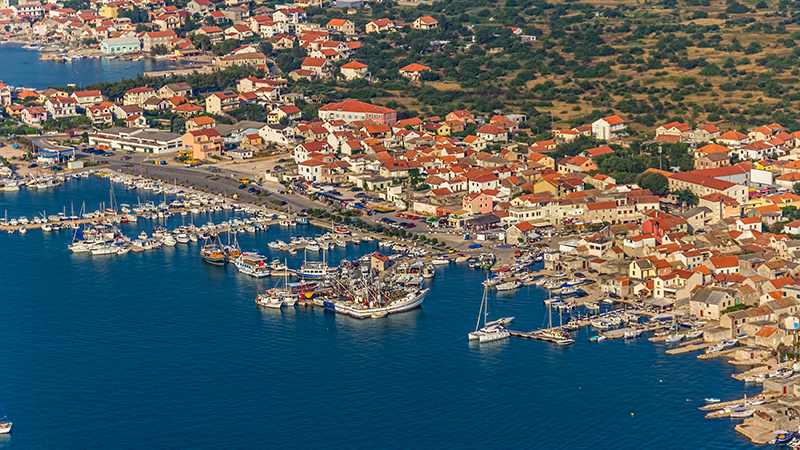 2. Could you please tell us more about the development of your marina throughout the years, the services and facilities that you can offer to your visitors?
Marina Hramina is one of the oldest ports in Croatia with over 30 years of tradition. The basic activity of the company is nautical tourism.
The Marina has 370 berths in the sea and 120 onshore. Each berth has water and electricity as well as internet connection. Piers are under 24-hour protection.
We are the proud owners of the charter fleet of 64 sailboats, Bavaria yachts and Lagoon catamarans. Marina Hramina can provide reliable service and maintenance for your vessel. Within the marina, the clients can find: workshop for wood and plastic repairing, painting and polishing; battery maintenance station for the winter period; workshop for engine repairs. We have authorized service for: Mercury, Mercruiser, Volvo penta, Yanmar, Yamaha, Cumminis, MTU, Garmin, Raymarine.
Marina Hramina has a crane with 15 tons load capacity and 70 tons load capacity travel lift for raising and lowering boats. The large pool of the travel lift can elevate and lower boats larger than 25 meters. The marina has transport pullies with 30 ton load capacity. High pressure washers are available for washing hulls.
We can offer room accommodation in our hotel Stomorin. Our hotel offers 10 rooms and 36 beds and each room has a charming view of the marina and the sea.
Murter is a famous fishing island and our guests have the opportunity to practice fishing. In a beautiful surrounding, on a terrace above the sea, our restaurant Butina offers traditional dishes of the Dalmatian cuisine, as well as continental specialties. The restaurant, with its covered terraces and open section, has a capacity of 400 seats and is suitable for organizing regattas, dinners, weddings and other types of events.
In the vicinity of the marina there are our nautical shops, supermarket, souvenir shop, laundry facilities, rent a scooter services and private beaches.
Our expert staff is ready to provide all the services you may need to organize small or large regattas, team buildings, fishing competitions. We can carry out all the necessary activities concerning the registration and we can also provide the food for regatta participants according to their needs and requires.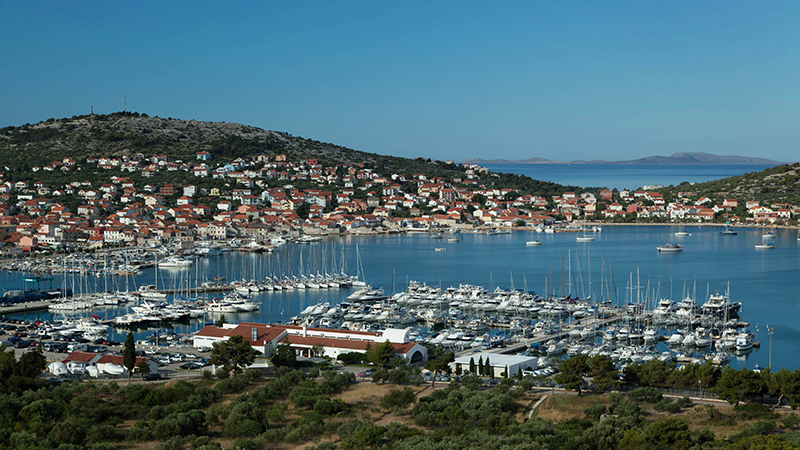 3. What do your clients usually choose when they visit your marina: one-day excursions or longer cruises? Could you please describe a little the typology of your clients; what type of clients do you address to?
All boat owners can find in Marina Hramina the perfect place to keep their boat secure and safe for all the reasons that I have already mentioned: reliable and safe harbour at the gate of Kornati island, quality service and maintenance for their vessel, always fresh gastronomic offer in our restaurants and, of course, professional and friendly staff. There is no better way to discover Croatian islands than from aboard of a sailing yacht. Imagine the thrill of visiting new places, staying overnight in a beautiful picturesque harbour or sleeping under the starlight sky.
Moreover, even if you are not a boat owner, we are still here for you. You can rent a boat from our charter fleet and enjoy your holiday. We can also provide you with a skipper in case you need one. It doesn't matter how old you are, if you are travelling with your friends, family and children or alone, if you have sailing experience or you have never been on a boat before, we can make your Croatian adventure safe and unforgettable.
4. Could you please tell us more about Marina Hramina charter fleet? What are the advantages of renting a boat with a qualified skipper?
For several years, Marina Hramina charter is on top of the most reliable host sailing in Croatia. We are the proud owners of the charter fleet of 64 sailboats size 35-51 feet, from 3 to 5 cabins with 6-12 beds. The average age of vessels is 3 years.
We offer fully equipped BAVARIA yachts, and LAGOON catamarans that provide exceptional comfort and space to satisfy the most demanding clients. Top quality equipment and diligent maintenance guarantee the quality of our craft. Our professional and friendly staff ensures that our guests return year after year.
For all our visitors we have a secure parking place. On arrival our staff will teach you more about boating. We offer the organization of the most demanding sports and tourism events (regattas) as well as team building programs.
There are endless advantages in renting a boat with a qualified and experienced skipper. He is familiar with the area, knows which are the best places to visit and he can advise you on the itinerary, restaurants, entertaining activities and much more. For example – our konoba Žakan on Kornati Island is THE place you must not miss. A skipper will guarantee a truly magical and relaxing holiday as he will take you to some of the most idyllic locations in Croatia, places that can only be reached by boat.
With its 1244 islands, and innumerable secret bays, Croatia is a favourite destination for sailing, with typical Mediterranean charm, calm winds and turquoise waters. All this makes from the Dalmatian Islands an unforgettable yacht charter holiday destination.
5. Which is the best time of the year for visitors to come in your marina and what is the most fascinating thing that makes this place unforgettable and the clients come back?
Whenever you come is a perfect timing for visit. Every season of the year has its advantages.  For example, autumn can be perfect. The heat is watered down and the bitter winter winds are still a few months away. The lowest temperature is 20C and the leaves are red.
Autumn entices numerous boaters. The sea is not as crowded as in summer, but the water is still warm enough for swimming. In a fascinating setting, everything is unforgettable: the azure sea, the mesmerizing Kornati islands, the stunning national park Krka…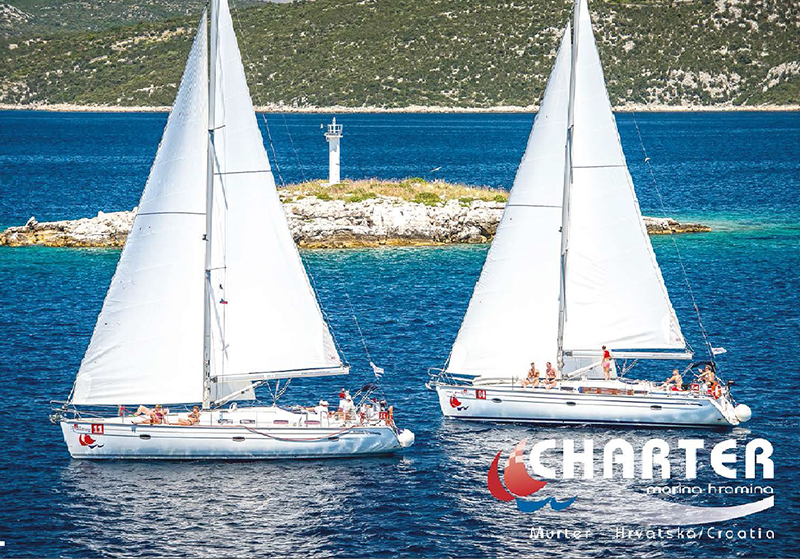 6. Could you please give us more information about the regattas that you organize for 2016? We would like you to reveal for our clients what is your history and tradition in such events.
Our expert staff is ready to provide all the services you may need to organize small or large regattas. We can carry out all the necessary activities concerning the registration and the course of the regatta, and we can as well provide the food for regatta participants according to their needs and requirements. We support the annual race for around 40 regattas so for this year we have the dates already booked for such events.
So far, we have successfully organized and supported one of the Adriatic's largest regattas, the Kornati Cup and over 600 sailors participated.
Weekend regattas have increasingly become the most popular team-building programs. These so called "weekend regattas" are organized especially for all those who are not experienced sailors, but would like to feel the adrenaline of this sport.
Our charter fleet and experienced skippers are at your disposal. You can easily blend the pleasure of sailing the beautiful Kornati archipelago with refined gastronomic delicacies, prepared according to the traditional Dalmatian recipes. Reward yourself and your business partners with an unforgettable bliss for body and soul, and we will take care about all the arrangements.
7. What can you tell us about Bavaria Cruiser 41?
With great pleasure we would like to inform about the arrival of the new One Design fleet of 10 Bavaria 41 Cruisers in our fleet. Therefore our fleet is increased by 10 new vessels to a total of 64.
Why Bavaria Cruiser 41? The CRUISER 41 was designed for ultimate sailing pleasure on water and absolute comfort on board. Spacious aft cabins, a generously proportioned main cabin, a luxurious saloon and an efficient galley make from CRUISER 41 the perfect yacht for spending time with the family or for heading out to sea with friends.
8. Our clients will be delighted to learn more about the traditional cuisine that they can find in this fascinating location.
I must mention that Murter is a well-known fishing island and our guests have the opportunity to catch fish and enjoy fresh traditional dishes.
We maintain and respect the traditional food preparation inherited from old Kornati fishermen and farmers. Our clients have the possibility to choose their own menu in accordance to their preferences from a wide variety of fresh fish, lobster, seafood or meat.
With the good selection of wines from the extensive wine list and homemade cakes, we are sure that all your senses will be satisfied. The tavern Žakan is an ideal place for a romantic dinner, a pleasant gathering with family and friends, business associates or team building.
Whenever you come, we will provide everything to make your stay with us unforgettable. We invite you to become part of a large family whose members, fascinated by the beauty of the Kornati Island and the good food, keep coming back.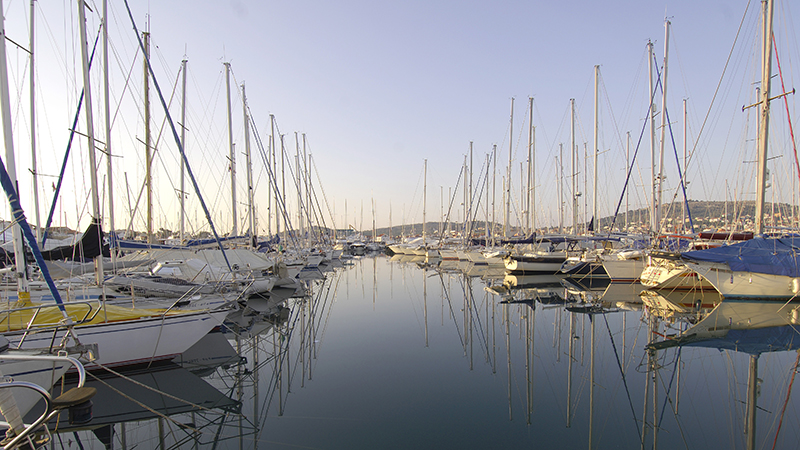 9. What about the nightlife and entertainment choices that the clients have?
During the summer season, you can find exquisite beach night bars, live music, djs and all sort of entertainment that you like. Depending on your choice you can have an active holiday or enjoy peace and relaxation sinking in the natural scenery.
10. In the end I would like you to tell me a few things about yourself and your professional background at Marina Hramina.
After over 15 years of working in leisure, travel and tourism, I found myself performing in nautical management in marina Hramina for the last 5 years. The nautical business is very challenging, varied and exciting. It is a true pleasure to work and meet new people, new ideas, and every now and then…. sailing!
Marina Hramina offers a positive work environment, which has a huge impact on morale and employee performance.
My job is to contribute, develop and integrate certain marketing campaigns, to promote our products, services and idea.