With the summer holiday season about to kick off, we have prepared for you a list with some of the best locations from Mallorca, the Balearic's biggest island. Either you wish for a lively beach or a picturesque one, Mallorca has something to offer for everyone.
1. Es Trenc
The number one beach in Mallorca, Es Trenc, is one of the most beautiful and popular due to its undeveloped area. Imagine three kilometres of paradise with white sand and crystalline water. In the summer time, Es Trenc becomes jam-packed. More than 171 species of birds live here. You can get to this protected land by car or by boat. The immediate port with all the facilities is Port of Colonia de Sant Jordi. Don't expect to find hotels on this beach. Instead, right on the seafront, it's a privileged spot, Es Trenc restaurant, where you can taste the finest dishes like fresh seafood and paella. The immediate holiday resort is situated just one kilometre south-est and is named Colonia Sant Jordi.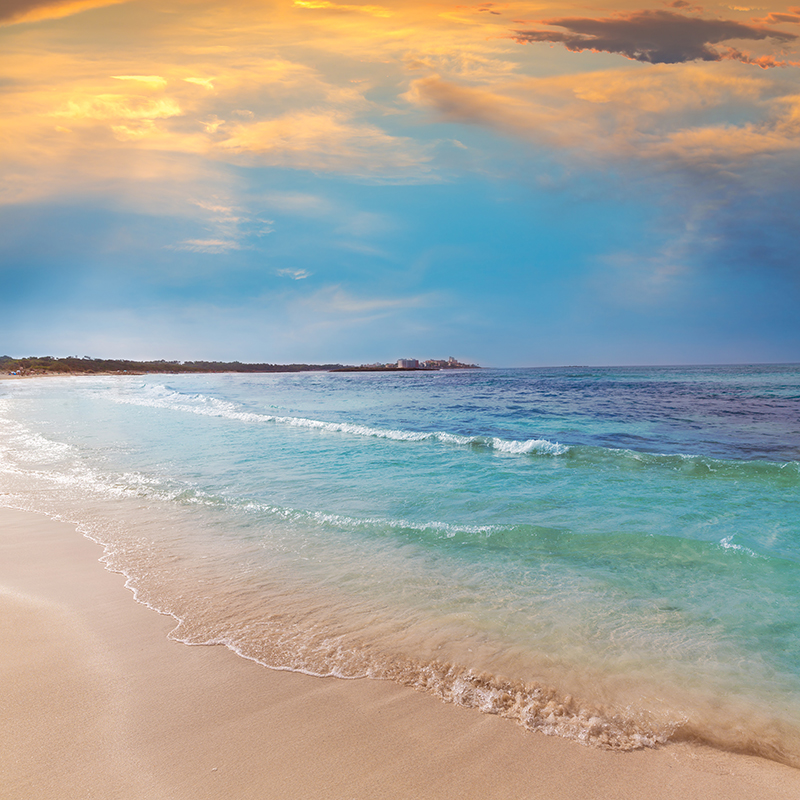 2. Alcudia Beach
Alcudia Beach, situated near Puerto Deportivo Alcudiamar, is the largest beach on the Balearic Islands and has a length of 7 km. The bay of Alcudia is the ideal area for resorts and hotels of each kind. Here you'll find wonderful beach amenities for families with children. The beach has a white fine sand and the water is just perfect for water sports activities like parasailing, jet skis, water skis and water bikes. A great number of restaurants are waiting for you in Port d'Alcudia with an array of international dishes.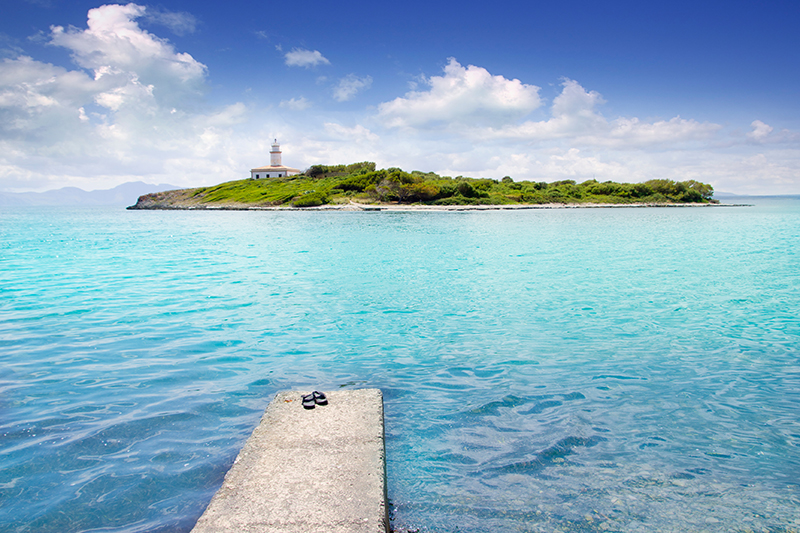 3. Formentor beach
Another popular spot is Formentor beach, one of the most beautiful site on the island. Decorated with a Blue Flag, the beach spreads on 850 metres. The waters are crystal clear and the conditions are ideal for snorkeling. The setting is outstanding and it provides a wild landscape with a pine forest that can protect you from the burning sun. If you travel by boat, you can moor your ship at Port Pollensa which is 7 km away from the beach. It worth exploring the beautiful surroundings from the island by taking a boat trip from Port Pollensa. While visiting this great beach you can stay at Barcelo Hotel, a 5 star location.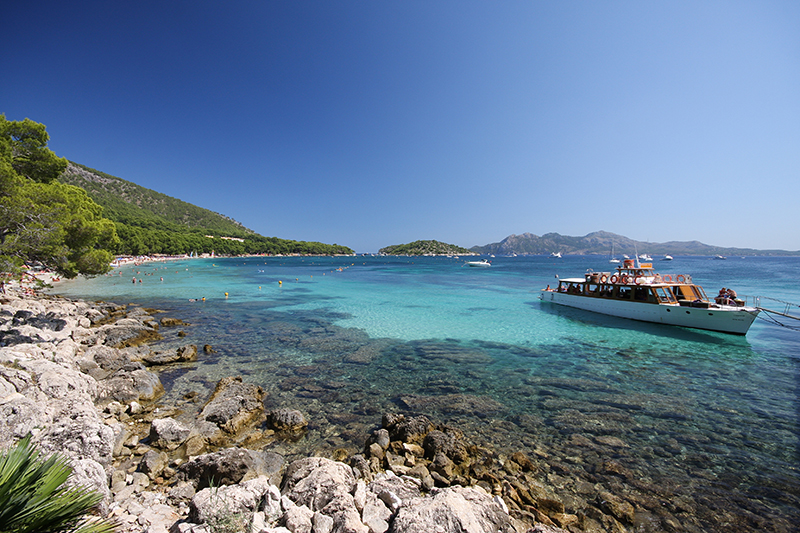 4. Cala Tuent
For the romantic couples, Cala Tuent offers a breathtaking landscape with a view to Puig Major, the highest mountain in Balearic Islands. If you choose Cala Tuent, swimming shoes are mandatory because the beach is filled with little stones. The natural bay has a restaurant as expected, Es Vergeret, built 45 years ago, which gives an amazing panorama of the sea. You can reach Cala Tuent by car or by boat from Marina Tramontana.
5. Cala Figueira
A spectacular view has to offer also Cala Figueira, located on the Formentor Peninsula. This setting has plenty of pebbles and small stones. The lack of services makes this beach a unique location. You can take great pictures here. Cala Figueira is fenced by mountains on both sides.
6. Millor beach
If you love taking long walks, than Millor beach is the location you are looking for. Considered one of the best beaches on the east coast of Mallorca, Millor is more than one kilometre long and wide enough. Moreover, the setting is backed by a lovely boulevard with shops, restaurants, bars and cafes. A windsurfing school is available for the ones who wish to learn how to windsurf. The beach is also perfect for children. It has shallow waters and white sand.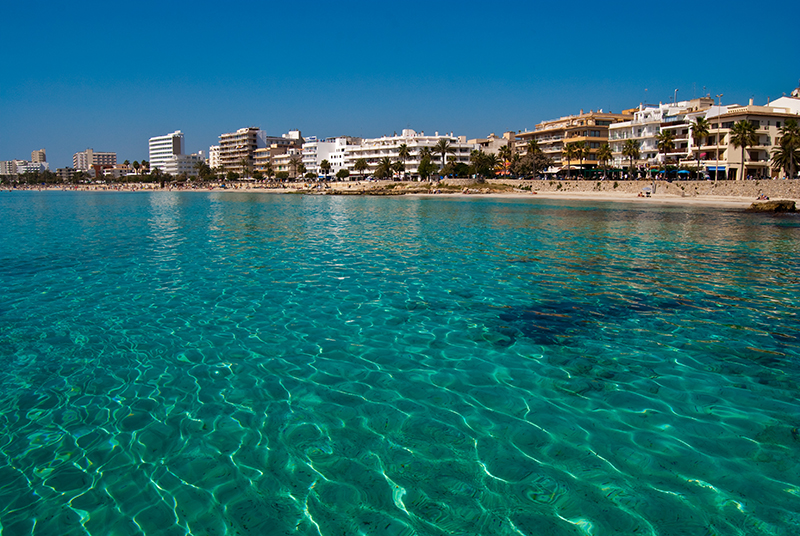 7. Calo des Moro
Calo des Moro takes your breath away! This virgin beach situated 6 km away from Santanyi, is flanked by pine trees and high cliffs. Calo des Moro beach is only 30 metres long and 20 metres wide. The cove is excellent for scuba diving and for docking small boats. The nearby port is 2 nautical miles away and it's called Cala Figuera de Santanyi. The Cala Santanyi resort is the nearest to the Calo des Moro. Before you arrive at this idyllic setting, take into consideration that you must descend the cliff in order to get to the beach.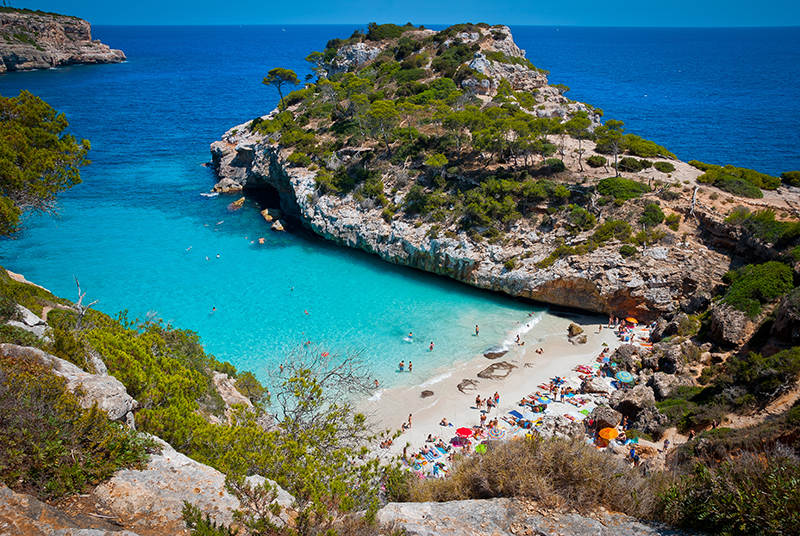 8. Cala Llamp
Cala Llamp is a unique beach that has no sand and it is made of stone and rocks. Right on the water's border you'll find The Gran Folies Beach Club from where you can enjoy the sea and coast of Cala Llamp. Even if the beach is sand-free, you can relax on the sun chairs available at the club. A swimming pool is situated just near the water. You can get to Cala Llamp by car and also by boat. Port d'Antratx is two miles away.
9. Playa del Muro
Playa del Muro is a new resort located in the centre of Bay of Alcudia. The 3 kilometre long area has actually two beaches. The first sector is the central one.
Both settings offer a beautiful view to the mountains. The water is clear and shallow. For sport enthusiasts there are available all kinds of water sports, including jet ski, water ski and paragliding. The conditions for snorkeling are weak however. Playa de Muro provides several hotels with enormous swimming pools.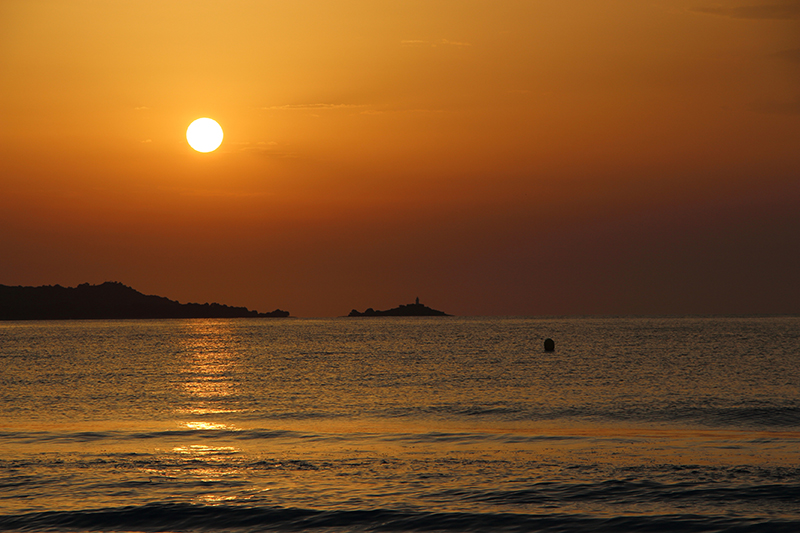 It's no wonder it's hard to choose a beach in the Balearic Islands, with such a variety of  great locations. Once we have presented you some hints for your perfect summer holiday in Mallorca, all you have to do is just pack your bags and go for the one that suits you the most.