Sailboat types differentiate by design and use. Sailboats come in a vast variety of shapes and sizes, so let's divide them by hull types, rig types and their primary use.
The sailboat is a water vessel propelled by the wind. It is usually smaller than a sailing ship but has the components that keep it propelled in water. When someone talks about sailboats, many people would not know he/she isn't talking about one set of sailboats.
Unknown to many people, there are several types of sailboats. Each set of sailboats are different from others according to their classifications. We can classify the types of sailboats according to their hull types, rig types, and primary use. Let's take a glance at the types of sailboats.
Sailboat Hull Types
This classification of sailboats bases on the number of hulls the sailboat has. The hull is the part of the sailboat that rides on and in the water. The hull does not include the sails, masts, equipment, or machinery. Here are the types of sailboats under this classification.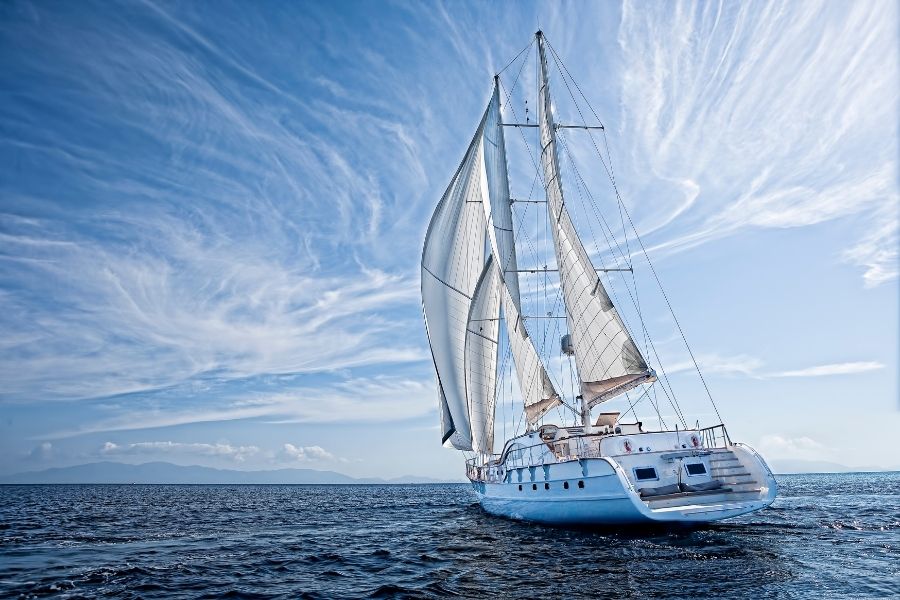 Monohulls
Monohulls are like every other water vessel with only one hull. They are the most conventional type of sailboat in this category. They may have a swing, full, cutaway, bolted on fin keels.
Monohulls can enter shallow water and move faster downwind. They usually have large beams that provide them with stability while sailing.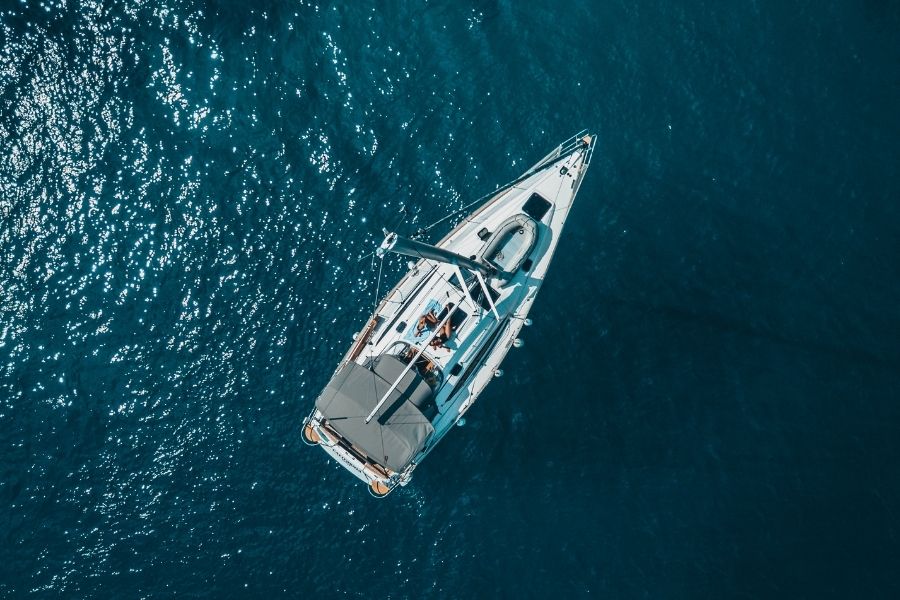 Multi-hull
The multi-hull vessel is the type of sailboats with two or more hulls. Multihulls come in all shapes and sizes.
Catamarans
Catamarans (often nicknamed "cats") or twin-hulled sailboats have two hulls instead of one like the ones in monohulls.
Catamarans do not have deep and heavy keels, making them sail faster off the wind.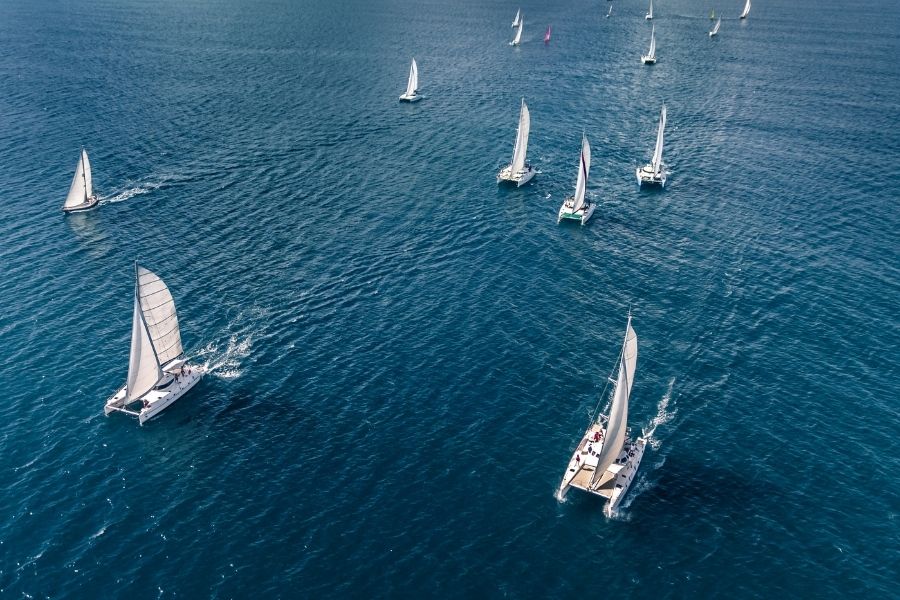 They have designs for general cruising as they offer more interior deck space with easier motion. There is also an increased level of stability in catamarans.
The number of hulls ranges from 3 to 5, with three hulls as the most common. Some people refer to sailboats with three hulls as trimarans.
Trimarans
They are extremely stable due to their number of hulls. A trimaran is a multihull boat that comprises a main hull and two side hulls (smaller outrigger hulls which are used for stability) – attached to the main hull.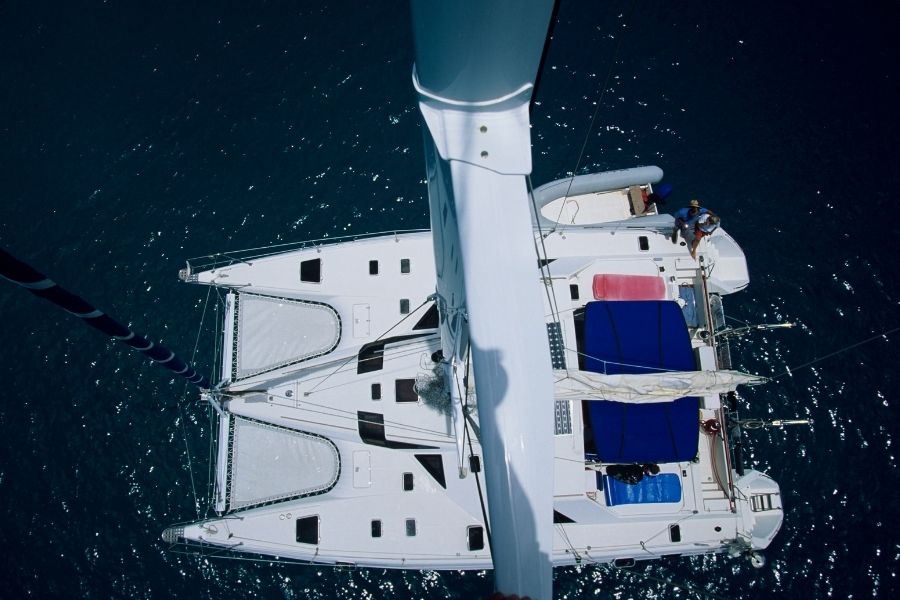 More giant multi-hull crafts with 4 or 5 hulls are challenging to manufacture, hence used for commercial purposes.
These commercial sailboats also get decorated to make them look more attractive. Multi-hull vessels with more than three hulls usually had the opportunity to be decorated by general contractors for commercial use.
Sailboat Rig Types
These sailboat classifications depend on the type of rig the sailboat has. The rig consists of cables and chains, ropes, masts, shrouds, braces, sheets, and other components that support a sailboat. Let's take a look at the types.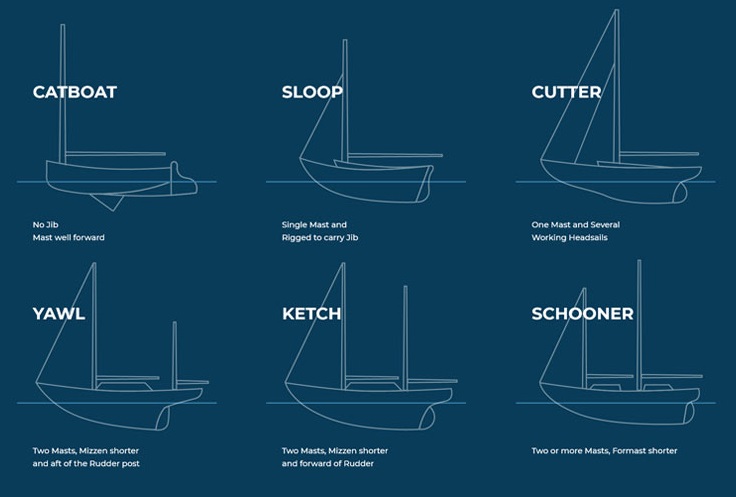 Sloops
The sloop is a sailboat with one mast, one mainsail, and one headsail. The mast supports the mainsail and headsail during sails. The two-sail configuration allows added maneuverability. There is also a fractionally-rigged sloop with one of its sails lying below the mast's top.
Cutters
Cutters are medium-sized sailboat types with three sails. The sail gets mounted on the mainmast located near the ship's stern to allow the use of more extensive sales. The design of cutters explains their agility and speed. They have two or more headsails, making them flexible for varying wind conditions.
Ketches and yawls
The ketch has two masts; the primary mast is at midship, while the second one is behind it at the aft. The secondary mast is smaller than the primary mast and helps improve the craft's speed during sails.
Schooners
The schooner is a sailboat with two or more masts; the mainmast and the foremast. The foremast is slightly shorter than the mainmast, located at the craft's fore. If there are additional masts, they get a position whereby they become shorter than the mainmast.
Sailboat Types by Primary Use
There is also a classification of sailboats according to their uses. Although all sailboats have general services, they also have their specialization area. Let's take a glance at the types of sailboats according to their primary use;
Day cruisers: Day cruiser sailboats are usually shorter than 30 feet and have designs for afternoon sailing. They may or may not have a cabin with amenities.
Racer/cruiser: They are usually lightly built cruisers with amenities. Some typically use it for cruising and racing. It can also serve a weekend cruising purpose.
Sailing dinghies: Sailing dinghies are small sailboats that can accommodate only one or two people. They are most useful in teaching new sailors how to sail.
Sailing cruisers: Sailing cruisers can either be multi-hulls or monohulls designed for weekend or longer cruising.
Racing sailboats: Racing sailboats have designs that help accommodate larger boat crews. They often have fin keels for more effortless sailing performance.
There are different types of sailboats, and these types have their classification. Each classification, like hull types, rig types, and primary use, shows the type of sailboat you have. You can decorate your sailboat by hiring a general contractor for the task. Doing this will give you a personalized feeling when sailing.
Check out some tips for buying a sailboat and make the ocean dream tour come true.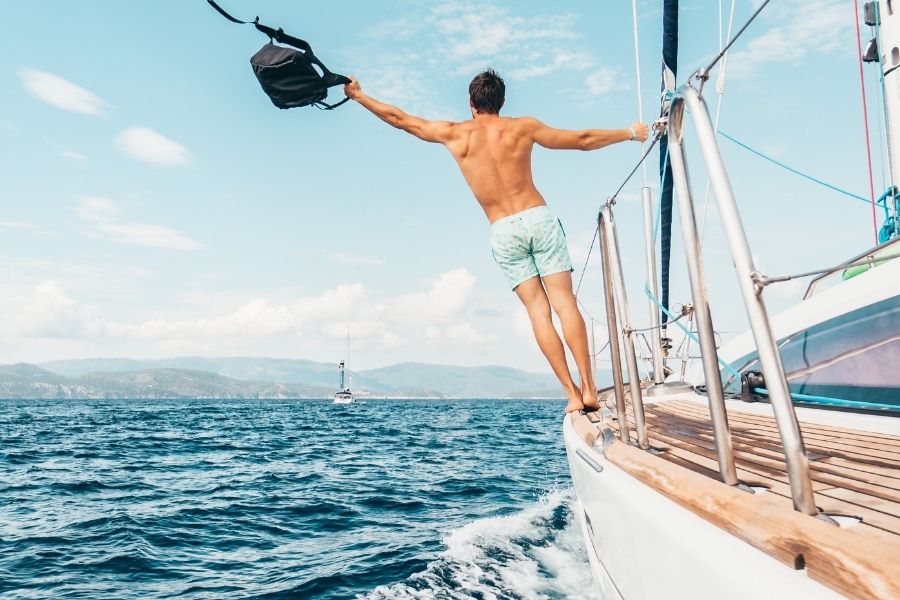 Now that your boat is all ready for sailing, you will want to find the perfect marina for the adventure of your life.
Is there any place that you always wanted to visit and enjoy from the depths of the blue sea? Spain, Croatia, Italy, France, Greece, or any other exotic destination?
If the only thing stopping you is the dread of reservations or not being able to make up your mind on a certain location, no need to trouble yourself as we have the solution for you.
Exploring the world has never been easier with the marina reservation platform that connect boaters to marinas for all their reservation needs. What are you waiting for? Sail on!