Are you looking forward to spending Christmas with family and friends? If yes, then you should definitely consider taking a trip to Europe. There are plenty of places to visit in Europe, from bustling cities to the picturesque countryside.
The history and culture of Europe have always been well known. The continent boasts beautiful architecture, great food, and amazing sights. Whether you want to go sightseeing or enjoy some delicious cuisine, there are lots of things to see and do in Europe.

Amiens, France
The city of Amines is located near the Belgian border in the heart of France. This picturesque town is famous for its Christmas markets and charming streets lined with boutiques and restaurants.
Amine is a great destination for those who want to enjoy a relaxing holiday without having to deal with the hustle and bustle of big cities. There are plenty of things to see and do in the area, including hiking, skiing, shopping, and tasting local cuisine.

Prague, Czechia
Prague is a fairy-tale destination that only gets better during the holiday season. From the cobblestone streets lined with historic buildings to the quaint shops selling handmade goods, the Czech capital has something for everyone.
Christmas in Prague is one of the best European capitals to visit; that will leave you with a unique experience that should be on every traveler's bucket list. Whether you want to shop for presents, enjoy a delicious meal or take part in some of the city's most exciting events, Prague offers plenty of ways to celebrate the holiday spirit.
Venice, Italy
If you're looking for a unique Christmas vacation, consider booking a trip to Italy. During the holiday season, you can enjoy seeing some of the country's most breathtaking sights. 

During your visit, you'll stay in Venice, where you can enjoy a relaxing cruise down the Grand Canal. Afterward, you may visit Florence, where you can walk among the famous works of art and admire the city's stunning architecture. Next, you'll probably make your way to Rome, where you may find yourself mesmerized by its ancient ruins and magnificent buildings.

Munich, Germany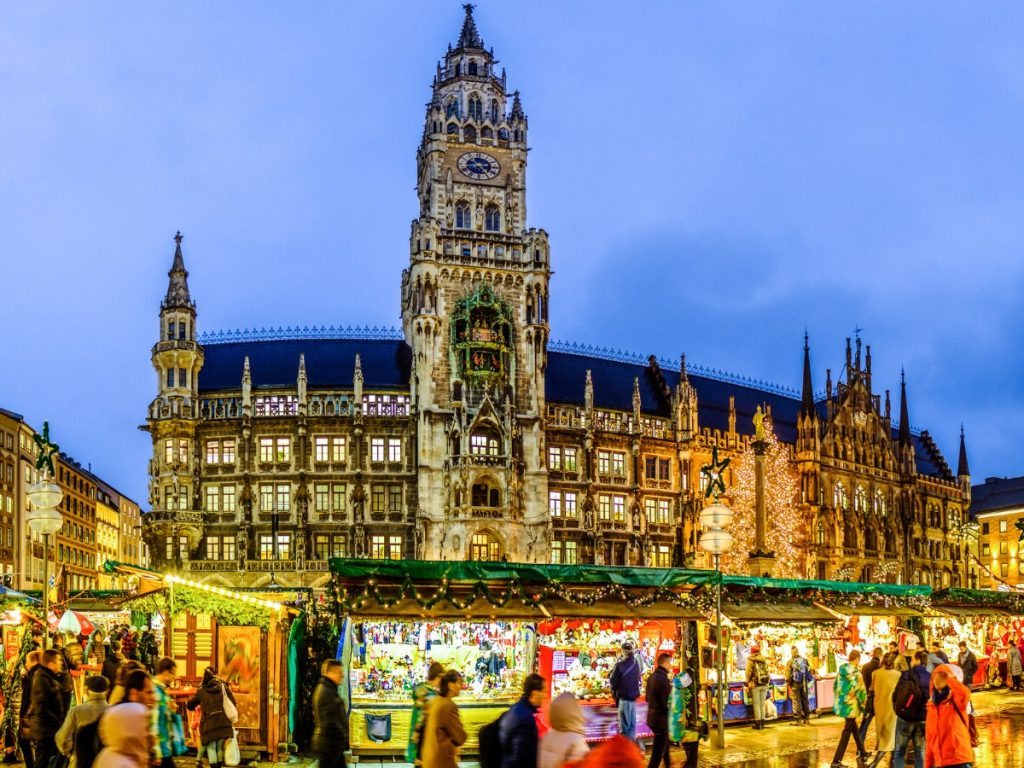 Germany has some of the most beautiful cities in Europe, and they also have some of the most amazing Christmas markets. The city of Munich is home to two of these markets, and they both attract thousands of visitors every year.
Christmas markets are a great way to get into the holiday spirit. These markets usually feature a variety of foods, drinks, and entertainment. Aside from providing a wonderful opportunity for families to connect, they allow for quality time spent together.

Colmar, France
Colmar is located in Alsace, France, and is home to some of the oldest churches and cathedrals in Europe. Colmar became a major trade center between Germany and Italy. Today, the town has preserved much of its original architecture, including the old town hall, the cathedral, and the Romanesque church of St. Nicholas.
Colmar is known for its Christmas festivities, which are held throughout the year. Each market offers unique items, from handcrafted gifts to local specialties. The largest market takes place every December and lasts several weeks. Themed markets include the Christmas Market, the Wine Market, the Chocolate Market, the Toy Market, and the Flower Market.

London, England
Travelers from around the world have always enjoyed visiting London. From museums and galleries to parks and gardens, the city offers a wide variety of attractions. There are also plenty of things to do outside of the city center, such as skiing in the Lake District or visiting the countryside.
London is home to some of the world's greatest cultural institutions, including the British Museum, the National Gallery, the Royal Academy of Arts, and the Tate Modern. In addition to these famous art collections, visitors can explore the city's rich history at places like Westminster Abbey, St Paul's Cathedral, and Tower Bridge.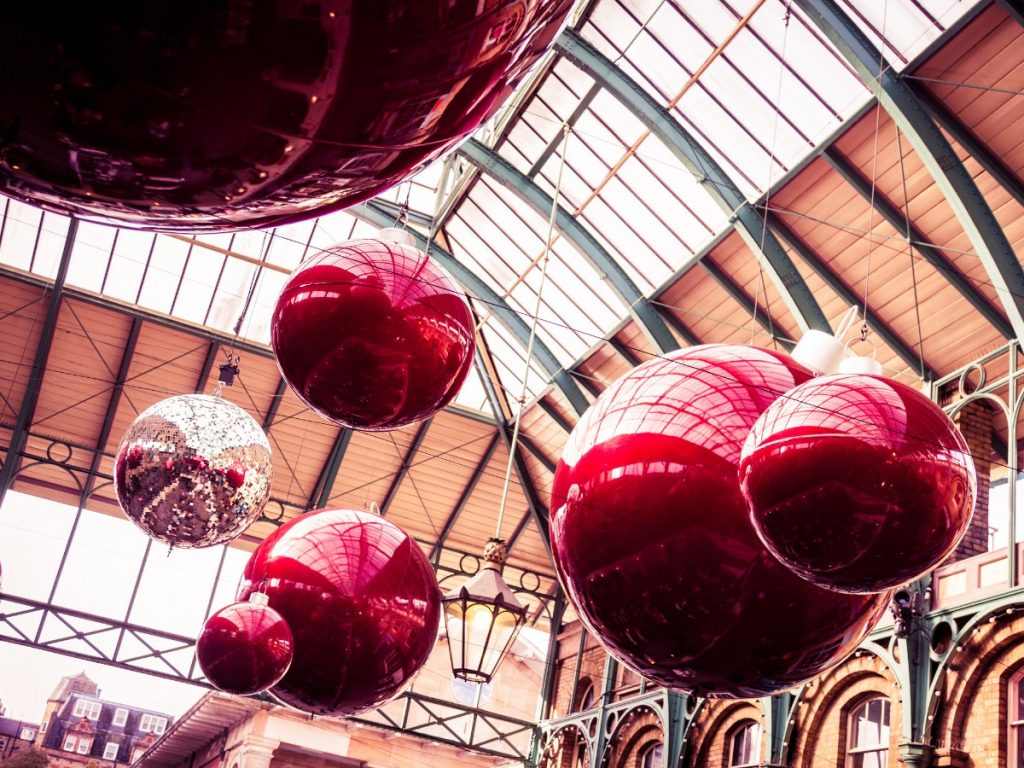 You can enjoy the festive atmosphere at the famous London Christmas spots, shop for unique gifts or go ice skating. Make sure you pack warm clothes and comfortable shoes, regardless of what you decide to do.
Bruges, Belgium
Bruges has become famous for its Christmas festivals, especially the Winter Glow Festival, where the entire city is illuminated by thousands of lights. Visitors can enjoy the festivities from December through January.
There are two ways to travel around Bruges during these months. One is by car or public transport, and the other is by bike. Nighttime cycling is one of the best ways to see the sights. There are plenty of rental bikes available at the tourist office.
Unique architecture and cobblestone streets, as well as delightful restaurants, have made Bruges famous worldwide. A magical wonderland transforms the city during the winter months, filled with lights, music, and celebrations.
During the winter season, Bruges becomes a magical place where visitors can enjoy the sights, sounds, and tastes of the festive season. Visitors can take advantage of the many activities offered throughout the city, including visiting the Christmas Market, attending concerts, and enjoying delicious food and drinks.

Stockholm, Sweden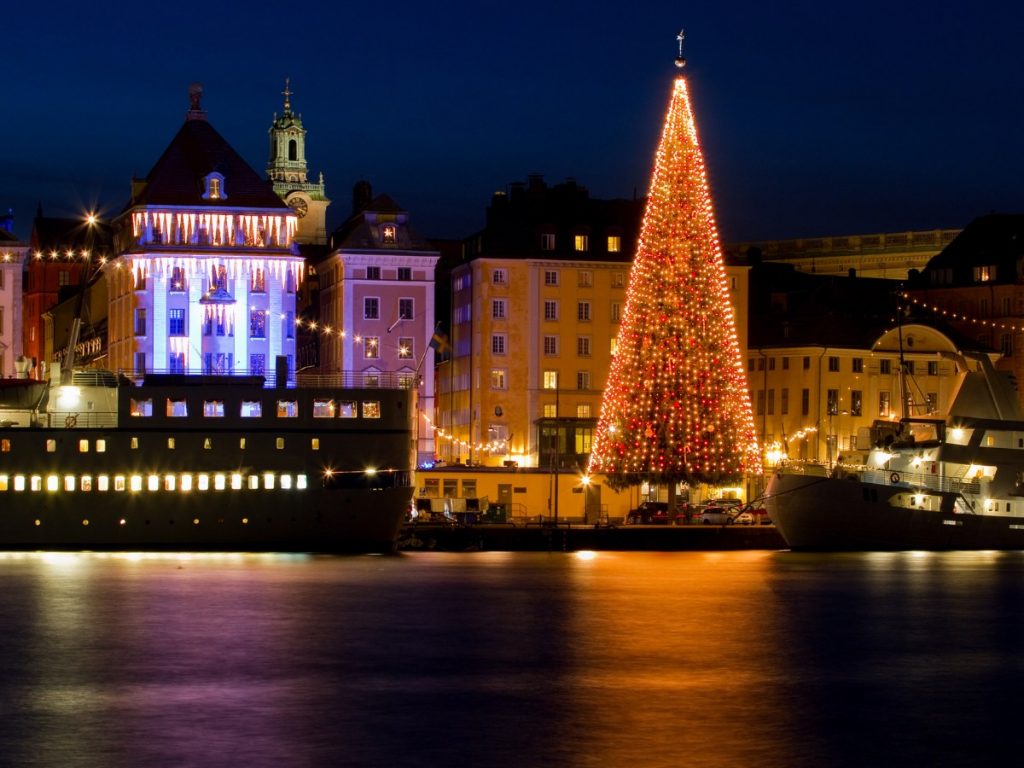 The capital of Sweden, Stockholm, has long been considered one of Europe's most romantic cities. Its charming cobblestone streets, medieval buildings, and picturesque views make it a great destination for visitors from around the globe.
There is a Nobel Prize Museum in Stockholm that displays the history of this prestigious award. Stockholm is a major shopping destination as well as a cultural hub. A visit during Christmas will give you a chance to experience both.
Swedes love their food, especially during the holidays. Taking time out to enjoy delicious food and drinks with family and friends is something they enjoy. Christmas spirit can be experienced in Sweden during the holiday season if you visit during this time.

Reykjavik, Iceland
Iceland has been praised for its beautiful landscapes, welcoming people, and unique culture. This is why it is often called the land of fire and ice.
The Icelandic Christmas season lasts all year round. In addition to the traditional Christmas Eve celebrations, there are other events during the holiday season. For example, a festival is held at the beginning of December called Jólakaffi (literally translated as "Christmas Feast"). In addition to concerts and shows, there are also a number of events happening across the country.

Grindelwald, Switzerland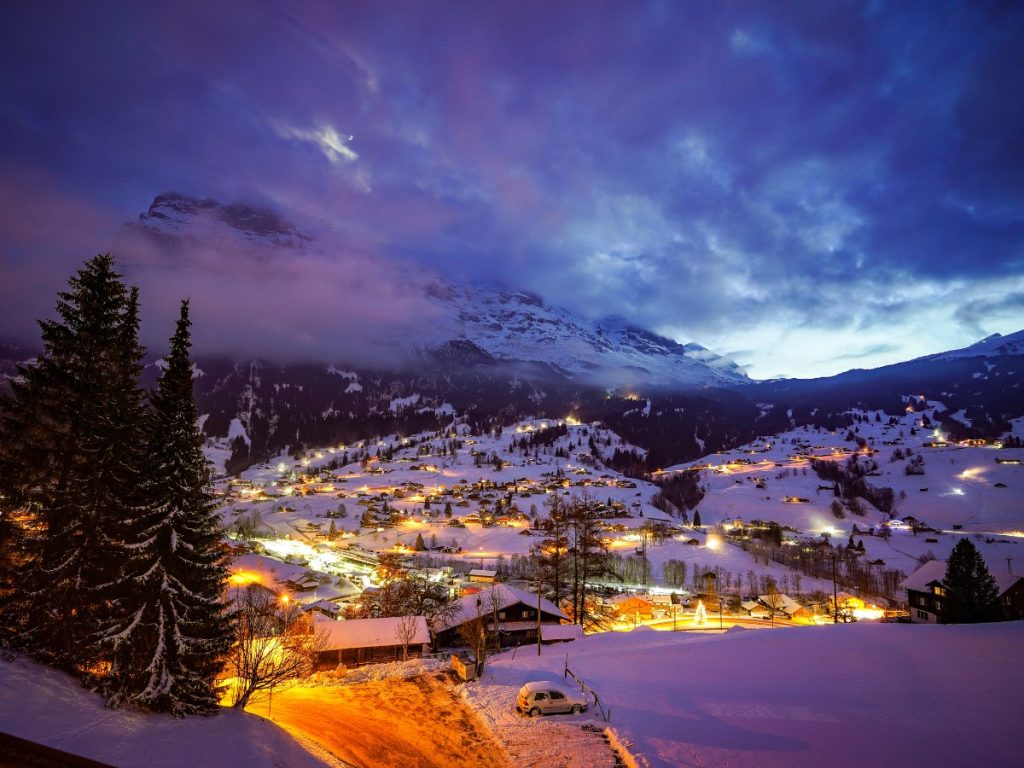 Grindelwald is located in the canton of Bern, Switzerland. A population of approximately 3,800 people lives in the town. In addition to being home to some of the country's most famous ski resorts, Grindelwald is known for its stunning views and quaint charm.
Grindelwald is a great place to visit during the winter months because of its breathtaking scenery and charming atmosphere. There are several things that make Grindelwald special. 
It's surrounded by majestic snowcapped mountains. 
Amidst Lake Thun and Lake Brienz, it sits nestled between the two. It's home to the Matterhorn, Europe's highest mountain. 
Visitor attractions and shopping options are nearby in Interlaken.
Located only a short distance from the city of Lucerne, which offers visitors even more options for adventure sports, cultural experiences, and shopping.
Valkenburg, Netherlands
Europe's most beautiful landscapes can be found in the Netherlands. In addition to the country's famous tulips, windmills, and canals, they also boast a number of historic sites and museums. 
One of these places is Valkenburg, located in the province of Limburg. This quaint village was once home to a castle, but today, it's better known for its annual Christmas festival.
Valkenburg is the perfect destination for families looking to enjoy the holiday season. Local markets and delicacies can be found in the area, and visitors can enjoy a variety of activities.
Belfast, Ireland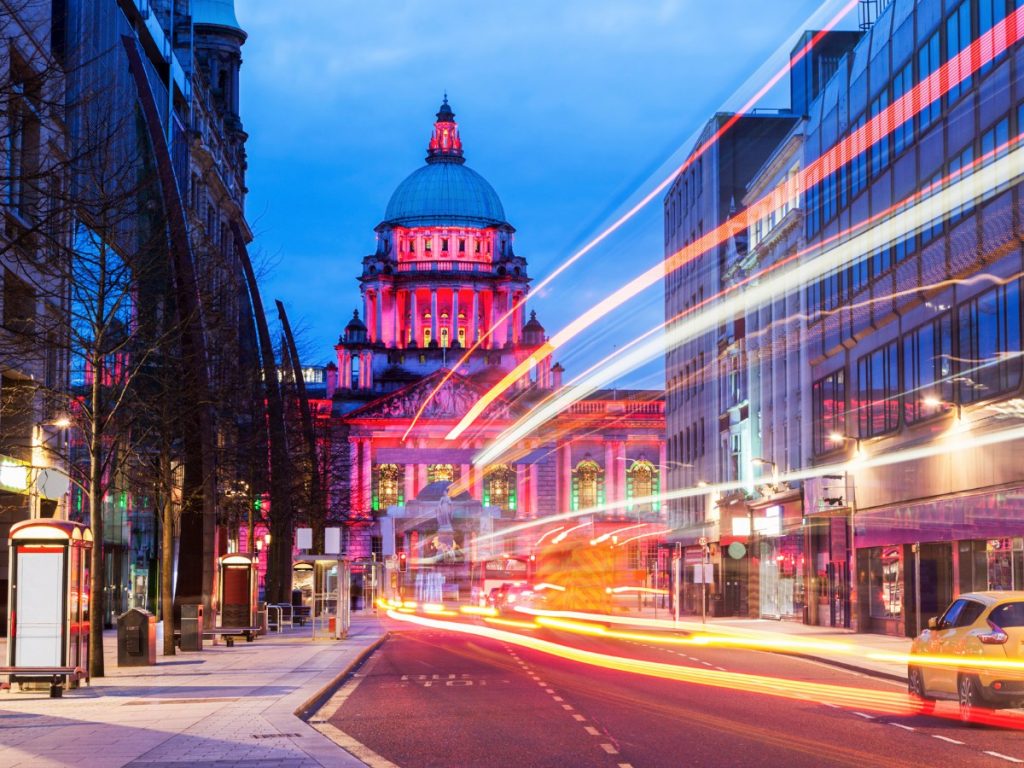 There are more than 639,000 people living in Belfast, the largest city in Northern Ireland. The city's culture and academics made it the Athens of Ireland at one time.
Northern Ireland's best attractions can be found in Belfast. A visit to the Titanic Museum or the Botanic Gardens will satisfy every taste.
The holiday season runs from December 25th to January 6th. There is no doubt that this time of year is the busiest and is known as 'The Festive Season'.
Belfast is the perfect destination for those looking to enjoy the festivities of Christmas without having to travel too far. From shopping to dining out, there are plenty of activities to choose from. If you want to experience the true spirit of Christmas, then Belfast is the place to go.

Conclusion
Christmas is celebrated around the world every December 25th. The celebration dates back to ancient times, but its roots lie in the pagan winter solstice celebrations. 
In the Middle Ages, Christians adopted the tradition and added their own traditions, such as decorating trees and exchanging gifts. Today, Christmas is a time of joy and family togetherness and is celebrated throughout the best European destinations.
Christmas is celebrated by Europeans for a variety of reasons. Some of them include the religious significance of the day, the rich cultural heritage, and the abundance of food and festivities.