Some of the links in this post are affiliate links. This means if you click on the link and purchase the item, we will receive an affiliate commission at no extra cost to you. All opinions remain our own.
Looking for the best sailing gloves? Then you've come to the right place. A good pair of sailing gloves can make all the difference between a comfortable day out on the water and an absolute nightmare.
Also, a good pair of sailing gloves will help you differentiate between enjoying the wind in your sails or having to face the cold. As a serious sailor, you understand how crucial it is to be able to rely on your hands to do different tasks. Moreover, your capacity to be quick and efficient is reduced at low temperatures.
As you already know, the sailing gloves are one of the most important components of a sailor's wardrobe. A good pair of sailing gloves will protect your hands and help increase both accuracy and speed on the water. 
Sailors today are still searching for the perfect sailing gloves. However, choosing the best sailing gloves is not an easy task – there are so many different kinds with hundreds of features and characteristics. But definitely, the best sailing gloves should be comfortable, durable and have good grip.
Here's our take on the best sailing gloves on the market right now.
Depending on your sailing level you will need a good pair of sailing gloves. Gill Championship long finger sailing gloves are one of the best you can purchase.
With sailboats becoming faster and more advanced, safety features are a must. The Gill Gloves are an investment to making sure you keep your hands safe when sailing.
Gill Championship Gloves are designed for top level competition sailing. They offer great fit and comfort with mild to moderate protection from the weather. The main glove body is made of Neoprene with a DWR coating and features Aquaseal wrist closures for a comfortable no-chafe fit.
Furthermore, they do not absorb water and dries quickly due to the Amara reinforcement in a double layer.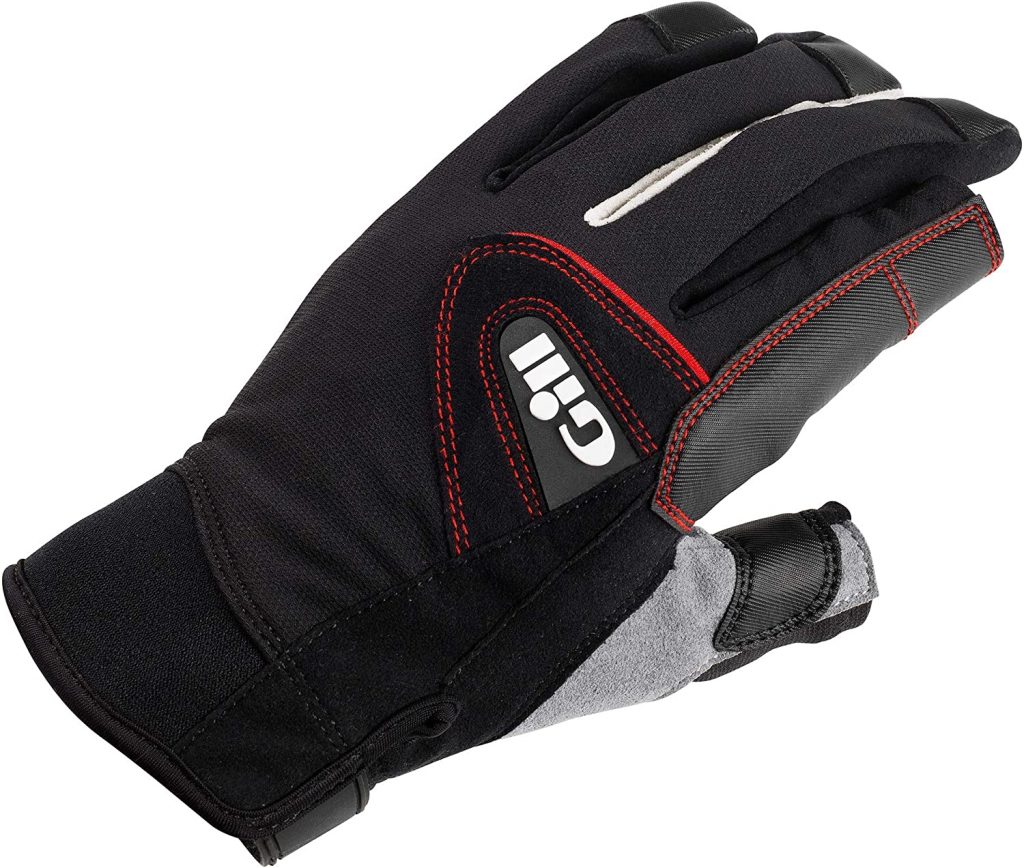 Gill Deckhand Long Finger Sailing Gloves
Are you looking for high-quality sailing gloves? Gill Deckhand long finger sailing gloves will help you to keep your hands warm and protected while still being able to use your fingers.
For dedicated sailors, the Gill Deckhand Long Finger sailing glove is an excellent choice. This product's dependability is based on its value, durability, and comfort during both the summer and fall seasons.
This sailing glove from Gill is perfect for offshore or onshore use. The suede palm and microfilament back gives you good grip and protection from the elements. This glove provides extra long finger length and with double reinforced stitching for longevity, durability and comfort.
Long finger gloves are ideal when it is cold or windy out, so that you do not need to remove them in order to do tasks.
A fantastic advantage to these products is the fingerless index and thumb which enable for dexterous operations such as knot tying, course charting, and pipe lighting. They also give you the ability to work with touch screens while still wearing a glove on each hand.
PROs
Comfortable
Wide neoprene wrist closure
Wraparound palm protection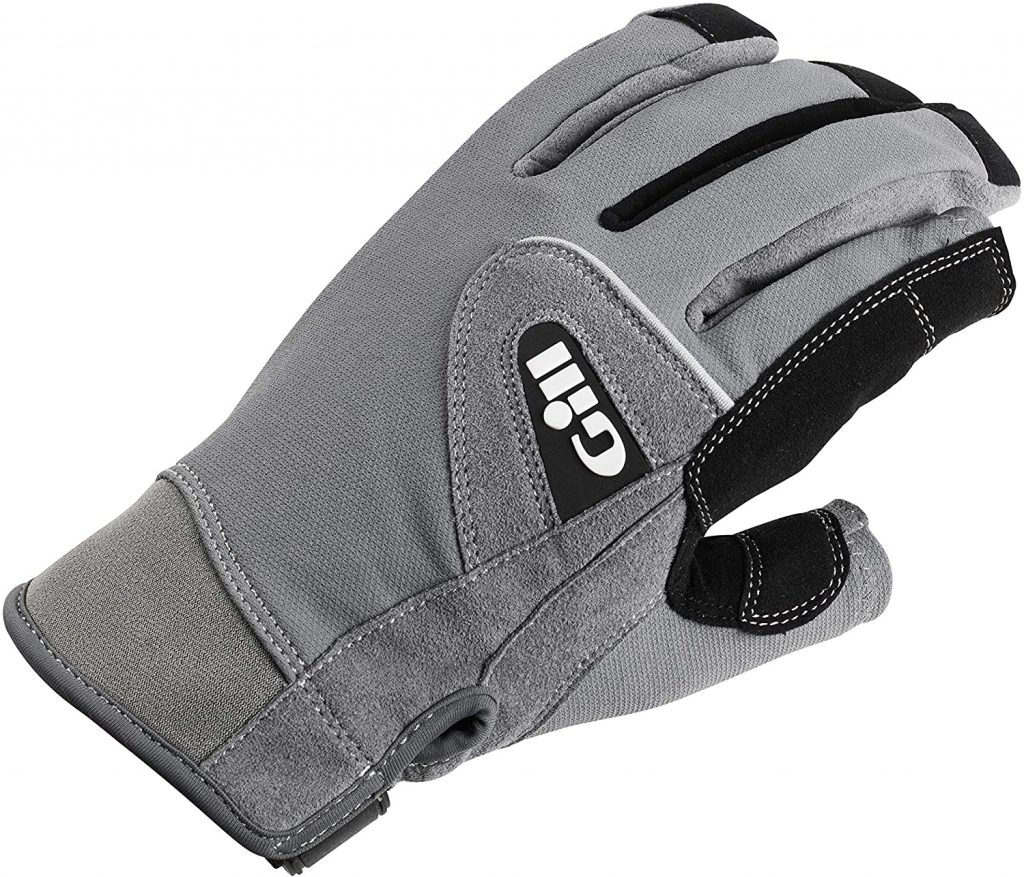 Helly-Hansen Sailing Glove Long
The Helly Hansen Sailing Gloves are another excellent alternative for sailors due to their high quality and superb fit.
Helly-Hansen is undoubtedly one of the most well-known manufacturers of sailing gloves. This model is distinguished by a basic yet strong construction, as well as a distinctive velcro twist to the personalized fit, which is not commonly found in sailing gloves.
The Helly Hansen Sailing Glove Long is a comfortable and versatile sailing glove that features the patented Windstop performance construction system, which shields your hands from the breeze. Designed to last for years, these gloves are made of polyester which makes them well-ventilated even on hot summer days.
PROs
Great Fit & Good Quality
Very Durable
Machine washable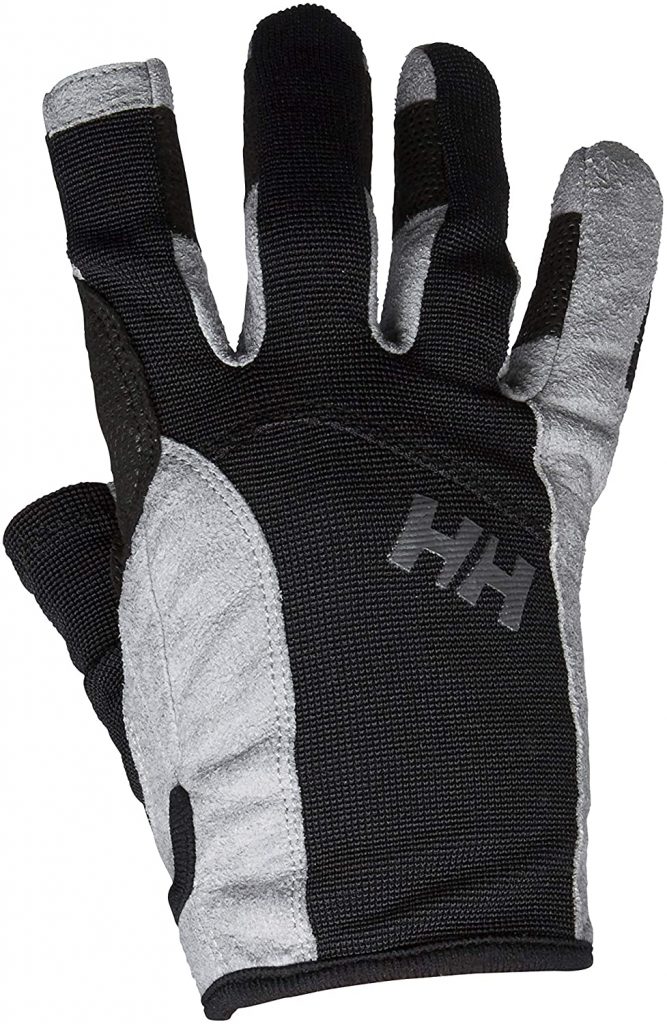 Harken Sport Classic - 3/4 Finger Glove
The Harken Sport Classic glove is a great all-around sailing glove. Great for slip prevention and excellent at keeping the wind and water out.
The neoprene cuff prevents water from going up your sleeve, even when wet. The high quality lycra spandex ensures the glove fits snugly around your hand.
Based on the hand measuring instructions, the gloves fit as predicted. They're comfy and functional for any serious sailor. They appear to be durable after a dozen or so trips. They dry overnight or within a few hours of being exposed to the sun.
They prevent your hands and fingers from shredding while yet allowing you to feel the rope.
Some people really dislike the cuff closure, saying it is too tight on their wrist, but I never had an issue with this.
Overall, a great sailing glove for beginners and experienced sailors alike.
PROs
High-quality
Comfortable & Durable

Tab-lock Secure Closure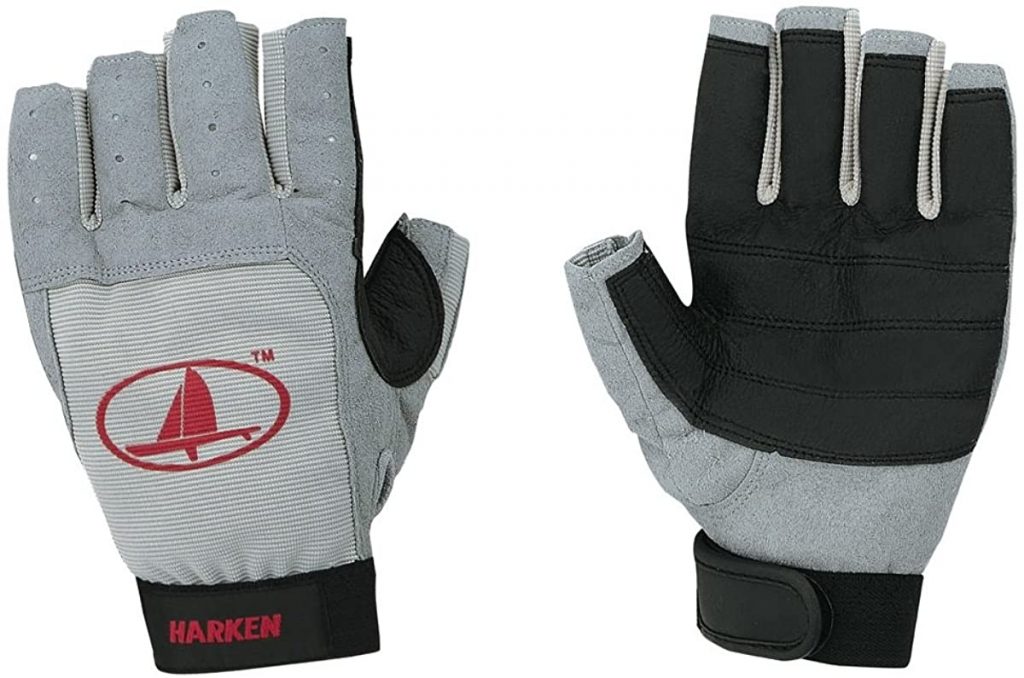 WindRider Pro Sailing Gloves - 3/4
These WindRider Pro sailing gloves have been designed with grip-enhancing features, including palm pads and an ever-important strap (especially for those of us with larger hands), as well as Amara reinforcement on the palms to get you through longer days on the water.
These Windrider Pro Sailing Gloves are perfect for anyone who loves to be on the water. 
The gloves are made from high performance, soft touch reinforced spandex. They feel durable and comfortable on the hand for sailing.  The palm is pre-curved to get a natural grip on your paddle.
These sailing gloves have a breathable, quick-drying mesh material that provides optimum comfort while keeping your hands cool. They also provide full grain leather on the base for abrasion resistance.
PROs
Extremely Comfortable
Light Weight
Breathable Mesh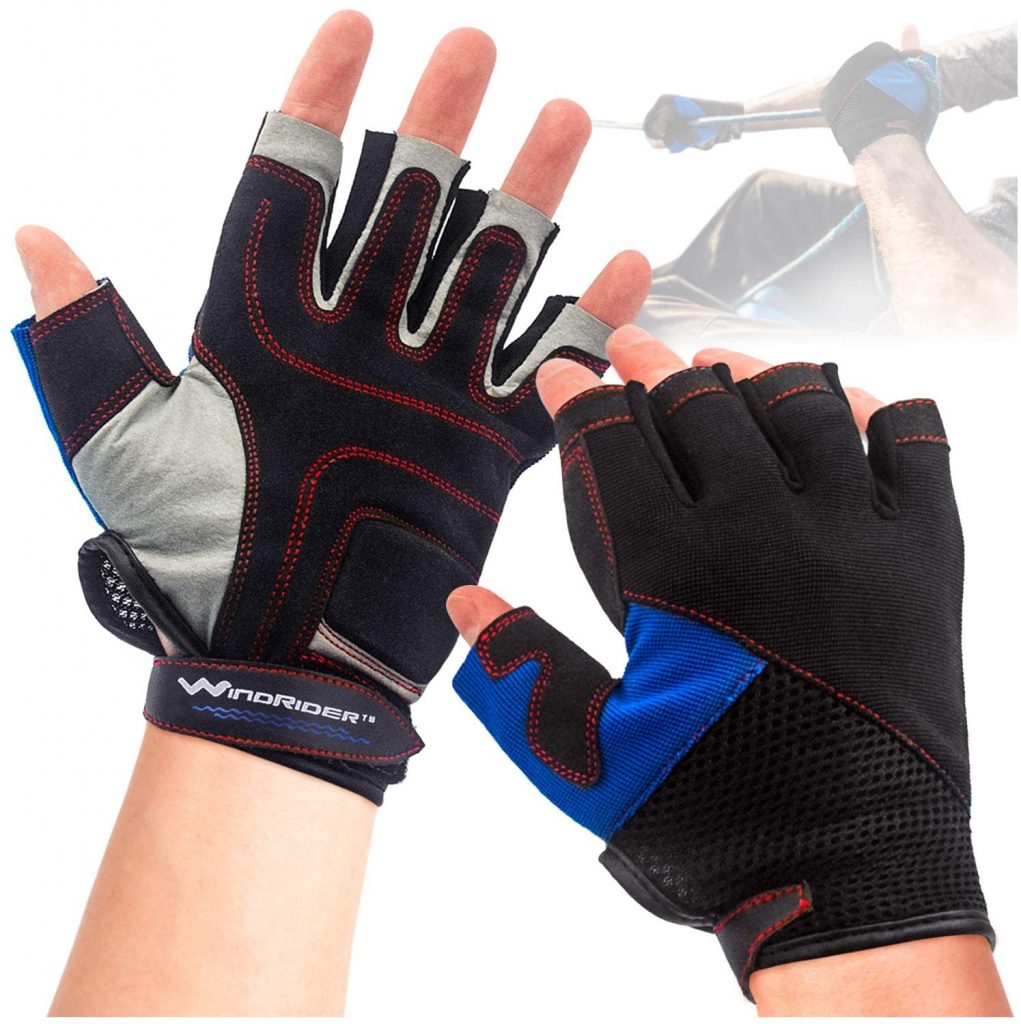 Ronstan Sticky Race Sailing Gloves
The Ronstan Sticky Race Glove 3 is the ideal glove for sailors who wants to have maximum grip in their hands.
When you first touch the palm of the Ronstan glove, you'll understand why it's nicknamed "sticky."
These gloves are made from high quality materials that offer a tight fit and prevent blisters.
It has a comfortable lining that will keep your hand dry even after being exposed to water for long periods. The lightweight gloves allow a tight grip, keeping your hands protected from cuts and scrapes.
The bottom of these gloves adheres to the lines like crazy, providing you with greater gripping power.
Their purpose is to help you out during the most crucial moments, so that your grip remains unshakeable and precise even under pressure.
The gloves contain a quick-drying mesh panel on the back and are double-stitched in the palm for flexibility and breathability. The neoprene around the wrist, which is not only comfy but also keeps it from rolling up, is our favorite feature.
It's definitely one of the best stickiest sailing gloves!
PROs
Ideal if you want to have maximum grip in your hands
Lightweight & Breathable
Durable
Palm and fingers are double-thick for added protection and grip
Zhik G2 Half Finger - Unisex
The Zhik G2 Half Finger Sailing Gloves are the perfect combination of fit, comfort and performance.
These sailing gloves are soft and super comfortable with shock absorbing neoprene guards in key impact areas.
Zhik Navigation Gloves feature a palm-to-mid-toe lining and a design that places seams away from traditional pressure points.
They provide Kevlar stitching and are made out of stretch neoprene and have a rugged grip on the palm. You can even wash them in your washing machine!
The palm and finger padding are slightly smoother than the synthetic leather used in other gloves, making them less sticky. The fingertips have no seams, allowing for a more comfortable fit.
PROs
Ergonomic
Great for Dinghy and Yachting

Kevlar stitching and clever seam placement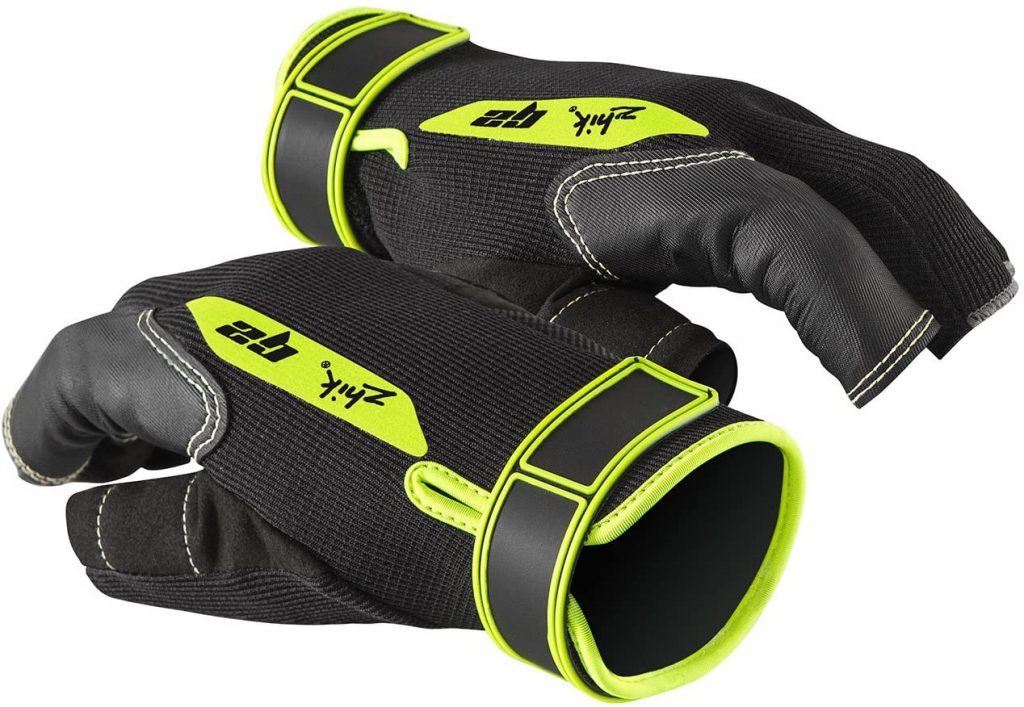 Gill Helmsman Sailing Gloves
If you plan to navigate in bad weather or lower temperatures, it is important to have the right pair of gloves to protect your hands as well as possible. Keeping your hands warm and dry is important when you're out there on the water.
Gill Helmsman sailing gloves are designed to be used at the helm or for tasks that involve long periods of reduced activity.
These sailing gloves are well insulated, with rapid drying breathable fabrics that keep warmth even when wet. So, they are quite pleasant to wear and have a high level of waterproofing.
Because of the extended gauntlet shape, the glove may be tucked up within the sleeve of a foul weather jacket, reducing the possibility of drips from your arm getting into the glove.
Gill Helmsman Gloves are some of the best sailing gloves you can get and they'll help keep your hands warm — minimizing the risk of frostbite or other serious issues.
Their combination of quality materials, state-of-the-art technology, and exceptional durability make these gloves a necessity in every sailor's bag.
Each hand's forefinger has a touchscreen-compatible pad incorporated into it.
PROs
High Performance Waterproof
Long Gauntlet Design
Fingers are pre-curved for an active fit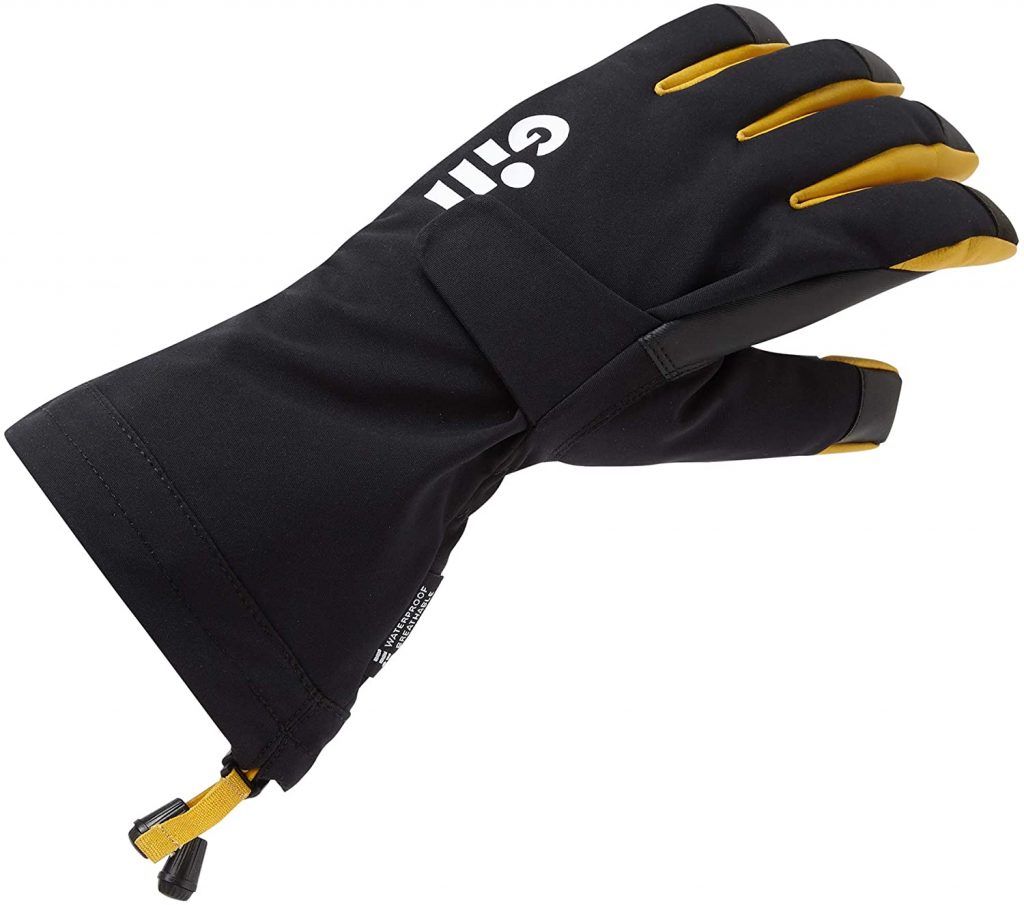 What is the best sailing gloves option: Full finger or cut finger?

That depends on the type of sailing, size of the boat, the weather conditions while sailing, primary function you perform on the boat and the sailor's experience and preferences.

Most of sailors prefer 3/4 finger gloves most of the time for the greater feel and dexterity. If you want to protect your hands and fingers from blisters, then choose the full finger sailing gloves.

For a great balance between good dexterity and great protection, you can choose the 3/4 sailing gloves which expose just the tips of your thumb and the top knuckle of your first finger or two fingers.

What are the best sailing gloves?

The answer will vary depending on the season, the weather, and the type of boat you're sailing on.
Sailing gloves are classified into two types:

fingerless gloves (short-fingered or cut finger gloves);
full-fingered gloves ((long-fingered gloves).

Fingerless gloves are the most common option, and the exposed fingertips can help with dexterity while sailing or racing. With fingerless gloves, it is also much easier to get the perfect fit.

Full-finger gloves provide significantly more protection; yet, for many sailors, the enhanced dexterity of the finger-less variant outweighs the extra protection.

A good pair of sailing gloves will not only protect your hands from rope burn and blisters, but they will also make your vacation more enjoyable.

Are sailing gloves necessary?

The sailing gloves are necessary when sailing because they provide strong dexterity and protection from physical injury to your hands and rope burns.

Why are sailing gloves fingerless?

Because they provide enhanced dexterity and a greater feel while sailing or racing.
We hope you've enjoyed this review of the best sailing gloves on the market today. It will be up to you to decide which features are essential for your needs.