There are several marinas in Palma (Bay of Palma, Mallorca), along the legendary Paseig Maritimo, or sea front, which stretches for kilometers on each side, making it quite easy for skippers to locate a mooring spot while landing in the Balearics, a veritable sailing Mecca of the western Mediterranean.
Mallorca has become one of the favourite holiday destinations among boaters, sailing lovers and yacht owners all over Europe and the Mediterranean Sea, so it is no wonder why there are so many beautifully equipped marinas here.
Palma is the largest city and capital of the autonomous community of the Balearic Islands in Spain, and the name of the Island on which it sits.
The city of Palma has a few well-known marinas, but some of the best marinas are actually only known by locals. That's why we decided to list the best marinas in Palma de Mallorca.
Here is our review of the best marinas in Palma, Mallorca.
Located in heart of the Palma's Bay, this marina is the perfect place to visit and enjoy the pleasant Mediterranean climate. Without a doubt, this is one of the most wanted marinas which is located in the area closest to Palma's old town – a major attraction for sailors.
As a result of its proximity to the historic core, Marina Real Club Náutico de Palma is one of the most prestigious marinas. In addition, RCNP is one of the major ports in the Gulf of Palma.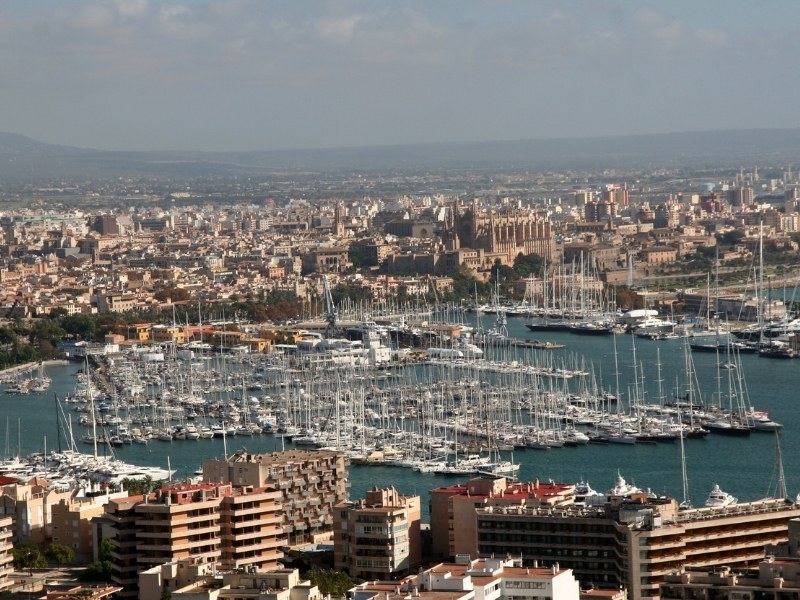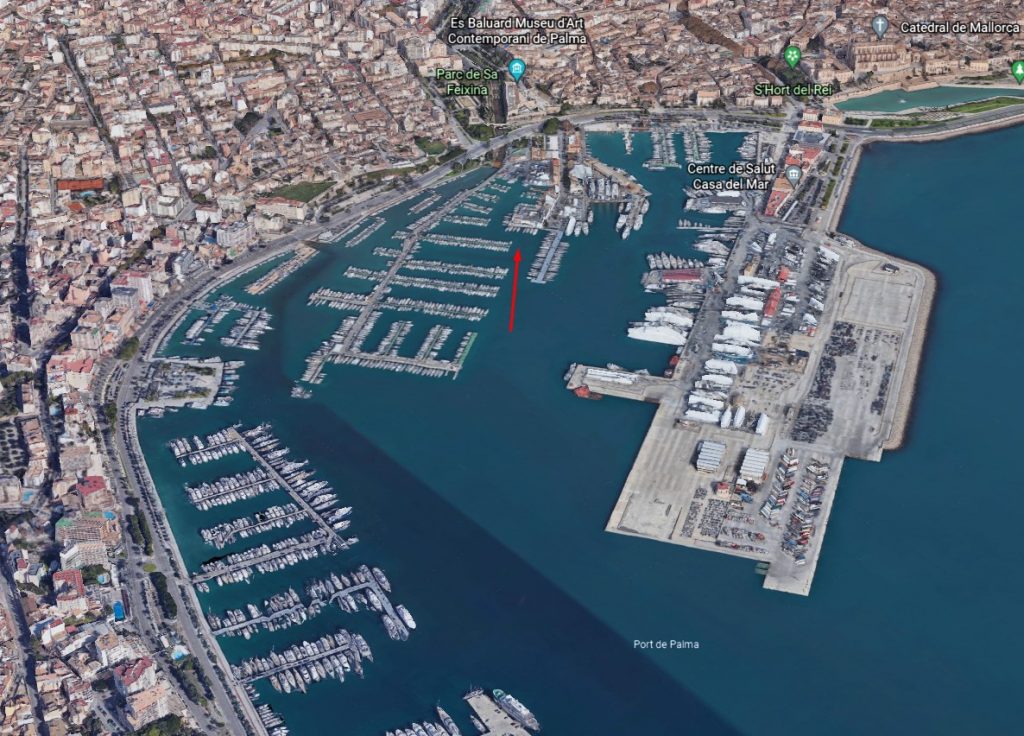 RCNP is positioned on the north shore of the bay (39 ° 33 'N, 02 ° 38' E), being one of the oldest and best-established marinas on the waterfront.
The marina can be easily identified as it is protected by the eastern breakwater, known by locals as Dique de Levante.
Also, Real Club Nautico de Palma is the oldest club in Mallorca and one of the most notable yacht clubs in Spain, founded in 1901 by a group of sailors and yachtsmen who were interested in promoting sailing, water sports, and aquatic activities.
Although it has a capacity of over 990 berths for yachts up to 40 m long and a draft of up to 4.5 m, in the summer months it can be difficult to find an available berth without making a reservation in advance.
Each berth offers access to basic water and electricity services, as well as additional services to make your yachting holiday as comfortable as possible.
Equipped with a shipyard, RCNP offers complete services with facilities such as 65t travellift, a ramp and gas station.
It also offers additional services necessary for any site such as waste collection, restaurant, bar, WiFi connection, car rental services, laundry, dressing rooms with shower and toilets, 24/7 security and weather forecast.
However, the marina is not only famous for its services but also for hosting the most prestigious regattas in the Balearic Islands, such as the Copa del Rey, which takes place in August and attracts many prominent personalities.
In conclusion, Real Club Nautico de Palma Marina is the ideal marina to spend your yachting holiday in Palma, Mallorca.
Marina Moll Vell from Palma is a popular choice among holidaymakers and sailors to the island. Here is all you need to know about this picturesque place.
Located in the same bay, in the heart of Palma (N39°33'59.78″ E2°38'35.02″), the Moll Vell Marina is only about 150 steps away from the most exclusive shops in Mallorca.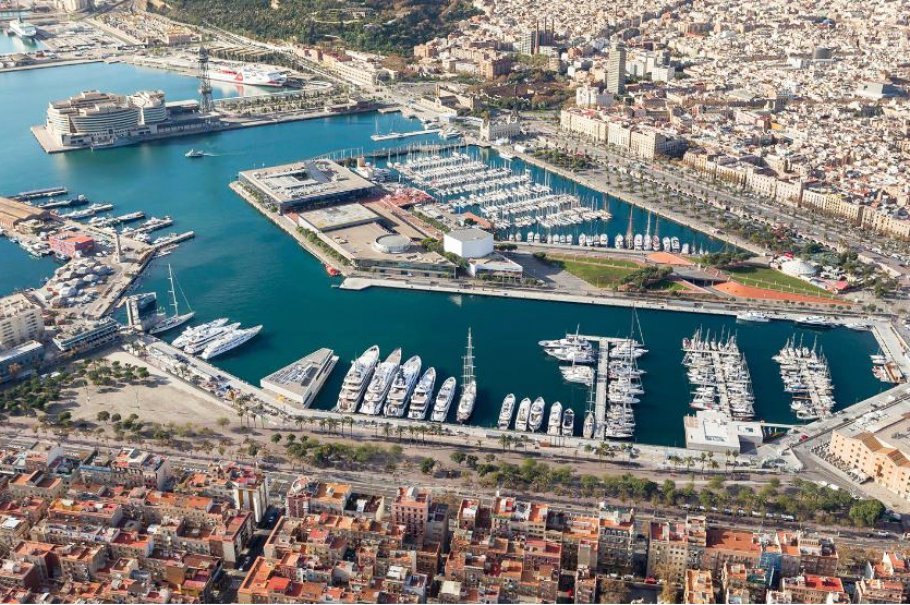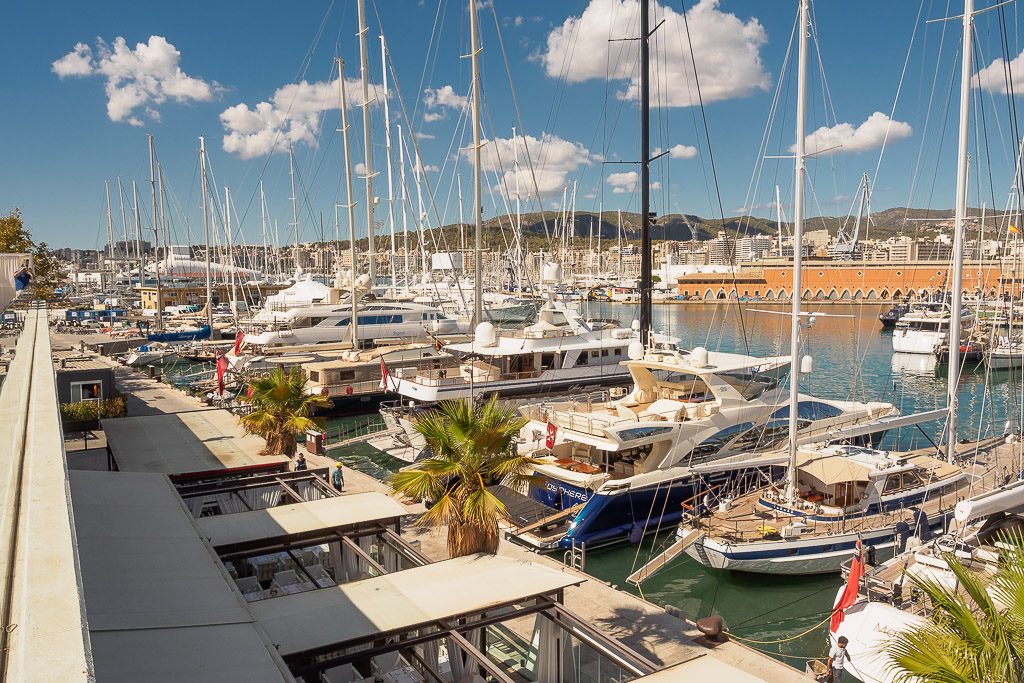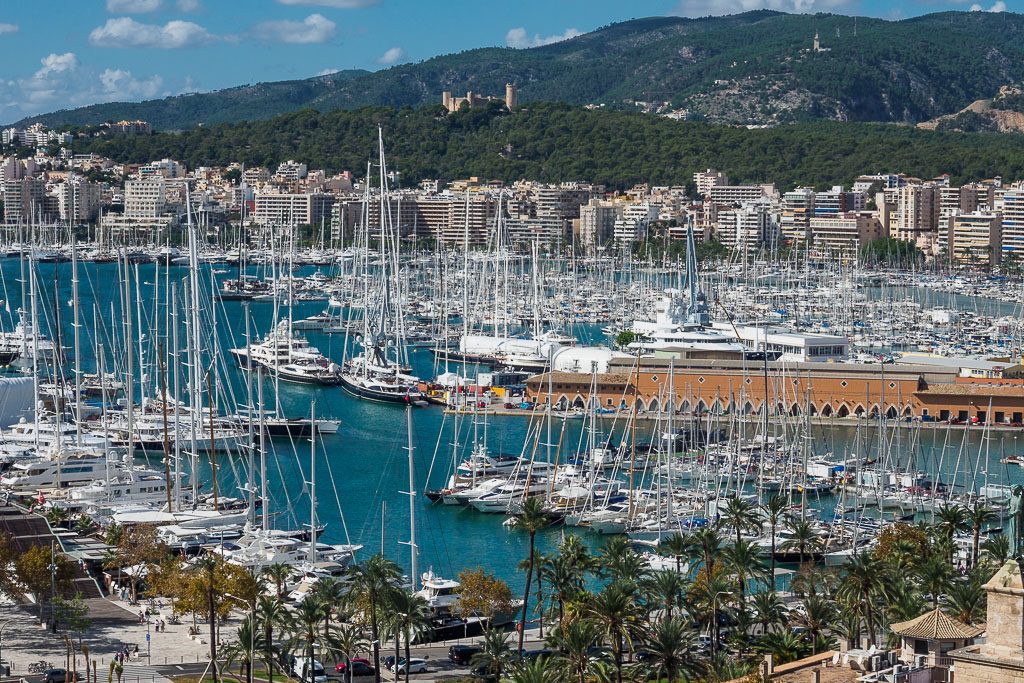 Located in the eastern part of the Port of Palma, at the base of the long wharf Muelle Viejo (near the Cathedral of Mallorca), Marina Moll Vell has a capacity of 80 berths for yachts up to 45 m long and 5 m deep, being one of the best marinas in Palma.
Known for its high capacity to host large yachts, the marina offers enhanced protection for yachts thanks to its strategic position, being one of the most appreciated marinas in Palma de Mallorca.
The services offered to the sailors and boaters include water, recycling, WiFi connection, drinking water, security guards, diving, crane, laundry, ramp, bildge collection, video surveillance cameras and parking.
Known as one of the most welcoming ports in Palma, Marina Port de Mallorca is located right in the heart of Palma de Mallorca (Lat: 39º 34′ N – Long: 2º 38′ E), and offers modern facilities that have been recently renovated.
The Marina Port de Mallorca was opened in 2001 and renovated in 2017, and its privileged location in the center of Palma gives it an advantage, without having to give up the privacy you deserve.
This blue flag private marina has a capacity of 200 berths displayed on 4 pontoons and an outer jetty, being able to accommodate boats between 12 m and 50 m long.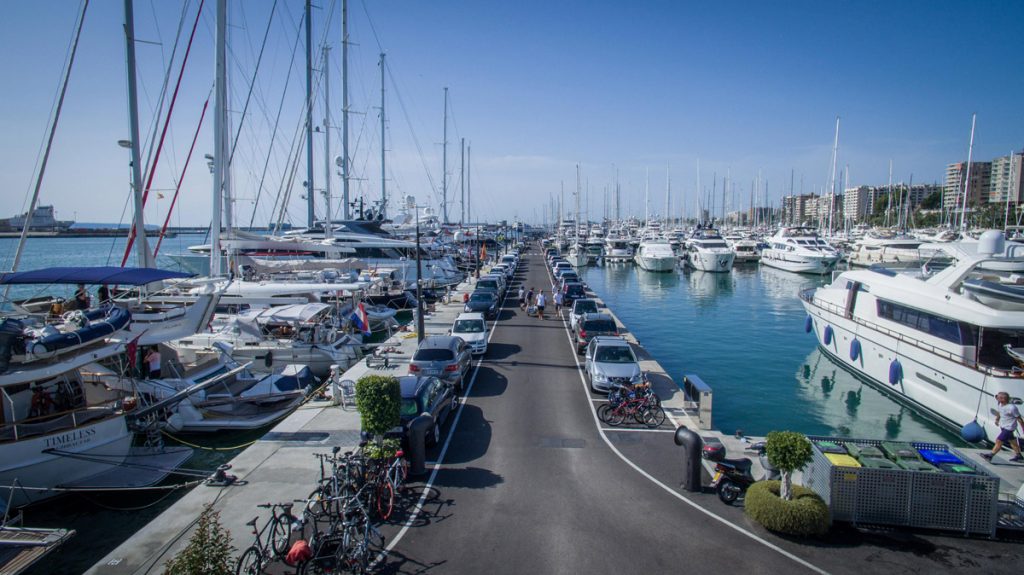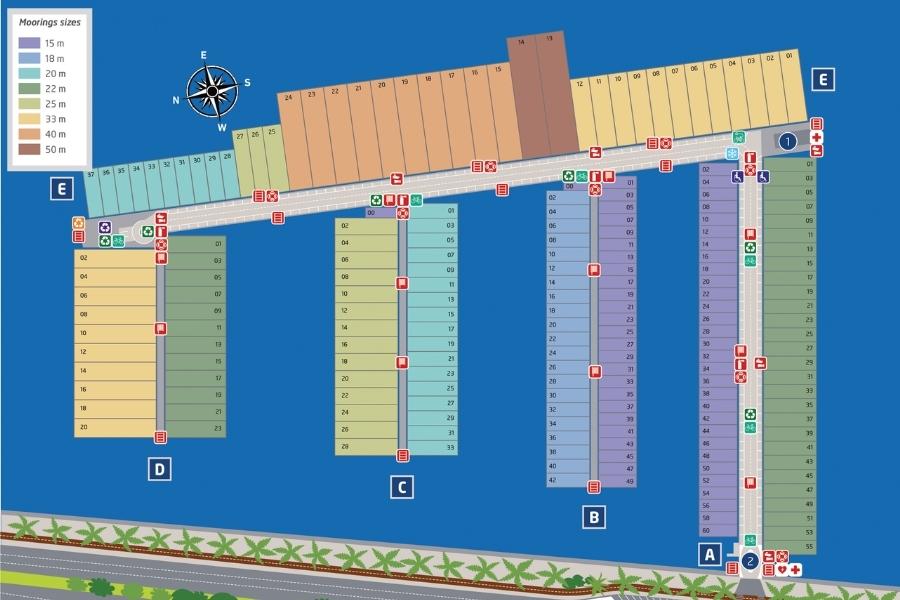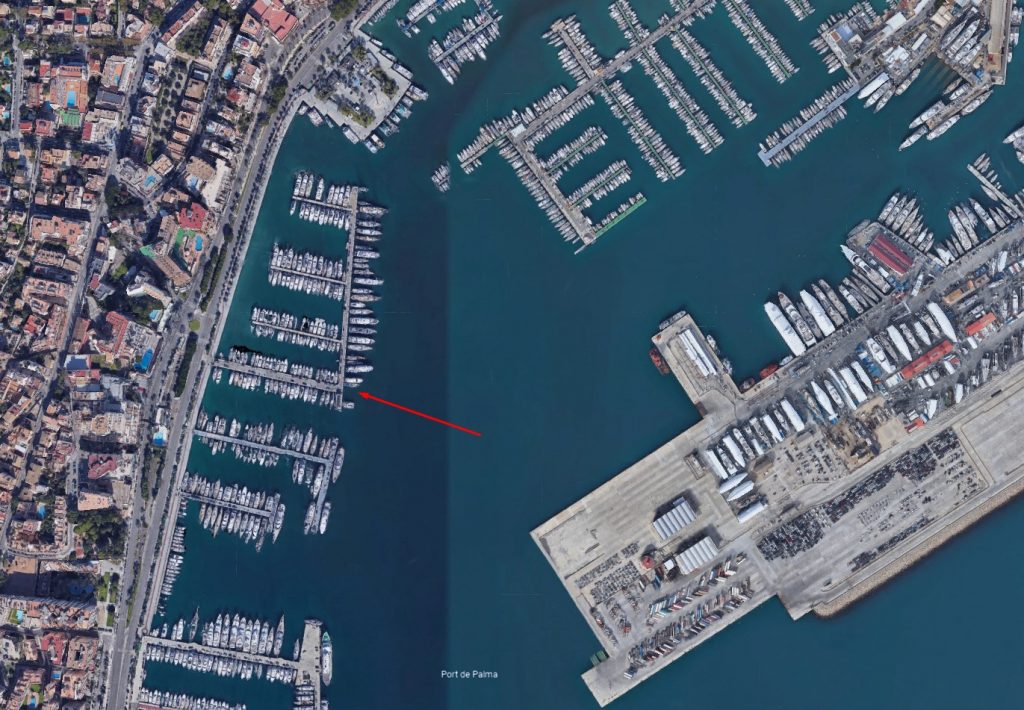 The marina offers facilities such as water, electricity (220/380V – up to 250 amp for superyachts), WiFi, drinking-water points, secure parking, entry control bilge and sewage pumping.
The main building also houses the reception, port captain, marina staff, toilets, showers, weather information and forecast point, and concierge services.
Moreover, as a modern marina, it offers quality berth services such as 24/7 security, docking staff services, a courtesy shuttle and selective collection of gray, black and oily water (new collection network for oil-contaminated and black waters).
The marina also offers reservation services for restaurants and clubs, car rentals, catering and boat cleaning through their concierge service.
Located right next to Marina Port de Mallorca, Pantalán del Mediterráneo has a capacity of 61 boats with a length of up to 128 m and a maximum draft of 5.5 m.
The port specializes in serving superyachts and therefore places great value on privacy. Here, you can enjoy Palma in a quiet atmosphere with full respect for privacy and rest.
The port offers services such as water, electricity (63A, 125A, 250A and 400A), bathrooms, access control,  selective waste collection, WiFi connection, 24-hour marineros service, parking, 24h security and video surveillance cameras.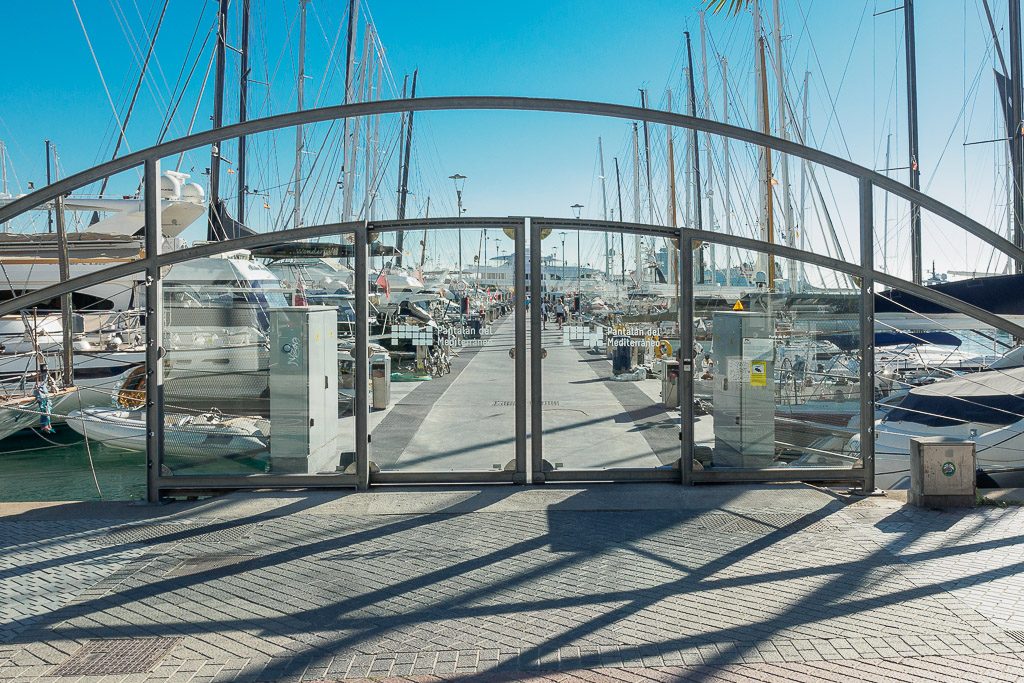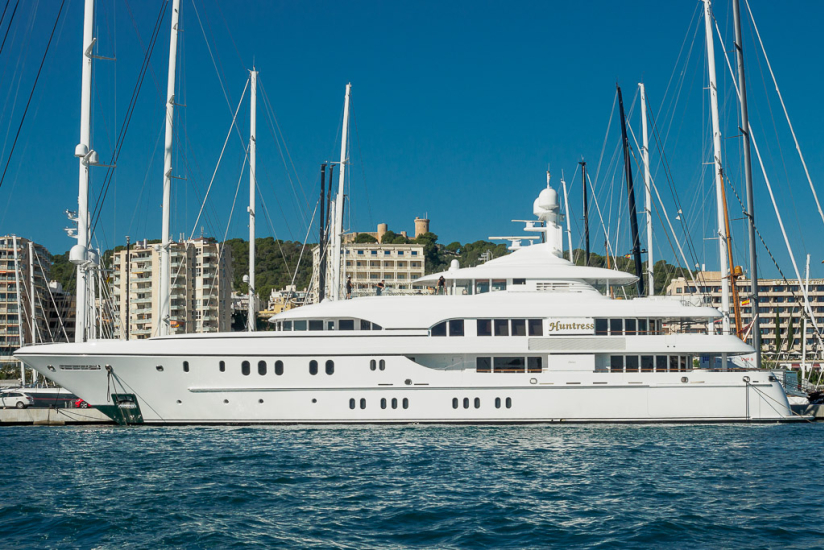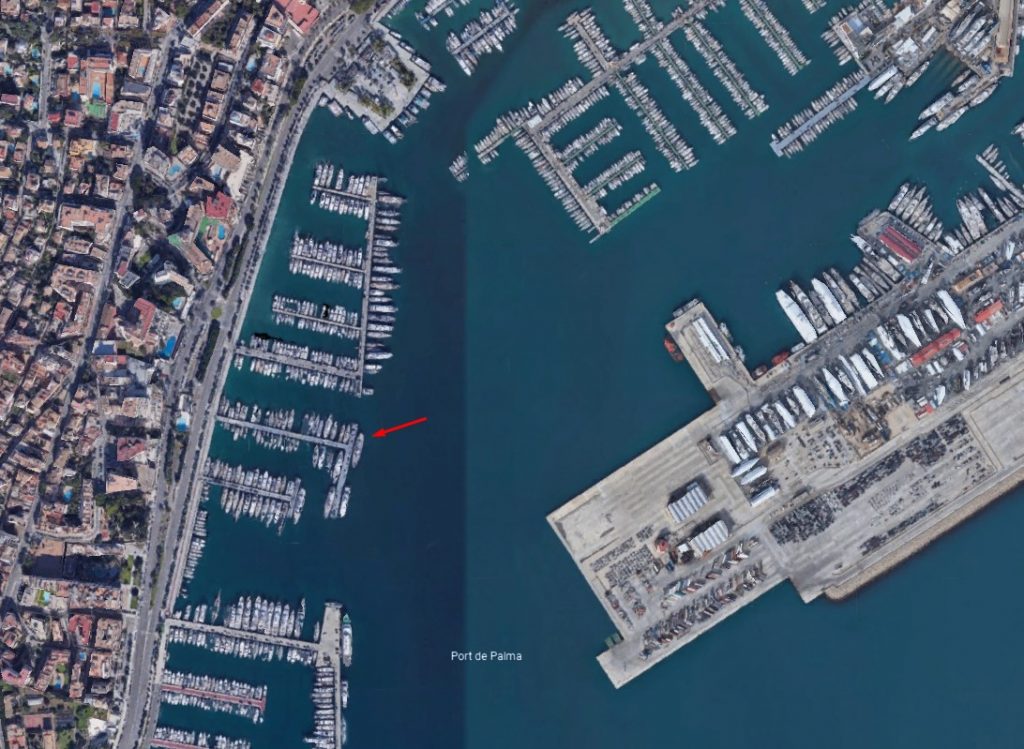 5. Marina Palma Cuarentena
Located near the Pantalan del Mediterraneo (south), Marina Palma Cuarentena is one of the oldest marinas in Palma, with a capacity of 70 berths for yachts from 12 m to 60 m long and a draft between 4 and 7 m.
Equipped with the latest technologies and modern facilities, this cozy marina offers comfort, privacy, 24h security. 
Palma Cuarentena Marina offers many facilties and services such as water, electricity (220/380, up to 250 amp for superyachts), showers, toilets, parking, yacht cleaning & maintenance, bilge pumping, dry dock, selective waste collection, weather info.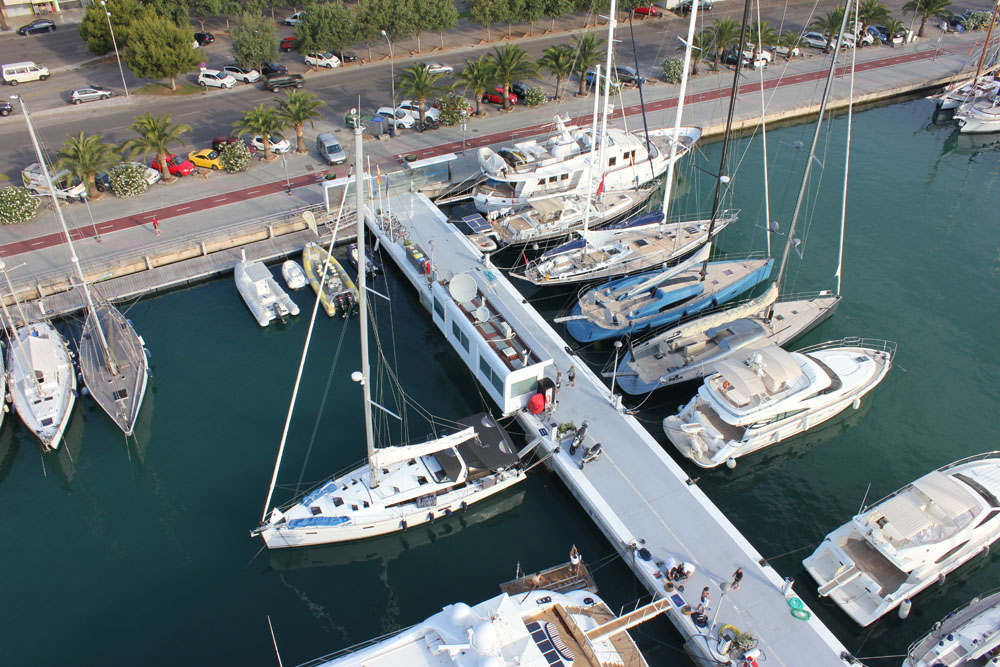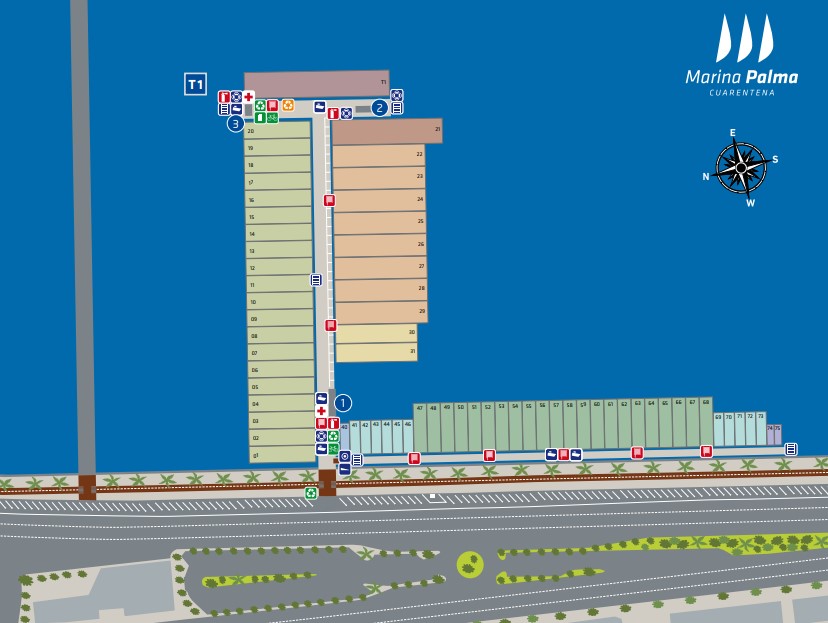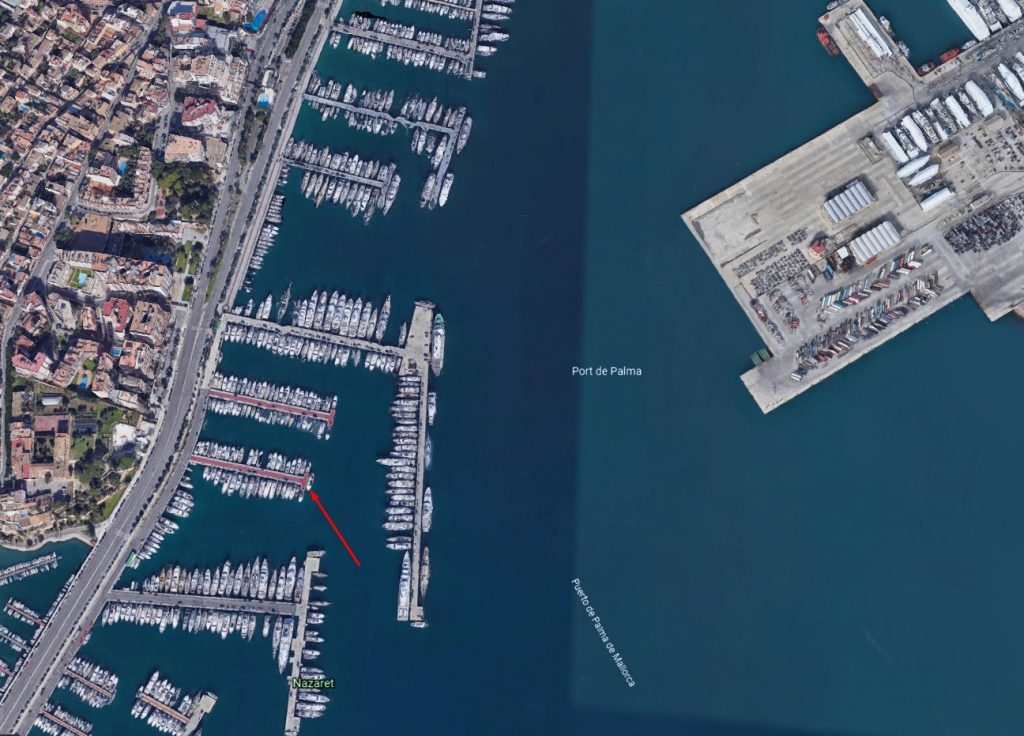 Located between Marina Moll Vell and Real Club Nautico de Palma (in the northern part of the Moll Vell Marina, right opposite Palma's charming old town), La Lonja Marina is a result of Spain's major yacht charter companies, which have joined forces to build and manage this marina in the heart of Palma.
The marina has a capacity for boats with a length between 10 m and 24 m and offers facilities such as water, electricity, free WiFi, showers, toilets, diver, yacht provisioning, security guard & cameras, and vending machines.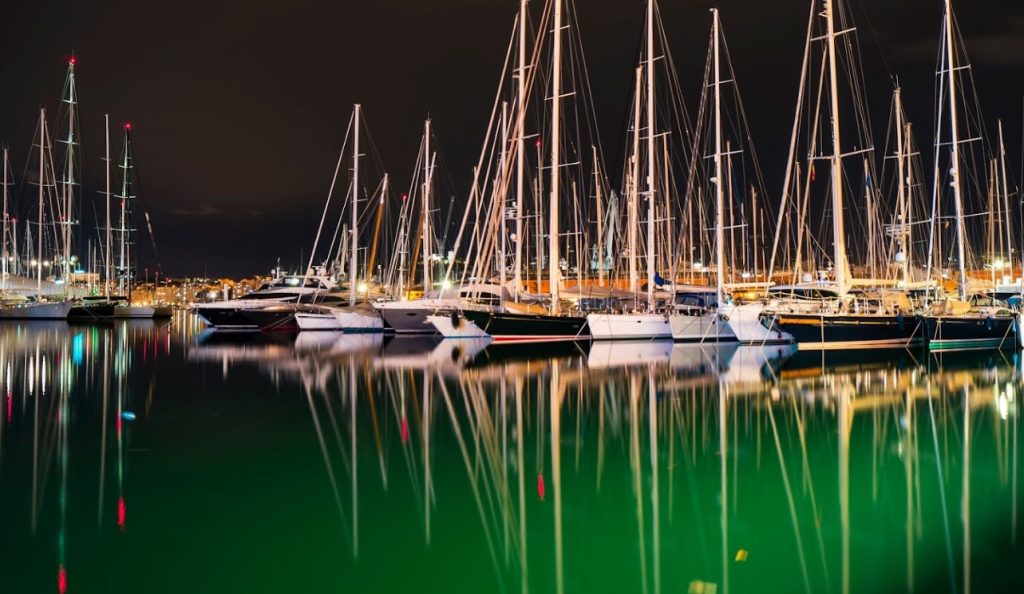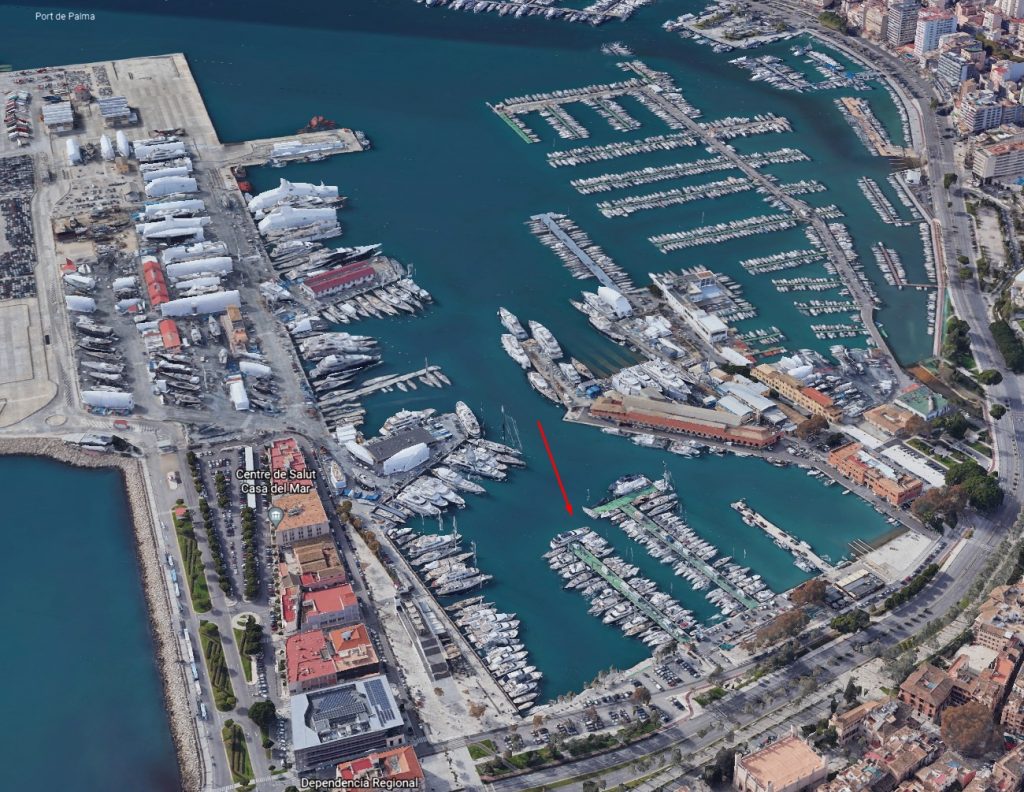 Located opposite the Real Club Nautico de Palma, at the foot of the Santa Catalina district (close to the old town of Palma), Naviera Balear is a small, modern and quiet marina located in Palma Harbor.
Although a few private yachts are anchored here, this marina is widely used by bareboat charter companies. For this reason, the marina has a low number of berths for visitors, with limited availability.
Naviera Balear has a capacity of 60 berths for boats up to 30 m long, with a maximum draft of 4 m. 
The marina offers the following facilities: water, electricity (up to 300 Amps), showers, WiFi, pump out and night watchman.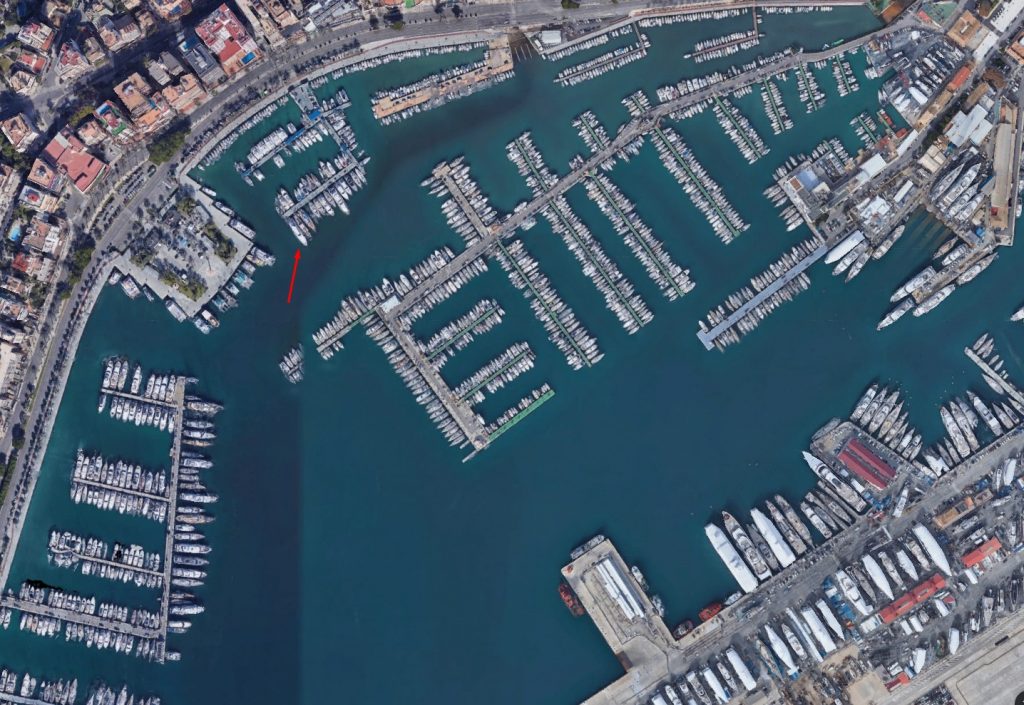 Mallorca is one of the best places to sail in the Mediterranean Sea. The Spanish island boasts amazing weather, beautiful beaches and coves, as well as mountains and towns that are out of this world.
If you're set to visit Mallorca any time soon then check out one of our top 7 picks for the best marinas in Mallorca.