Mercedes-Benz has just unveiled its first motor yacht! Called Arrow460-Granturismo, the boat measures 14 metres and has almost 1000 horsepower. It was first seen off the coast of Saint-Jean-Cap-Ferrat in the French Riviera. The impressive vessel combines the performance of Mercedes-Benz sports cars and the innovations from the boat industry. The yacht has cars proportions and is ideal for day and night trips.
"In developing the new motor yacht, we have transferred our expertise to the marine industry, creating something never seen before in the process. The 'Silver Arrow of the Seas' stands for modern luxury, avant-garde style and comfortable elegance.",  said Gorden Wagener, Vice President Design Daimler AG.
The luxury yacht is called Silver Arrow of the Seas after manufacturer's 1930's racing cars and one can have it for 1.7 million USD. Only 10 units will be made for the very first edition of the vessel and just one person from each country can buy the luxury boat.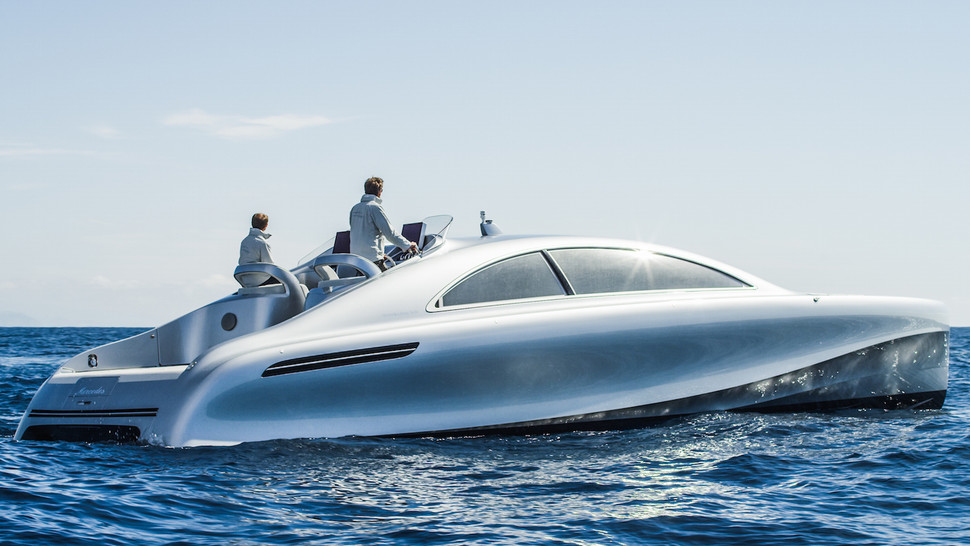 Photo source: digitaltrends.com
On this project, Mercedes-Benz cooperated with Silver Arrows Marine, a UK boat building company. The first design was first unveiled in 2012 at the Monaco Yacht Show. The vessel offers  room for 10 persons and will be powered by a pair of Yanmar diesel engines, at 480 horsepower each.
The interior features leather and eucalyptus wood panelling and the windows will automatically adjust with sun light.
It will also offer luxurious features like a wine cellar and a premium audio system.
Silver Arrows Marine Chairman Ron Gibbs said: "Almost everything about Arrow460 nubuck -Granturismo is unique, from its concept to the smallest bespoke detail. It is a motor yacht with a personality that truly embraces life, combining the best marine engineering with the inspired innovations and elegance that the world associates with the Mercedes-Benz name".