Europe's got some of the most fascinating islands in the world. Apart from their impressive beaches and picturesque landscape, these places also boast a rich history that goes back hundreds and thousands of years ago, bearing the reminiscence of ancient civilizations. Let's discover three of the most popular islands on the old continent that have all these assets: Sardinia, Sicily, and Corsica. Let's explore the most remarkable attractions you should check out if you have the chance to visit one of these locations by boat.
Sardinia is well-known for its luxury resorts and astonishing beaches, yet, many people who arrive here for the first time are taken aback by this island's natural diversity. This is one of the surreal settings where the mountain meets the sea. So, whether you love sunbathing or bathing in the sea, you'll hypnotically be gazing at the sight of the rough cliffs that reflected in the calm blue waters below.
If you are wondering what wonders you should explore first, you won't be surprised to hear that most locals and travelers suggest you start with Costa Smeralda. This place hosts some of the most attractive beaches of Sardinia that bathe in an emerald-green water, hence this coast's name. With its fine sands and cozy coves, Costa Smeralda is a recurrent destination for the jet set who come here to enjoy the natural beauties and the glamorous restaurants and hotels nearby. This coast's main attraction point is the center Porto Cervo, a yachting paradise/ If you want to book a berth here, Porto Cervo Marina can provide you with all the amenities you might need. Let's not forget, the MdM is also a top attraction, for those who enjoy contemporary art.
If you come to Sardinia, you must take the chance to visit the Island's capital, Cagliari and enjoy its countless attractions such as its intricate medieval streets, its top restaurants and welcoming cafes and its historic sites. Speaking of which, I can't move on without mentioning the ruins in Nora, a city located only a few kilometers from Cagliari where ancient civilization like the Romans, Carthaginians, and Phoenicians left their traces. If you discover your pleasure for the past during this visit, you might also want to check out the Nuraghe Su Nuraxi with its impressive stone towers.
Other similar locations are the Nuraghe Losa, this place's remaining towers date back to the Bronze Age and the prehistoric sites of Arzachena where you can take a tour through some fascinating chamber tombs that were built in the 18th century BC.
Alghero is another must-see objective in Sardinia. This town is still a testimony of the Spanish dominance that marked this island in the 14th century. Therefore, don't be surprisedby the local language that resembles Spanish, or to hear that Catalan is still used at mass in church.
Since you'll be travelling to Sardinia byboat, here are some of the best locations where you can book a berth: Marina CalaMangiavolpe, Marina dell'Orso, or Marina di Olbia Sardinia. These top ports are the most popular marina reservation options on this island.
Our second stop for today is Sicily, a place you're surely familiar with from countless movies and books that leveraged this fascinating setting.To many, Sicily is still a paradox, a place where contrasts and mystery are not an exception, but a rule. This island's natural treasures and vulnerable position have turned it into a constant goal for conquerors. From all the populations that lived and left their traces on these lands, the most prominent and long-lasting legacy belongs to the Greek civilization.
Their inheritance can be seen throughout the island and one of their most imposing vestiges are the temples in the Agrigento Valley. These temples were built 500 years BC and they are some of the best preserved ancient Greekremains in Europe. The most famous one is called Tempio di Concordia and despite the passing of the centuries, it features a remarkable condition.
Another landmark of this island is Selinute, a historic area where you can visit several other Greek temples the most reputable among them being classified under the name the 'Eastern Group'. Another ancient treasure you shouldn't miss iscalled the Temple of Demeter.
This island's capital, Palermo, is one of the most fascinating cities in Italy. From a cultural perspective, this is one of the richest cities in the country. Palazzo dei Normani, San Giovanni degli Eremiti, Palermo Cathedral, Cappella Palatina, La Martorana, Palazzo Conte Federico, Palazzo Riso, Palazzo Branciiforte, Mirto House Museum,Gemmellaro Geological Museum,Quattro Canti, Modern Art Gallery Sant'Anna, Catacombe di Porta Ossuna, Necropoli Punica di Palermo, Planetario di Palermo are just some of the places where you can admire art pieces and learn more about the capital's past.
If you rather opt for a stroll down the city's old streets, you should choose the beautiful historic area that spreads along Via Vittorio Emanuele and if you want to find shelter amidst lush vegetation, you can go to Orto Botanico.  If you're here to have a fun and unwind, this city's nightlife attractions won't let you down and neither will its restaurants and cafes.
Besides its cultural patrimony and beautiful beaches, this island has another jewel that makes it unique – its active volcano Etna. This place remains a mystery among scientists who are yet unable to predict this volcano behavior. With a height that exceeds 3000 meters, Etna dominates the island through its vivid presence that's marked by its smoking cone.
This place is the most popular attraction of the island and you'll be able to explore it closely by foot or by taking a tour in one of the specialized vehicles that can adapt to the volcano's surface.
And if you've made an effort to come so far, it would be a shame to leave Etna without visiting Villa Romana del Casale. This ancient settlement dates back to the 12th century and has been covered for 800 years by a landslide. Because it was rediscovered so late, it still features its unspoiled original decorations.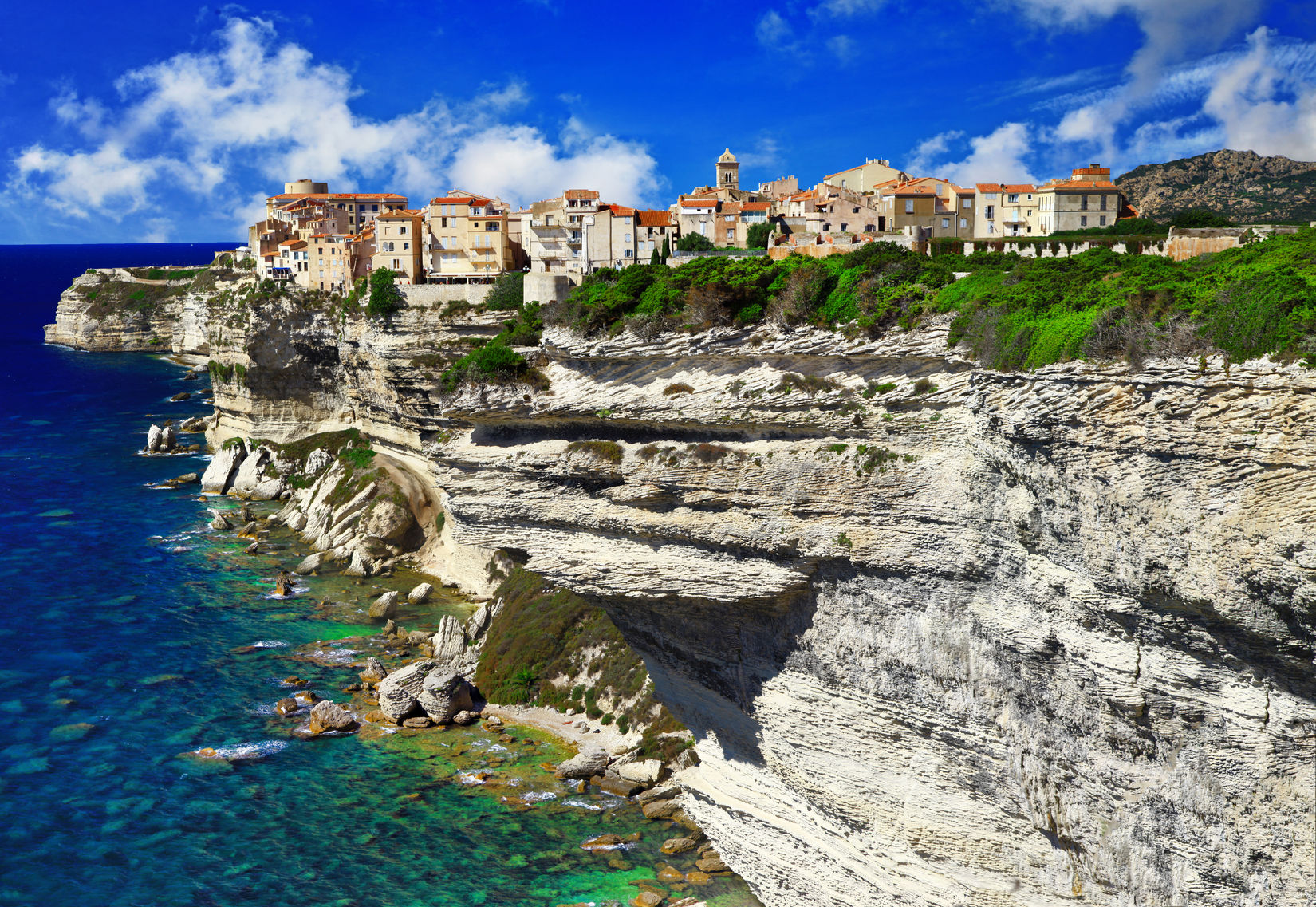 Corsica is nicknamed the Island of Beauty and it's absolutely entitled to carry this name. This island is a corner of paradise and for those who just want to laze in the sun and gaze at nature's beauties, this is a perfect choice because there are countless amazing beaches where you can't get bored. Corsica is also a good choice for hiking fans who can enjoy one of the impressive trails that spread on a total length of 2,000 kilometers.
Gulf of Porto is one of the most beautiful natural treasures of Corsica. Here you can visit a splendid nature reserve that has been included among UNESCO'sWorld Heritage Sites. This is one of those areas where you can emerge in nature and cast all your worries away. Porto's shore is also a beautiful place and it is watched over by an ancient tower.
If this wasn't enough, get ready to reach the next level by visiting Bouches de Bonifacio, France's vastest nature reserve where you can get lost among hundreds of species of plants.
Porto Vecchio is another place you shouldn't miss if your aim here is to visit beautiful beaches with fine sand and turquoise water like Plage de Palombaggia. Moreover, this hospitable town is also a former historic settlement whose 18th century citadel will charm you.
The islands capital city is Ajaccio, a splendid location where you can relax on sandy beaches and admire the crystal-clear sea or the sight of the mountains. This city was turned into a capital by Napoleon Bonaparte who was born here. So, it's no surprise to find out that the most popular attraction in Ajaccio is the house where Napoleon was born, Maison Bonaparte on Rue Saint-Charles.
One of this island's major attractions is Calvi, home to some of the most astonishing beaches in Corsica and a beautiful citadel where you can take a relaxing walk along the old city walls. Calvi offers a little bit of everything; here you can visit one of the cultural and historical sites like the Cathedral of Saint-Jean-Baptiste, or enjoy the city's nightlife and numerous events.
Bonifacio is another cozy historic town that has been founded in the 9th century. You'll be able to enjoy a pleasant and romantic atmosphere, within the fortress ancient walls, and enjoy a full-service marina reservation at Port Bonifacio.
Bastia is also a compulsory stop on your tour through Corsica. This is a port and the island's former capital. Bastia has a rich history that goes back 7 centuries ago. Some of its landmarks are the imposing bastion, the statue of Napoleon whichlies in the city center and the main square covered in blinding white marble.
When you'll be looking for berth reservation options in Corsica, remember the following: Port Calvi Corsica, Port Saint Florent Corsica, and Porto Vecchio Corsica.
Also, if you ever need to rent a boat you can always do this on boats.marinareservation.com.
I hope you'll be using these recommendations anytime soon and you'll enjoy your sailing trip to these terrific islands. Moreover, there are plenty other destinations we talked about in our previous posts, so feel free to browse through them for inspiration.