Some of the links in this post are affiliate links. This means if you click on the link and purchase the item, we will receive an affiliate commission at no extra cost to you. All opinions remain our own.
When it comes to choosing the best cooler for boaters, most people have an idea of what they're looking for, but usually aren't specific enough.
Are you in the market for a new cooler for your boat to keep your drinks cold on those long, hot summer days when you're out on the water with friends and family? 
Or do you need a cooler for an upcoming fishing trip to hold the day's catch? Want to learn more about the different types of coolers and what they have to offer? What aspects should you consider when choosing your new cooler and what is the best value? If so, look no further.
Here's a comprehensive guide that will help you know everything you need to know when buying a cooler.
The different brands, models, features, as well as tips and tricks on how to maintain your cooler so you can enjoy it for longer. 
As a boater, you want to make sure that your beverages stay cool at all times, even when the weather is too hot. There are many cooler options to choose from, so here are our top recommendations!
Yeti Tundra Portable Cooler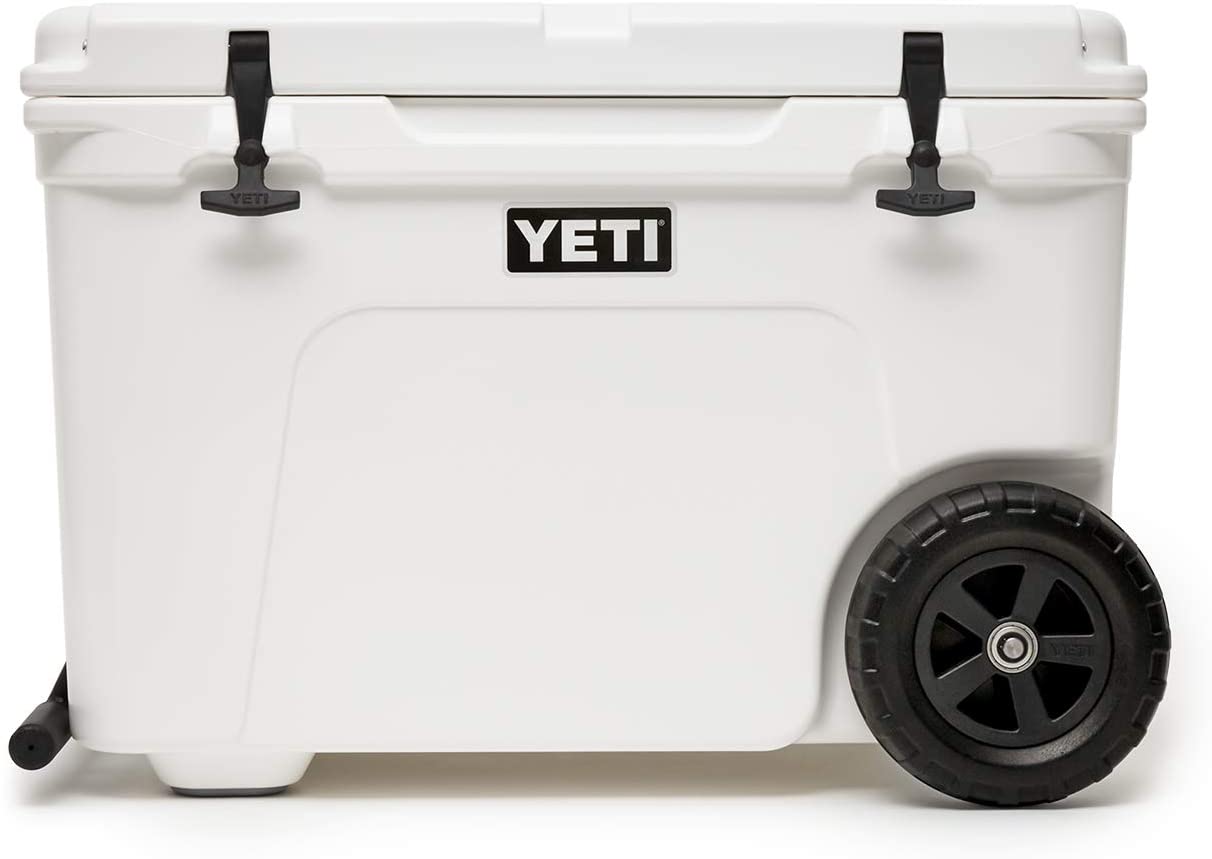 YETI Tundra Haul Portable - Best Cooler for Boaters
The YETI Tundra Haul Portable Wheeled Cooler is probably the best cooler for boaters who want a superior option among all the choices on the market.
The cooler has a 55 qrt (13.8 gallons) storage capacity and provides great insulating power (it also has 7-day ice storage) and features a durable welded aluminum arm with convenient handles.
It is the perfect companion for fishing trips, boating, hiking, camping and picnics. The cooler comes with a heavy duty soft canvas strap and 4 thick straps to secure the cooler to any object such as a boat or ATV.
The curved design tracks left or right for easy heel-to-toeing. It also comes with bottle openers on the sides and is easy to clean.
When it comes to durability, it is an excellent choice. Its Rotomolded construction makes it armored to the core and nearly indestructible. 
Also, this cooler provides a hole on the side made to install a padlock if need be.
Oh, and did we mention that it's the first Yeti model on wheels? How cool is that? No double, it's the best YETI cooler for boating and one of the most appreciated cooler for boating.
Arctic Zone Titan Deep Freeze - Best Cooler for Boaters with Microban Protection
If you don't want all of your food to be ruined, consider investing in a high performance roto-molded cooler.
The 55Q Titan Deep Freeze High Performance Cooler is a great cooler for any boater because it comes with thick polyurethane insulation on each side! This ensures that your food will remain cold even if your ice melts.
While it may not be cheap, this high-performance insulation cooler has multiple features that makes it extremely durable and lets you have a great time outdoors even if there's a heat wave!
Being one of the best coolers for boating and other marine activities, it has built-in antimicrobial protection that prevents the formation of stain and odor-causing bacteria for the rest of your life.
It also comes with heavy-duty T-latches that are corrosion resistant, a signature feature of all Titan products.
Wherever you go, this roto-molded cooler will keep things cold for up to 4 days.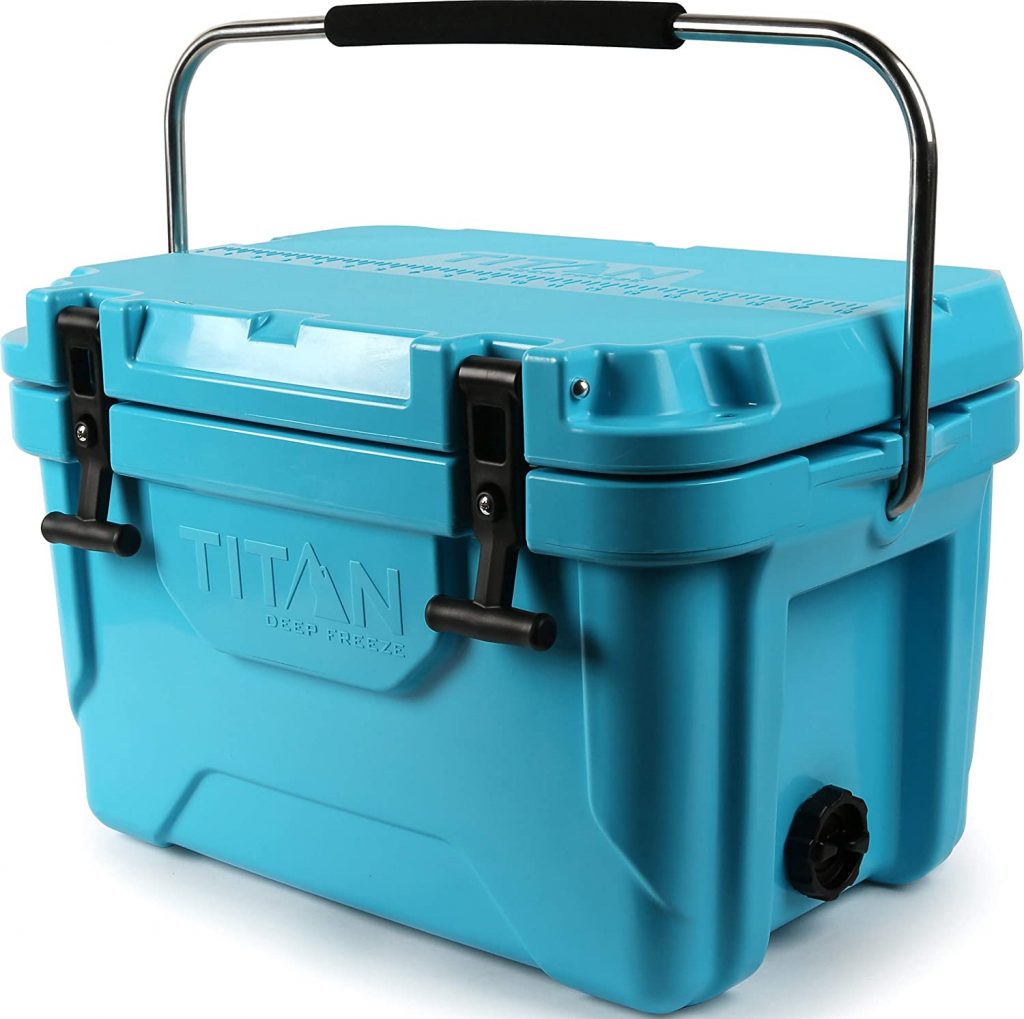 The Igloo 72 Qt BMX Cooler is one of the best marine coolers for boaters designed to keep food and drinks ice cold for more than two days.
It's made with a two-way spout and a patented push-button activated lid that opens with just one touch, making it effortless to get a quick sip or refill.
With a separate, waterproof beverage compartment, you can also keep your favorite drinks ice cold for up to five days with the integrated Ice-O-Matic insulation.
Extra-thick foam walls and an insulated top provide the finest cooling performance in the category.
The oversized hinges and stainless steel screws enhance the life of the product. The skid pads provide additional corner protection.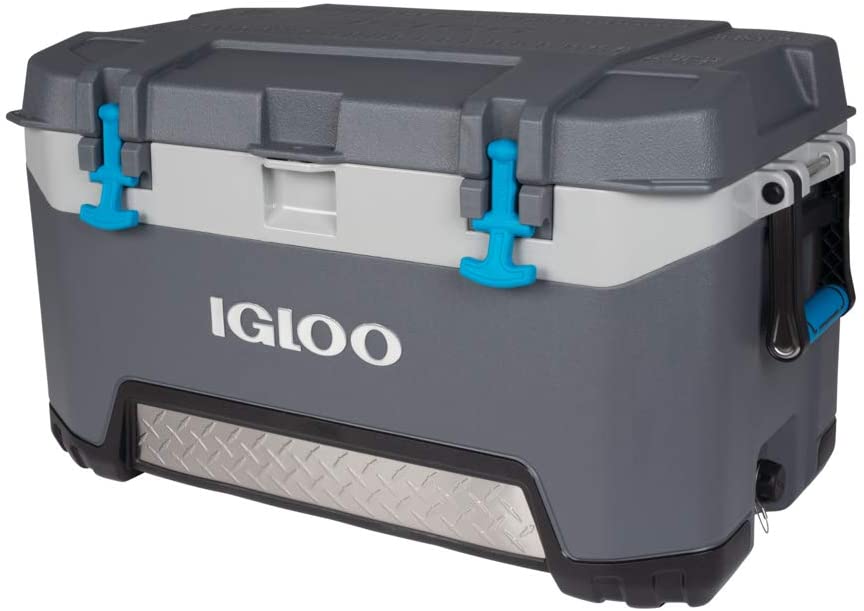 Igloo Marine Ultra Cooler for Boaters
Boasting extravagant features, the Igloo Marine Ultra Cooler is one of the most sought-after in today's market and one of the best coolers for boaters. This white-colored cooler is multi-purpose and can be used for a wide range of purposes, making it a must-have for any boater.
The Igloo Marine Ultra Cooler is an affordable cooler designed to keep your drinks, snacks and, of course, the catch of the day fresh. Its provides multiple storage options which range from 30 Qt to 94 Qt.
It features an ultratherm insulated body and lid, UV inhibitors that block sunlight as well as stain and odor protection. The ultratherm insulated cover and body keep the contents cold for up to 5 days at 90°F.
It also has reinforced handles and a fish measuring ruler built into the lid. Its screws, lid and hinged latch are all rustproof, so you can use it without any worries when you're out on the water or on a fishing trip.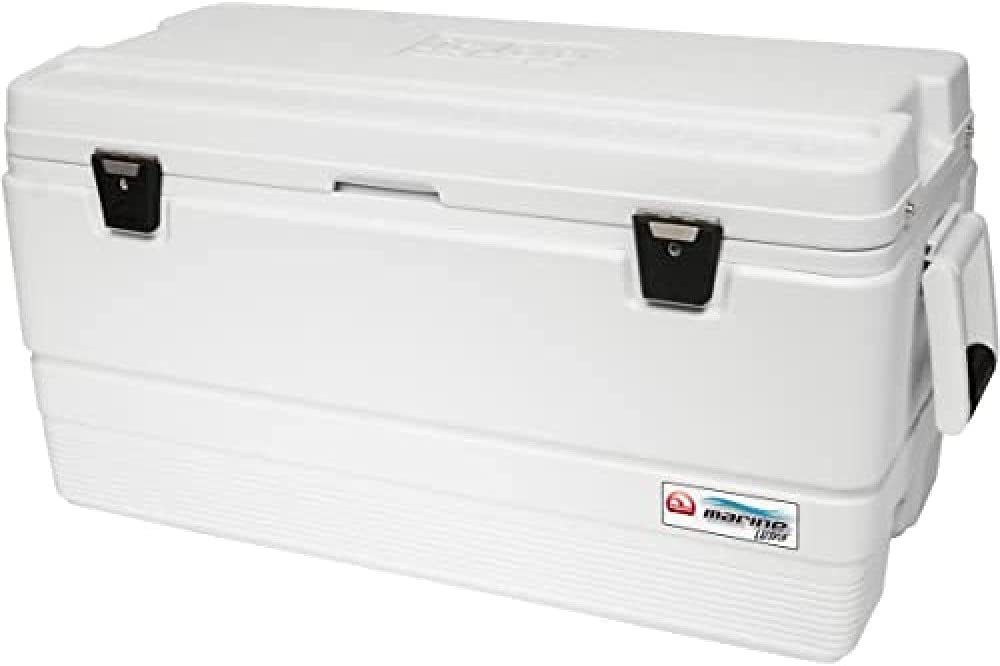 Coleman Xtreme Series Marine Portable Cooler for Boating
For boaters who want a cooler that's a step above the rest, we think the Coleman Coastal Xtreme Series Marine portable cooler is a great choice. 
It's made from the highest quality materials, making it very sturdy. It has a large storage capacity of 66.5 liters and keeps your food and drinks cool for up to 5 days.
Thanks to its durability, it will hold up even at low temperatures and won't be a problem if it gets splashed by the waves. It is ideal for fishing trips or hot summer days and fits perfectly on a medium sized boat.
Igloo Polar Cooler Family
Are you looking for a large cooler that will keep your drinks and food cold for days? The Igloo Marine Ultra Cooler is a great bang for your buck and has many features that will come in handy when you're on the water.
Igloo Polar 120 cooler is one of the top coolers for boating on the market right now. It keeps your food and drink at just the right temperature even under the harshest conditions.
The Igloo Polar 120 Cooler allows you to sail or fish for longer thanks to Ultratherm insulation in the body and lid, which can keep ice for up to 5 days in temperatures as high as 90 degrees. It provides swing-up handles that are reinforced and include a tie-down loop function.
This Igloo ice chest is roomy enough to pack food and beverages for your whole boating crew.
It is ideal for large groups of people because of its generous storage capacity (you can choose between a 100 Qt, 120 Qt and a 150-quart capacity). The size is perfect for weekend getaways and tailgating.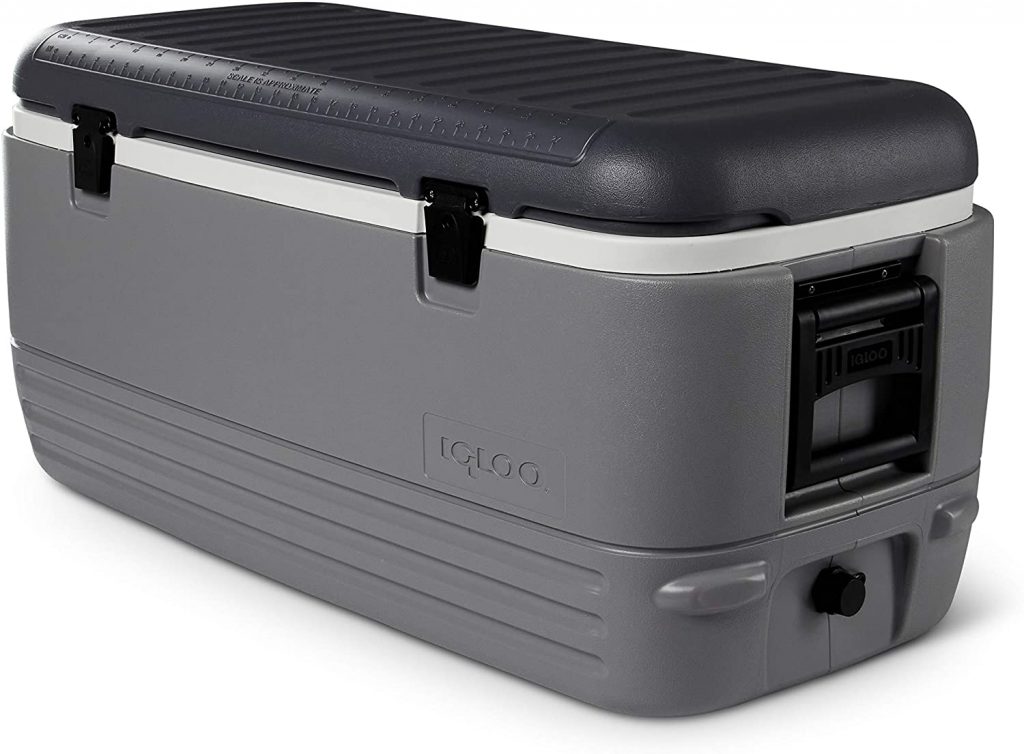 Coleman Portable Cooler for Boaters
Another convenient marine cooler option is the Coleman Portable Cooler with Wheels. 
It comes with a telescoping handle and sturdy wheels that will come in handy for transportation. It has a 50-quart capacity, which means you can store up to 84 cans.
It also has an insulated lid and walls that provide 5 full days of ice storage at temperatures up to 90 degrees Fahrenheit. The lid also has 4 cup holders that are great for having easy access to your drinks.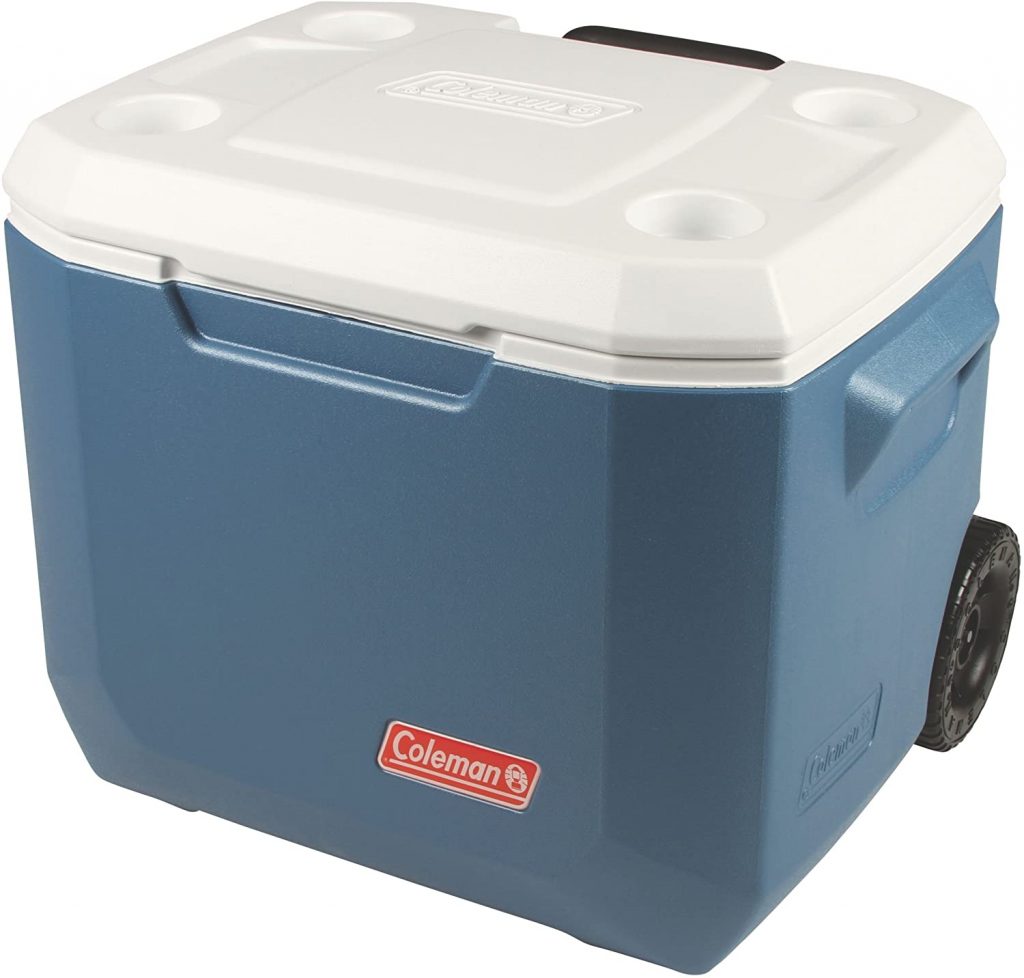 Choosing the Best Cooler for Boating and other Marine Activities: Buying guide
Finding the best cooler can make or break your boating trip. There are many coolers on the market but not all of them are good for boating.
Marine coolers are designed to be used in even the most extreme weather conditions and are an important asset that every boat owner should have on their vessel. 
There are just a few things you want to consider before purchasing coolers, such as size and insulation type, that will allow you to make the best choice.
Choosing the right cooler for you should be fairly easy, as they serve a simple and uncomplicated purpose, but even so, here's what you should consider when shopping for the best cooler that fits your particular needs.
If you consider these things, your next cooler purchase will be a happy one.
How long will the cooler be able to keep the ice and cold intact? Do you need a cooler that will keep food and drink cold for a few days in a row or do you need a cooler that you can use during a 24 hours sailing trip? 
Our best tip is to  pay attention to insulation and keep in mind that  fishing coolers often have thicker insulation to keep their contents cold for a few days.
The storage capacity of a cooler is one of the most important aspects to consider when deciding to buy one. 
Usually, storage capacity is measured in quarts used to show how much ice and different contents, such as food and drinks, the cooler can hold. 
A larger cooler will obviously have more storage space, but you should keep in mind if it will fit in your boat.
You want to use your cooler for a long time, so before you buy one, you need to look at some aspects that show its actual durability. 
Besides the thickness of the case, you should check if the cooler can be used in extreme weather conditions and if it has protection against corrosion due to sea water. We suggest that you choose a cooler with stainless steel components and UV insulation.
Extra Features and Functionalities
Other features that a cooler can have include cup holders and fishing rod holders that will be very useful or even bottle openers. If you want to sit on the cooler, first make sure it is sturdy.
Other Factors to Consider when Buying the Best Cooler for Boating
Sturdy and comfort grip handles for easy gripping. Shoulder straps and wheels which are great during transportation

Drain plugs allow ice water to drain without having to flip the cooler over, making your life easier.

Built-in hinged lids, even if they are a sign of durability, are usually heavier. 

A latch that you can use to lock the cooler
Maintenance of boat coolers
To keep your cooler in good condition, you must clean it inside and out. 
We recommend that you do not leave it in sea water as some parts may corrode. The inside also needs to be cleaned because you store your food and drinks in there. If it is not clean, it can be dangerous for your health. 
Also, don't forget to clean it after returning from a fishing trip.
The more you take care of your cooler, the more you'll be able to use and enjoy it for years, even decades.
Below are some tips on how to care for your cooler:
Clean out all residual debris and grit left in the cooler. This includes ice you no longer need or ice water that has formed. Depending on the model, you will need a hose and a drain to do this.

 

Make sure that no moisture stays inside. Wipe the entire interior dry with a clean cloth. In order to sterilize the cooler you can use alcohol or bleach. After you do this, rinse it off. 

Make sure you wipe the handles, lids, and hinges, too but first check the material in order to use the right cleaning products. 
What brand keeps ice the longest?

The coolers with the best ice holding capacity are made by Camco, Engel and of course YETI and RTIC.

Is Coleman or Igloo boat cooler better?

Coleman and Igloo are two budget-friendly cooler options that offer great storage capacity, generous interior space and excellent ice retention. 

However, keep in mind that their handles are not as high quality and they do not have stainless steel components.

Is there a cooler better than YETI?

Yeti is an excellent choice of cooler, one of the best we could add because of its quality and durability. So we consider it a wise investment. 

RTIC or Engel coolers are another good alternative. If you choose an RTIC or Engel cooler, you will save up to $100 over Yeti coolers.

Are expensive coolers worth it?

They're worth every penny if they offer everything you'd expect from a cooler and are durable, so you can use them over the years without running into any particular problems.
Hopefully, this quick guide to choosing the best cooler for boating and other marine activities has helped you better inform your purchasing decision. There is no one single best cooler for boaters, but by identifying your priorities and comparing the top models out there, you should be well on your way to finding the perfect cooler for you.
Be sure to consider everything we've mentioned in this article when choosing the right cooler for you!