We all know that weather is a determining factor for sailing. So, what are the best weather apps for boating? The ones that we're going to review have been designed with a special focus on being useful for boaters and sailors.
Knowing the weather forecast is a vital step in planning your boat trip, making a marina reservation, and it is more important than you might think. Here's the list of the 6 best weather apps for boating and marine activities.
Best Weather Apps for Boating
Saving money is great, but saving yourself from danger is better. And getting information about the weather in an easy format or app for your mobile device is crucial during your run on the boat.
There are a number of options out there for boaters that depend on an accurate forecast, and that's what these weather apps aim to provide. By knowing the weather, boaters can make better decisions about safety, comfort, and just plain good times on the water.
Whether you are a fisherman, an avid boater or sailing enthusiast, the marine weather apps provide many benefits to any boater.
These days, it's not all that difficult to find marine weather apps through a number of different sources. But which ones are the best?
Are you looking for a weather app with an awesome user interface? As the name implies, its developer claims this to be the most advanced and one of the best weather apps for boating which is available in the market right now.
It provides great levels of detail as well as the best quality and most accurate forecasts available.
Predictwind, a favorite among serious sailors, integrates live weather measurements from over 20,000 live stations, as well as high-resolution prediction maps and forecast warnings. The greatest resolution is 1km, and the site uses its own PWG and PWC models.
The app supports over 80 worldwide spots with search options and favorites which has been designed to keep you safe during severe weather conditions.
Reviews: It also has a 4.8 out of five star rating (based on 20k ratings) on the Apple App Store. That corresponds to the incredibly precise forecasts we saw when using the app, which accurately predicted wind direction and speed.
Price: Free accounts have lower resolution mapping, while in-app payments begin at $3.99 and allow you to get weather routing. It is definitely worth all the money.
In the map, you can simply switch between wind, swell, rain, cloud, air, and sea temperatures.
Predictwind uses the following forecast models: ECMWF, SPIRE, UKMO, GFS, PWG and PWE. Meteorologists and top sailors all around the globe consider the ECMWF (European Centre for Medium-Range Weather Forecasts) model the best one.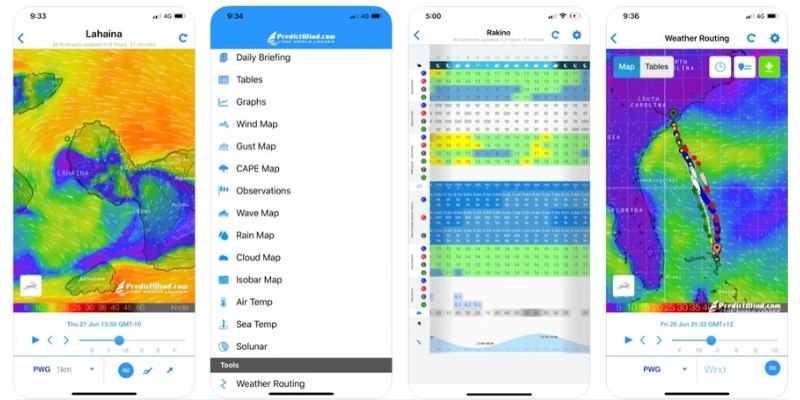 Life is a little breezier with the Windy app. Windy's weather prediction visualization brings weather forecasts to life. Boaters, skippers, boat owners, fisherman, and sailing enthusiasts all rely on this app!
This is due to the fact that it is quick, easy to use, and one of the most accurate weather applications. That's why Windy is a fantastic tool for visualizing weather forecasts with 40+ global weather maps, being one of the best boating weather apps.
It's a super-simple weather app for you to instantly see the weather info on your iPhone and Android devices. We believe it's one of the most beautiful weather apps for boaters.
With the most up-to-date weather prediction available, this app will let you track storms, potential severe weather, and plan your sailing holidays.
ECMWF, GFS, ICON-EU, ICON and NEMS are the forecast models that the application offers to its users. We recommend you to use the ECMWF forecast model (which is free of charge) because it's much more advanced and precise than a GFS.
Windy has all useful weather maps at your fingertips, including wind, rain, temperature, humidity, or pressure, as well as swell and CAPE index.
Reviews: On PlayStore, this awesome weather app is rated 4.8 out of a total of 400k reviews. On Apple App Store, the Windy app has the same rating (4.8 out of 5) and 28.6k ratings.
Price: It's a free service but if you want additional functionalities, they provide a Windy Premium subscription which costs about $20/year. This subscription offers additional facilities such as hourly high-resolution forecasts, ad free and data updates 4 times a day.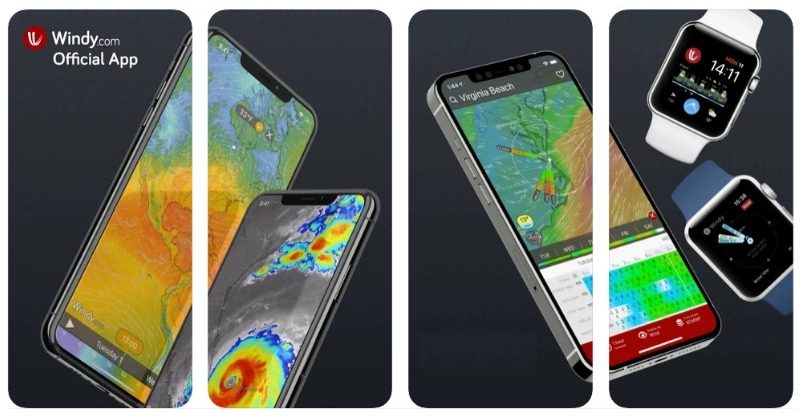 This weather app for boaters provides precise worldwide forecasts for wind, weather, tides, and waves for over 40, 000 worldwide areas. High-resolution forecast models and maps are provided. Over 80 000 worldwide locations' high and low tides may be viewed.
Forecast maps provide a more accurate representation of the overall weather condition. With a choice of dynamic or static displays for wind conditions and other data such as wind gusts and precipitation, you'll always have the most up-to-date picture of how the weather is changing.
It also provides features such as wind strength and direction, wave reports and air temperature. The weather app is considered one of the best wind weather apps for boaters.
Reviews: It has a 4.8 out of 5 rating on GooglePlay, out of a total of 10k reviews, while the Apple App Store users gave it a 4.8 out of 5, with 12.7k reviews.
Price: Windfinder Pro costs $8 and they provide a free trial period of 7 days. If you want to subscribe to Windfinder Plus (addition subscription which is renewable for one month or one year), you will get great features such as:
Hourly, high-resolution regional forecast models
Advanced wind and weather map
Notification wind alerts on your phone
Wind report map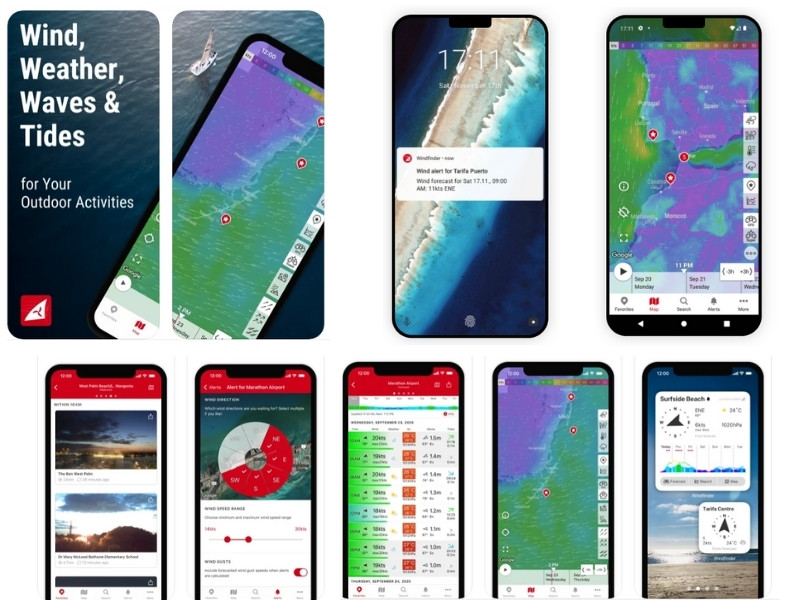 Windguru is a fast-loading weather app that provides straightforward weather forecasts. There aren't many features, so if you want simplicity, this is the best weather app for you. It offers typical prediction tables and it works with poor internet connections, and even when you're offline, you'll still get previously loaded forecasts.
Reviews: On the PlayStore the app could be found as WindGuru Lite and the application has a score of 4.3 out of 10k reviews.
This WindGuru Lite weather app is basically a fragment of the complete web app, which can be found here. 
The original Windguru website is designed as a Progressive Web App (PWA), which means it can be loaded and used on your Android smartphone much like an app. It is constantly updated and provides full functionality.
Although the site does not offer a modern user experience, it is still used by old-school boaters.
Price: WindGuru Lite is a free app and is available only for Android users.
On their website, you could opt for a Windguru PRO subscription which costs €19.90/year, €34.9 for 2 years or €2.9/month.
If you choose the PRO subscription, you will receive:
detailed weather predictions for any location based on all models available for the location
the ability to define any number of custom spots you want
email forecast alerts
tides for custom spots
ad free website
Hint: We discovered that the free version of Windguru is just as accurate as the PRO version after doing several testing.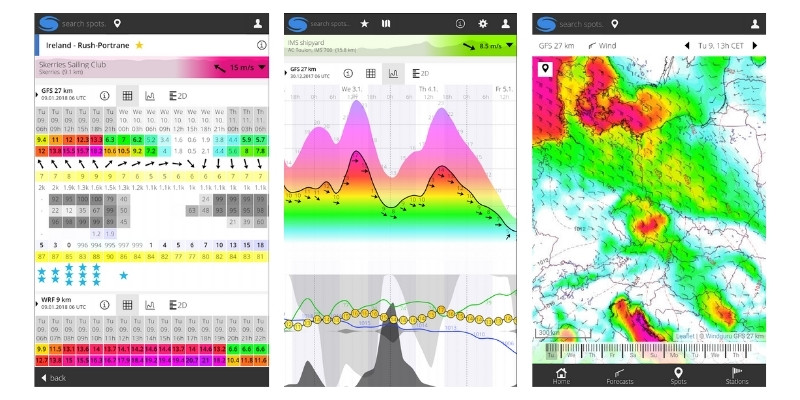 5. NOAA Marine Weather Forecast
NOAA Marine Weather Forecast – Buoys Weather Data is an app that covers all of the basics when it comes to marine weather. This is one of the most appreciated weather apps for boaters in the US because it provides buoy data, six-hour historical wave height trends, tide and current predictions, National Weather Service marine forecasts, NOAA severe weather reports, NEXRAD radar images, and real-time wind, wave, and temperature data.
Reviews: On the AppStore, the Buoycast NOAA Marine Forecast app has a rating of 4.6 based on 10.3k reviews.
Price: In order to access the NOAA Marine Weather Forecast on your phone, you'll have to pay $1.99.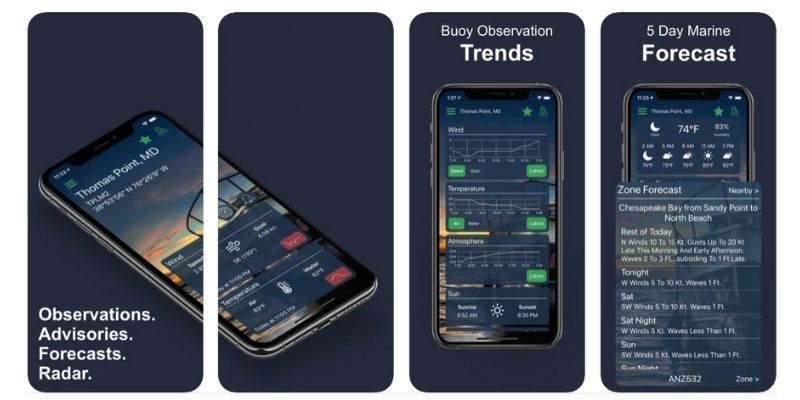 Buoyweather is one of the favorite weather forecasting applications for US navigators due to its simple navigation, high accuracy, and map-based predictions.
Reviews: Unfortunately, the reviews received on the PlayStore have started to report multiple bugs related to user experience issues. So, it's better to use the web version of it.
Price: The app is free to install but it offers in-app purchases. Two-day predictions are available for free, but advanced features (such as high-resolution wind forecasts) and long-term forecasting need a $7.99 monthly premium subscription for yearly plans (billed once a year) or a $14.99/mo, billed month-to-month. For the yearly subscription, you will get a 15-Day free trial.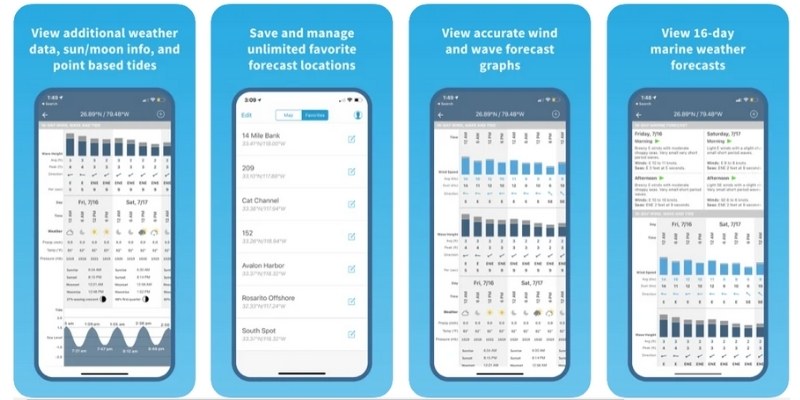 F.A.Q. about the best weather apps for boating
What is the best marine weather app?

The best marine weather apps are Windy, Predictwind and WindGuru since they include numerous forecast models and a greater update frequency.

What weather app do fishermen use?

Predictwind, Windy, and Windfinder are commonly used by fishermen since these weather applications do more than just indicate the intensity and direction of the prevailing wind. These are some of the finest weather apps for boating since they feature a fully functional weather app as well as a tide finder, giving the fisherman or sailor all the information they could possibly need to be safe and enjoy their activity to the fullest.

Which weather app has the most accurate weather?

Predictwind and Windy use the ECMWF prediction model, which is often regarded as the most accurate, with the US's GFS trailing slightly behind.

Is there an app for sea conditions?

Predictwind, Windy, WindGuru, WindFinder PRO, and NOAA are the best weather apps at sea.

Windy vs Windy.com confusion on AppStore

The official Windy iOS app is called Windy.com. There is no relation with the app called Windy: wind & weather forecast.

Is the Windy app accurate?

It is amazing how accurate Windy forecasts the wind. That's because they use several different forecast models.

What is the best wind app?

The best wind apps are Windfinder and Windy. They provide precise worldwide forecasts for wind, weather, tides, and waves, using multiple forecast models. For sailing and outdoor activities, they are trustworthy and simple to use.
Are you a huge fan of sailing apps? Take this opportunity to go through the best sailing apps available. Hopefully this collection will help you or your family make the most out of your time aboard.