Some of the links in this post are affiliate links. This means if you click on the link and purchase the item, we will receive an affiliate commission at no extra cost to you. All opinions remain our own.
If you're looking for the best drone for sailing, you've come to the right place. Whether you're exploring hidden beaches, secluded bays, top marinas, awesome anchorage places, or want to film your boat while sailing, you'll need to carry a drone on board to capture the greatest moments of your sailing experience.
Sailing enthusiasts usually want to capture every moment they can while they are sailing and drones make the process easier than ever before. After a long sailing day, drone footage is the best way to relive your awesome experiences on the water.
What is the best drone for boating? That's a great question! There are many drones on the market and it's hard to decide. Let's take a look at the best drones for sailing, boating, and any marine use.
Drones are quickly becoming extremely popular, and if you take boating as a hobby or passion, you may be wondering what drones are the best for boating. 
All drone models are extremely stable, powerful, have a great camera, and have a decent flight time.
Let's discover the best drones for sailing and boating activities, and which ones are best for various situations.
Here are 5 of the best drones for boating and marine use.
DJI Mavic 2 PRO - Best Overall Drone for Sailing & Boating
DJI Mavic 2 PRO is exactly what drone lovers have been waiting for: performance and picture quality in a compact package.
The Mavic 2 PRO is one of the most recent DJI drones, and it is packed with state-of-art technology, a fantastic camera, and, most significantly, it includes tracking and follow-me features. This is without a doubt the best drone for boaters.
The Mavic 2 camera drone is equipped with a Hasselblad L1D-20c camera with a 20MP 1″ CMOS Sensor, which allows you to shoot breathtaking aerial photos in astonishing color detail (resulting in outstanding quality and detail captured at a resolution of 20 megapixels). The camera includes a built-in stabilization technology in order to improve the quality of photos and videos. Thanks to the bigger sensor and 28mm equivalent prime lens, the ISO can be increased to 12800, which is significantly higher than other drones.
It's an extremely powerful drone and it provides a maximum speed of 44 mph and a flying duration of up to 31 minutes. Also, it has a max. transmission distance of 10 km.
Did you know that the DJI Mavic 2 PRO has a wind resistance level of 5? That makes the drone of the best drones for sailing and boating activities. This is one of the best drones for windy conditions, being an ideal choice for boating and sailing.
ActiveTrack 2.0, HDR Photos, Omnidirectional Obstacle Sensing, and a low-noise construction are among the smart features included in the drone. The drone also offers features such as QuickShots (Rocket, Dronie, Circle, Helix, Asteroid, Boomerang, DollyZoom), POI, Waypoint, TapFly.
The drone can be purchased with the standard controller or smart controller (it is a bit more expensive but worth it). The smart remote controller can operate for up to 135 minutes on a single charge (on a full charge). Using the smart controller, you don't have to worry if your phone has enough battery. The controller screen is also very bright and easy to see even in sunlight.
The drone has an internal storage of 8GB but accepts SD cards, allowing you to add up to 128GB additional storage.
PROs: 
Foldable design
Easy to fly
Amazing Image Sensor (20 MP)
Great Quality of Images
Great Color & Dynamic Range
More Obstacle Avoidance Sensors
Shoots slow-motion video up to 1080/120p and 4K/30p
Better in Low Light
Wind Resistance: Level 5
DJI Mavic Air 2 - Best Drone for Windy Conditions
By far, the best drone when it comes to boating is the DJI Mavic Air 2. This drone has several benefits that make it the ideal choice for someone searching for their first drone or just updating their current model. Let's look at why this is one of the best drones for boating.
The DJI Mavic Air 2 is a small, portable drone specially designed for boating. It has a 4K Camera that can capture high-resolution photos and a great video capture resolution during the day or at night with built-in LEDs.  It includes a tracking and follow-me feature.
The Mavic Air 2 is a significant upgrade over its predecessor with a better range, a considerably longer battery life, all for the same starting price as its predecessor. It offers a good value for novice pilots and seasoned sailors alike. Anybody who has ever flown a drone knows that it can be tricky to learn. You have to master no-fly zones and keep an eye on your battery life.
The 1/2-inch CMOS sensor on the drone produces 48MP images, while the 3-axis gimbal enables 4K/60fps video. A high-performance Quad Bayer image sensor is the key to producing amazing HDR footage.
The Mavic Air 2 is designed for first-time pilots with its simple flight controls but offers enough features for more experienced users to enjoy using it every day. The Air 2 is praised for its portability, controllability, video quality, and overall image quality.
Moreover, due to its wind resistance (level of 5), Mavic Air 2 can fly in windy conditions, making it an excellent drone for boating and sailing activities. Weighing only 20.01 oz (570 g) and having a level 5 wind resistance, DJI Maic Air 2 is probably the best drone for windy conditions.
The Mavic Air 2 has simple shooting controls that make aerial photography easier than ever. While flying freely, Spotlight 2.0 keeps the camera focused on a target. Subjects are kept in focus with ActiveTrack 3.0. POI 3.0 follows moving things such as people and cars. OcuSync 2.0 has a video transmission distance of up to 6.2 miles / 10 kilometers and can give a livestream in 1080p FHD definition directly from the drone's camera. The drone is lighter than the PRO version, weighing only 1.25 pounds (0.57 kg).
The point perspective camera offers smooth motion for exploring the sea and you while sailing, and the gimbal technology uses a 3-axis stabilization system to keep your photos/videos steady.
With an excellent battery life of up to 34 minutes (~9 km) and a maximum flying speed of 42.3 mph in Sport mode, you can stay in the air long enough to obtain the ideal images and footages.
The drone combo pack also contains a four-way charger connector, which can take four batteries and charge each one. You don't have to change every battery because it does the job for you. It's useful if you're charging all of your batteries overnight.
We recommend you choose the Fly More bundle because it includes all of the things you'll need to keep you flying in the field for a longer period of time.
Moreover, you don't need a cell service in order to operate DJI Mavic Air 2. This is an ideal drone for boating and sailing.
iOS 10.0 (or above) or Android 6.0 or higher is required for the DJI Fly app.
PROs:
Good Value for Money
Foldable design
Easy to fly
Very Light (20.01 oz / 1.25 lbs/570 grams)
Up to 34 minutes Battery Life
48 MP Camera
Shoots slow-motion video up to 1080/240p and 4K/60p & hyper-lapses up to 8K
Wind Resistance: Level 5
DJI Mavic 2 Zoom - Best Fishing Drone
For boaters who want to take their storytelling to the next level The Mavic 2 Zoom features a camera drone which is all about dynamic views, thanks to a 1/2.3-inch 12MP sensor with up to 4x zoom, including a 2x optical zoom (24–48 mm, compared to DJI MAvic 2 PRO which features an effective focal length of 28 mm).
If you want the greatest quality images and have a large budget, the Pro is the way to go; but, if you don't have a large budget, DJI Mavic 2 Zoom is still quite excellent.
It features a flying time of up to 31 minutes, a top speed of 44 mph, and a 3-axis gimbal for stable photos. Due to its intelligent flight battery, the battery status is monitored in real-time.  It also provides a level 5 wind resistance, making it an excellent drone for sailing.
Mavic 2 Pro VS Mavic 2 Zoom: The Mavic 2 Zoom is the only drone that supports the Super Resolution function. When shooting in 24 mm equivalent 5, the camera will take and patch nine shots with its telephoto lens, resulting in a 48-megapixel super-resolution image. Compared to the Mavic 2 ZOOM version, DJI Mavic 2 PRO offers HDR and 10-bit DLog-M, while the ZOOM version does not offer these features. Also, the resolution of 4000×3000 pixels is lower in the Zoom version, compared to the Pro version: 5472×3648 pixels. Both drones provide ActiveTrack (Follow Me feature).
Are you trying to find the best fishing drones? As you know, Drone fishing serves two purposes: surveying possible fishing spots (essentially surveillance to discover the best spot) and dropping the bait.
If you enjoy both flying drones and fishing, Mavic 2 Zoom is one of the best fishing drones because it comes with some of the best features: good wind resistance, a 9km transmission range, 4K camera, excellent obstacle avoidance sensors, Return to Home and Follow Me modes. Moreover, Mavic 2 Zoom is a little fishing drone that you can simply transport, being able to use the zoom to identify the ideal fishing areas.
The Mavic 2 Zoom drone features an internal storage capacity of 8GB and SD card support up to 128 GB.
ActiveTrack 2, QuickShots (Rocket, Dronie, Circle, Helix, Asteroid, Boomerang, DollyZoom), POI, Waypoint, and TapFly are among the outstanding autonomous modes available on the Mavic 2 Zoom drone.
If you opt for the smart controller bundle, you should know that the main feature of the controller screen is the 5.5 inch ultra-bright display which means that in bright sunlight, this screen is much more usable than any mobile phone. This is one of the great advantages for any boater.
As for the internet connection, this is only necessary when you set it up for the first time, but you don't need it after that.
Furthermore, they provide you a full-coverate and hassle-free. You can replace the drone for collision and water damage.
PROs: 
Excellent Zoom Range (24-48 mm)
Continuous Auto-Focus
4K with Zoom
Obstacle Avoidance on All Sides
Easy to Use & Foldable design
Wind Resistance: Level 5
DJI Mavic 3 - Longest Flight Times Drone & Best Performing Drone
The Mavic 3 is now a game-changer for water sports. Have you ever gone surfing and wanted to record your session on the waves? Or maybe you've used drones to document your sailing trips before. But now, there are other drones that do a much better job at recording your water-based activities.
The drone has a 4/3 CMOS Hasselblad camera with a 12.8-stop dynamic range that preserves more details in highlights and shadows, elevating your work to a professional level.
Have you ever asked yourself which drone has the longest flight time? If yes, then you should know that DJI Mavic 3 has the longest flight time. With a spectacular flying length of 46 minutes (the drone with the best flight time), the Mavic 3 drone allows you to take as many photos as you desire while just using one battery. The drone has a maximum transmission range of 15 kilometers and a live feed at 1080p/60fps.
Its camera has sophisticated Omnidirectional Obstacle Sensing. This allows you to fly confidently and safely no matter where you are. Live feeds are also smooth and steady using the O3 Plus Transmission technology. If you've ever wondered how far a drone can fly (from the controller), DJI Mavic 3 includes a transmission technology that allows for a 15-kilometer transmission range.
It also offers a Smart Return to Home function. The Mavic 3 camera drone can return to its home point through an optimal, quick, and safe route thanks to a new Advanced RTH technology. Whether it's due to a low battery or the pilot, returning the drone to you is now easier than ever.
Even if it is more expensive than the other drone models in the article, it certainly offers excellent features, setting a higher standard for aerial photography.
In comparison to the normal Mavic 3 bundle, the DJI Mavic 3 Fly More Combo comes with 2 x extra Intelligent Flight Batteries, 1 x Battery Charging Hub, one Convertible Carrying Bag, and one ND Filters Set (ND4/8/16/32).
PROs:
Extended Flight Time, up to 46 Minutes
Its camera can record up to 5.1K/50fps or 4K/120fps videos
Upgraded Transmission System (15 km range & 1080p/60fps live feed)
Faster Focusing due to Vision Detection Auto Focus (VDAF) Technology
Foldable design & Easy to Fly
Wind Resistance: Level 5
Phantom 4 PRO V2.0 - Best Drone to Fly From Boats
The new DJI Phantom 4 Pro V2.0 is currently one of the best drones for marine use, with awesome features such as TapFly, ActiveTrack, Gesture Mode, and Draw Mode. Due to its flexible design, it is extremely easy to transport.
Did you know that the DJI Phantom 4 Pro has a maximum speed of 45 mph (Sport mode) and a maximum flight distance of 11 miles? That makes the drone of the best drones to take with you on your sailing trips.
The drone camera has a 3-axis motorized gimbal as well as a 1-inch 20MP CMOS sensor with a mechanical shutter that minimizes rolling shutter distortion, making it one of the best sailing drones. It offers a video capture resolution of 4K UHD 2160p.
It boasts an 8 km transmission range, a maximum flying speed of 72 kph, 1080p livestreaming, and automated frequency switching thanks to OcuSync 2.0.
Compared to Mavic 2 & Mavic 2 PRO, Phantom 4 Pro V2.0 is larger and heavier but it's definitely the simplest model to fly from boats due to its large legs (you can easily hand-launch and hand-catch the drone). That's why Phantom 4 Pro V2.0 is the best drone for boating.
The wind speed resistance of this drone is 22.37 mph (36 km/h). That means 36.08 feet (10 m) per second.
The drone is compatible with the DJI GO 4 App, which requires iOS 10.0.2 or above, as well as Android 5.0 or higher.
PROs:
Good Value for Money
The simplest model to fly from boats due to its large legs
Easy to travel with due to its small size
30 minutes flight time
Incredible 20MP Camera
Tap-to Fly and Tap-to Follow Modes
Powerful Flight Performance (45mph max. speed)
Best Budget Drone for Sailing
For sailors who like to travel, a drone is an essential tool. If you don't want to spend thousands of dollars on high-end photography equipment, we recommend you to take a look on the best budget drone for boating.
This incredibly ultralight, compact and foldable drone weighs only 249 g, being the best drone for lower budgets. It is the perfect drone for your sailing or boating activity as it can withstand the wind of level 5, the filming being stable even when you are flying along the coastline.
Mini 2 provides amazing image quality thanks to its 12MP camera, 4K/30fps video and a 3-axis motorized gimbal. It has an OcuSync 2.0 video transmission and allows up to 10 km transmission for HD video transmission (720p).
DJI Mini 2 drone has a powerful performance, with a maximum flight time of 31 minutes, enough time to capture the best photos and videos. It offers 4x digital zoom and with just a few touches (Quickshots feature), you will get the professional videos you deserve. Some of the best features are Follow Me and Auto Return, both of which perform perfectly.
In addition, the drone can fly the following pre-planned flights: Helix, Dronie, Circle, and Rocket.
If the drone is close to your phone, the DJI Fly app will detect and connect to it, synchronizing chosen photographs and videos at a rate of 20 MB/s.
In terms of storage, the drone has no internal storage, thus you'll need to purchase a MicroSD card. It has a storage capacity of up to 256GB (MicroSD card).
PROs:
Best Budget Drone for Sailing
Excellent Features, Fantastic Photos, and Videos
Wind resistance: Level 5
Ultralight, Powerful and Easy to use
31 minutes of Flying Duration
4x Digital Zoom & 4k Ultra-Clear Video
HD Video Transmission
What Should I Look For When Buying The Best Drone for Boating?
Buying a drone can be complicated, especially if you're new to the scene of drones. There are lots of features that drones have that make it confusing to know how to pick one.
Choosing the best drone for sailing and boating can be a tough choice. Before you purchase one, though, you need to do your homework. What are the core features of a drone and which ones do you need?
We all know that a great flying time (and range too) is extremely important for your drone to make your life easier.
The best drone for sailing and boating activities should have a minimum flight duration of 30 minutes. Since the flight time of a drone depends on the battery and the technology of consumption optimization, cheap drones can only fly 5 minutes, unlike high-performance drones that have a flight time of about 30 minutes. 
The price of a drone is directly proportional to the maximum flight time. Therefore, we advise you to pay attention to this aspect in order to avoid landing the drone on the ground in a few minutes, in order to change its batteries.
While most DJI drone models have a flight time of approximately 30 minutes, the DJI Mavic 3 is the drone with the longest flight time, up to 46 minutes.
If you run out of a drone battery, after replacing a new battery, we advise you to let the drone rest for 5-10 minutes. This way, you will avoid overheating the engines.
The farther your drone can fly from the transmitter, the more relaxed you will be.
If a cheap drone can have a range of only 30 meters, the models in this article can travel between 9 km and 15 km (depending on the model) without losing contact with the transmitter.
If you are wondering why this aspect is so important, you should know that when you have a better transmission range, the drone can reach more distant places, obtaining the most beautiful photos and videos.
The DJI Built-in OcuSync 2.0 function allows the drones to automatically switch between two frequencies, extending the drone's maximum transmission distance up to 10 kilometers for further versatility. This transmission system is available for DJI Mavic 3, DJI Mavic 2 PRO, DJI Mavic 2 Zoom, DJI Mavic Air 2, and Phantom 4 Pro V2.0. The DJI Mavic 3 drone provides an O3 Plus Transmission system with offers you a 15-kilometer transmission range.
The speed of the drone is important when sailing and you want to use the Follow Me feature.
Any boater wants the drone to be able to keep up with the boat. The faster the drone can fly, the more special videos you can get.
Furthermore, you want to prevent losing the drone transmission, so the speed is critical.
The average top speed of drones is between 40 and 60 mph (63-96 km / h), but some can fly up to 70 mph, while cheaper drones can reach a maximum speed of 20 mph.
Since the purpose of a drone is to take successful photos and awesome videos, the camera's quality is one of the things to consider when buying a drone.
The camera is among the most expensive parts to make and this influences the price. Usually, the more expensive a drone is, the more it will be related to the quality of the camera.
Factors that influence photo quality are shutter speed, frame rate, aperture, and image stabilization. All of these factors will affect the quality of your photos. More megapixels also allow for greater details in the images, so if excellent images are important to you, consider this as well.
The drone's wind resistance level is measured between 0 and 12, and describes the highest wind speed that the drone can withstand in flight.
Therefore, the better the drone, the better the stability in windy weather conditions. A level 5 wind resistance drone will be able to be maneuvered much easier in windy conditions compared to a level 3 drone.
Thus, the level of wind resistance of drones corresponds to a scale, classifying wind speed into 12 categories. Known as the Beaufort scale, the level represents an empirical measure that links wind speed to weather conditions.
Level 5 is a good level of wind resistance for drones, giving you the possibility for your drone to fly safely up to wind speeds of 10.7 m/s (24mph).  All drones in this article have level 5 of wind resistance. This means that they are suitable for windy conditions.
| Wind Resistance Level | Wind Speed | Indicators |
| --- | --- | --- |
| 0 | < 1 mph | Sea like a mirror |
| 1 | 1-3 mph | Smoke rises vertically |
| 2 | 4-7 mph | Small wavelets; Light breeze |
| 3 | 8-12 mph | Large wavelets; Gentle breeze |
| 4 | 13-18 mph | Small waves; Moderate breeze |
| 5 | 19-24 mph | Moderate waves; |
| 6 | 25-31 mph | Large waves begin to form; Strong breeze |
| 7 | 32-38 mph | Sea heaps up; Near Gale |
| 8 | 39-46 mph | Moderately high waves; Gale |
| 9 | 47-54 mph | High waves; Severe Gale |
| 10 | 55-63 mph | Storm |
| 11 | 64-72 mph | Exceptionally high waves; Violent storm |
| 12 | > 73 mph | Very rarely experienced; Hurricane |
Drones aren't easy to fly and it takes time to learn how even the most basic of drones work. The best drone is one that's easy to fly, offers good value for money and has great features. That's why there are certain features that are non-negotiable.
There are tons of different types of drones and each has varying types of features. When buying a new drone it is important to know what features you should be looking for to get the most out of your purchase.
Return to Home. This is a must-have feature. This is a highly helpful safety feature that helps in returning your drone to a safe, accessible landing site. Most DJI drones allows you to command the drone to return to the Home Point (RTH) when needed, when drone's battery level depletes to a specified level (Low-Battery RTH) or when it happens to lose signal (Failsafe RTH).
Follow Me. Many drone models include a Follow Me feature that allows the drone to follow you or another item and record a continuous video of the tracked object without you having to operate the drone manually the entire time.
3-Axis Gimbal. This mechanism that keeps your camera stable while allowing it to pivot with the machine's motions is one ofo the things to consider when buying a drone. The various motions that a drone may do are characterized by the 3 axes (pitch, roll, and yaw). A three-axis gimbal can assist your drone's camera in remaining stable even when in flight.
Why Would You Want a Drone for Sailing?
There are several excellent reasons to carry a drone boating with you. With the evolution of technology, drones have become more compact, high-performance, accessible, and easy to use.
Thus, more and more sailors and boaters have started to use sailing drones as a way to take awesome photos and professional videos. This is also because most drones are equipped with smart features such as "Return to Home" or "Follow Me".
Here are the reasons to buy a drone for sailing.
Awesome Photos when Sailing
If you are a sailor, it is pretty obvious how a drone can fit into your hobby. In fact, one of the best uses for a drone in relation to sailing is the aerial photography aspect of it (or motion pictures). If you want to get better shots of you foiling downwind, kitesurfing, or whatever type of sailing you enjoy most, an aerial view can help.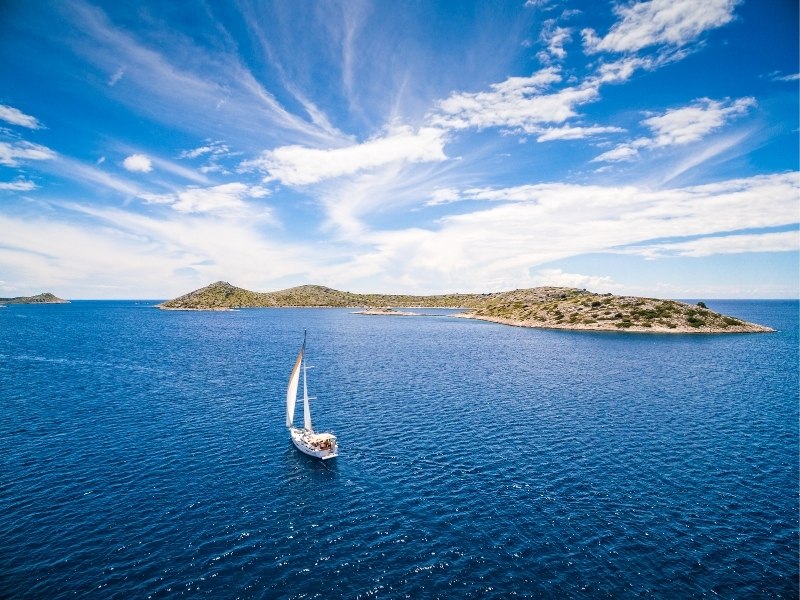 If you've spent any amount of time on the water, you already know how amazing the scenery is. Whether you're cruising through an estuary or out on the ocean, the blue hues and vastness of the natural world is breathtaking. But what if you could capture that beauty in a whole new way? Thanks to these great drones for sailing, more than likely you can!
High-performance filming, these higher-end drones record in higher FPS, giving you the opportunity to get awesome videos.
Whether you want to get aerial footage with your boat while sailing or simply make a video with the people on the boat while having fun, these drones are the best choice.
A drone is a perfect way to create great sailing memories that will last forever. Besides the fact that drones can capture the whole boat in the image, the aerial images and captivating videos will excite you every time you watch them.
No wonder many sailors use this drone in regattas, as they have higher and faster speeds. Many boaters also enjoy drone racing.
How to Fly a Drone from a Boat
Many people do not know that you can fly a drone from a boat. Drone sailing is one of the coolest ways to relax and have fun with friends.
How to fly and rig a drone from a boat is probably the biggest curiosity of any boater. Although there are several ways you can set up your drone for boating and sailing, here is the safest process.
1. Check the weather conditions
It is advisable not to fly in rain or wind conditions above the wind resistance level of the drone. It is best to use one of the best wind apps to check the wind predictions. It is recommended to fly the drone only if the wind speed is below 15 knots (less than 20 mph) and the chance of precipitation is below 10%.
2. Make a Pre-Flight Checklist
You should always have a pre-flight checklist in order to be checked before you fly. This helps you make sure everything is fine with the drone and you can fly safely. Here's what your pre-flight checklist should contain:
Check the physical condition of the drone, more precisely look for cracks in the propeller;
Check the regulations for the area where you want to fly. You don't want to find yourself in a no-fly zone;
Check the condition of the batteries, as they are recommended to be 100% charged;
Check that the controller and the drone are properly connected;
Calibrate the compass before every flight;
Check your camera settings and make sure there is a memory card in the drone if you intend to shoot images or movies;
While flying, keep an eye on the drone's settings.
3. Taking off and Landing your Drone on a Boat
The most important aspects of a drone flight are takeoff and landing.
Before taking off, make sure you are in an open area to fly the drone without worries.
When you are ready to take off your drone, you can follow the safety list:
Before you start your drone, come to a complete stop on the boat. This permits the inertial measurement unit's (IMU) electrical sensors to settle;
Turn off the visual positioning system (VPS) over water because the movement of water can cause the drone to act improperly: sonic and optical sensors may have difficulty locking in on something fluid;
Because the boat will have moved from the take-off position after a few minutes of flight, you must set the home point to Dynamic mode so that the remote control is always the return-to-home point.
Start the drone;
Check the battery level again and confirm the drone settings;
If you fly your drone from your boat, the best method is you launch by hand because most boats are made of a lot of metal, which causes compass errors; Lifting the drone off the metal surfaces can eliminate the possible compass errors.
If you fly your drone from land, slowly push the throttle up (the left stick) to begin the propellers spinning. Then pause. You can repeat this many times until you're satisfied with the throttle's sensitivity.
Increase acceleration to raise the drone to eye-level altitude for about 10 seconds;
Listed for abnormal sounds. Thus, in case of noticing a problem, you will be able to land the drone to fix the problem;
If all goes well, the drone's altitude begins to rise.
When you are ready to land the drone, you can use smart features like Return to Home and the drone does everything for a safe landing. Once landed, make sure the propellers have stopped moving.
If you want to hand-catch the drone you should know that catching a drone by hand is extremely risky. That's why it's recommended to wear a tight-fitting leather garden glove while preparing to hand-catch the drone. Gloves will not completely protect your hand from the propellers, but they will help.
Be aware of the direction and speed of the water current and the wind as the landing process will depend on the drift of your boat.
When landing in the hands of the catcher or on the boat, the drone's engines will stop for a few seconds harder than on land, because the boat is in constant motion and the drone will not "recognize" that it is on land.
After the engines have stopped, turn off the drone (turn off the battery power) before moving the drone or removing the propellers.
Drone boating is a fun and exciting new sport that is gaining momentum around the world. As a drone boater, you understand how fun and exciting it is to be able to take your drone flying.
So, what is the best drone for boating? Knowing which one is best for your own specific purpose will enable you to make an informed decision.
We hope we gave you a solid starting point for choosing the best drone for sailing.
F.A.Q. about the Best Drones for Sailing and Boating
Which drone has the longest flight time?

DJI Mavic 3 is one of the best drones with the longest flight time: 46 minutes.

How far can I fly a drone?

A high-end consumer drone, such as the DJI Mavic 3, has a range of up to 9.3 miles (15km). Also, Mavic 2 PRO, Mavic Air 2, Mavic 2 Zoom drones have a transmission range of 10 km.

What is the longest lasting drone battery?

The DJI Mavic 3 has the longest battery life of any drone on the market. The Mavic 3 is rated for up to 46 minutes of flying duration on a full battery charge, giving you extra time to capture the best shots, videos, or simply fly around to explore the surroundings.

Can I land a drone on a boat?

You can land a drone on your boat. As a landing pad, you can use a wet towel if you intend to land your drone on a boat deck. It will perfectly stick to the deck and legs of the drone.

Can I fly my drone from a boat?

You can fly your drone from a boat. DJI drones are the best models to fly from boats even if you have to launch and catch the drone manually (hand-launch and hand-catch).

What is the best drone for windy conditions?

DJI Maic Air 2 is probably the best drone for windy conditions because it is very light (20.01 oz / 1.25 lbs / 570 g) and has a level 5 wind resistance.