We realize how difficult it is to find the best sailing boat for cruising when there are so many options. As a result, we come to your assistance with a range of models as well as a selection of the greatest cruising sailing boats priced between $60,000 and $170,000.
Here are some things to consider when purchasing a sailing yacht model.
What to look out for when buying a sailing boat
Stability: If the sailing boat is unstable, do not buy it because it is not what you are looking for when cruising. Sailing over several days is likely to take you through dangerous waters or severe weather conditions, and stability is essential for surviving such situations.
The kind of hull and breadth of a sailing boat determine its stability. The broader or more hulls a sailing boat has, the more stable it will be.
The main problem with older sailing boats is the wooden compression post under the mast. This is an aspect that you need to pay attention to when buying an older model!
Strength: You do not need to make a concession here since the force will assist you in resisting in difficult circumstances. The hull of a sailing boat provides strength since it is not reinforced with metal. If you have the option, select a boat with metal reinforcement in the hull. In order to avoid lowering the sail, the sailboat must also have a robust mast. A masted or sailing boat, on the other hand, is less susceptible to capsize.
Size: A large sailing boat provides both stability and comfort, especially if you want to spend a significant amount of time riding on it. The more inclement the weather, the more you will value the internal space and compartmentalization. Consider that in order to invite loved ones, you will want bedrooms and space to feel comfortable.
Experience: When it comes to sailing boats, your skipper's experience is crucial. Before ensuring that your boat fits the other requirements, consider if you can operate it to its full capacity.
Storage: A sailing boat's storage space will allow you to go great distances and store supplies. You will be unable to complete your sailing trip due to a shortage of storage capacity for 7-10 days. Keep this in mind because some big sailing boats may not have a lot of storage room.
Best Sailing Boats for Cruising
The allure of an offshore vacation is difficult to explain to those on land, who cannot imagine life without basic necessities like hot water and limitless data.
Whether you enjoy a quick afternoon sail or an extended international voyage, sailing is an experience that brings people together. If you enjoy the outdoors, there is no more beautiful place to be than sailing with family, friends, and a loved one along the coastline. 
Thus, for those who like the solitude and wildness of the sea, we have compiled a list of some of the most popular sailing boats, with average pricing of $100,000.
The Prout Snowgoose 37 is a catamaran featuring hulls that provide additional space and top stability. Despite its width, the Snowgoose 37 is an extremely maneuverable sailing boat. The Prout Snowgoose 37 is a traditional endurance multihull to consider.
Prout & Sons, an English constructor, had been in business for over 50 years when the Snowgoose 37 was introduced in 1983. The 37 was an improved version of the Snowgoose 35, one of the most popular cruising cats of all time. The 37 was revised again in 1986.
The Snowgoose 37 has three double cabins, making it a perfect family cruiser.
Although you may have seen much larger catamarans, this one was built to sail a long distance in the most challenging weather conditions. This sailboat is made in the United Kingdom and features a fiberglass body, which makes it both agile and light.
Older boats feature solid fiberglass hulls, whereas newer ones have solid glass below the waterline and cored above. The cockpit is small by catamaran standards, but the bridgedeck is sturdy (no tramp).
The masthead-rigged Snowgoose 37 may be sailed offshore like a monohull, and it's lovely not to have to deal with a large mainsail in a storm. Many 37s and all Elites were outfitted with staysails, which came in handy in the heavy weather. With a beam of 15 feet 3 inches for the 37 and 16 feet 3 inches for the Elite, finding & booking berths and dockage for haulouts is simple.
A short search of sailing yacht sales websites reveals that both versions are available for less than $100,000.
Hallberg Rassy, one of Europe's premier yacht builders, is the outcome of two yards and two individuals who were never partners. With the Monsun 31 sloop, the business began exporting boats to the United States in the mid-1970s. The HR 42 was debuted in 1980 and was manufactured until 1991. There were 255 42s produced in all. It is without a doubt one of the best sailing boats.
Underwater, the 42 has a long cruising fin keel; that is, it would be a complete keel if it weren't for the enormous cutaway forefoot and carved-out region for the prop. Because the foredeck is flat, there is a lot of freeboard. Because all portlights are on the hull side, they are more prone to leaking, however proper maintenance should keep this from happening.
The hull of the 42 is made of solid fiberglass and was "constructed in accordance with Lloyd's criteria for 'Certificate of Hull Construction,' and under the personal observation of a Lloyds surveyor." The deck has a 25 mm PVC foam core. The hull-deck connection is covered with fiberglass.
Many criticize the mast's stepping on deck as unsuitable for offshore operations, preferring masts stepping on the keel. A deck-stepped mast does have several advantages: It's quieter down here.
The conventional layout includes a 6′ 8′′ V-berth forward, a head with sink and shower aft, a saloon with opposing settees and a drop-leaf table, a galley to starboard of the companionway ladder, and a nav station to port.
The HR 42 is clearly a cruising yacht, not a round-the-buoys racer, as evidenced by the designs and specs. Owners evaluate upwind and downwind speed as average.
Prices for this model of sailboat range from $138k to $290k on yacht-for-sale websites, being one of the most prestigious sailing vessels.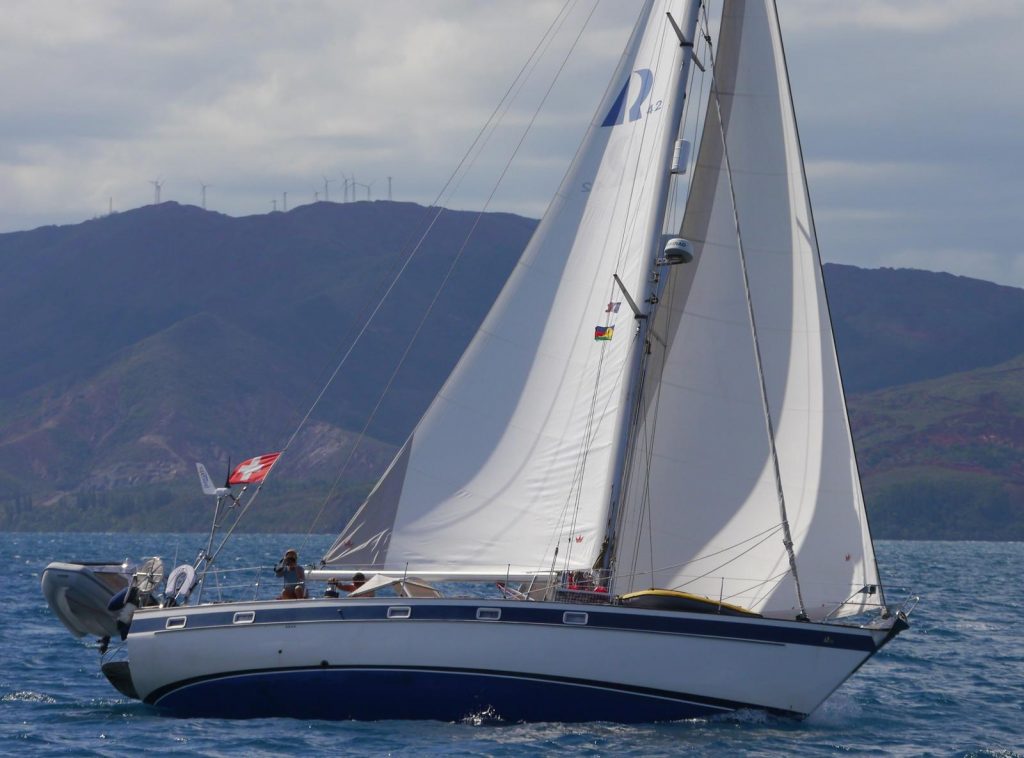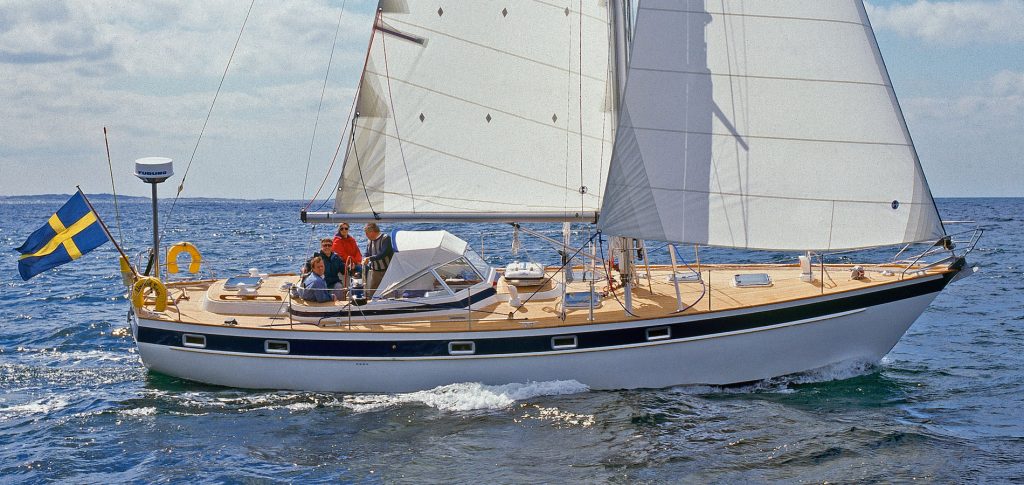 Island Pachets boats are frequently spotted on the water, despite the fact that the hull designs with high-freeboard and full keels may appear unusual to some. This sailing boat type, built to high construction standards, is strong, has a spacious interior, and is effortlessly maneuverable, being a model suited for the demands of sailors.
The Island Packet 35 debuted in 1988, with a volume comparable to many 40-footers, a spacious cockpit, a comfortable interior, and, while not the fastest boat in the wind direction, the waterline provides good performance outside of the wind. This model's production ended in 1994.
The 35 is great for family travel because it has two beautiful cabins. It's ideal for a sabbatical cruise since it retains its value and has a ready market when the time comes to sell.
Avoid confusing the IP 35 with the IP 350, which debuted in 1997 and had a stern swim step.
A 350 will not be found for less than $100,000, but 35s, particularly those produced before 1990, will be available.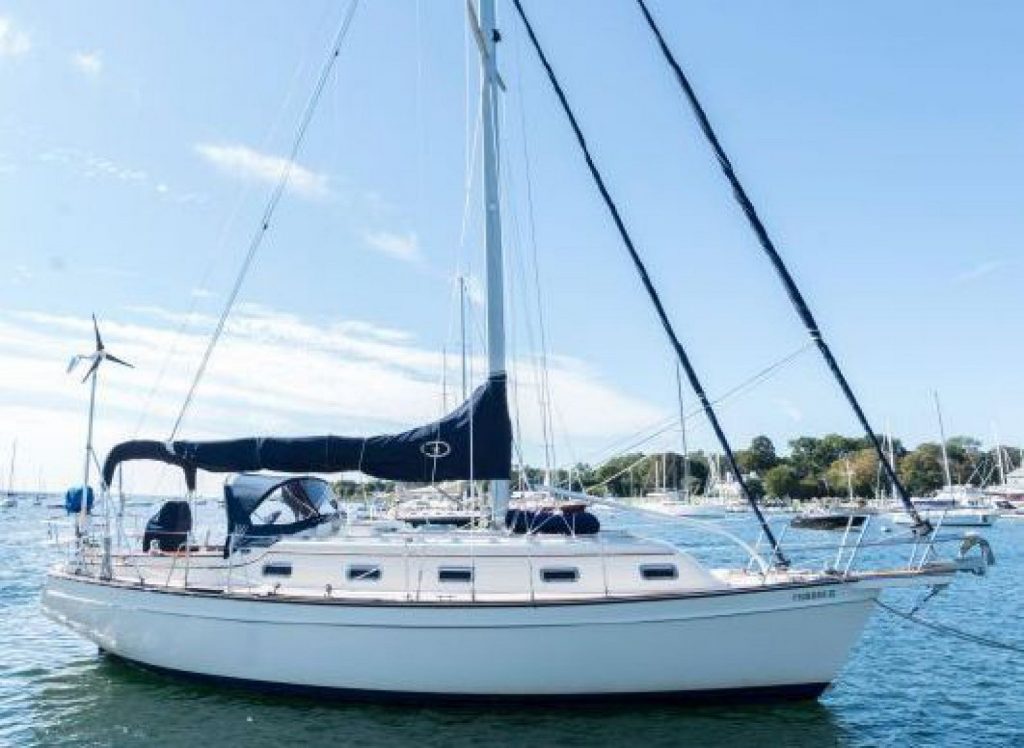 Nordic, based in Bellingham, Washington, built world-class yachts during its young existence in the 1980s. There were only 40 Nordic 40s built between 1982 and 1987, yet they're worth looking for on the secondhand boat market.
This 40-foot cruiser has a solid middle of the package that is surprisingly huge for the price paid. The Nordic 40 is the ideal sailing boat for sailing and living in, thanks to its robustness, lightness, strength, and agility, as well as its size, which provides additional storage space and an ideal housing with shower, fridge, extensive counter space, and bedrooms with good surfaces.
The cabin is ideal for a sailing couple. It's designed for two people, with a V-berth ahead and a wide C-shaped galley aft, complete with lots of work space and a large freezer.
In a little breeze, the sailing boat model can move rapidly and agilely in the water, but it can also withstand worse conditions.
The hull is made of solid fiberglass, while the deck is made of balsa wood with solid laminates beneath loaded-up deck fittings.
The 40 has a traditional double-ended Perry hull design, with a good entry, a deep and strong fin keel, a skeg-mounted rudder far aft, and a reverse transom.
The sheer line is modest and the freeboard is moderate, but the boat performs admirably on the water thanks to its double-spreader rig and gently sloping deck line.
The yacht for sale websites listed this model for less than $100.000.
Without a doubt, the Corbin 39 is a fantastic sailing boat with a long history that is quite unusual on the water. At the factory, just 15 boats were completed. Kits ranged from hull-and-deck to "sailaway," with everything installed excluding the interior.
It's worth noting that they were usually offered as kits, with each owner constructing them as they saw fit, from rough-hewn lumberyard bargains to exquisitely constructed jewels completed by maritime specialists. As a result, the interior of each model differs.
On the outside, the hull is identical, with a spacious deck that is ideal for transporting several passengers.
A tastefully polished, well-equipped mid-'80s vehicle usually sells for between $65,000 and $80,000.
Because it is a large yacht, it may necessitate extensive renovations, but the boat is well worth the investment.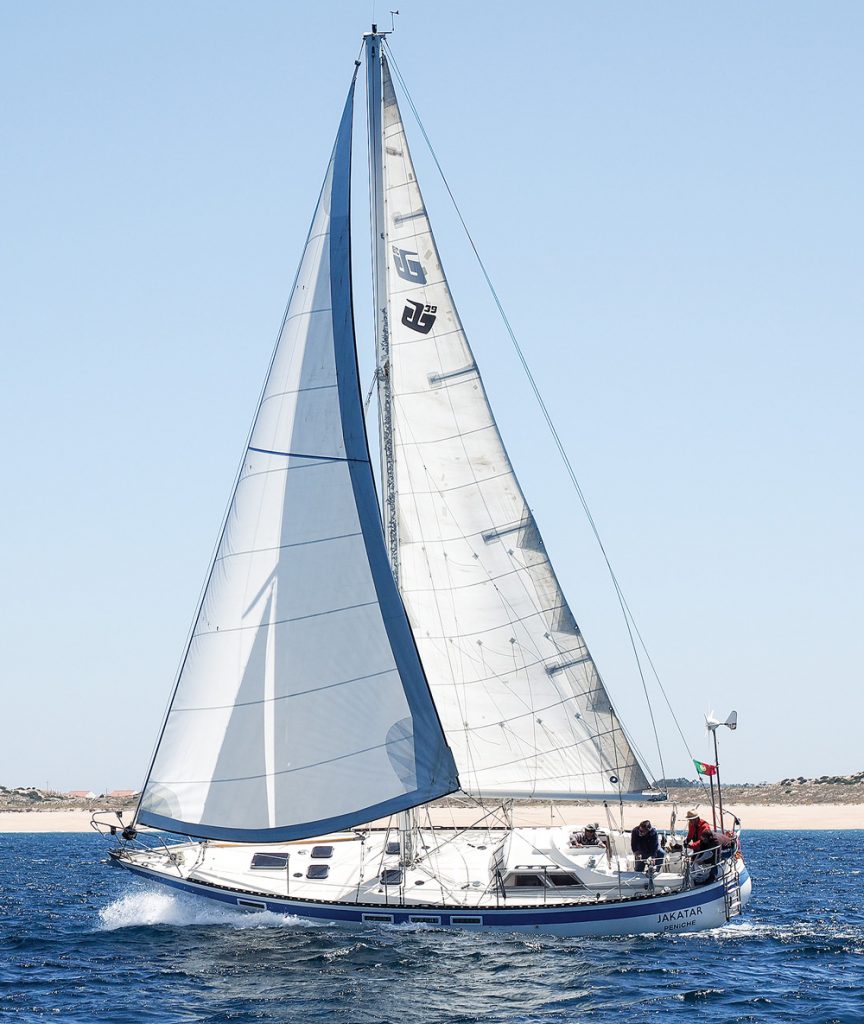 The 423 divides this substantial volume into two versions, one with two cabins and one with three cabins.
This cruiser has an amazing interior, a spacious living room, galley located on the starboard side (model with 2 cabins or along the port side amidships on the one with 3 cabins), solid fiberglass hull, large and comfortable cockpit, and is driven with very little effort, leaving you time to relax and enjoy the ride on the water.
The front cabin and head, dining space, aft head, and engine compartment are all the identical in both configurations.
The galley is on the port side, opposite the dinette, there is a nav station on the starboard side, with the head opposite, and two basically similar big-berth bedrooms on either side aft.
The 2-cabin type features a small settee on the port side of the saloon, a nav station aft, a big galley aft to starboard, and a stateroom to port.
Six people may sit comfortably around the saloon table. The wide saloon of the 423 has 6 feet 5 inches of headroom, which tapers steadily downward as you move ahead. This wide headroom is available in the galley. The aft galley has plenty of counter space above the fridge/freezer, which has both a front and a top entrance.
A spacious berth is tucked behind the cockpit, with enough clearance. The cottage itself offers plenty of walking room.
A 2006 Beneteau 423 costs about $146k on yacht-for-sale websites. Without a doubt, it is one of the best cruising sailing yachts.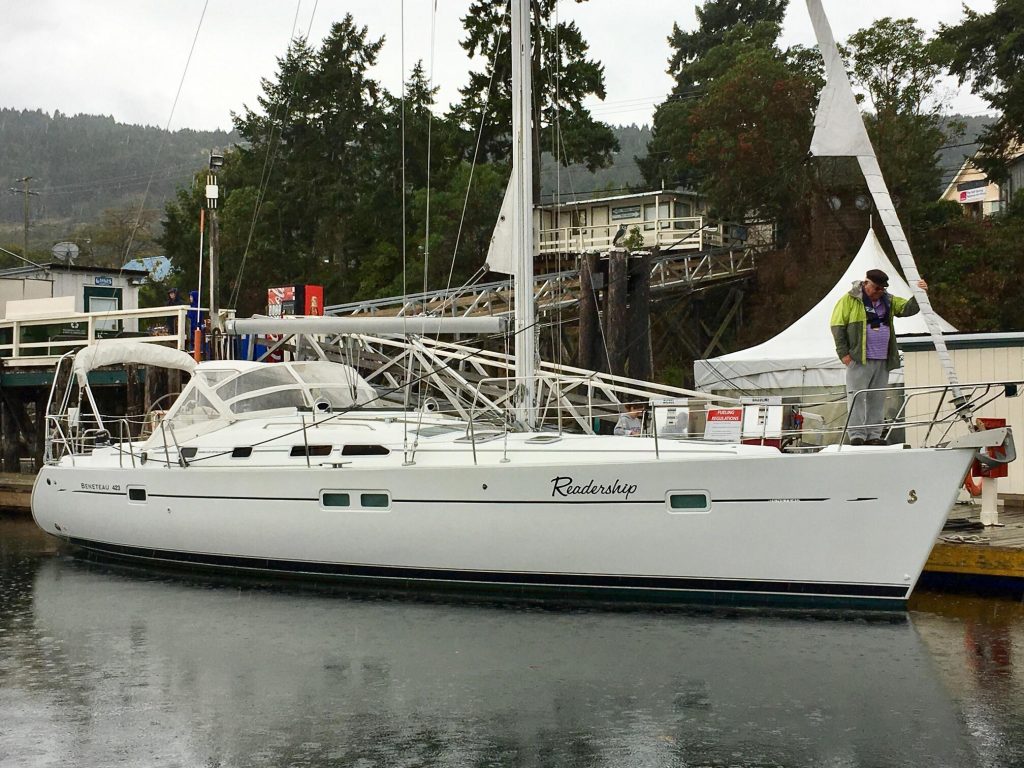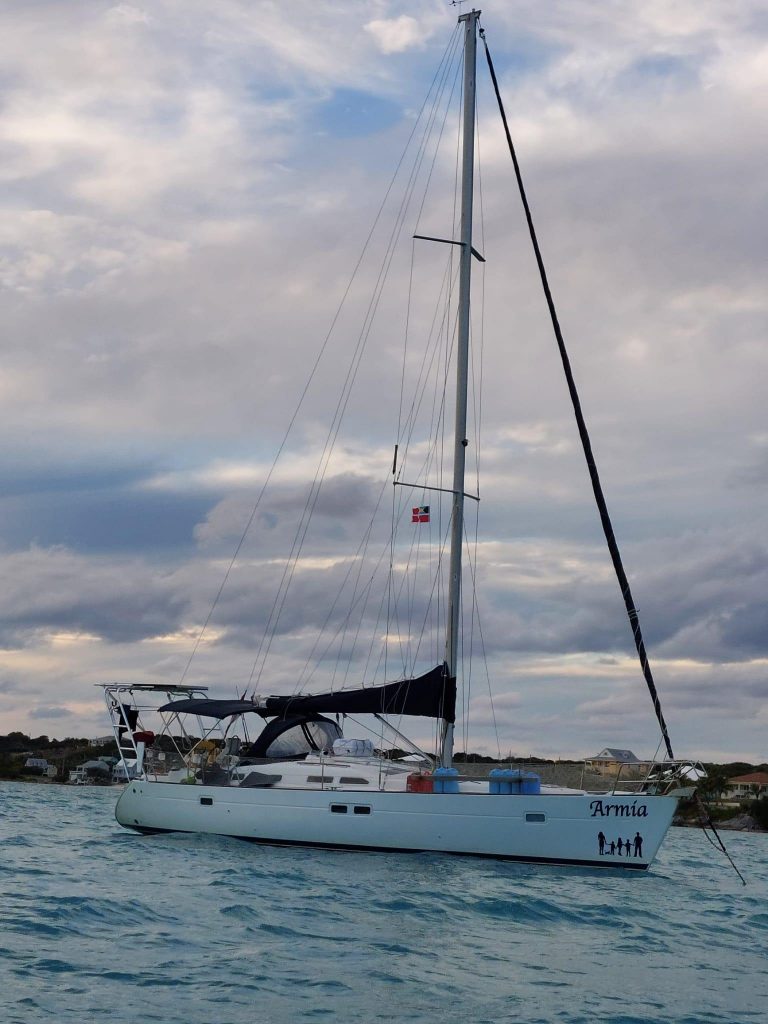 The B-40, as it is well known, was the first fiberglass boat ever built by the prestigious Hinckley Company of Southwest Harbor, Maine. The first of these beautifully proportioned hulls was built in 1959. The final hull, number 203, was launched in 1991, more than three decades later. Thus far, that's the world's longest manufacturing run for any fiberglass auxiliary sailboat.
The inside of the B-40 is modest in comparison to any modern sailboat, although it was considered rather large at the time. To minimize the probability of leaks, all deck gear is properly bedded and installed over substantial backing plates, with stainless-steel machine screws tapped through the deck and into the plates. External lead ballast is fixed on stainless-steel studs at the front of the keel.
The prices range between $139k (built in 1961) and $174k (built in 1970)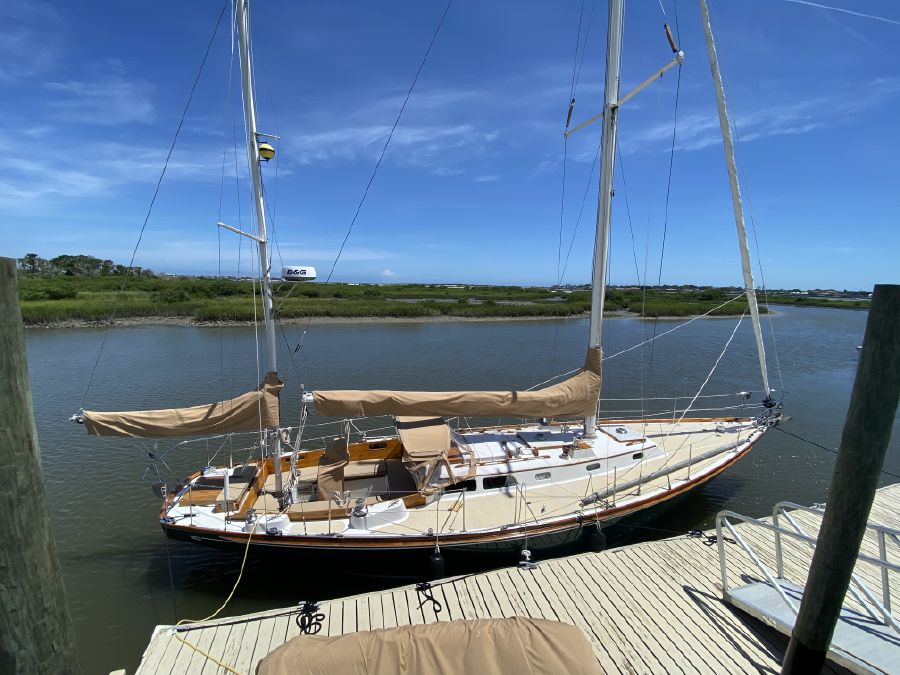 The Pacific Seacraft 34 is a stylish, agile, and competent double-ender designed by famed designer Bill Crealock that has completed several ocean crossings. It's one of the most capable sailing boats.
Pacific Seacraft introduced a fifth model, a scaled-down version of the successful PS 37, years after the boat was initially debuted as the Crealock 34 in 1979.
Despite its high price tag at the time, the 34 was another success story for one of America's best builders, with hundreds of boats manufactured in the company's yard in Santa Ana, California. Used boats under $100,000 are constantly available. The 2022 model costs about $380,000.
The hull is made of solid fiberglass, while the decks were originally made of plywood before Pacific converted to end-grain balsa.
The 34 combines classic qualities above the waterline with a more contemporary underbody, including a long fin keel and skeg-hung rudder.
The hull-to-deck junction has a molded bulwark for extra security when moving around on deck, as well as a vertical surface for installing stanchions.
Most 34s are cutter-rigged for adaptability, but they sail with moderate-­size genoas rather of high-­cut yankees for better power off the wind.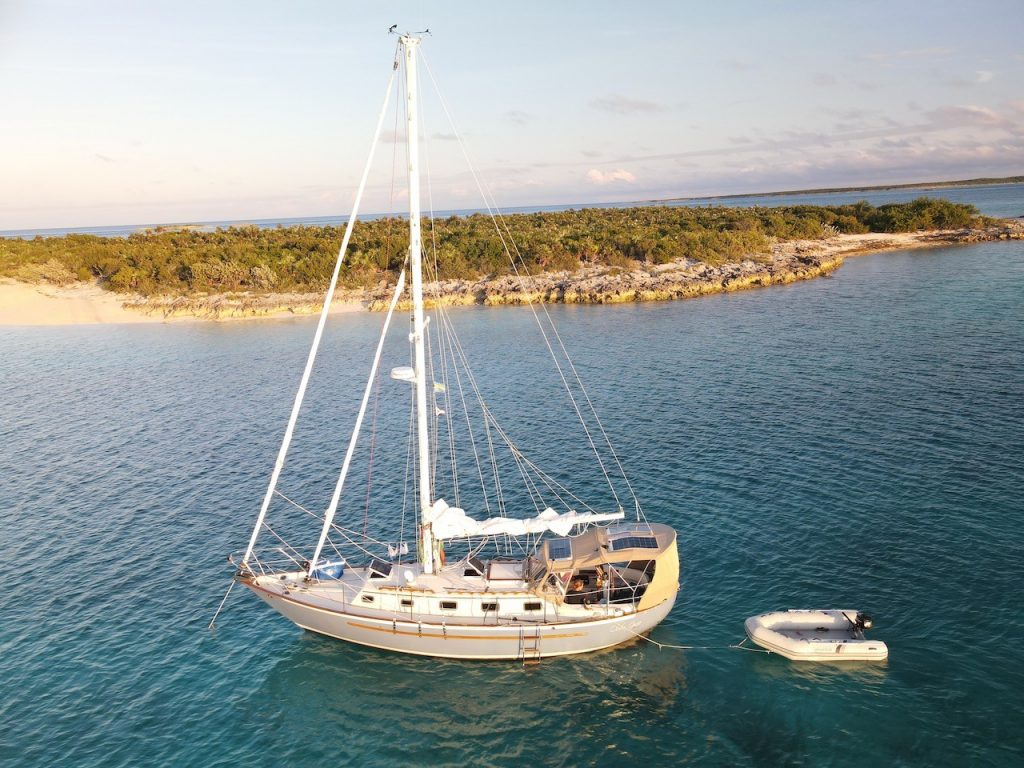 Other types that rank among the greatest sailing boats include Valiant 42, Lancer 27, Hunter 34, Tartan 37, Cape Barren Goose 37, and Shannon 39. In our opinion, these are  the best cruising sailboats.