Ibiza, the crown jewel of the Mediterranean, is not just a party hub, it's also home to top tourist attractions.
Ibiza is also a party island that belongs to Spain's Balearic archipelago and is visited by foreigners for more than six months every year. They live in this paradise because they can enjoy its lush green forests, white beaches with crystal clear waters – not to mention the occasional party until dawn in one of the most popular nightclubs in Europe!
How do I get to San Antonio, Ibiza?
The best way to travel to San Antonio is to fly to Ibiza Airport. You can then book a transfer from Ibiza airport to San Antonio in advance.
What to see in San Antonio, Ibiza
Ibiza is a paradise for those who like to party all night and then sleep until morning. The island has some amazing beaches where you can take another barefoot walk or enjoy the views from high at the cliffs, which overlook water so clear it seems glassy even during the day! For the true traveller, there's much more to do here than just relax at sunset with a cocktail – you'll also find historical sites worth seeing. 
Whether you're looking for an unforgettable night out or just want to enjoy the view, San Antonio has something to meet your needs. This city is the second largest in Ibiza and offers unforgettable night-time fun. During the day, you can also enjoy picturesque views! This place doesn't sleep – there are always people here partying until sunrise.
The San Antonio coastline is a must-see for all travellers. The numerous coves and beaches that emerge from the cliffs provide calm seas ideal for swimming with little children or snorkeling! There is no single area where you can find peace and quiet, as every inch has something different to offer from large stretches just for you to isolated pieces closer to home, away from it all, so there are no disturbances around you, making life easier for everyone involved.
The city of San Antonio has a lot to offer, and one thing that stands out is the beautiful marina. This place becomes even more impressive at night when all the lights shine brightly against the sidewalk, making you feel like they are inviting you into a world of your own where there is no tomorrow! You can enjoy delicious food at nearby restaurants or just enjoy the moment before heading out on your next adventure, whether it's exploring other parts of the city or just relaxing on the beach.
Best Things to do in San Antonio Ibiza
Visiting San Antonio Bay and its lovely coves is one of the greatest things to do in San Antonio, Ibiza; the region is simply spectacular.
Cala Salada and Cala Saladeta
Cala Salada, a tiny, secluded sandy bay surrounded by pine covered hills, is popular with locals and private boat owners. The water is crystal clear, shallow, and ideal for swimming, while the seabed is primarily soft sand.
The beach is 15 minutes' drive from San Antonio and has sunbeds, parasols, showers, parking, a restaurant, lifeguards, parking, toilets, and disability access.
On summer weekends, this little beach is quite crowded, with people typically sprawled across the rocks that separate Cala Salada and neighboring Cala Saladita.
During the summer, there is a minibus service from the San Antonio bus station from 10:00 to 20:00, with a 'park and ride' stop near the Can Coix sports complex.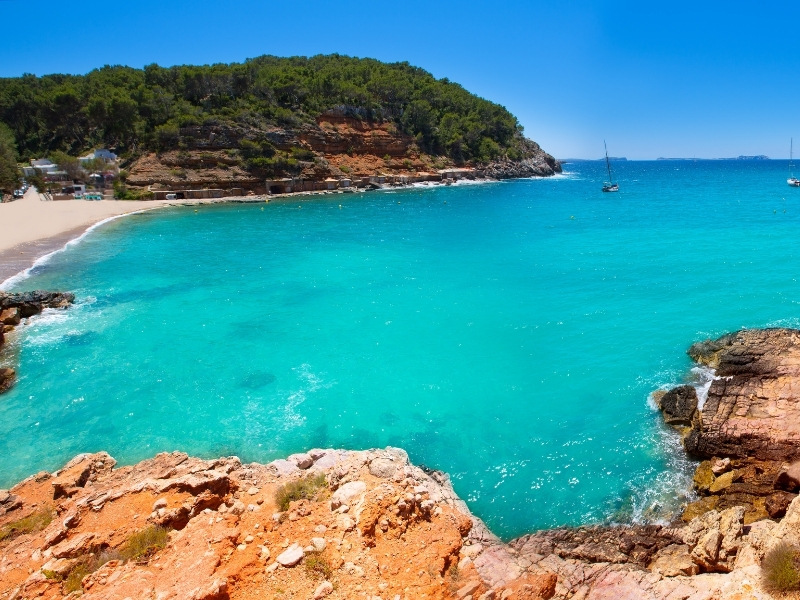 Cala Saladeta is a lovely small beach great for watching the sunset. only a short drive from San Antonio. San Antonio is only a short drive away from the beach. There are no tourist facilities, so bring a picnic and an umbrella and relax!
This beach, known as Playa de San Antonio, is the primary attraction of Sant Antoni de Portmany and is one of the island's only urban beaches. One of the benefits of this beach is that it may be visited by people of all ages. You can also rent a jet ski, windsurf, or dive.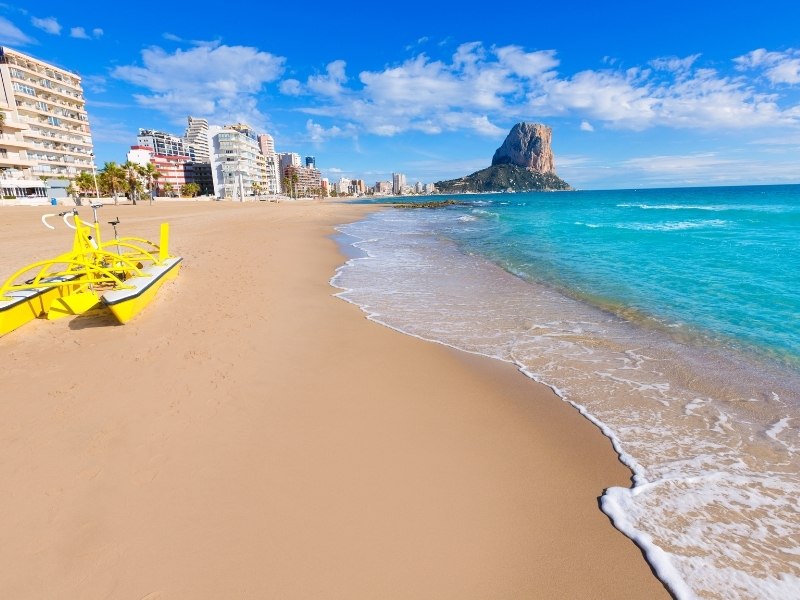 Playa de Cala Gració and Cala Gracioneta
Here are two beautiful bays north of Sant Antoni de Portmany. Although parking is available nearby, we encourage walking to appreciate these breathtaking views. Families with children should visit Cala Gracio. Cala Gracioneta is known for its famous restaurant El Chiringuito and is preferred by nudists.
San Antonio Ibiza Restaurants
The local cuisine is absolutely delicious, and if you end up here, you shouldn't miss the waterfront bars and restaurants as well:
Villa Mercedes, which provides Mediterranean cooking sessions with a view of the San Antonio harbour, as well as live music.
Mint Lounge Bar, Savannah and Fresh Ibiza, located on the Sunset Strip, for spectacular sunsets.
El Rincón de Pepe, known for its unique tapas dishes.
Es Ventall Restaurant, famous for its wood-fired oven cooked food, using ingredients grown in the local vegetable garden
Clubs in San Antonio Ibiza
The best clubs in San Antonio Ibiza are Eden and Es Paradis, which are located in the city center. Furthermore, Amnesia, Pacha, Ushuaia, Hi Ibiza, and Privilege are all approximately 15-25 minutes away in a cab, which will cost you about 20-25€ every trip.
Additionally, from midnight onwards, you may take the disco bus from the main bus station, which costs a few Euros and runs every half hour.
If you prefer daytime dancing, dance in or around the pool to songs performed by famous DJs, either at the Ibiza Rocks Hotel, the unofficial 'home of the pool party,' or at the O Beach Ibiza beach club on San Antonio's promenade.
If midday clubbing is your style, you may dance in or around the pool to songs performed by famous DJs at the Ibiza Rocks Hotel, the unofficial 'home of the pool party,' or at the O Beach Ibiza beach club on San Antonio's seafront.