Some of the links in this post are affiliate links. This means if you click on the link and purchase the item, we will receive an affiliate commission at no extra cost to you. All opinions remain our own.
Is finding the best life jackets for sailing a priority for you? We've reviewed the top sailing jackets to make things easier for you.
This list can help you select the appropriate life jacket for your sailing conditions, regardless of whether you sail a yacht, catamaran, or dinghy.
Sailing is an exciting and enjoyable activity that also provides a welcome respite from the stresses of daily life. All this excitement, however, is not without risk, as anything might go wrong at any time.
Sailing's secret codeword is safety. Despite all the good times you might have on a sailboat, disaster can strike at any moment if you're not prepared.
There are several sailing life jackets available, making a decision difficult. We'll make it much less difficult on you by pointing you the top-rated life jackets for boating.
Sailing is a great sport and can offer a lot of enjoyment. It's important to be prepared though, and in this article I want to help you with that. I'll be giving you some advice on what are the best sailing life jackets currently on the market, and also some tips to ensure under your next purchase.
Onyx A/M Inflatable Life Jacket
The United States Coast Guard has certified this sailing life jacket as a Type V life jacket with Type III performance.
The inflating mode of this life jacket may be switched between automatic and manual or manual only. The low-slung shape and breathable 200-denier nylon rip stop and oxford 200-denier nylon protective cover make it ideal for hot climates. It's also one of the best sailing life jackets for women.
This life jacket is so light and comfortable to wear that you almost don't notice you're wearing one.
You can paddle it about with ease because of how thin and light it is, but as soon as you hit the water, it instantly inflate up to its full size.
When inflated, the lift is 22.5 pounds. Persons under 80 pounds (36 kilograms), those who cannot swim, or young children should not use it.
PROs: 
Self Inflating
Lightweight and Easy to Wear
Very Comfortable
Small & Compact
CONs: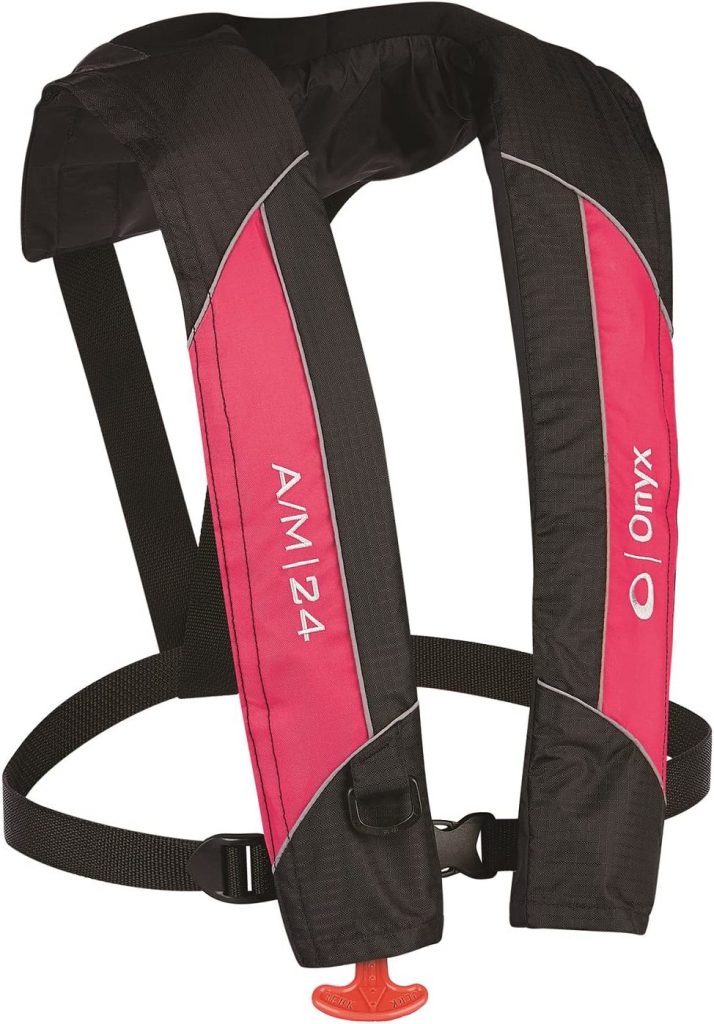 Onyx MoveVent Dynamic Life Jacket
The Onyx MoveVent Dynamic Sailing Life Jacket should be at the top of any best life jackets for sailing list.
So why is it so popular? Because it is a top-quality sailing PFD. The 200 denier Nylon Ripstop and Nylon Oxford fabric used for the outside of this life vest is durable.
This sailing life vest has shoulder straps that can be adjusted and features neoprene pads for comfort. You won't have to worry about any chafing thanks to the ergonomic design of the neoprene pads, which are very comfortable.
A safety whistle is attached, and the bag's expandable zipped pocket includes mesh drainage. The mesh at the back is a nice touch because it allows air to circulate and prevents overheating.
A whistle is included with the life vest. To call for aid or even just alert others, this is a must.
PROs: 
Very Comfortable
Lightweight
Adjustable; Ideal for overweight people
Provides neoprene shoulders
CONs:
It may be a little small for some people
Not recommended for offshore sailing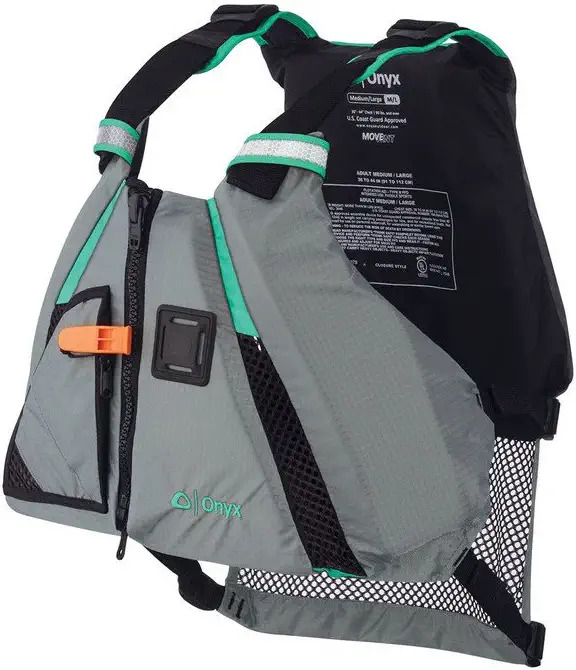 Astral V-Eight Life Jacket for Sailing
The Astra V-Eight is a cutting-edge life jacket for sailors since it is made with a mesh base to allow air to circulate.
The life vest is light and breathable. The innovative method used ensures a constant, comfortable temperature, allowing you to relax and enjoy the outdoors while avoiding overheating.
Moreover, high seatbacks are seamlessly incorporated with the breathable 2/3 mesh back.
The open sides will not get in the way of your arms. The high back of the life jacket might be a disadvantage if you're going kayaking. If you plan on going sailing, though, the life jacket's high seat will be comfortable.
The lifejacket has a front zip closure and a quick-release buckle on the lower chest. It also features two adjustable buckles on each shoulder to help you adjust it.
The foam panel is structured with polyethylene (PE) and EVA foam for the best fit, both front and back.
It's a Type III life vest, so it's certified for use by the United States Coast Guard.
The Astral V-Eight is an ideal life jacket for sailing. It's a Type III life vest, so it's certified for use by the United States Coast Guard. It weighs 1.22 lbs. and offers a buoyancy rating of approximately 16 lbs.
PROs: 
Breathable & Lightweight
PVC-free
Durable
Adjustable buckles
CONs: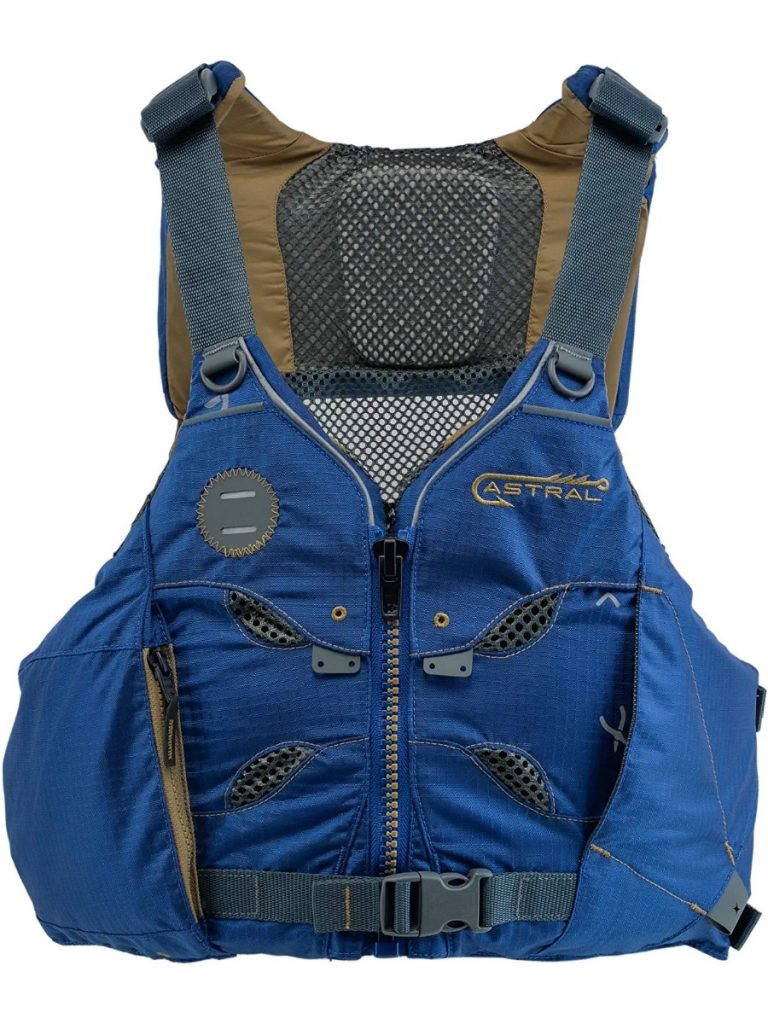 Mustang Inflatable Hydrostatic Life Jacket
Nine out of ten professional mariners wear Mustang life jackets as pilot boat captains.
The Mustang Survival Corp. HIT (Hydrostatic Inflator Technology) luxury life jacket is a multi-award winner because it maximizes wearer safety and requires almost no maintenance.
The US Coast Guard has approved this life jacket because it meets their standards for both commercial and recreational use (Type V and Type II, respectively).
When inflated, this life vest has a buoyancy of 38 lb, making it twice as buoyant as most foam sailing PFDs.
Its cutting-edge auto hydrostatic inflator system doesn't require any upkeep for the first five years after production. It is imperative that after inflation, the PFD be checked and re-armed before being used again.
This life vest will self-inflate if it is immersed in water that is 4 inches or deeper.
When inflated, the bright yellow-green fluorescent material of this life vest greatly enhances its visibility in the water.
Even after a full day of wearing the life jacket, you won't feel any discomfort. In addition, it takes very little time to put on and readjust. We think it would be great for usage both on shore and offshore.
PROs: 
Type V and Type II approved by USGC
Hydrostatic self-inflation technology
Maintenance-free for 5 years
When inflated, it gives 38lb of buoyancy.
CONs:
Quite expensive
Only available in the United States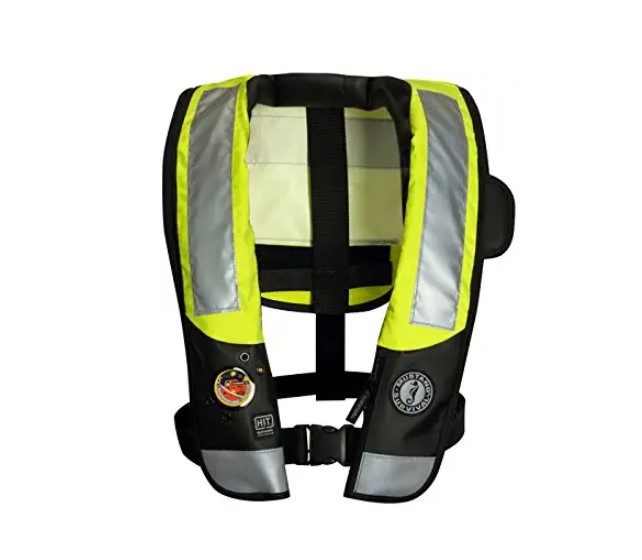 Mustang Survival Auto Inflatable Sailing Life Jacket
Inflates automatically upon contact with water, this lightweight and adaptable life jacket is ideal for a wide range of sailing activities. Without doubts, this is one the best inflatable PFDs for sailing.
You'll want to take the MIT 70 along on all of your inshore sailing trips, as it is the smallest inflatable sailing PFD certified in North America.
No matter if you do it for fun, fishing or excursions. You will always need this kind of life jacket that supports you during all of your activities on and off the water. 
When fully inflated, the Mustang Survival MIT 70 life jacket has a buoyancy of 15.7 lb.
This is an excellent product for use in canoeing, kayaking, and water skiing. Although it may claim to be automatic, inflating a life vest requires to pull a handy string. In other words, it doesn't instantly expand upon contact with water.
The United States Coast Guard has certified this sailing life jacket as a Type III life jacket.
PROs: 
Lightweight
Comfortable
High Quality
CONs:
Only available in the United States
Best Life Jacket for Dinghy Sailing
Choosing the correct lifejacket is important for everyone. In dinghy sailing, you want to be wearing a life jacket at all times.
When it comes to taking a dinghy out in an open sea, having the proper life jacket is make all the difference. But with hundreds of different life jackets on the market, it's hard to know which product will best suit your needs.
However, have you ever thought about if you could actually choose the best life jacket for dinghy sailing?
Stohlquist Edge Life Jacket for Dinghy Sailing
Stohlquist Edge is one of the best life jackets for dinghy sailing. Stohlquist's Graded Sizing provides the most comfortable and compact fit for a variety of body types.
The reverse articulated foam and convex internal seams of the WRAPTURE shaped torso allow it to conform to the wearer's body for a snug, low-profile fit.
It has four side pulls and a front waist buckle closing in addition to padded, contoured shoulder straps and a low-cut, offset front zip access.
It also has a spacious front pocket with plenty of room and a top loading design for hassle-free storing and quick retrieval.
This jacket is among the best for dinghy sailing life jackets thanks to its graded sizing, ergonomic wrapture shaped torso, and amazing features.
PROs: 
Ergonomic fit
Provides a lot of space for motion
Storage compartment
Reflective accents
CONs: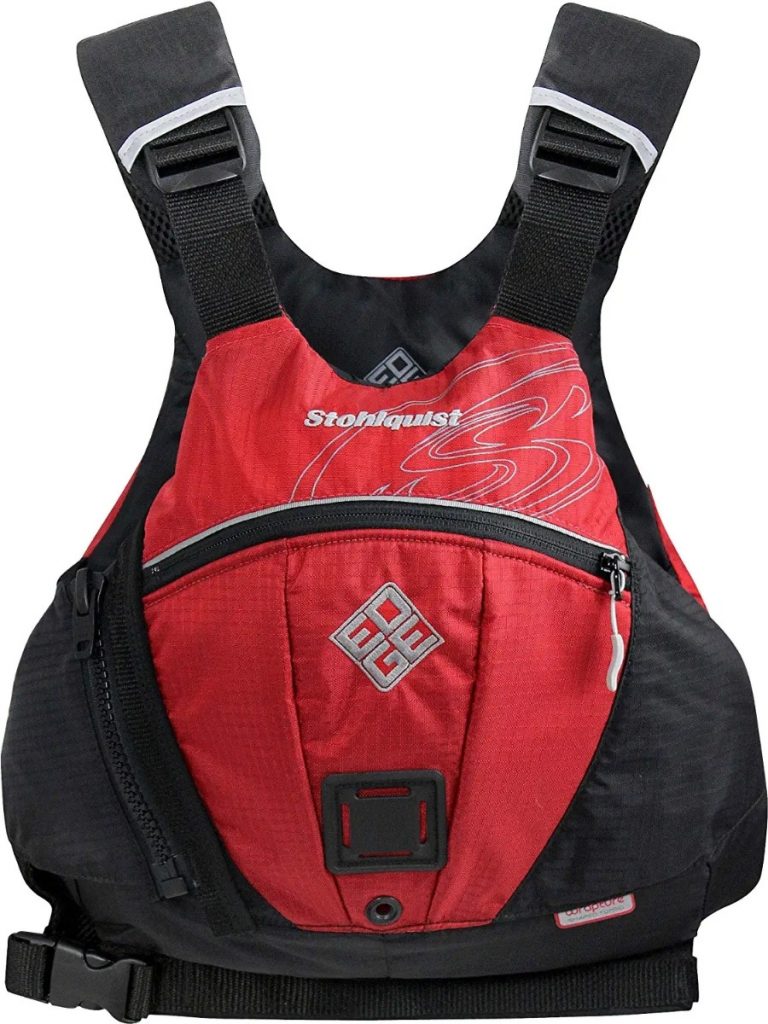 How To Choose The Best Life Jackets For Sailing
Although there are many options when choosing the best life jacket for sailing, here are some of the things to consider before buying one:
Before purchasing a life jacket for sailing, you must make sure it is approved by the US Coast Guard. This certification will ensure that it meets all the necessary quality standards. You should also check for which type the life jacket has been approved:
Type I – Best for open, rought or remote water; Even if it's bulky and unfomfortable, it provides the best protection. Minimum buoyancy: 22 lbs. for adults or 11 lbs. for child size;
Type II – Best for inland day cruising (near shore cruising), sailing or fishing. Not good for staying alive for a long time in rough water.
Type III – Can be used for sailing regattas, dinghy races, or canoeing near shore or inshore. Minimum buoyancy: 15.5 lbs. for adult size;
Type IV: Made to be thrown to a person who has fallen overboard or to help a person who has fallen overboard stay afloat. It is not meant to be worn. For a ring buoy, the minimum buoyancy is 16.5 pounds, and for a boat cushion, it is 18 pounds. Not made for people who can't swim or for kids;
Type V: Can only be used for the purpose it was made for. For example, a sailboard harness, a deck suit, a paddling vest, a commercial white water vest, or a float coat can only be used for sailing. It needs to float at least 15.5 to 22 lbs (minimum buoyancy).
Another important aspect when you want to buy a lifejacket is the material. The most popular materials for a sailing life jacket are cotton, polyester, and neoprene.
It is recommended to avoid life jackets that have cotton as, although it is affordable, it takes a long time to dry out. Polyester is lightweight and dries quickly but the greatest durability is offered by neoprene, which is also the most expensive material.
Size and fit are very important aspects when looking for the best lifejacket for sailing.
Although some manufacturers offer sailing life jackets in one size, the vast majority offer different sizes.
Make sure you choose the perfect size. Adjustable straps will always help you adjust the fit.
In the end, it's up to you what to wear when sailing, but a good life jacket is a must.
Sailing life jackets really can save your life. Sailors, boaters, fisherman, deep-sea divers, and many others rely on these critical safety items for peace of mind while doing their jobs.
Almost any kind of activity that puts you near water—especially those that involve a boat or other form of transport—need one.
That's why we've compiled the list of best sailing life jackets above, to help you find what you need to stay safe on deck.
Also, don't forget to take a proper sailing jacket with you. It will protect you from wind and rain and keep you warm! Every sailor should have one of these jackets. They are comfortable, long-lasting and within your budget.