Some of the links in this post are affiliate links. This means if you click on the link and purchase the item, we will receive an affiliate commission at no extra cost to you. All opinions remain our own.
With so many sailing jackets on the market, it can be hard to choose which one is best for you. This guide will help you choose the best sailing jacket for your needs.
Sailing is a fun and challenging pastime for anyone. But it's also dangerous and cold. Choosing the right sailing jacket or foul weather gear is important, especially if you're a serious sailor.
Sailing requires a lot of gear and it can be confusing to figure out what you need. One of the most important things you will need is a high quality sailing jacket.
Every sailor needs a good sailing jacket. Bad weather is frequent and will ruin your day if you're unsheltered.
Sailing requires you to be on the water and it comes with risks and challenges. However, you can minimize these challenges by learning everything you can and choosing the best sailing jacket for your needs.
Helly-Hansen Waterproof Windproof Sailing Jacket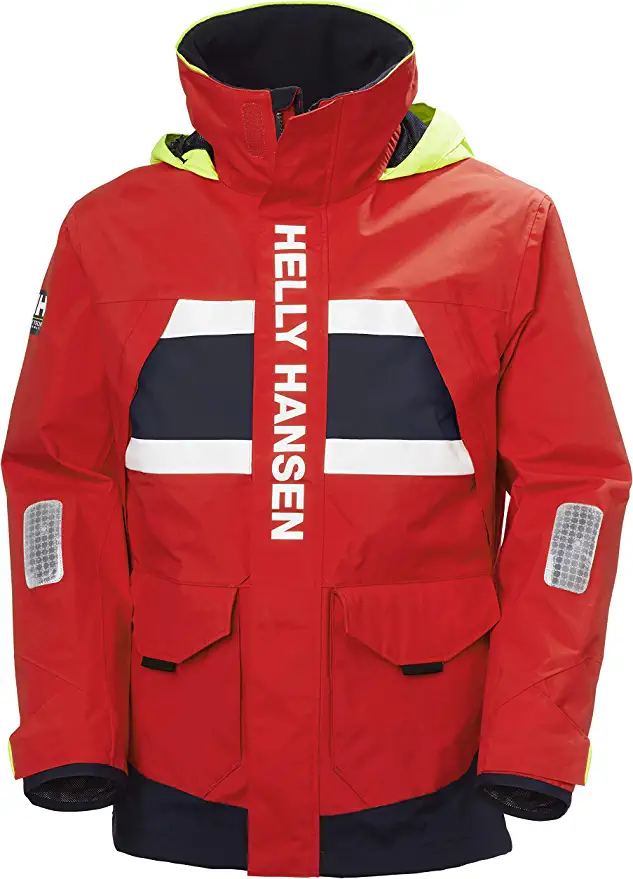 This fully-featured sailing jacket is perfect for coastal sailing, and it was inspired by the renowned Helly hansen flag stripe, which made its debut on jackets created for the Norwegian 1981 Withbread around-the-world entrant "Berge Viking."
Helly-Hansen is among the best sailing and clothing brands.
The materials used to make this sailing jacket are top notch, making it both waterproof and breathable.
You won't find a better-made jacket anywhere, and it will serve you well for many seasons to come. If you're looking for something fashionable and durable, go no further than this brand.
The sailing jacket has double cuffs, a high protective collar, a high visibility hood, and Solas-rated reflective patches.
Things we like:
Waterproof and windproof
Long-lasting and well-made
Stylish and comfortable
Gill Men's OS2 Offshore Sailing Jacket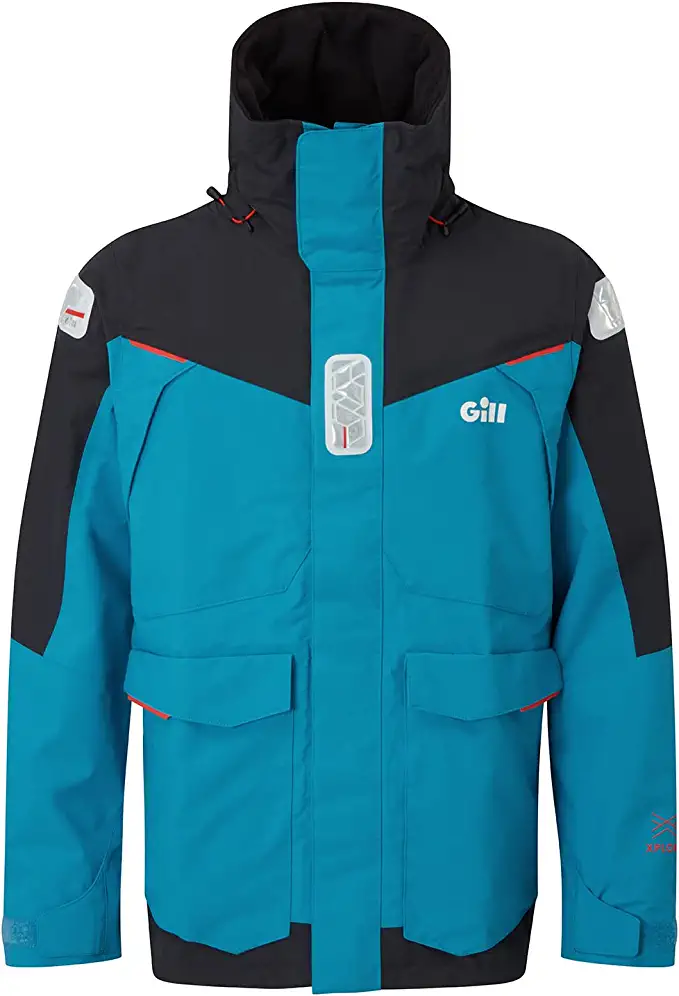 Are you looking for a reputable, high quality offshore sailing jacket? If so, then we have what you're looking for.
The Gill OS2 Offshore Sailing Jacket is one of the most popular sailing jackets on the market for many reasons.
If you're a serious sailor – either racing or cruising – it's likely that Gill (a brand with a long history in sailing) is already known to you. Gill offers some of the very best in sailing jackets for protection and comfort in all conditions.
High cut thermal collar, anti-corrosion YKK zippers with moulded gliders, large cargo pockets with tight closure, fully lined hi-vis hood and hand warmer pockets, thermal fleece collar and chin guard are just some of the characteristics of this sailing jacket.
This jacket works best for offshore or coastal sailing. The two-layered laminated fabric creates a protective shell that is waterproof, windproof, and breathable.
What we like:
Ideal for strong winds
Excellent craftsmanship
Large pockets
NAVIS Sailing Jacket with Bib
When it comes to sailboat clothing, you have to think about protection from the weather and water. And if you're looking for a good sailing jacket and a good price-to-quality ratio, you should consider NAVIS models.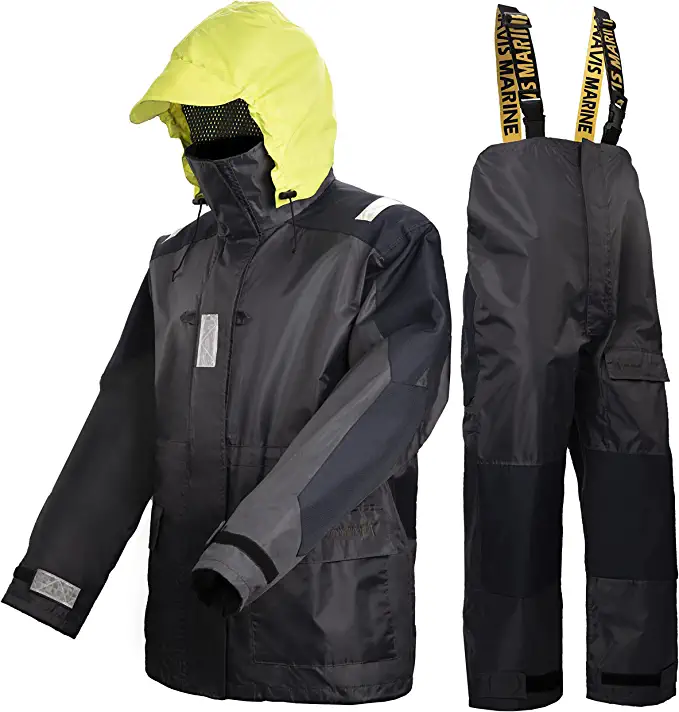 For over 20 years, Navis Marine has produced professional sailing equipment and outdoor technical apparel that has helped people enjoy the outdoors.
This beautiful sailing jacket It has a neoprene inner seal at the cuffs, a zippered front, an adjustable waist, adjustable cuffs, and a handle harness. The hi-vis hood is fully lined and has a 2-way adjustment system for comfort.
This jacket is part of a set that also includes a pair of bib pants with knee and hip Cordura patches, an elastic waistband, and a velcro-fastening hem.
What we like:
Durable
Good value for money
NAVIS Offshore Lightweight Sailing Jacket
This sailing jacket is ideal for offshore sailing but also works well for coastal sailing.
Zipper closure, fully seam taped, lightweight mesh lining, 3-layer breathable fabric, internal and external chest pockets, and a strategic mesh tail piece for greater air circulation are some of the features of this sailing jacket.
There's plenty of room to layer and move around; it's actually fairly comfy and it breathes extremely well.
What we like:
Comfortable
High quality
Lightweight
WindRider Pro Rain Jacket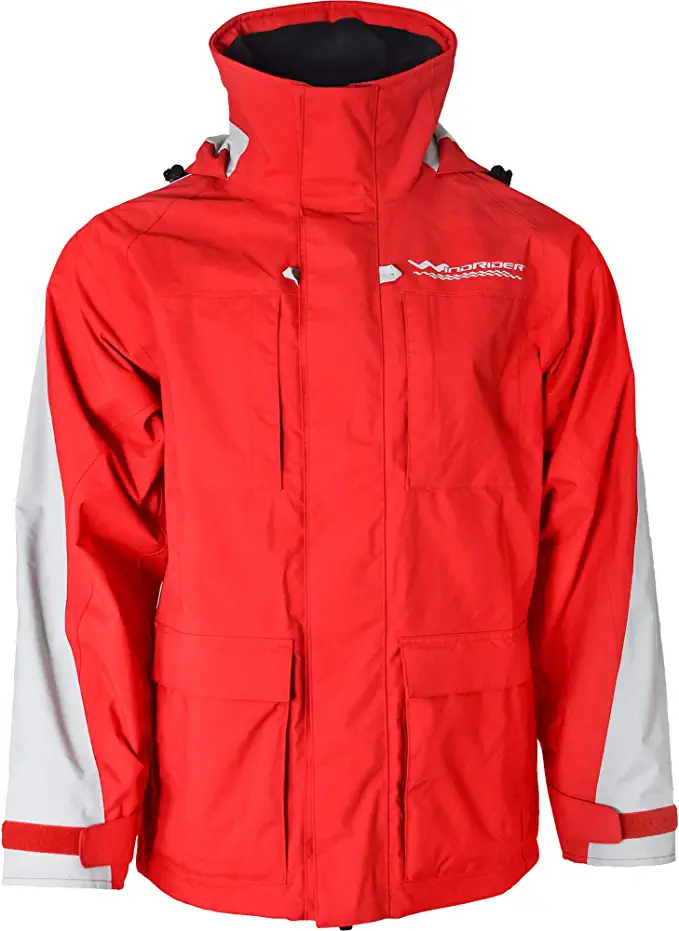 The Windrider Pro rain jacket is the next top pick for boats and general sailing. For both short and long-distance voyages at sea, this is a top-tier sailing brand to consider.
The WindRider jacket is a foul weather jacket that is both water-resistant and breathable.
It has a long-lasting water repellency, a fleece-lined neck and hand warmers, fully taped seams, and an adjustable hood and cuffs.
It can withstand winds and other bad weather conditions. The sailing jacket is lightweight and offers a great fit.
It comes in sizes ranging from small to three extra-extra large, making it ideal for a wide variety of sailing styles, climates, and adventures.
The rain hood is not made of flimsy vinyl like so many on the market; rather, it is constructed from the same material as the jacket and is rather sturdy, so it may be worn more like an adjustable hat.
Things we like:
Suitable for bad weather
Water repellent
Fleece lined high collar keeps wind out
Lightweight
Helly Hansen's Midlayer Jacket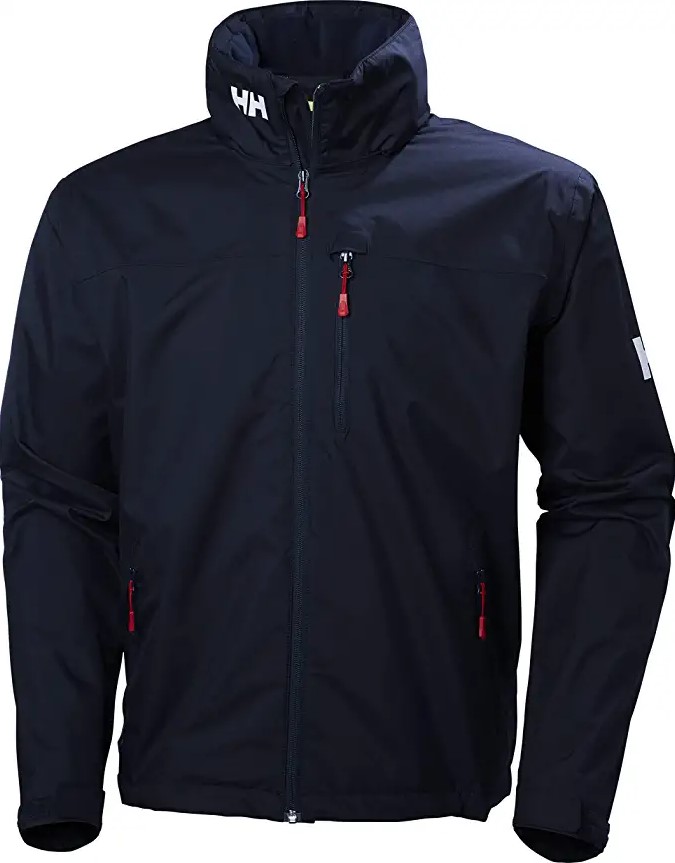 This lightweight windbreaker jacket is both waterproof and breathable, and it comes with a hood for further protection on days when the weather is bad.
This sailing jacket is perfect for fall and spring since it has a fleece lined collar for added comfort, breathable fabric that reduces sweating, easily adjustable cuffs and hem, and it's unisex.
It works well as a mid-level protective jacket, raincoat, and windbreaker. The zippers are brilliant. The hood packs away cleanly.
Things we like:
Waterproof, windproof
Breathable & comfortable lining
Great quality
Suitable for spring and fall
Fits well
Best Sailing Jackets for Women
Even though buying surfing clothing can be confusing, there are a couple of different things to look for that will make it easier to choose the best sailing jackets for women.
If you're venturing off for a sailing trip, then it's going to be important to choose the right type of sailing jacket.
Let's take a look on the best sailing jackets for women.
Helly-Hansen Women's Aegir Race Jacket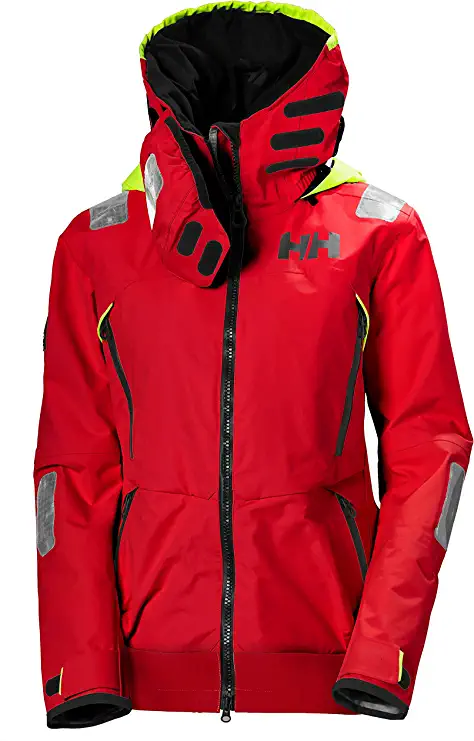 The women's sailing jacket was designed with professional sailors' feedback, including that of the Mapfre crew from the most recent Volvo Ocean Race.
When planning a vacation that includes multiple days of sailing, the Aegir Race Jacket is a top pick.
Compared to regular Aegir items, this one is sleeker and lighter thanks to the reduced size of the pockets and zippers.
The four-layer fabric utilized has exceptional waterproofing, and construction quality is superb overall.
Helly Hansen's Sailing Jacket for Women
Helly Hansen designed this fantastic midlayer sailing jacket for women. It has a fleece lined interior and is both waterproof and breathable. The Helly Tech protection makes the sailing jacket waterproof, windproof, and breathable. It's also entirely seam sealed and water repellent thanks to the DWR treatment.
This midlayer jacket features a warming collar and pockets for increased comfort and insulation.
What we like:
Well made
Warming collar and pockets
Lightweight jacket
Great design
Things to Consider When Buying a Sailing Jacket
Choosing the best sailing jacket is no easy task. Sailing jackets come in a wide variety of different shapes, sizes, and styles.
Whether your sailing trips are short jaunts offshore or extensive ocean voyages, keeping dry and warm can mean the difference between a great trip and one which turns disastrous.
Here are the things to consider when buying a sailing jacket.
When choosing a sailing jacket, you need to know what you are choosing it for: inshore/coastal sailing or offshore sailing. The protection level of an offshore sailing jacket is the highest.
Offshore jackets are typically longer in length and have larger storm hoods than coastal or inshore jackets. Coastal or inshore jackets are the most common types of jackets worn by cruisers around the world. This is due to the fact that coastal or inshore jackets are relatively lightweight and allow for good mobility onboard.
Offshore sailing jackets are designed to provide maximum weather protection during multi-day sails.
The durability of a sailing jacket is given by the jacket's resistance over time, especially in wet and windy conditions. High quality and the type of material used are two of the features that contribute to its durability.
Thus, high prices are often justified by a durable design.
Water resistance is very important when it comes to sailing jackets. That's why it's recommended to choose a sailing jacket of excellent quality.
The sailing jacket needs to stay dry to provide protection and warmth. This means that water must be able to come off the jacket quickly without penetrating the fabric.
A sailing jacket should be made of synthetic materials such as polyester, nylon or neoprene, as they are durable, lightweight and have the qualities of being waterproof and windproof.
When sailing, you need lightweight and compact equipment. That's why we recommend choosing a sailing jacket that packs easily and is made from a lightweight fabric.
That way, you'll feel comfortable and be able to move easily.
Although it offers protection against water and wind, the sailing jacket must be made of a breathable material to avoid overheating. Jackets that do not have this technology at the core of the design will be uncomfortable.
Although most brands of sailing jackets are available in several sizes, you need to be careful when choosing your size. Preferably, you should look for a size guide on the product page and measure yourself to make sure you choose the right size. The size chart will help you choose a sailing jacket that fits your chest, shoulder and waist measurements.
Pockets are among the most important features of a sailing jacket. Thus, any serious sailing jacket should offer pockets deep enough and zippers to accommodate and protect various items such as sailing gloves, mobile phone, keys or sunglasses.
More and more models offer exterior pockets for more efficient storage and comfort.
What's the difference between coastal and offshore sailing jackets?

Coastal or inshore jackets are the most popular jackets for cruisers worldwide because they are lightweight and allow for decent mobility onboard. Offshore jackets are more solidly made and are typically longer in length with larger storm hoods. They are intended to give optimal weather protection on multi-day sailing.
Be sure to take a pair of sailing gloves, a sailing hat to protect you from the sun's rays and a good pair of sunglasses with you on the boat. Also, don't forget your sailing shoes!
There are hundreds of different types of jackets available. If you want to get the best sailing jacket for you, consider your own needs and aspirations.
We hope you found this guide useful in choosing the best sailing jacket.