White-sand beaches are some of the world's most beautiful, relaxing, and awe-inspiring natural wonders. They are a great vacation spot for travelers wanting to unwind, soak up some sunshine, and enjoy the breathtaking scenery.
If you're planning a beach trip and looking for some inspiration, here are the 17 best white-sand beaches worldwide that you won't want to miss.
1. Anse Source d'Argent, Seychelles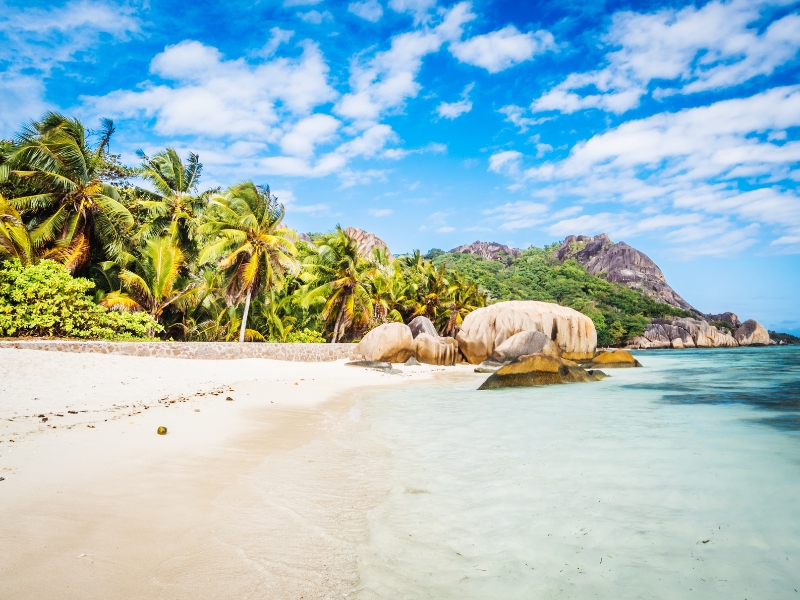 Anse Source d'Argent is situated on La Digue Island in the Seychelles. 
This beach, surrounded by enormous granite rocks that make it feel idyllic and secluded, has frequently been voted as one of the most beautiful white-sand beaches in the world.
This beach has some of the most dramatic rock formations and crystal-clear waters that are great for snorkeling. It's a popular spot for beach lovers and photographers alike.
2. Grace Bay Beach, Turks and Caicos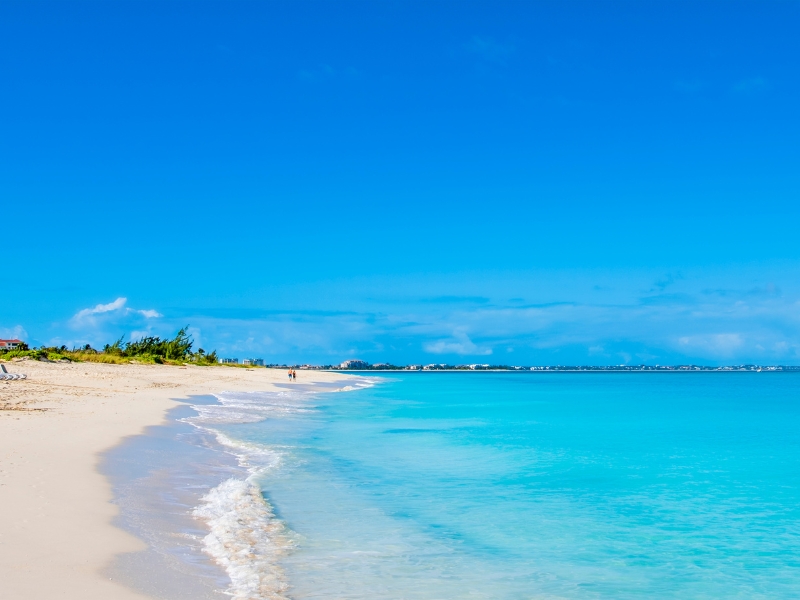 Located on Providenciales Island in the Turks and Caicos Islands, Grace Bay Beach is considered one of the world's premier beaches. With its crystal-clear waters, soft white sand, and stunning sunsets, it's no wonder why this beach makes our list of must-sees.
This beach boasts soft, powdery sand and crystal-clear waters. Moreover, it is lined with palm trees, and the sunsets are absolutely stunning.
It's one of the Caribbean's most popular beaches, ideal for swimming, snorkeling, and sunbathing.
3. Flamenco Beach, Puerto Rico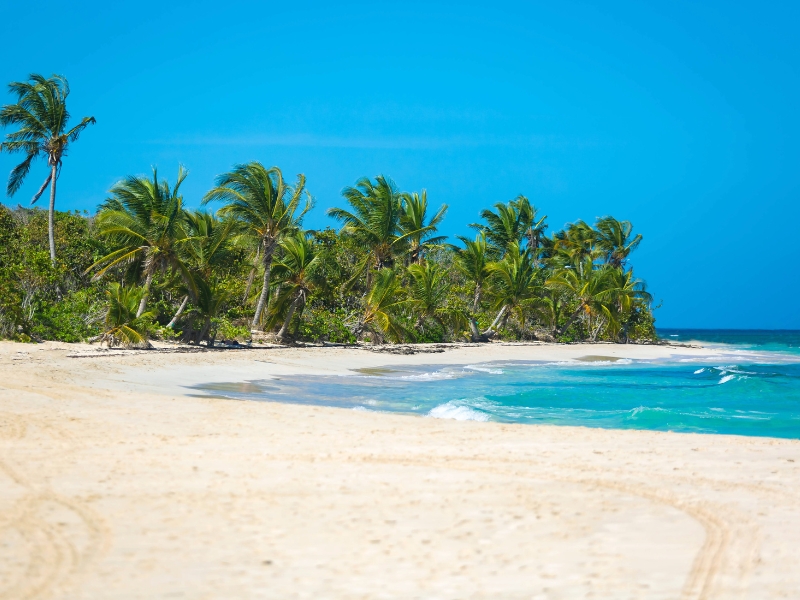 Located on Culebra Island – Puerto Rico, Flamenco beach is one of the most popular beaches in the Caribbean.
This is a jewel of the Caribbean, a radiant gem that sparkles in the sun. Its turquoise waters are like a siren's call, beckoning visitors to explore the mysteries beneath.
The water is crystal clear, and the sand is white, soft, and fluffy. The 1.5-mile beach is also known for its stunning coral reefs, perfect for snorkeling.
4. Hyams Beach, Shoalhaven, Australia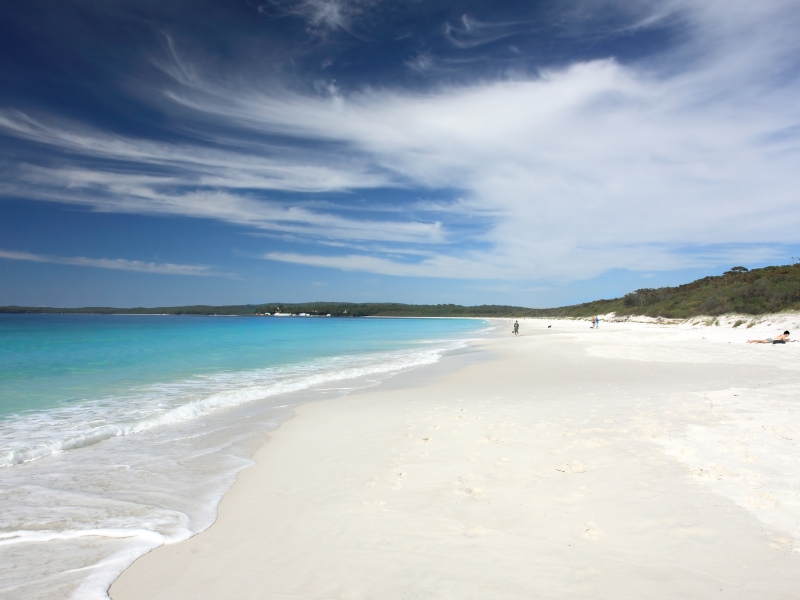 Hyams Beach is located in Shoalhaven, south of Sydney, just 100 miles away from Australia's capital city. It's a long white-sand beach with crystal clear turquoise waters, making it one of Australia's most beautiful beaches.
Located in Jervis Bay, this beach has been awarded the Guinness World Record for having some of the whitest sand in the world. This beach is excellent for swimming, sunbathing, and exploring the rock pools.
5. Baia do Sancho, Brazil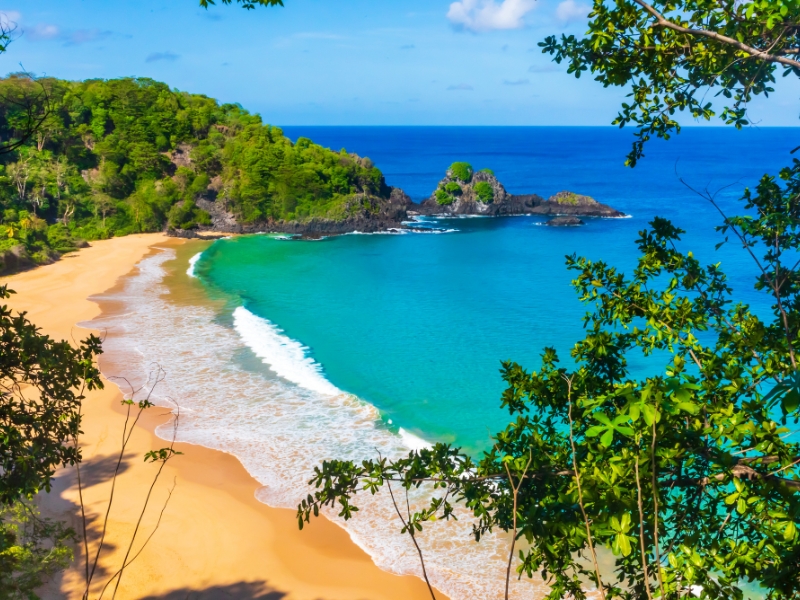 Baia do Sancho, located on the Brazilian island of Fernando de Noronha, is a magnificent beach with crystal blue water and golden sand.
The beach is surrounded by cliffs and is only accessible by boat or by climbing down a steep staircase. It is a great beach to relax and looks like a postcard beach.
6. Kauna'oa Bay, Hawaii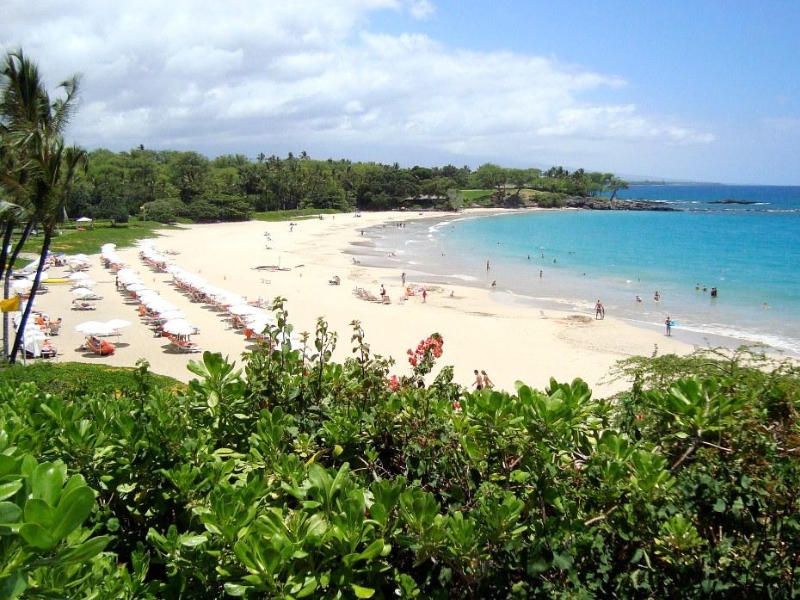 Kauna'oa Bay in Hawaii is a shimmering pearl of the Pacific, nestled within the embrace of rugged volcanic cliffs. Like a treasure chest waiting to be discovered, its crystal clear waters glimmer in the sunlight.
This beach is considered to be one of the best in the world due to its crystal-clear water and white sand.
Like a sanctuary, Kauna'oa Bay offers a haven of tranquility and peace, where visitors can escape from the chaos of the world and lose themselves in the beauty of nature.
7. Elafonisi Beach, Greece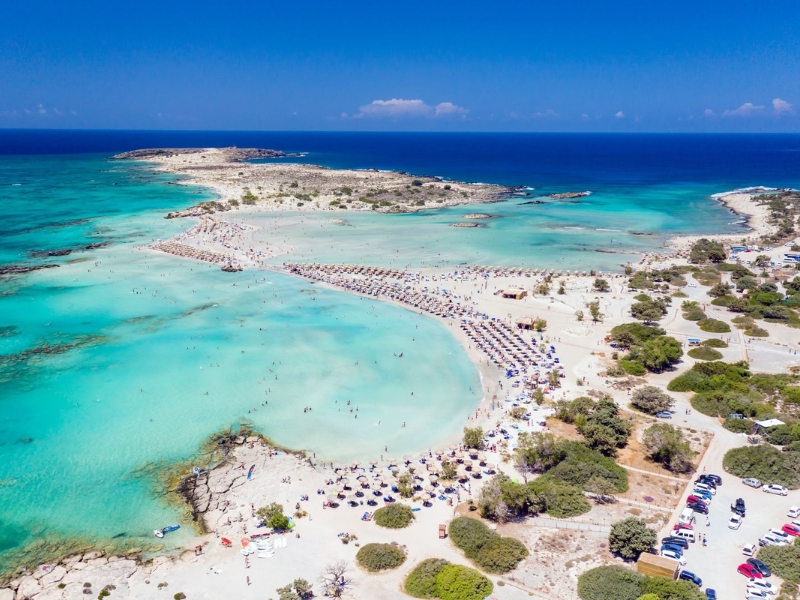 Located on the southwestern coast of Crete, 46 miles away from Chania – the capital city – Elafonisi beach is actually a small island connected to the mainland by a shallow lagoon.
Elafonisi has beautiful pinkish sand that's perfect for beachcombing, swimming, and sunbathing. Turquoise waters surround the beach, which is also great for snorkeling.
In addition to its natural beauty, Elafonisi Beach also has a rich history. During the Ottoman occupation of Crete, the beach was a hiding place for Cretan rebels, and it was also used as a landing site for Allied troops during World War II.
8. Navagio Beach, Zakynthos, Greece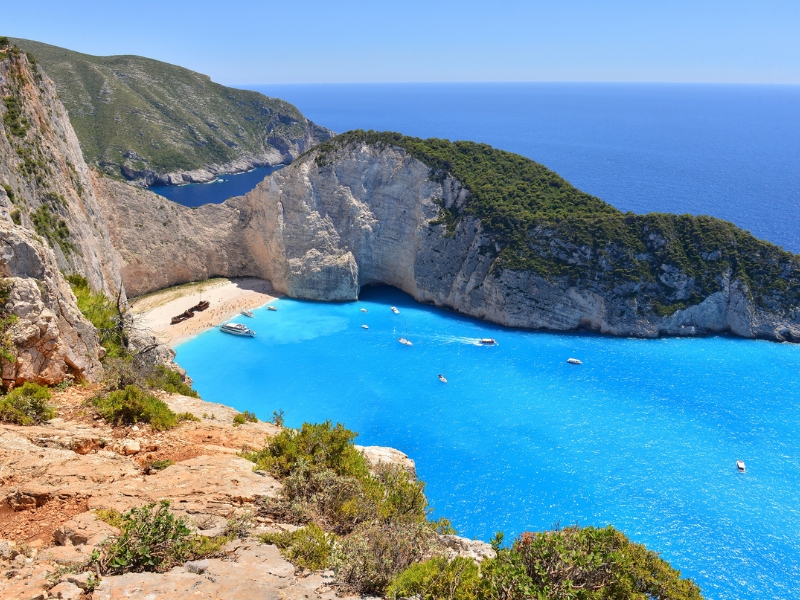 Navagio Beach, also known as Shipwreck Beach, in Zakynthos, Greece, is a place of captivating beauty that awakens the senses.
Like a hidden treasure, the beach is tucked away within a cove of towering cliffs that rise high above the crystal clear waters. The sand is like powdered sugar, soft and white, and the sea is like a canvas of blue that stretches out as far as the eye can see.
As the sun sets, the cliffs surrounding the beach are bathed in warm golden light, casting a spell that leaves visitors enchanted and captivated.
9. Diani Beach, Kenya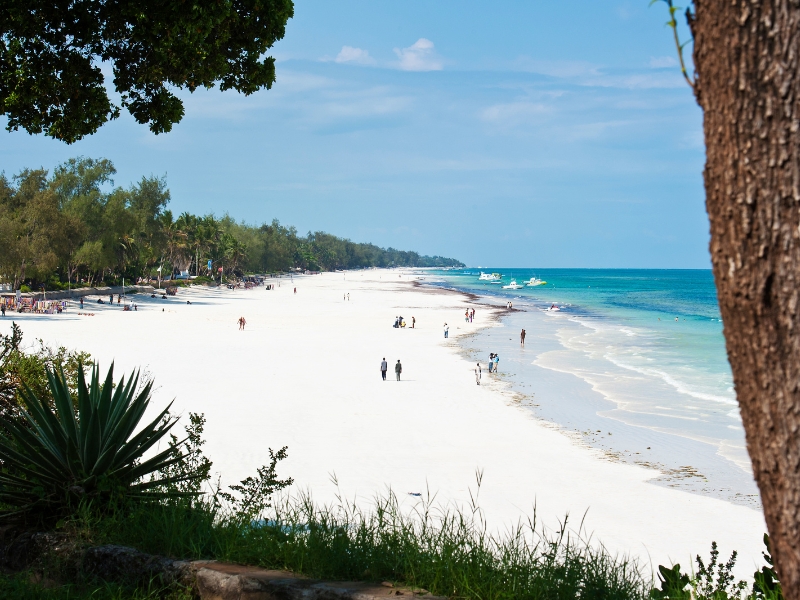 Diani Beach is a true paradise that offers visitors a unique blend of natural beauty and endless adventure. The beach stretches for 17 kilometers along the south coast of Mombasa and is considered one of the most beautiful beaches in Africa.
The soft, powdery white sand is like a blanket that stretches out into the turquoise waters of the Indian Ocean.
Moreover, the beach is known for its long, pristine beach, perfect for surfing and kiteboarding.
10. Maya Bay, Thailand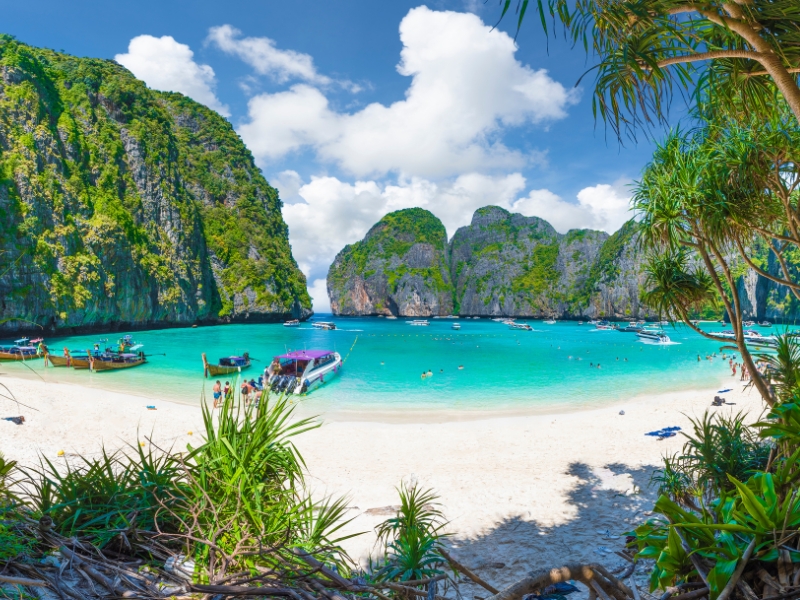 Maya Bay is a true gem of the Andaman Sea. Nestled on the small island of Ko Phi Phi Leh, this stunning bay is a paradise for beach lovers and nature enthusiasts.
The crystal-clear turquoise waters and soft white sand are framed by towering cliffs and lush greenery, creating a picturesque backdrop that is nothing short of breathtaking.
Maya Bay gained international fame as the filming location for the movie "The Beach," but its natural beauty has been drawing visitors for much longer. Despite its popularity, the beach retains tranquility and seclusion, making it a must-visit destination for anyone exploring Thailand's stunning coastline.
So, Maya Bay is a paradise for beach lovers with its fluffy, white sand and crystal-clear waters. It's also famous for its marine park, which is home to many dolphinfish, reef sharks, and sea turtles.
11. Whitehaven Beach, Australia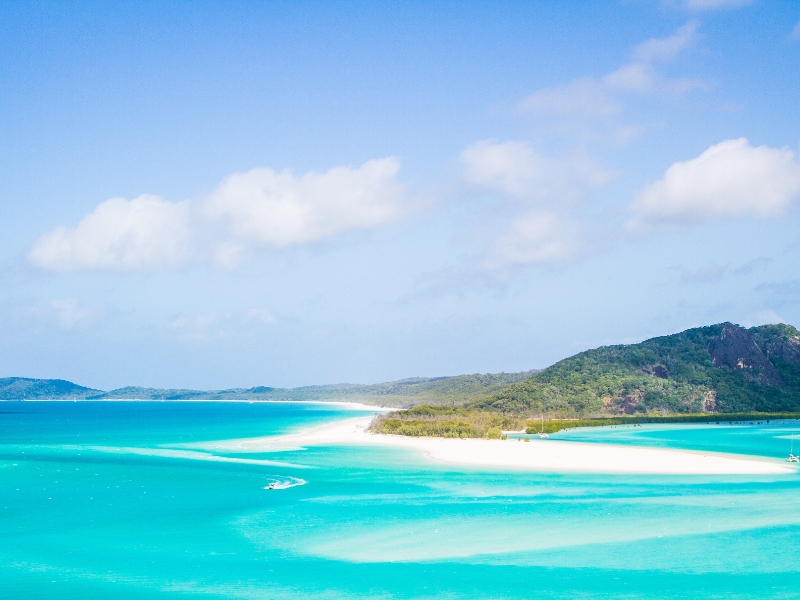 Whitehaven Beach is a truly stunning destination in the Whitsunday Islands of Queensland, Australia.
Known for its brilliant white sand that is 98% pure silica, the beach sparkles in the sunshine and provides a stark contrast to the crystal-clear blue waters of the Coral Sea.
This beach stretches for 7 kilometers along Whitsunday Island and is accessible by boat from the mainland or nearby islands.
Famous for its white, powdery sand, this beach is also a great spot for water sports like kayaking, sailing, and snorkeling.
However, Whitehaven Beach is only accessible by boat, which makes it even more special.
12. Matira Beach, French Polynesia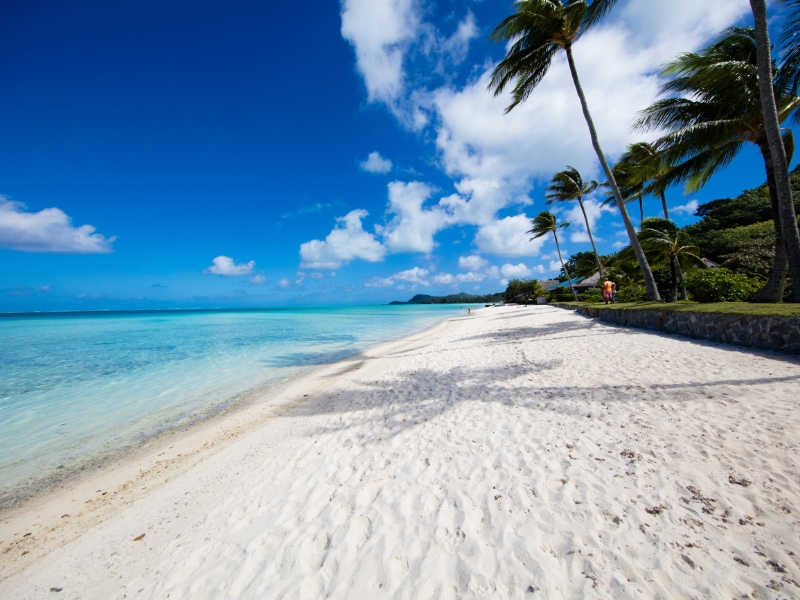 Matira Beach in French Polynesia is a true paradise on Earth. Located on the island of Bora Bora, it is considered one of the most beautiful beaches in the world. Its pristine white sand and crystal-clear turquoise waters make it the perfect place to relax and unwind.
Moreover, this beach is surrounded by lush greenery, providing a stunning contrast to the azure blue of the ocean.
13. Kapalua Beach, Hawaii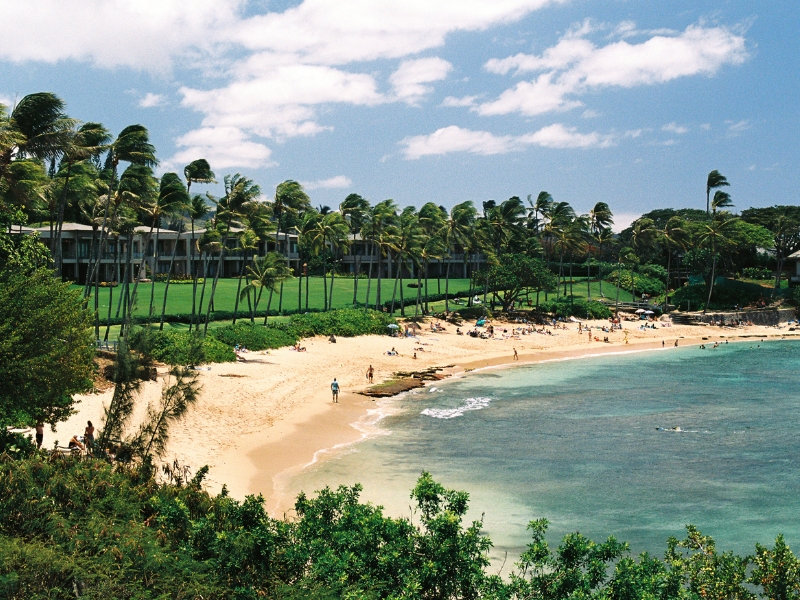 Kapalua Beach is a serene beach that's ideal for romantic getaways, sunbathing, and swimming. It also offers a fantastic view of the coastline.
14. Playa del Carmen, Mexico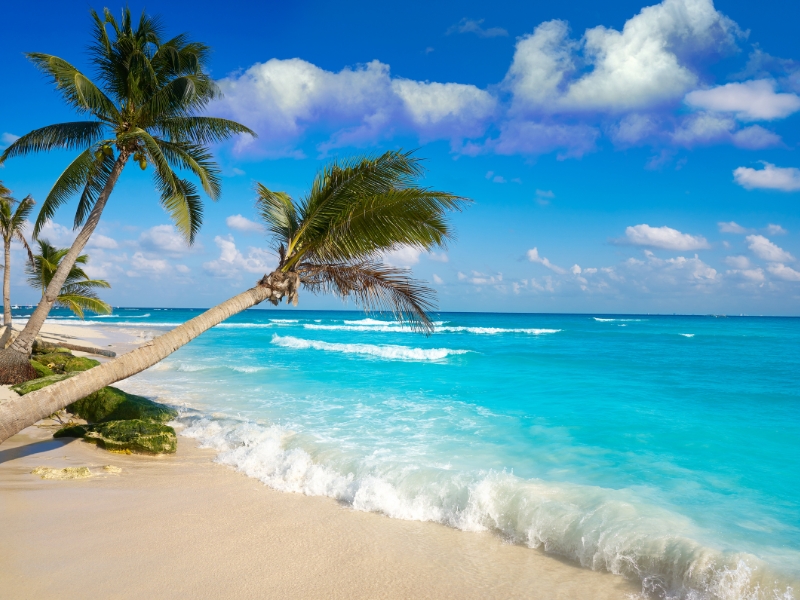 Playa del Carmen is a popular beach destination that's perfect for families, with its soft, white sand and numerous water activities like snorkeling and scuba diving.
15. Grand Anse Beach, Grenada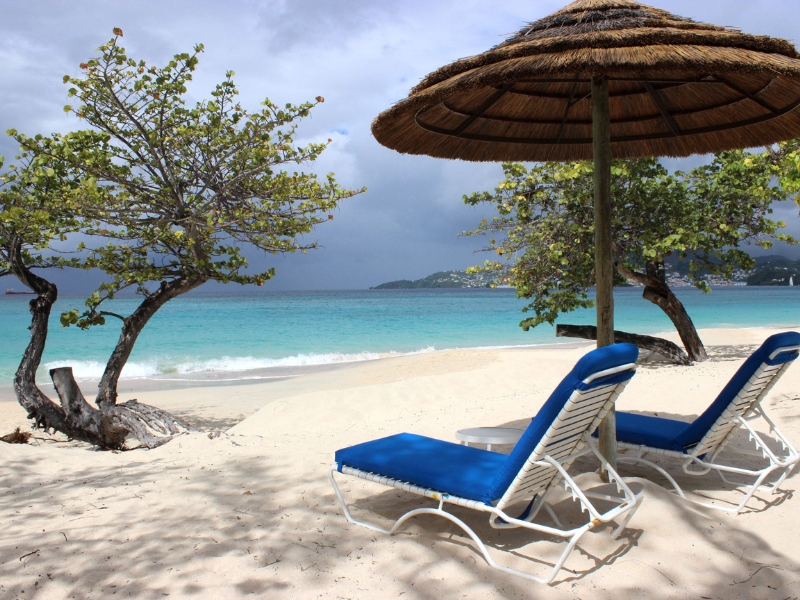 Grand Anse Beach is a true gem of the Caribbean, located on the island of Grenada.
The beach, with its crystal-clear turquoise waters and soft white sand, stretches for over 2 miles along the coast, offering plenty of space for swimming, sunbathing, and relaxing. The surrounding hills provide a beautiful backdrop, with lush greenery and colorful tropical flowers.
16. Rabbit Beach, Pelagie Islands, Italy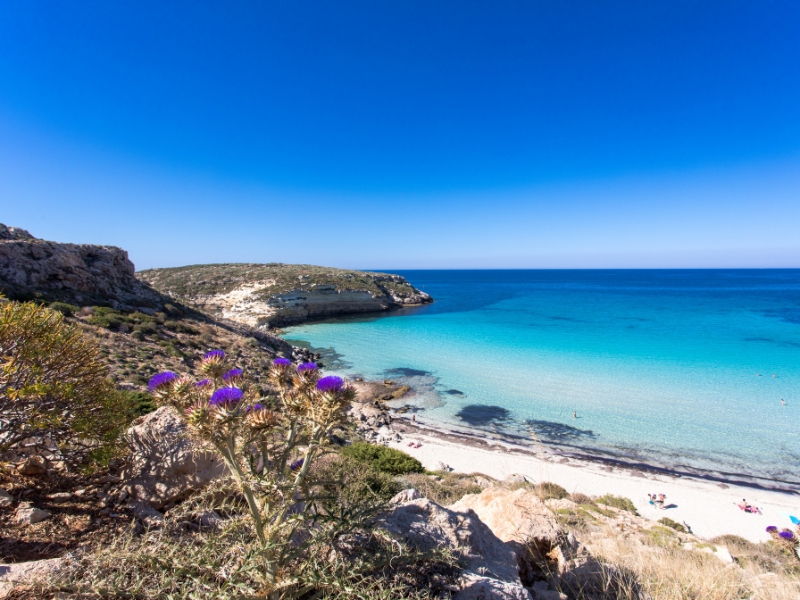 Rabbit Beach, located on the island of Lampedusa in the Pelagie Islands of Italy, is often considered one of the most beautiful white-sand beaches in the world.
A dramatic rocky coastline surrounds the beach's crystal-clear turquoise waters and soft white sand, creating a stunning contrast between land and sea.
This white-sand beach gets its name from the abundance of wild rabbits that can be found hopping around the nearby hills.
17. Boulders Beach, South Africa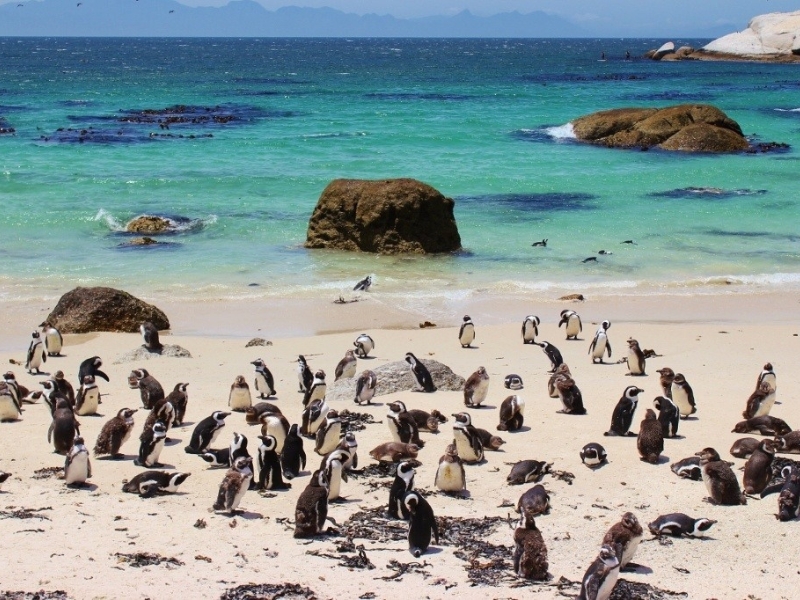 Boulders Beach is famous for its colony of African penguins that you can observe in their natural habitat.
This gorgeous white-sand beach was created thousands of years ago when the Atlantic Ocean rose, eroding ancient granite rocks and forming giant boulders that line the beach. The ocean also carved out caves in these boulders, which now provide a home to African Penguins.
Last Words on the Best White-sand Beaches
There you have it, 17 stunning white-sand beaches around the world that you won't want to miss. Whether you're looking for adventure, relaxation, or simply soaking up the sun, any of these beaches will cater to your needs. So, pack your sunscreen and head out to discover these amazing natural wonders.