Planning to visit Malta? Here's a list of the top attractions and places to visit in Malta.
Malta, a pearl in the heart of the Mediterranean, is a treasure trove of unique experiences with captivating landscapes and cultural wonders waiting to be explored. In this comprehensive guide, we unveil the best things to do in Malta that will make your trip to Malta extraordinary and unforgettable.
Top Attractions and Places to Visit in Malta
Explore the essence of the country by diving into the diverse range of activities. From exploring the medieval alleyways of Mdina to relaxing on the sun-kissed beaches, this island country has something for everyone. Immerse yourself in the Maltese charm as you discover the best things to do on this enchanting island of Malta.
Valetta – Architectural Splendor and Cultural Charms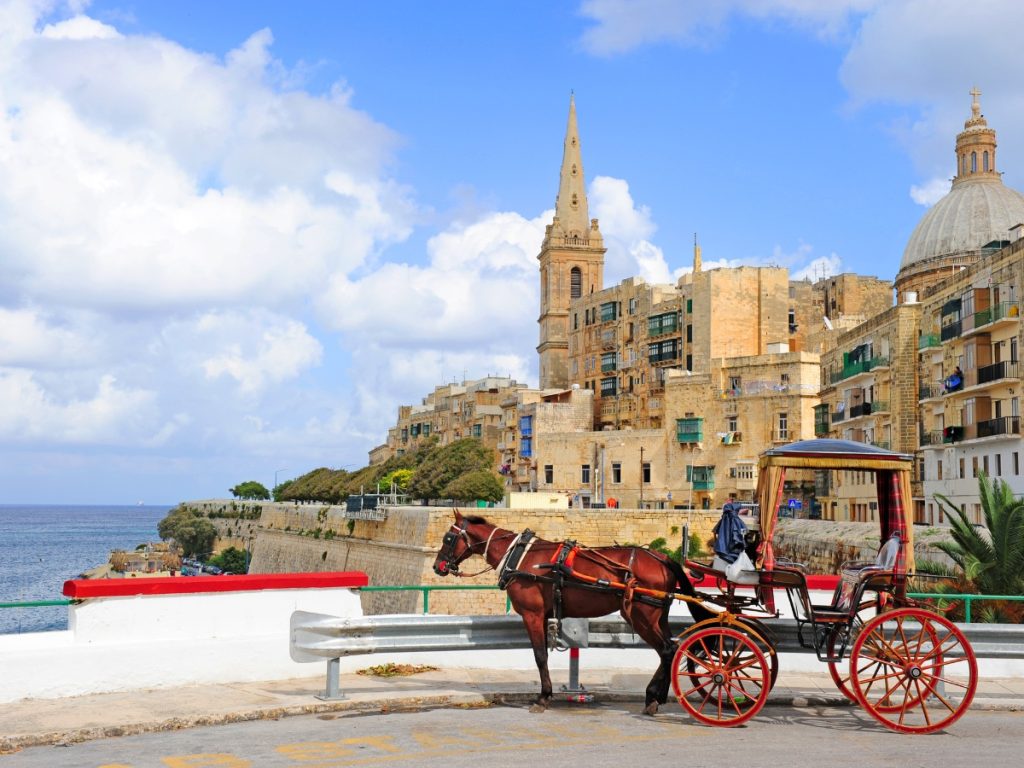 Begin your adventure across Malta in Valletta, the crown jewel and one of the most tourist frequented places. You'll flock to the city's attractive streets, packed with cafes, boutiques, and arts and cultural venues. Wander through its charming paths, admire the splendid architecture, and indulge in the rich cultural and historical heritage that constitutes this UNESCO World Heritage Site.
Famous places in Valletta, the capital of Malta
Marina di Valetta: This is the premier yachting destination in Malta.
St. John's Co-Cathedral: The construction of fortifications and architectural marvels is the Knights of St John most significant contribution to Malta—a masterpiece hiding behind unassuming exteriors. Step inside to witness a gilded wonderland adorned with masterpieces by Caravaggio. The marbled floor conceals the final resting place of Grand Masters and nobles, a profound experience for history enthusiasts.
Grandmaster's Palace: Once the residence of the Grand Masters, it now opens its doors to reveal the Ambassador's Room and the Supreme Council Hall. The armory steals the show, boasting a collection of over 5,000 knights' armor and weapons.
Republic Street and Merchant Street: The bustling commercial veins of Valletta are lined with enticing stores and restaurants.
Manoel Theatre: Among the oldest in Europe, this theatre exudes historical charm.
Fort Saint Elmo: Home to the National War Museum, it narrates the country's military history with artifacts and exhibits.
National Museum of Fine Arts: A vast collection of artwork, sculptures, and paintings from the Order of Malta.
Barraka Gardens: Upper and Lower Barraka Gardens offer serene spots, stunning city views, and a functioning Saluting Battery.
For a seamless Valletta experience, park at the MCP parking lot, a stone's throw from the city center. Affordable and convenient, it sets the stage for a delightful exploration.
To unlock the city's secrets, opt for a guided walking tour. Book your spot for an enriching journey.
Mdina – Timeless Elegance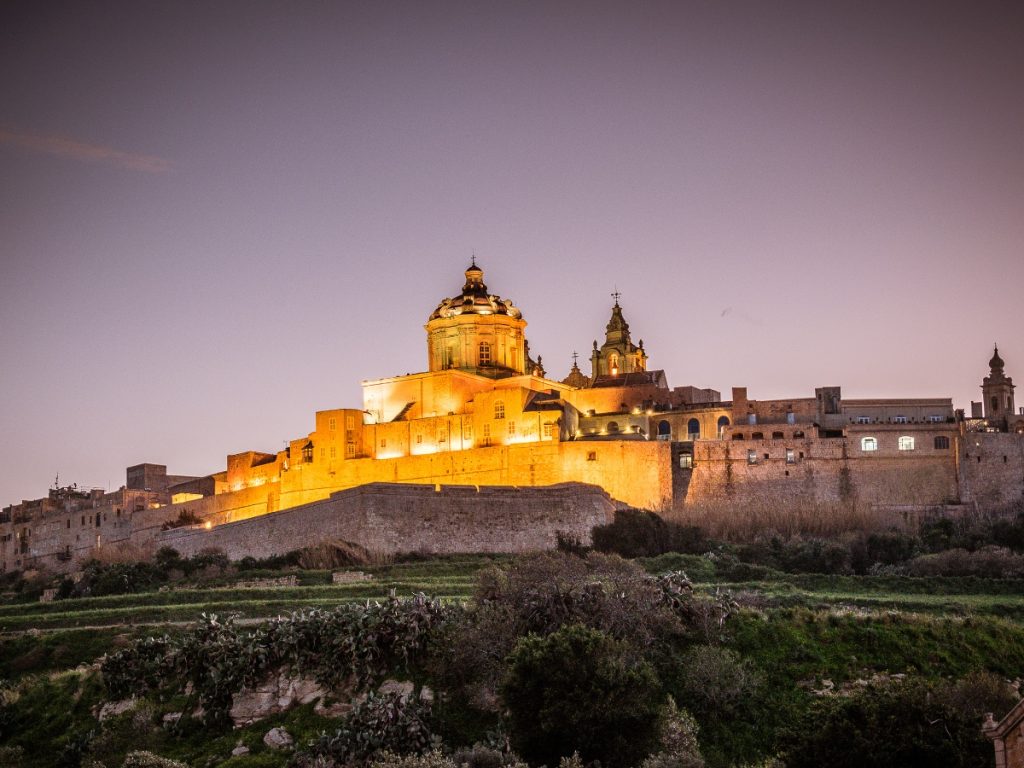 One of the coolest things to do in Malta is explore the ancient city of Mdina, often called the "Silent City." Step into the timeless charm of this medieval gem, where every corner holds tales of a bygone era. This historic gem is a living museum with narrow, winding streets, medieval architecture, and a timeless atmosphere.
Discover the highlights
St. Paul's Cathedral: Don't miss the stunning Cathedral and panoramic views from its bastion walls. A fabulous architectural masterpiece, this Cathedral houses exquisite artwork and offers a serene escape from the bustling world outside.
Mdina Dungeons: Delve into the city's mysterious past by exploring the underground dungeons. Interactive exhibits bring to life the stories of prisoners and their fates.
Palazzo Falson Historic House Museum: A step back in time, this medieval palace-turned-museum showcases period furniture, armor, and art, providing a glimpse into the history of Malta.
Bastion Square: Revel in panoramic views of the island from the city walls at Bastion Square, a perfect spot for capturing its essence.
Mesquita Square: A charming square surrounded by cafes and artisan shops, offering a delightful respite.
St. Agatha's Catacombs: Uncover the mysteries of the underground catacombs, a testament to the city's rich history and religious significance.
Vilhena Palace: Home to the National Museum of Natural History, the palace's exhibits showcase diverse flora and fauna.
For a seamless visit to Mdina, consider parking at the parking area just outside the city gates. It allows you to start your journey through Mdina's narrow streets without hassle.
To unravel the secrets of this city, opt for a guided walking tour. Choose between a group tour or a private expedition exclusively for your group. Dive deep into Mdina's history, and for those with a penchant for the eerie, a special "Mdina by Night" tour is available, casting the city in a whole new light.
The Three Cities – Grandeur Beyond Valletta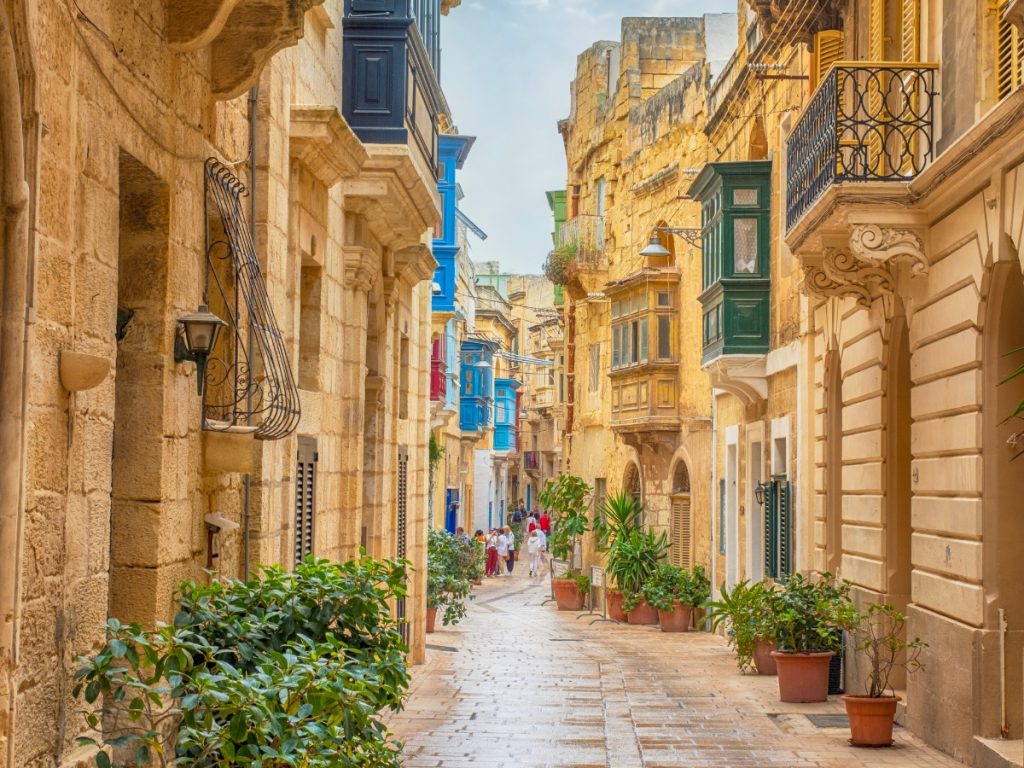 Embark on a captivating journey through The Three Cities—Birgu, Senglea, and Cospicua—where history unfolds amidst narrow alleys and historic forts. Each city carries its tales, creating a trilogy of wonders to explore.
Explore the hidden gems of The Three Cities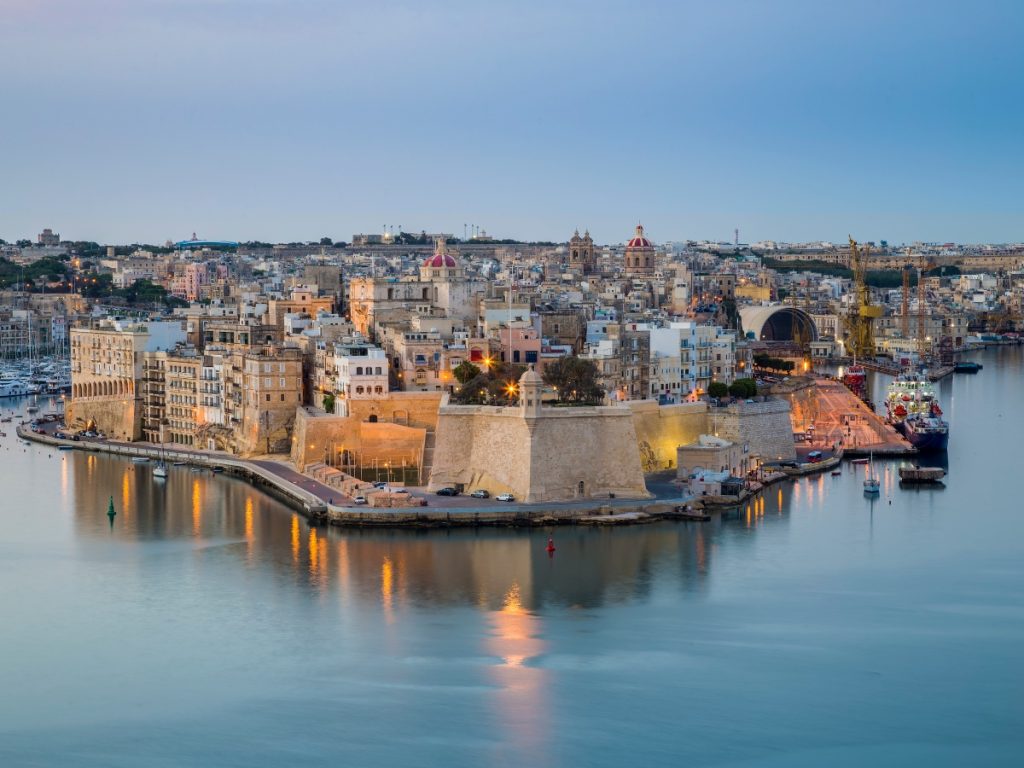 Birgu (Vittoriosa): Wander through the atmospheric streets of Birgu, adorned with historic buildings. Visit the Inquisitor's Palace, a testament to the island nation's complex past.
Senglea (Isla): Stroll along the waterfront and discover the Gardjola Gardens with its iconic watchtower offering panoramic views of the Grand Harbor.
Cospicua (Bormla): Uncover the maritime heritage of Cospicua at the Malta Maritime Museum, housed in the historic Old Naval Bakery. The city's waterfront promenade provides a picturesque setting for a stroll.
Fort St. Angelo: Dominating the Grand Harbor, this formidable fortress has played a pivotal role in the country's history. Explore its chamber ramparts and enjoy breathtaking views of the harbor.
Birgu Waterfront: A charming mix of cafes and restaurants along the waterfront, offering a perfect setting to savor local cuisine while enjoying harbor views.
St. Lawrence's Church, Vittoriosa: This church in Malta is a marvel of architectural beauty, adorned with intricate Baroque details.
Birgu's Collachio Area: Step back in time as you wander through the Collachio, a historic district with medieval charm.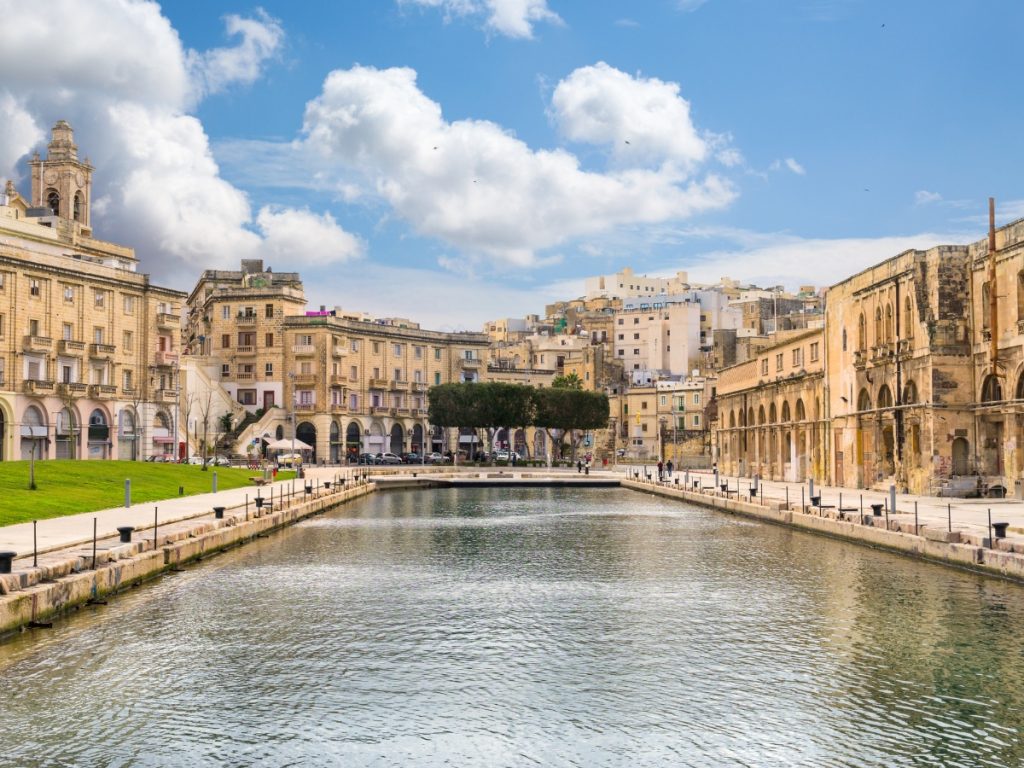 For a seamless exploration of The Three Cities, utilize the convenient parking facilities near the waterfront, allowing you to traverse the city easily.
Consider a guided walking tour through The Three Cities to enhance your journey. Choose between a group tour or a private expedition tailored to your preferences. Round trip tickets are 2.80€ per person  for a 10min trip. They're sold inside the boat
Rabat – Unveiling History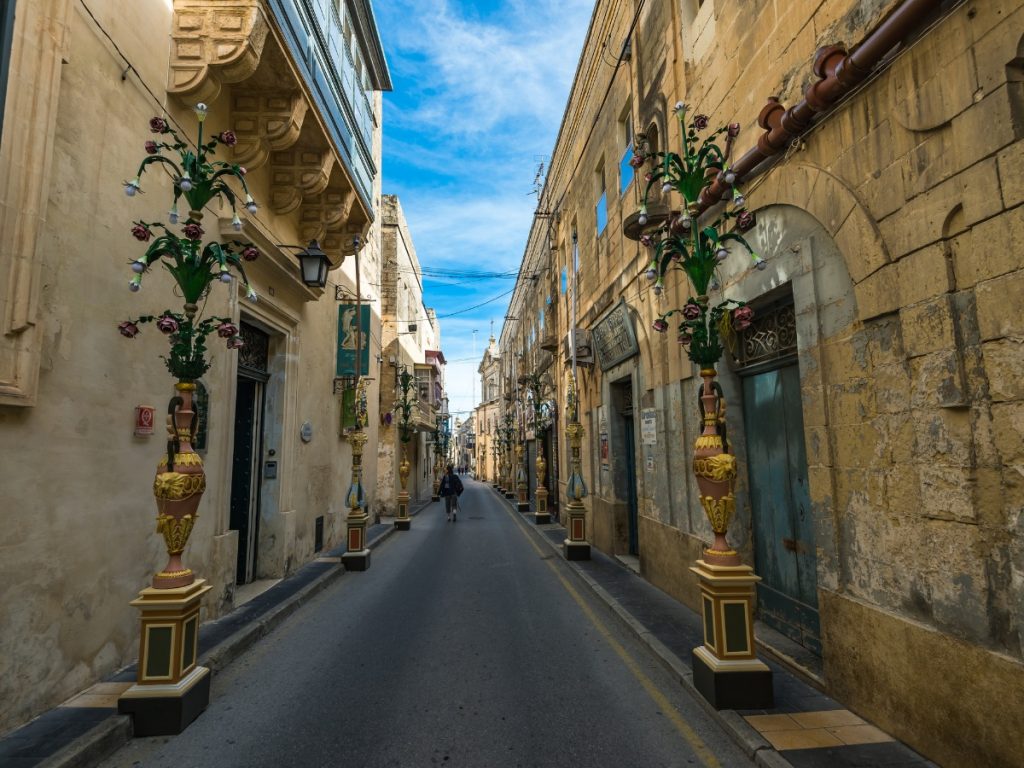 Set out on a historical tour through Rabat, a lovely village in the center of Malta. Rabat welcomes you to explore its old paths, archaeological wonders, and spiritual locations that echo stories from centuries past.
Discover Rabat's treasure troves
St. Paul's Catacombs: Unearth the mysteries beneath Rabat as you explore the extensive catacombs, an underground maze that served as a burial ground during Roman times.
St. Paul's Church and Grotto: Visit the revered church dedicated to Malta's patron saint and explore the cave where St. Paul is believed to have sought refuge during his time in Malta.
Roman Villa (Domus Romana): Step back in time at the Roman Villa, where well-preserved mosaics and artifacts offer a glimpse into daily life during the Roman era.
Mdina Gate: Wander through the medieval city gate of Mdina, located in Rabat, and soak in the historical ambiance of this fortified town.
Wignacourt Museum: Immerse yourself in art and history at the Wignacourt Museum, housed in a Baroque palace. The museum showcases artifacts and paintings that trace the country's cultural evolution.
Saqqajja Hill: Ascend Saqqajja Hill for panoramic views of Rabat and Mdina, providing a picturesque backdrop to your exploration.
Use parking facilities near the town center for a smooth exploration of Rabat, allowing you to easily navigate its narrow streets and ancient landmarks.
To delve deeper into Rabat's history, consider a guided walking tour. Book your spot for an informative and engaging experience. Choose between a group tour or a private expedition, unlocking the secrets and stories woven into the fabric of Rabat. 
Gozo – A Serene Escape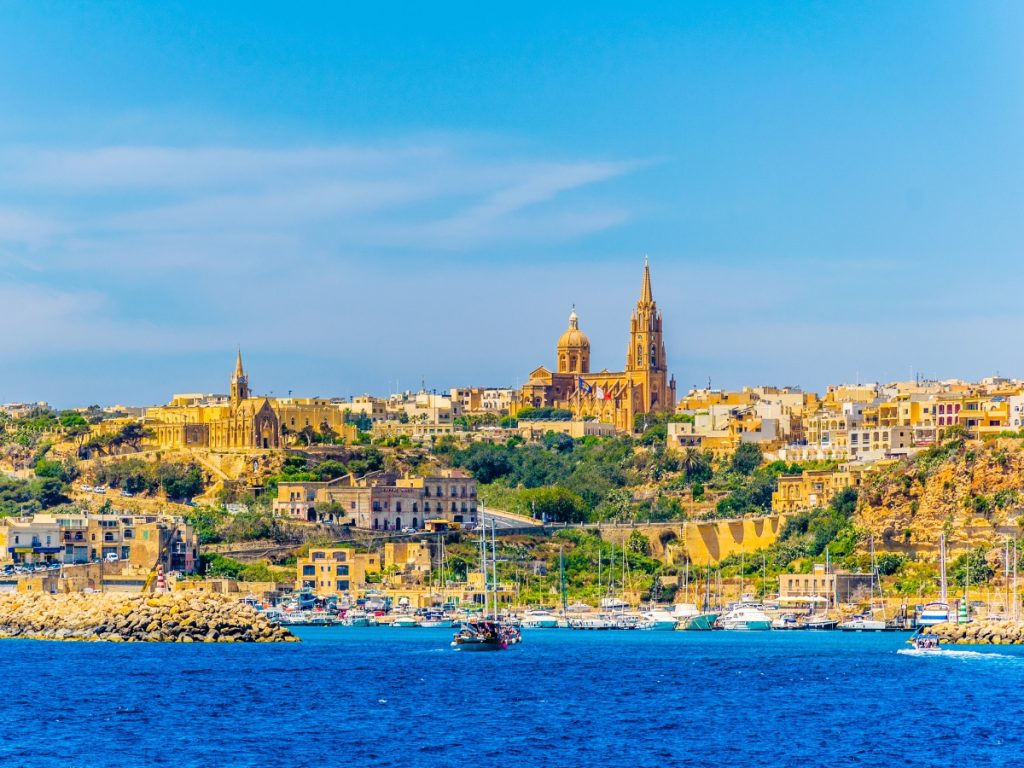 In the Maltese archipelago, Gozo is the second largest island, a picturesque territory that captivates with its idyllic landscapes and rich cultural heritage. From historic citadels to azure waters, the island invites you to explore its treasures and unwind in its peaceful ambiance.
Discover the beauty of the island
Victoria (Rabat): Traverse the charming streets of Victoria, also known as Rabat, and ascend the Citadel for the best views of the island. Explore the Cathedral of the Assumption and soak in the city's medieval charm.
Azure Window Site: Although the iconic Azure Window may have succumbed to the sea, the site continues mesmerizing with its breathtaking cliffs and crystal-clear waters. Dwejra Bay, where the Azure Window once stood, remains a must-visit spot.
Ggantija Temples: Step back in time at the Ggantija Temples, one of the oldest free-standing structures in the world—Marvel at the megalithic architecture dating back to around 3600 BC.
Ramla Bay: Ramla Bay has a beautiful shoreline and a fascinating history. The reddish-orange sand complements the attractiveness of this Mediterranean island. The main sand coastline is a terrific family destination with plenty of space for the youngsters to play.
Xlendi Bay: Around the island, this charming fishing village is nestled in a picturesque bay; Xlendi offers a tranquil setting for seaside strolls and waterfront dining.
Ta' Pinu Basilica: Visit the renowned Ta' Pinu Basilica, a place of pilgrimage known for its miraculous stories and intricate architecture.
Plan your visit during the off-peak season for a more tranquil experience, especially at popular sites like the Blue Lagoon. A 20-minute ferry ride on the Gozo Channel Line is required to reach the island from Cirkewwa. The cost of a ticket is 8 euros per person, which is paid upon return.
Sliema and St Julian's – Coastal Splendor
Discover the vibrant coastal town of Sliema, where modern sophistication meets Mediterranean charm. With its bustling promenade, designer boutiques, and stunning views of Valletta, Sliema beckons you to explore its lively streets and savor the beauty of the sea.
Explore the highlights of Sliema
Sliema Promenade: Take a leisurely stroll along the iconic promenade, where the sea breeze mingles with the lively atmosphere. Enjoy picturesque views of Valletta across the harbor.
Shopping in Tigne Point:Tigne Point is a cutting-edge shopping center featuring a mix of international brands and local boutiques where you may indulge in a shopping spree. It's the perfect spot for fashion enthusiasts.
Fort Tigne: Delve into history at Fort Tigne, a historic fortress that once guarded the entrance to Marsamxett Harbor. Today, it stands as a reminder of the military past of Malta.
Stella Maris Church: Admire the neoclassical architecture of Stella Maris Church, a prominent landmark with a rich history and stunning interiors.
Sliema Ferries: Catch a ferry from Sliema to Valletta for a scenic and convenient journey across the harbor.
Julian's: The Playground by the Sea
Experience the lively energy of St. Julian's, a coastal town known for its vibrant nightlife, entertainment, and picturesque bays. St. Julian's offers a dynamic blend of leisure and excitement, from trendy clubs to seaside dining.
Discover the appeal of St. Julian's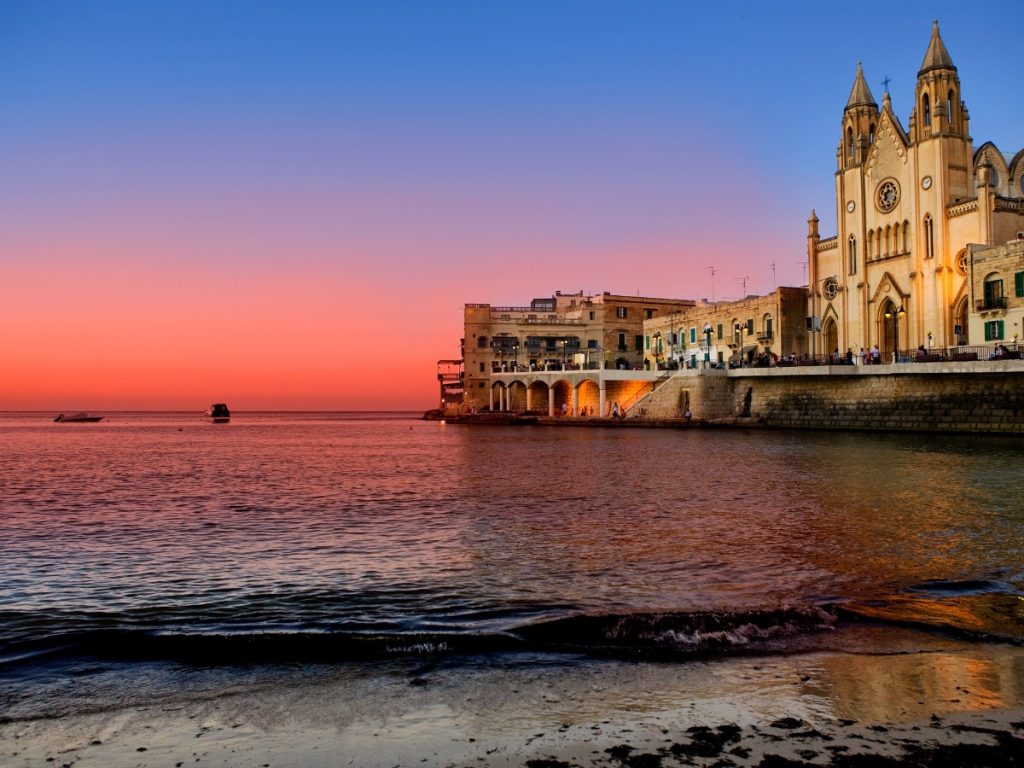 Spinola Bay: Revel in the charm of Spinola Bay, a picturesque harbor surrounded by colorful boats, waterfront restaurants, and the iconic Love Monument.
Paceville: Immerse yourself in the nightlife of Paceville, a bustling district with many bars, clubs, and entertainment venues. It's the heartbeat of St. Julian's after sunset.
Balluta Bay: Enjoy a relaxing moment at Balluta Bay, a scenic inlet with a historic church, seaside cafes, and a beautiful promenade.
Portomaso Marina: Discover luxury at Portomaso Marina, home to upscale residences, dining establishments, and a chic yacht marina.
St. George's Beach: Enjoy the sun on this sandy paradise for beachgoers. The lovely waters and lively ambiance make it a favorite place to unwind.
Consider taking public transit or enjoying a leisurely walk along the seaside for a seamless exploration of Sliema and St. Julian's. Experience the dazzling lights of Spinola Bay and Paceville in the evening to taste St. Julian's lively nightlife. Whether you like Sliema's posh atmosphere or St. Julian's bustling energy, these seaside towns provide the ideal balance of leisure and excitement.
Blue Lagoon and Comino Island – Turquoise Paradise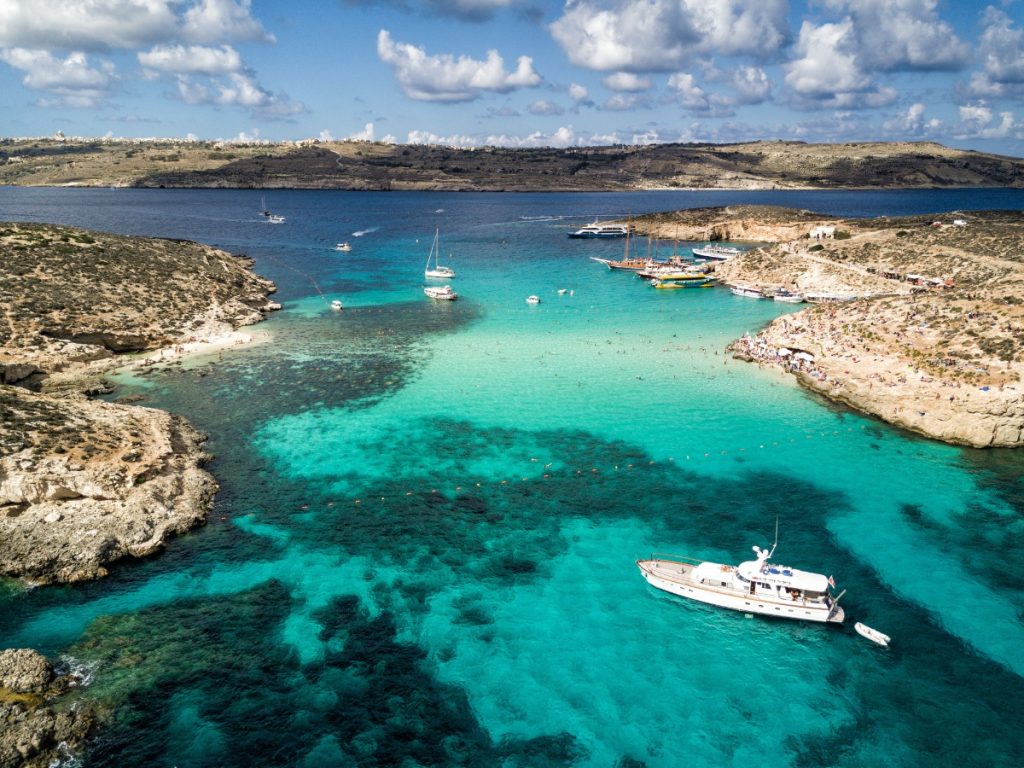 Dive into the mesmerizing beauty of the Blue Lagoon, a natural wonder that unveils a palette of azure hues against the backdrop of the coastline. With its crystal-clear waters and pristine white sands, the Lagoon is a serene haven for those seeking tranquility amidst breathtaking landscapes.
Enjoy the fascination of the Blue Lagoon
Crystal-Clear Waters: Immerse yourself in the inviting, translucent waters that reveal a vibrant underwater world. Snorkeling enthusiasts will be captivated by the diverse marine life beneath the surface.
White Sandy Beaches: Relax on the soft, white sandy coastline that frames the Lagoon. Whether you're basking in the sun or indulging in a leisurely swim, the shorelines offer a perfect escape into nature's embrace.
Boat Trips and Excursions: Embark on boat trips and excursions to fully appreciate the panoramic views of the Lagoon. Cruising along the coast provides a unique perspective of this idyllic setting.
Secluded Coves: Discover hidden coves and inlets around the Lagoon, offering a more private and intimate experience. These tucked-away spots are perfect for those seeking a tranquil retreat.
Water Activities: Engage in various water activities, from kayaking to paddle boarding, adding an adventurous touch to your experience.
Island of Comino: The Hidden Gem of Tranquility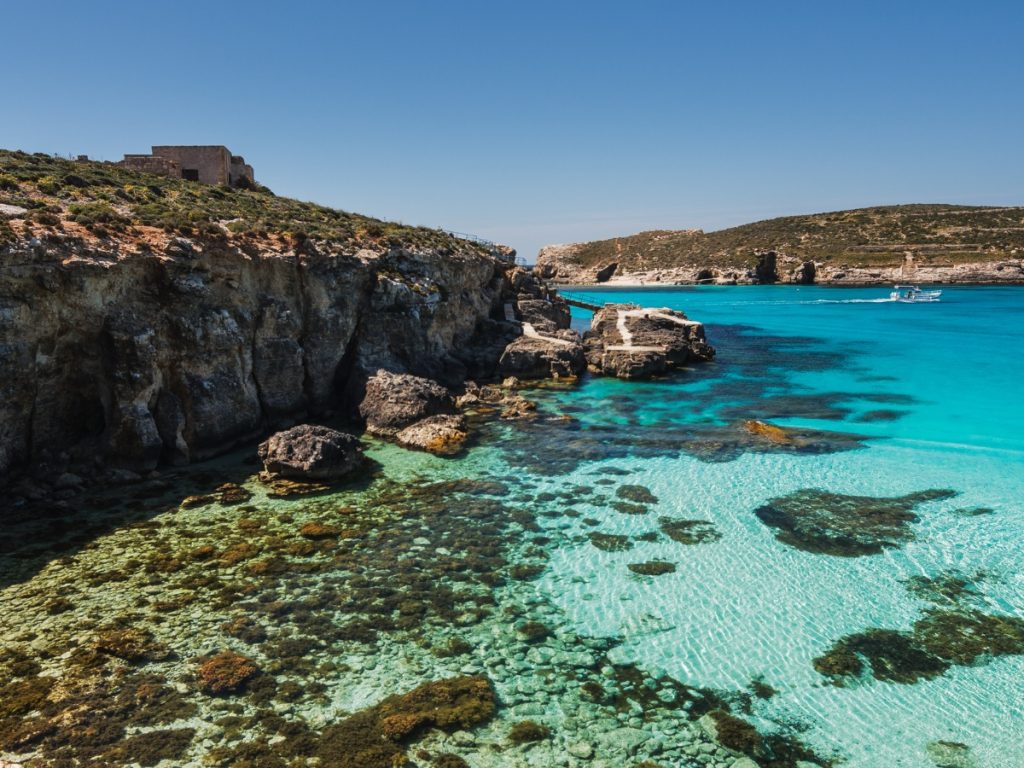 Explore the unspoiled beauty of this tiny island nestled between the island of Malta and Gozo. This area of the island is a paradise for nature lovers and those looking for a calm retreat, thanks to its crystal-clear seas and unspoiled landscapes.
Things to see on the island
Blue Lagoon: Immerse yourself in the surreal beauty of the Lagoon, where azure waters meet white sandy shorelines. Snorkel in the crystal-clear sea or bask in the serenity of this natural wonder.
Santa Marija Tower: For sweeping views of the island and the waters surrounding it, climb Santa Marija Tower. The tower is a historic sentinel, offering glimpses into the past.
Saint Mary's Battery: Explore the ruins of Saint Mary's Battery, a testament to the island's strategic importance in Malta's history. The site provides a fascinating glimpse into military architecture.
Chapel of St. Mary: Visit the Chapel of St. Mary, a quaint and historic religious site nestled in the island's heart.
For an optimal visit to the Blue Lagoon, consider planning your trip during the off-peak season to avoid crowds and fully enjoy the serenity of this natural haven. Additionally, bring essentials such as sunscreen, swimwear, and snorkeling gear to make the most of your day in this turquoise paradise. 
Take a Bike Tour – Exploring Malta on Two Wheels
Embark on a cycling adventure around Malta. Discover the thrill of exploring Malta attractions on a quad bike – a must-do activity for an unforgettable experience! No prior experience is needed; your guide will teach you the basics and tailor the ride to your pace. Quad bike tours take place on the picturesque island of Gozo.
Biking in Malta is one of the best Malta travel experiences and offers a personalized, leisurely exploration. The biking tours in Malta allow you to savor the scenic beauty and cultural richness at your own pace. Malta doesn't look the same on two wheels!
Quad Bike Highlights
Visit Gozo's gems, including Ramla Bay, Dwejra, the Inland Sea, the Blue Hole, and Marsalforn Salt Pans.
Enjoy a return trip from the island with a private boat, passing by the Blue Lagoon and Comino caverns.
For an unforgettable experience, opt for the full-day or VIP full-day tour. Your two-wheeled adventure awaits!
Scuba diving in Malta – Underwater Wonderland
Plunge into the underwater wonders of Malta through scuba diving. The Maltese archipelago, surrounded by clear waters, boasts diverse marine life and fascinating underwater landscapes. Explore underwater caves, reefs, and historic shipwrecks for a scuba diving experience that will leave you in awe.
Blue Hole: known for its dramatic underwater topography, it is a must-visit for divers. The Azure Window, an iconic limestone arch, once stood here before its collapse, leaving a unique dive site. Expect vertical walls, caverns, and an abundance of marine life.
Cirkewwa: it is well-known for the wreck of the MV Rozi, a tugboat deliberately sunk for divers. A variety of natural and man-made sights, including a Madonna monument and several marine species, are present in the park. The adjacent arches and caverns add to the variety and allure of the dive.
Inland Sea: a natural lagoon surrounded by cliffs, the Inland Sea leads to a tunnel known as the "Blue Hole." Divers can explore the underwater chimney and enjoy the fascinating interplay of light. The site is a geological wonder and a hub of marine biodiversity.
Um El Faroud, Wied iz-Zurrieq: for wreck enthusiasts, the Um El Faroud offers a unique experience. This oil tanker was intentionally scuttled to create an artificial reef. The site is known for its sheer size and the diverse marine life that has made it home.
Prices for Diving Experiences in Malta
Diving prices in Malta can vary based on factors such as the dive center, the type of dive, and equipment rental. On average, a single dive can range from €30 to €50. Dive packages, including multiple dives, may offer better value. PADI Open Water Diver courses typically start from around €350, providing comprehensive training for beginners.
Mosta – The Majestic Dome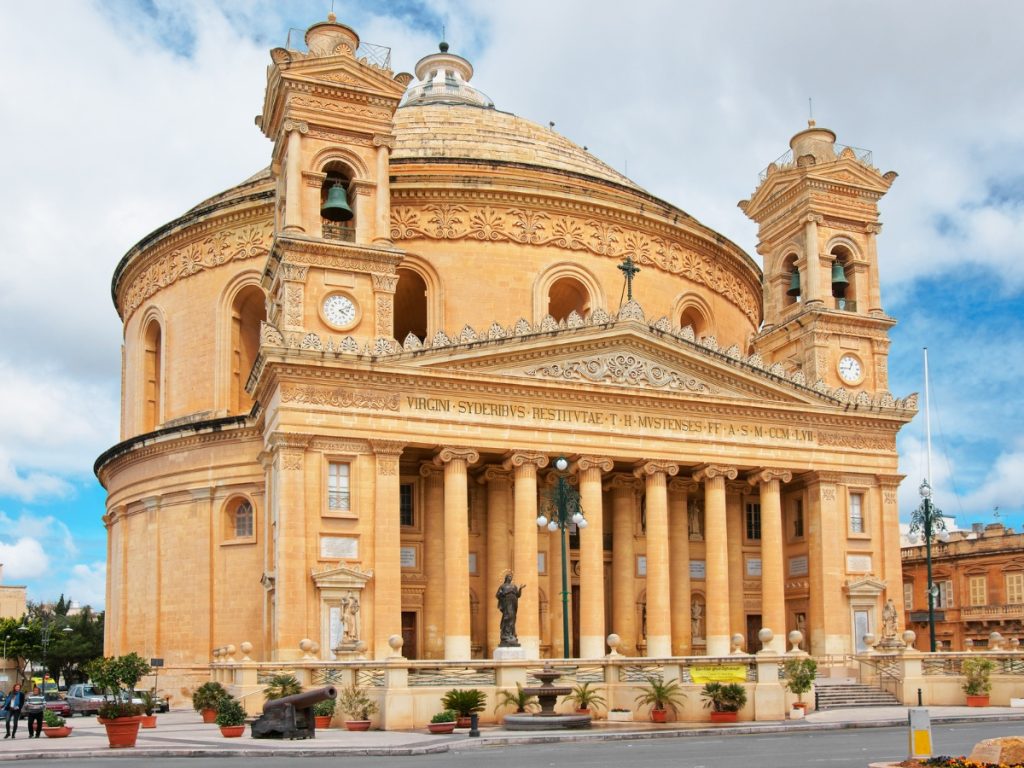 Among the places to visit in Malta is Mosta, which radiates historical charm and boasts one of the most iconic landmarks—the majestic Rotunda of Mosta. With its rich heritage and welcoming atmosphere, the city invites visitors to explore its cultural treasures, and it's one of the best places to experience the warmth of Maltese hospitality.
Discover the highlights
Rotunda of Mosta: Marvel at the awe-inspiring Rotunda, a massive dome that dominates the skyline. Step inside to witness the sheer grandeur of the third-largest unsupported dome in the world. The church gained worldwide fame during World War II when a bomb pierced its dome yet miraculously did not explode during a crowded service.
Dome Interior: Explore the intricate interiors of the Rotunda, adorned with beautiful frescoes and religious artwork. The dome's construction's sheer scale and architectural brilliance leave a lasting impression.
The Square: Immerse yourself in the lively atmosphere of the Square, surrounded by cafes, shops, and the charming parish church. It's an ideal spot to soak in the local ambiance and appreciate the town's vibrant life.
Parish Church: Visit the Parish Church, a stunning structure adjacent to the Rotunda. Admire its Baroque architecture and delve into its religious and cultural significance for the community.
Plan on visiting the Rotunda during its open hours to enjoy its interior splendor for continuous city exploration. Stroll about the Square to soak up the local flavor and perhaps indulge in authentic Maltese food at a neighboring café. The city delivers a fascinating experience for history buffs and curious travelers, blending architectural majesty and cultural depth.
St Peter's Pool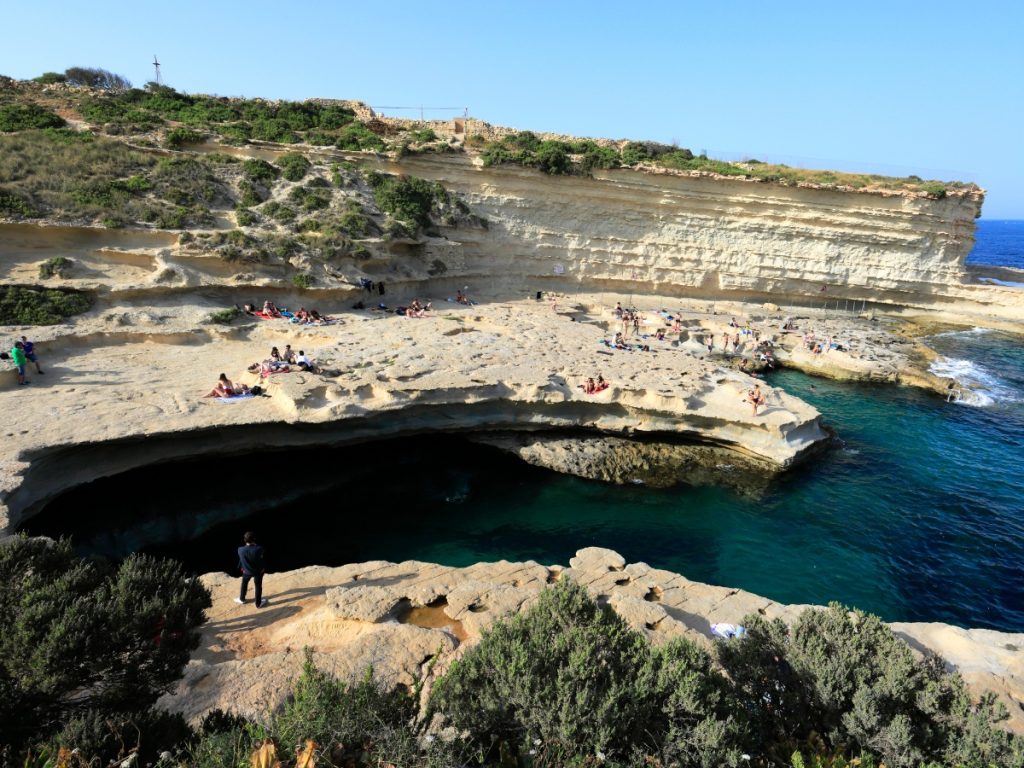 St. Peter's Pool is a natural swimming haven shaped by erosion. It's a favorite among teenagers who love the thrill of cliff-jumping into its crystal-clear waters. This rocky inlet, resembling nature's infinity pool, offers a tranquil oasis. Dive into crystal-clear waters, perfect for swimming and snorkeling.
Limited shaded areas make it ideal for adventure-seekers rather than families with young children. Nearby, explore a flatter area with more natural pools carved into the rocks for an alternative dip. Just a 10-minute drive from Marsaxlokk, it's easily accessible with two free parking lots. For a day of thrilling water fun, remember to pack your swimwear, sunscreen, and sense of adventure.
Blue Grotto – A Marine Marvel Near Zurrieq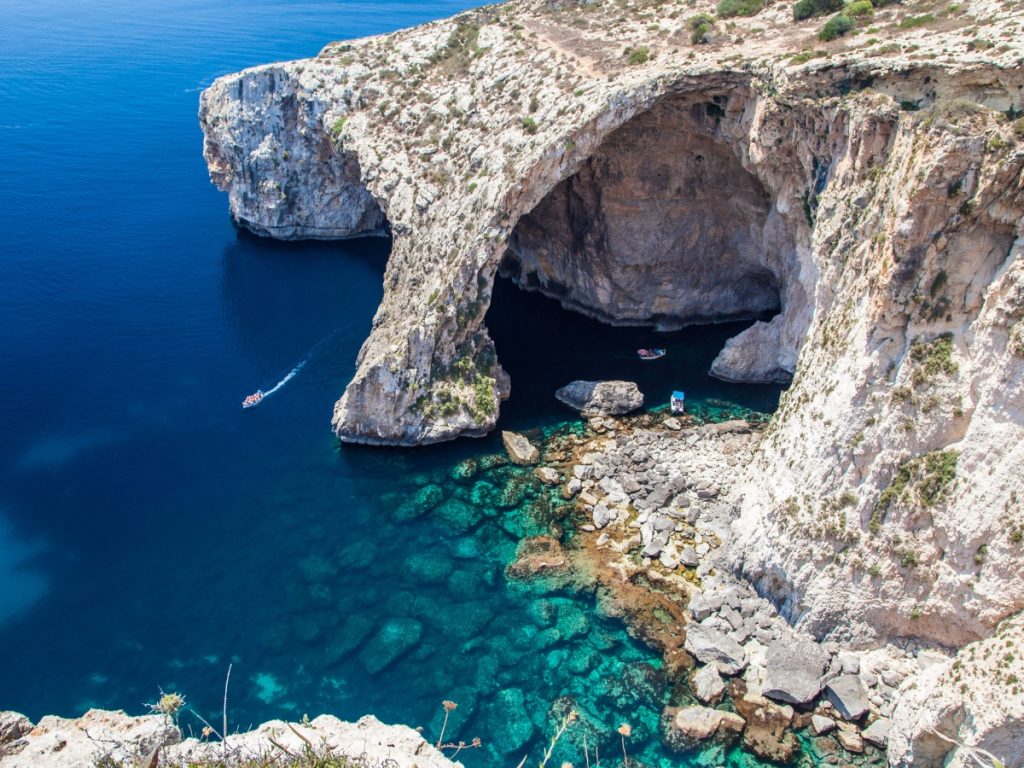 Situated just 2km from Zurrieq town, the Blue Grotto emerges as a mesmerizing marine wonder renowned for its intense azure hues that grace its waters within the cavern. This natural spectacle beckons adventurers and nature enthusiasts to witness its vibrant beauty and experience the thrill of a boat tour.
Explore its allure
Sightseeing Overlook: Catch a glimpse of the captivating cave from an elevated sightseeing location just outside the city. Marvel at the striking blue tones that give the grotto its name.
Wied Iz Zurrieq Port: Venture 2 minutes further by car to reach the small Wied Iz Zurrieq port. From here, embark on a 30-minute boat tour that takes you into the heart of the blue cave, offering a close-up encounter with its mesmerizing waters.
Weather Conditions: Before planning your visit, check the weather conditions. Boat tours are subject to cancellation in stormy seas for safety reasons. Plan accordingly to make the most of your experience.
Wied Iz Zurrieq Amenities: Explore the surroundings of Wied Iz Zurrieq, where you'll find bars, restaurants, and a spot for a refreshing swim. It's an ideal place to relax and soak in the coastal ambiance.
For the optimal experience, consider visiting the Blue Cave in the morning. The sunlight illuminates the cavern, revealing its vibrant colors at their best. If you prefer a hassle-free journey, the visit to the Blue Cave is conveniently included in the day trip to Marsaxlokk, eliminating transportation concerns and maximizing your enjoyment of this coastal marvel.
The Red Tower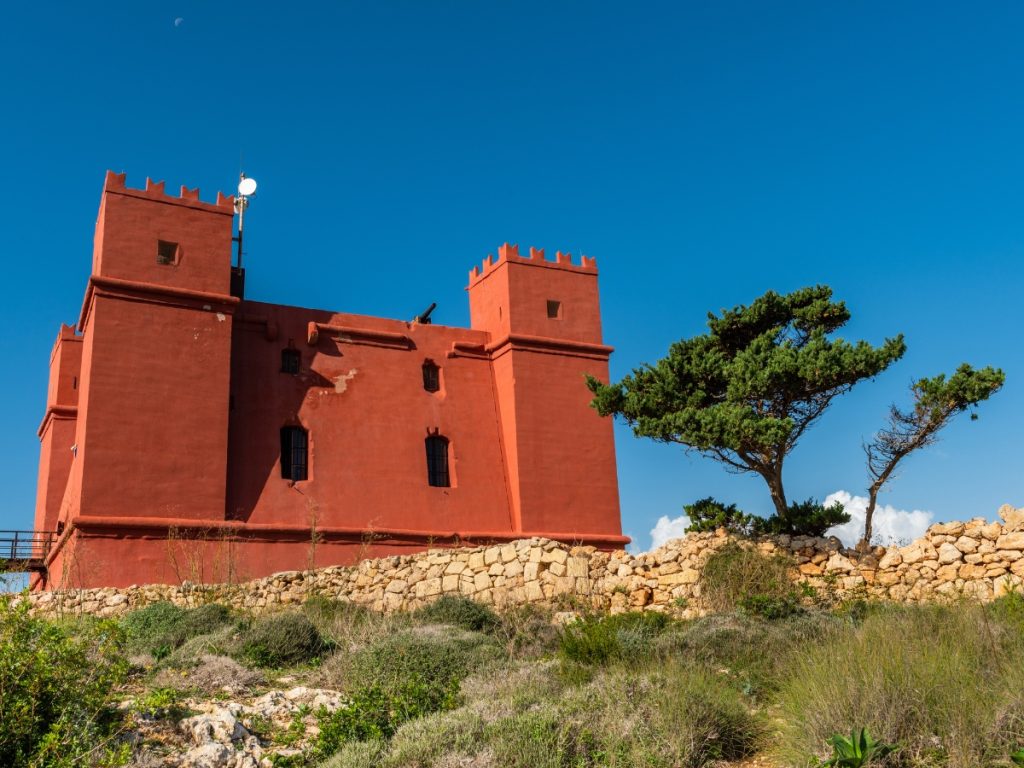 Travel back in time as you visit The Red Tower, standing as a sentinel along the coastline. Perched on a strategic vantage point, this fortress offers panoramic views that extend across the island and the sea. Explore its battlements, and let the historical significance of The Red Tower transport you to an era of knights and maritime endeavors.
For an enriching Red Tower experience, join a guided tour to delve into its historical significance. Climb to the top for breathtaking views of the island's countryside and the azure sea.
Dingi Cliffs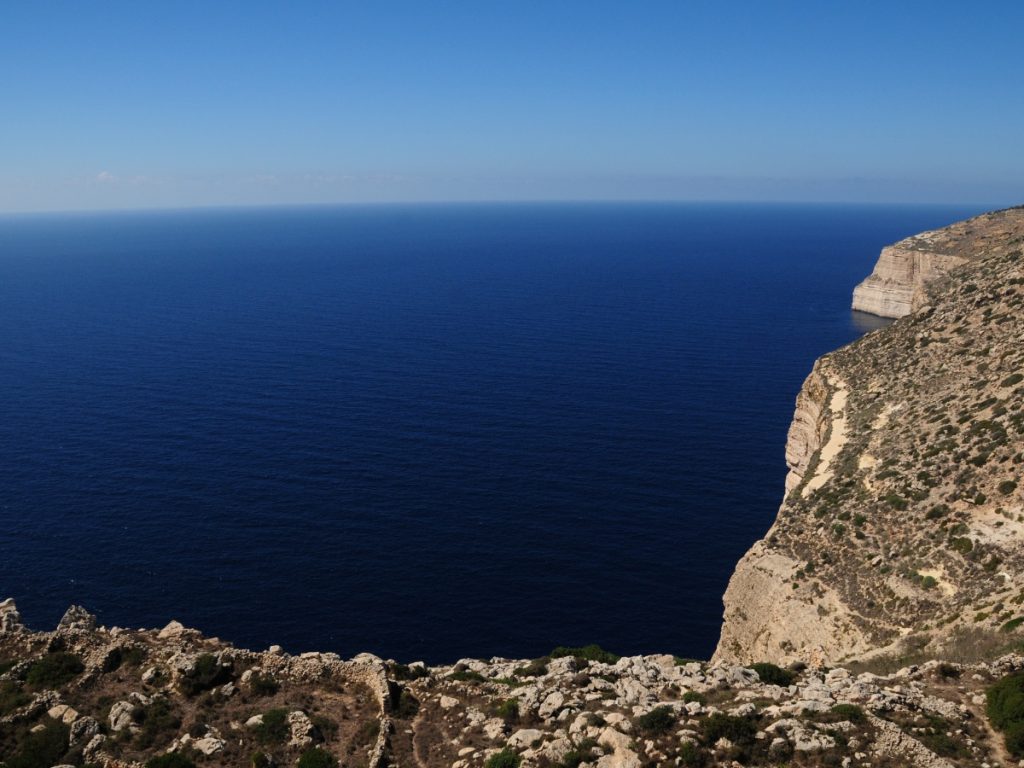 One of the best ways to see Malta, and for an unforgettable visual experience is to ascend to the majestic heights of Dingli Cliffs, the highest point. Gaze across the azure sea as it meets the rugged coastline, creating a dramatic contrast. The vastness of the landscape unfolds before you, offering a sense of awe and tranquility. Nature enthusiasts will revel in the untouched beauty, making Dingli Cliffs a must-visit destination for those seeking both serenity and breathtaking vistas.
Wear comfy, sturdy shoes for Dingli Cliffs' uneven terrain. To protect your eyes from the sun, don sunglasses, a hat, and sunscreen. For the famed sunset views across the sea from the cliffs, go there in the late afternoon.
The Temples of Malta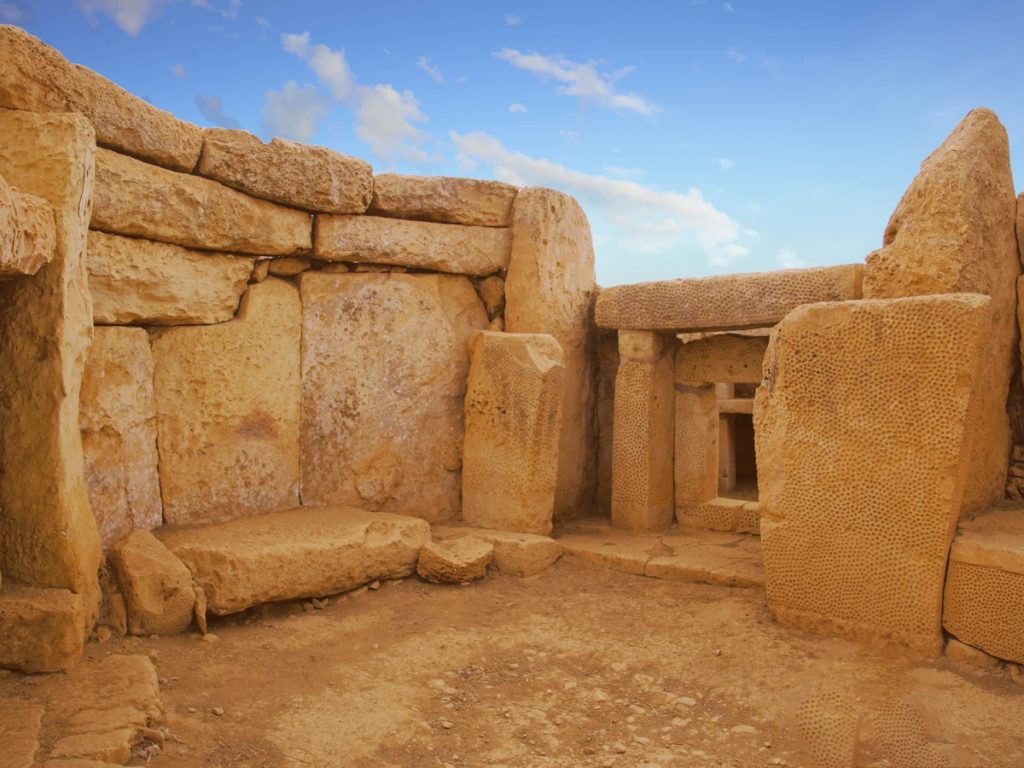 Embark on a journey through time by exploring the ancient temples of Malta. Visit Ħaġar Qim and Mnajdra, megalithic structures that predate the pyramids of Egypt. Marvel at the intricate carvings and mysterious designs, delving into the mysteries of the prehistoric past. Explore the UNESCO World Heritage Site, the Temple of Tarxien, where ancient civilizations left their mark, unraveling the secrets of a bygone era.
Prepare for your temple visit by exploring their history. Dive into the cultural and archaeological context to appreciate the wonders of these ancient structures. 
Renting a Boat in Malta
Best Things to Do in Malta With Children for Unforgettable Family Fun!
Rent a boat to enjoy the freedom of the Maltese's magnificent coastline. Navigate the crystal-clear waters at your leisure, discovering hidden coves and isolated shorelines inaccessible by land. Renting a boat provides a unique perspective of your Malta experience and its diverse and stunning coastline, whether you choose a leisurely cruise to appreciate the coastal landscape or an exciting speedboat trip. Enjoy the freedom to explore, and let the waters lead you to undiscovered riches.
Are you searching for the best places in Malta to spend your holiday with your family and kids? Here are the best things to do and see in Malta with your little ones!
Popeye Village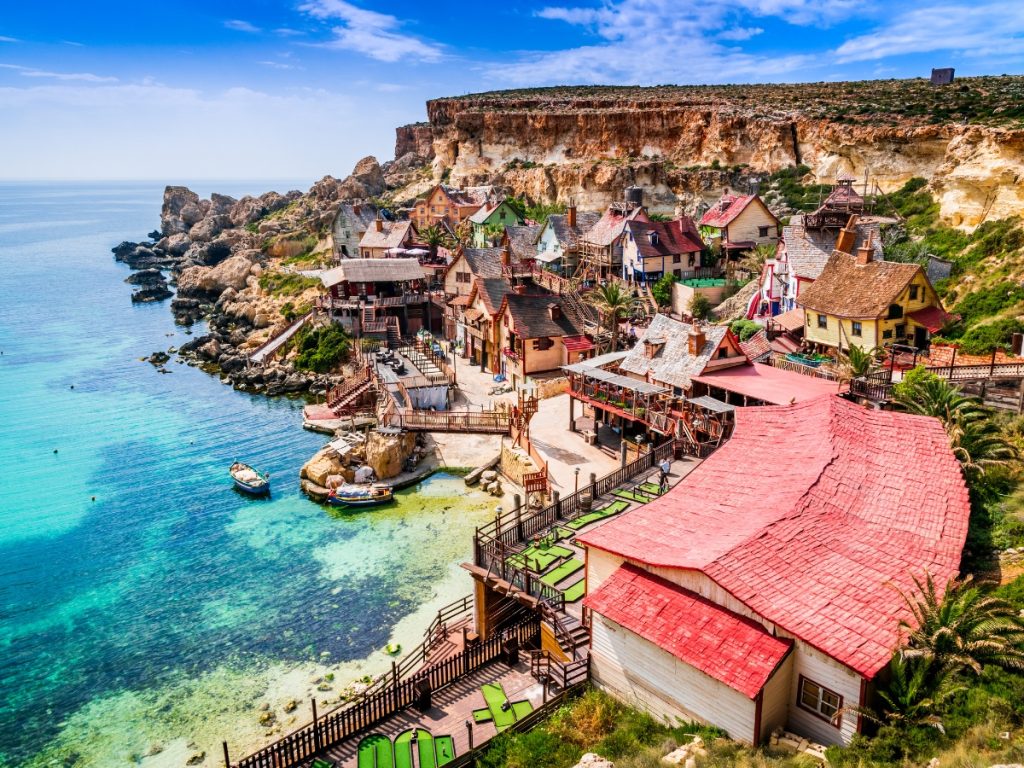 Nestled on the northwest coast of Malta, Popeye Village is a whimsical wonderland straight out of a storybook. Originally constructed as a film set for the 1980 musical production "Popeye," the village has evolved into a charming family Malta destination. Kids can explore the colorful houses, engage in interactive shows, and even meet Popeye and his friends. 
Plan your visit during one of the live shows for an extra dose of entertainment, and don't forget the camera for those priceless family photos!
Malta National Aquarium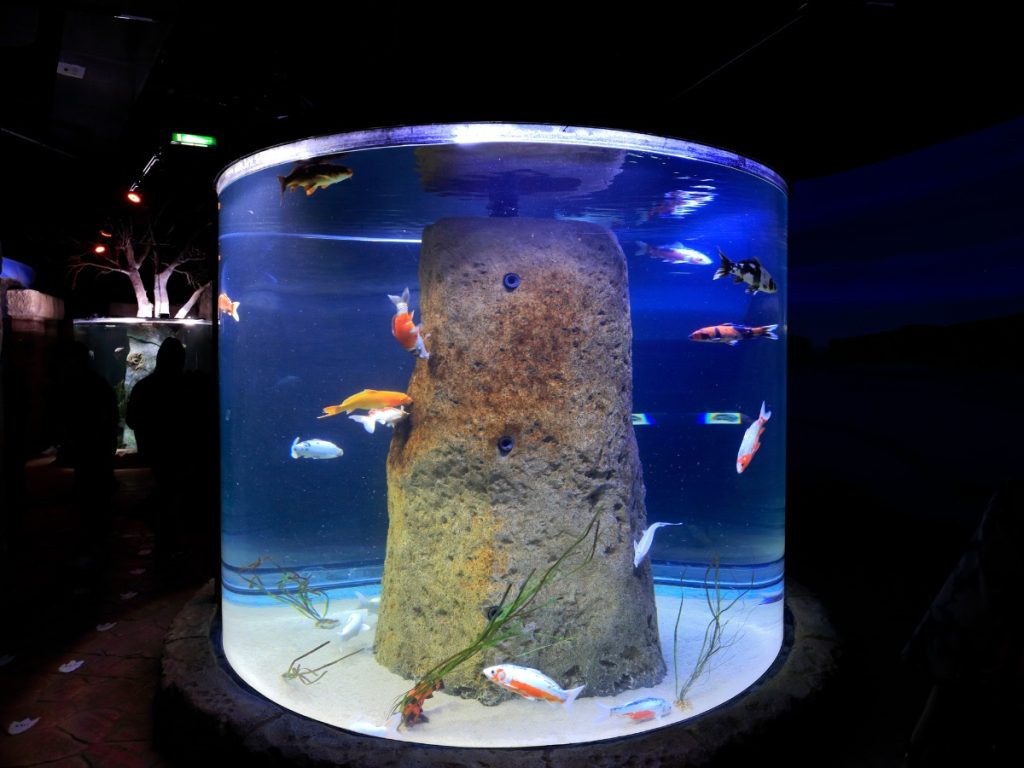 For a captivating underwater adventure, the Malta National Aquarium is a must-visit. Located in Qawra, it showcases the mesmerizing marine life of the Mediterranean. Kids can marvel at seahorses, watch playful clownfish, and be enchanted by the massive ocean tank. 
Visit during feeding times to witness the underwater residents in action. The touch tanks and interactive exhibits make this a hands-on and educational experience for young marine enthusiasts.
Playmobil Fun Park
Playmobil Fun Park in Hal Far is a haven for imaginative play. With life-sized Playmobil figurines, play spaces, and themed zones, kids can express their creativity to the fullest. Every turn offers a fresh experience, whether it is with pirates or princesses. 
Pack a picnic and enjoy a family day amidst the giant Playmobil structures. The park also hosts special events, adding extra excitement for your little ones.
Splash at Golden Bay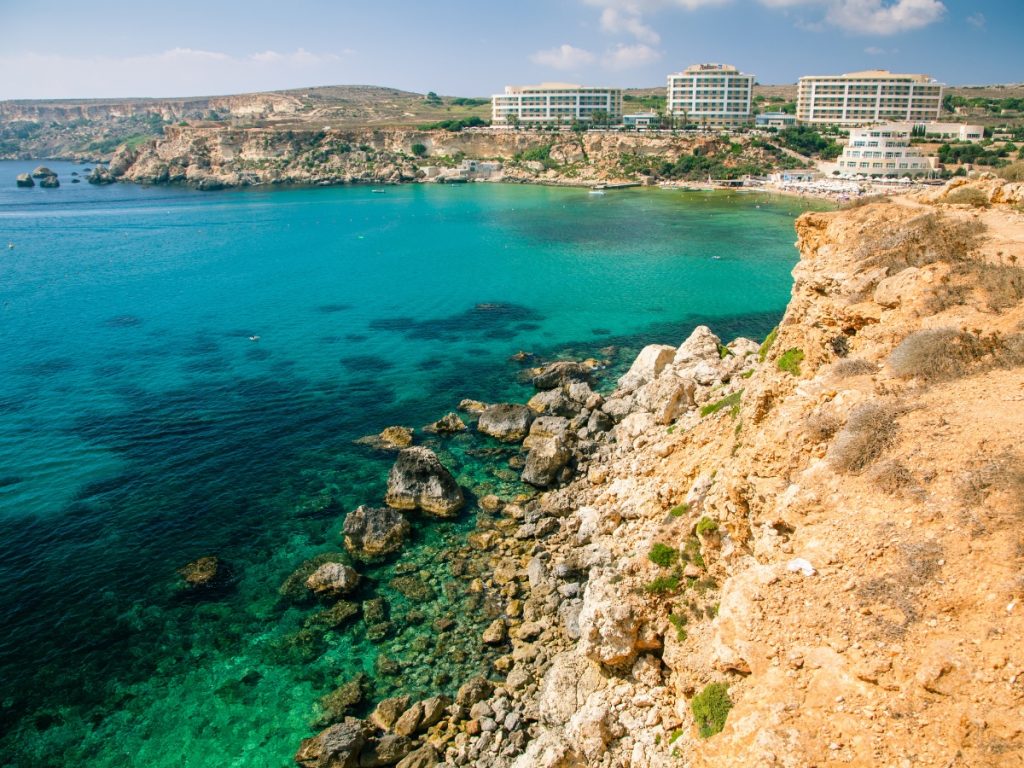 Golden Bay is a family paradise. Its golden dunes and clean waters are ideal for constructing sandcastles and splashing in the mild waves. The nearby cliffs provide a spectacular background for a day of sun-soaked adventures. 
Bring along beach toys, and after a day of seaside fun, catch the breathtaking sunset for a perfect end to your family coastal day.
Boat Adventure Across the Grand Harbour
Kids will love being on the water, passing historic forts, and seeing the city from a new angle. It has witnessed numerous historical events, including battles and the great siege of Malta. While it accommodates a modern port facility for commercial shipping and cruise liners, it symbolizes the country's rich history, resilience, and maritime significance.
Opt for a boat tour with informative guides who can share fascinating stories about the harbor's rich history. Don't forget sunscreen and hats for a comfortable journey.
Where to Stay in Malta
Valletta
In the heart of Valletta, consider a stay at La Falconeria Hotel. Located close to tourist destinations, this boutique hotel offers modern double rooms from 110€ per night, including breakfast. Enjoy the blend of historic charm and contemporary luxury, making your Valletta exploration convenient and stylish.
For a central location and distinctive charm, check out The Saint John Boutique Hotel. Situated in the heart of Valletta, this hotel offers double rooms from 130€ per night, with breakfast included. Immerse yourself in the city's history and culture, and unwind in the tastefully decorated rooms.
If waterfront views are a priority, consider Palais Le Brun. Nestled in a restored 17th-century building, this luxury hotel offers double rooms starting at 180€ per night, with breakfast. Revel in the opulent design, personalized service, and mesmerizing views of the Grand Harbour.
For a boutique experience near the Upper Barrakka Gardens, explore Casa Ellul. This 19th-century palazzo offers double rooms from 160€ per night, breakfast included. Indulge in the unique character of this boutique hotel, characterized by personalized service and attention to detail.
Gozo Island
Experience the tranquility and relax at Il-Logga Boutique Hotel. Located in the heart of Victoria, this charming hotel offers double rooms from 80€ per night, with breakfast. Immerse yourself in the serene atmosphere while enjoying comfortable accommodations.
For a picturesque escape, consider Kempinski Hotel San Lawrenz. Situated in San Lawrenz, this 5-star hotel offers deluxe rooms starting at 200€ per night, including breakfast. Enjoy the luxury amenities, including a spa and wellness center, amidst the scenic beauty of this island.
Mellieha
Enjoy the sun and sea at db Seabank Resort + Spa in Mellieha. This all-inclusive resort offers double rooms from 120€ per night, with an array of amenities, including multiple pools, restaurants, and entertainment options. Experience relaxation and family-friendly activities in a stunning beachfront location.
For a boutique retreat, explore Mellieha Bay Hotel. With a prime location near Ghadira Bay, this hotel offers double rooms from 100€ per night, including breakfast. Revel in the intimate atmosphere and personalized service amidst Mellieha's natural beauty.
Zurrieq
Experience the countryside charm at the Sensi Hotel in Zurrieq. This boutique hotel offers double rooms from 95€ per night, with breakfast. Enjoy the tranquility of the countryside while being within reach of well-known sights like the Blue Grotto.
Marsaxlokk
For an authentic experience, consider Port View Guesthouse in Marsaxlokk. Located by the sea, this guesthouse offers double rooms from 70€ per night, with breakfast. Immerse yourself in the charm of Marsaxlokk's fishing village and enjoy personalized hospitality.
Sliema
Indulge in modern elegance at AX The Palace in Sliema. This 5-star hotel offers deluxe rooms from 150€ per night, with breakfast. Enjoy the chic ambiance, rooftop pool, and panoramic views of the Mediterranean Sea.
For a boutique stay, explore The Waterfront Hotel. Situated on the Sliema seafront, this hotel offers double rooms from 110€ per night, including breakfast. Experience the vibrant atmosphere of Sliema while enjoying personalized service and stylish accommodations.
More Things to Do in Malta
As you plan your journey to the enchanting island nation of Malta, there's a treasure trove of activities waiting for you beyond the usual tourist spots. Venture to the north of Malta to uncover hidden gems, embark on a vibrant party scene that resonates with the island's lively spirit, and explore the highest point in Malta for panoramic views that will leave you breathless.
Best Activities in Malta
For panoramic views, venture to the highest point in Malta at Dingli Cliffs. You can reach this natural wonder by bus from Valletta or, for a more personalized experience, consider a taxi or car rental. The ideal period to savor these sights is during the mild spring or autumn months.
To immerse yourself in history, stay in Valletta, where hotels like The Saint John Boutique Hotel offer rooms from 130€ per night, including breakfast. This central location provides easy access to cultural sites, including the historic Fort St. Elmo. The fort's significance in history makes it a must-visit, and the entrance fee is approximately 10€.
Explore the ideal party in Malta ambiance in St Julian's with accommodations like The Waterfront Hotel, offering double rooms from 110€ per night, including breakfast. Paceville is just a stroll away and is the go-to destination, buzzing with nightlife and vibrant energy.
Mellieha Bay Hotel offers double rooms from 100€ per night for a serene shoreline retreat in the north, including breakfast. This boutique hotel is a short distance from the sandy shores, making it an excellent choice for a beachside stay.
Remember, the best time to visit these attractions is during the shoulder seasons of spring and autumn when the weather is mild. Whether you're seeking a cultural immersion, lively parties, or scenic views, these activities promise a diverse and unforgettable Maltese experience.
Best Activities in Gozo
Day Trip to Gozo from Malta
Guided Bus Tour: Immerse yourself in the island's history with a guided bus tour featuring convenient hotel pick-up in Malta.
Quad Bike Adventure to Gozo (Full Day): Experience the thrill with a quad bike day trip, including transport from Malta and return by boat, cruising through the Blue Lagoon. For those pressed for time, a half-day option is also available.
Private Jeep Tour: Elevate your experience with a personalized private jeep tour of Gozo, ensuring an intimate exploration of the island's gems.
Boat Trips
Private 3.5-Hour Boat Trip to Gozo and Comino: Sail away on a private boat trip, spanning the beauty of the islands in just 3.5 hours.
Private VIP Full-Day Boat Trip to Comino and Gozo: Indulge in the ultimate maritime experience with a VIP full-day boat trip, exploring the best of the islands.
Comino Shuttle Boat from Mgarr or Hondoq: Opt for a shuttle boat from Mgarr, a convenient way to explore the neighboring island. Access from Hondoq via a shuttle boat, provides another gateway to the island.
Shuttle to Comino + Sea Caves Visit: Combine a shuttle to the island with a fascinating visit to its sea caves, creating a comprehensive island adventure.
Gozo Jeep Tour + Lunch + 3-Hour Boat Trip to Comino: Maximize your exploration with a jeep tour of the island, followed by lunch and a scenic 3-hour boat trip to the island.
Things to do in Gozo – Guided Tours
Guided Hike (2 Hours or Full Day): Discover the hidden gems on a guided hike, steering away from mass tourism for an authentic experience.
Quad Bike Guided Tour (Full or Half Day): Navigate the island's landscapes with a guided quad bike tour, available for a full or half day.
Bus Tour (Hop-On Hop-Off): Explore the views of the island at your own pace with a convenient hop-on, hop-off tourist bus tour.
Nautical Activities
First Dive at Europe's Stunning Dive Sites: Dive into the underwater wonders with a first dive at one of Europe's most beautiful dive sites. Experienced divers can opt for multi-dive packages.
Guided Jet-Ski Tour (1 Hour): Experience an adrenaline-packed 1-hour jet-ski tour around Comino's coastline, discovering sea caves along the way.
Subwing Adventure: Embark on a trendy Subwing adventure, a new and exciting water activity.
Snorkeling Course: Dive into the world of snorkeling with a comprehensive course, unlocking the vibrant marine life surrounding the island.
Ensure a well-rounded island experience by combining these activities during your stay, allowing at least three to four days to explore the island's offerings thoroughly.
Best Time to Visit Malta
The best time to visit really depends on what you're looking for.
Spring (April to June): If you dig mild weather, blooming landscapes, and fewer crowds, spring is your jam. The temperatures start getting comfy, and the island is painted in vibrant hues. Perfect for exploring historical sites without the summer hustle.
Summer (July to August): Ready for some serious sun action? Summer is peak season, and rightly so. The sun is out in full force, and the Mediterranean vibes are in full swing. Beach time, festivals, and all the lively happenings – just be prepared for more fellow sun-seekers.
Autumn (September to October): Fancy a more relaxed vibe but still want the sun's warmth? Autumn is a sweet spot. The crowds taper off, and you get to enjoy pleasant temperatures. The sea is still inviting for a dip, and cultural events continue to unfold.
Winter (November to March): Winter in Malta is milder compared to many other places, but it's the quietest time. This could be your thing if you're into a more serene experience. Plus, you might catch some fantastic local events and have the charming streets all to yourself.
So, if you're all about that lively summer buzz, aim for July to August. For a bit of both worlds – decent weather and fewer crowds – spring or autumn would be spot on. But hey, Malta actually is a gem all year round, so your adventure awaits whenever you decide to drop by! Safe travels!