Some of the links in this post are affiliate links. This means if you click on the link and purchase the item, we will receive an affiliate commission at no extra cost to you. All opinions remain our own.
One of the most important tools to have aboard your boat is, without a doubt, the anchor. It gives the sailor the opportunity to explore diving sites, fish, take a break from sailing and enjoy a meal in the middle of the sea, and it also gives you peace of mind during the night, knowing it's well tucked into the seabed, therefore, your boat won't drift away while you sleep.
There are numerous types of boat anchors for different types of ocean floors, ranging from sand seabeds to seaweed ones.
As the key aspect of an anchor is its hold, we put together a list of the best anchors, to help you choose the most suitable one for your boat:
1. Mantus M1 Marine Anchor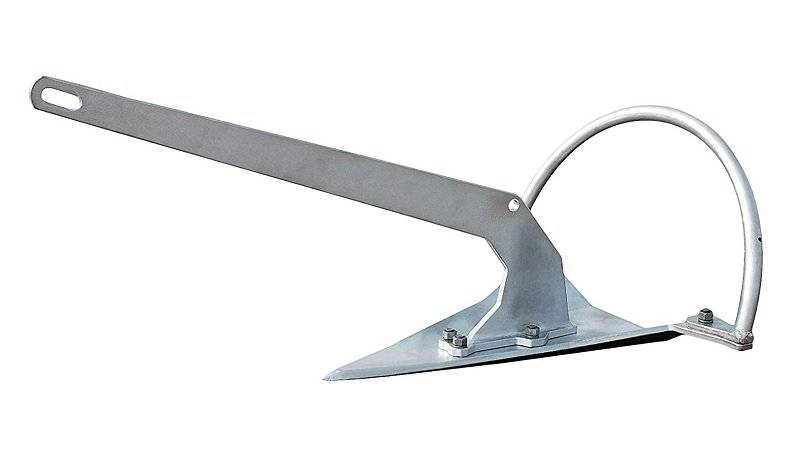 The Mantus M1 Marine Anchor is stainless steel and galvanized carbon steel Plow anchor which also comes with a lifetime warranty. It has a very strong hold and is suitable for numerous types of seabeds, such as sand, gravel, and mud, therefore it can be dropped in the sea, river, and also lake beds. It can also be used on rock seabeds, but it's less efficient.
One of its most important characteristics is that it can be collapsed down, in order to be stored more efficiently. The weight of the type of anchor ranges from 2.5 lbs to 175 lbs, having the dimensions from 17" to 40.5", depending on its weight.
As mentioned above, it is made of very sturdy material, meant to provide the best security to your boat, as the entire anchor is made from hot-dipped galvanized steel, which is sturdy and very durable. Due to the way it is made, it won't be affected by saltwater.
The anchor has a sharp nose, designed to easily and precisely penetrate the seabed.
Another advantage of this type of anchor is that its lifetime warranty also covers damage sustained while in use, and against manufacturing defects.
Pros:
2. Danielson Galvanized Folding Anchor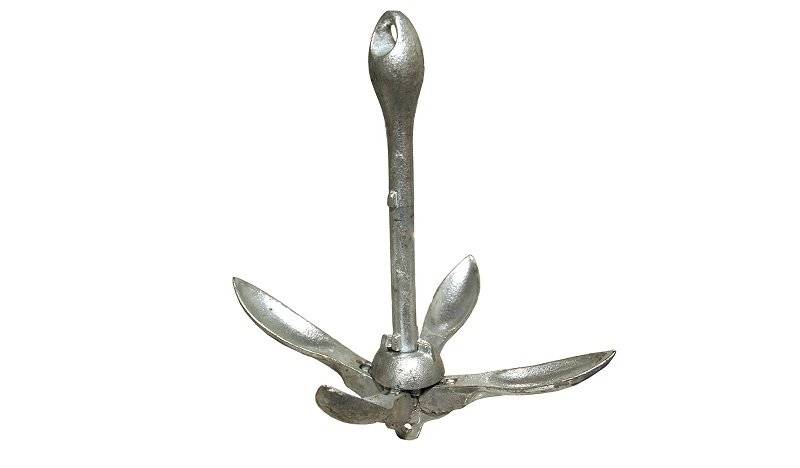 The Danielson Galvanized Folding Anchor is mostly designed for inflatable boats and kayaks and it is meant to be used in calm waters.
This folding grapnel-style anchor with 4  is not expensive and it's also foldable, so it does not take much space. However, due to the fact that is lightweight, you should keep it mind that it does not have a stronghold.
The anchor comes in 2 sizes: 1.5 lbs, and 3 lbs. Its length is 7 inches and it weighs only 3 pounds and it is made from galvanized steel. Its main feature is a ring for the attachment of a rope, however, many boaters prefer using a chain instead, because it adds more hold.
Therefore, if you are looking for a lightweight, foldable and cheap anchor for your kayak or small inflatable boat, the Danielson Galvanized Folding Anchor might be just what you need, as it is ideal to be used in gentle weather.
Pros:
3. Airhead Complete Folding Anchor System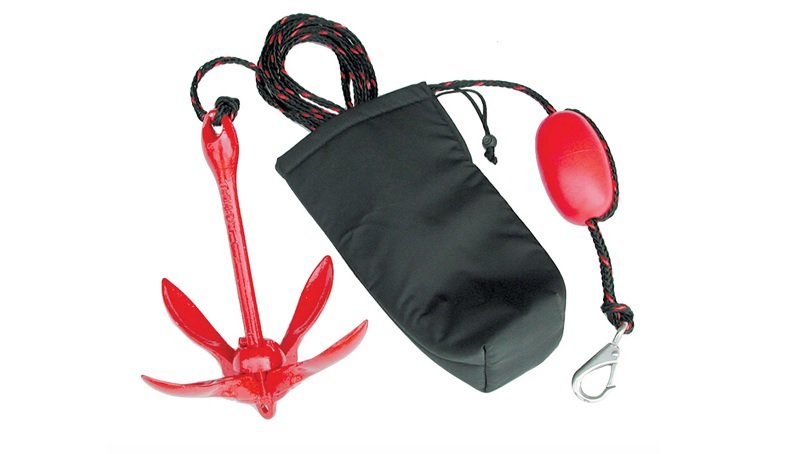 Another inexpensive folding anchor is the airhead Complete Folding Anchor System, which is also very lightweight, which comes in 2 sizes: 3.5 lb. and 5.5 lb. It is 13.63" long and 6.75" wide.
The price difference between the two models is not noticeable and both of them are intended for kayakers and the owners of small inflatable boats as well as SUP users.
This anchor is designed with 4 flukes and is easy to fold and to deploy. Due to its sturdy prongs, it works on different seabeds including sand, gravel, rock, and mud. It is made from coated steel with stainless steel components, meant to protect the anchor from corrosion and your boat from scratches. It has a 25 feet marine-grade rope, an inline-buoy, and a big stainless steel snap hook for easy deployment.
This anchor type is also recommended from kayaks and small inflatable boats; in some cases it might also be used in tandem with another anchor, to secure larger vessels.
Pros:
4. Lewmar Galvanized Delta Anchor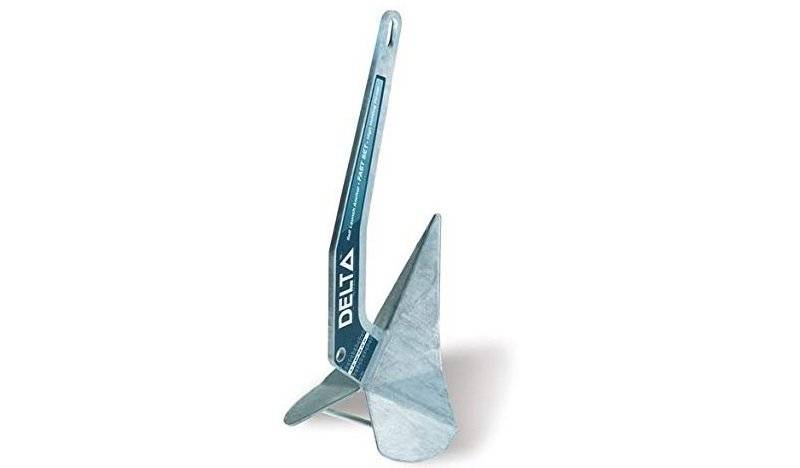 This Plow anchor is one of the most sturdy ones and it is also reasonably priced and designed to work on mud, sand, gravel, coral, stone, and seaweed.
It is made from manganese steel, therefore is very durable and it provides hold to your boat. Also, it can be deployed and pulled up without difficulties due to its design. It also comes in two sizes: 14 lbs, 22 lbs, and 35 lbs, and its length are 18".
The anchor had numerous favorable reviews and it is preferred by many sailors due to its powerful grip that can resist even in rough weather conditions, such as in swells above 5 feet in height.
If you decide to use it along with a good amount of chain, the anchor can be used to hold in place even 7,000 lbs boats, therefore if you look for a decently priced, sturdy anchor for your vessel, that can last in bad weather conditions, you might want to take into consideration this model!
Pros:
5. SeaSense Slip Ring Fluke Anchor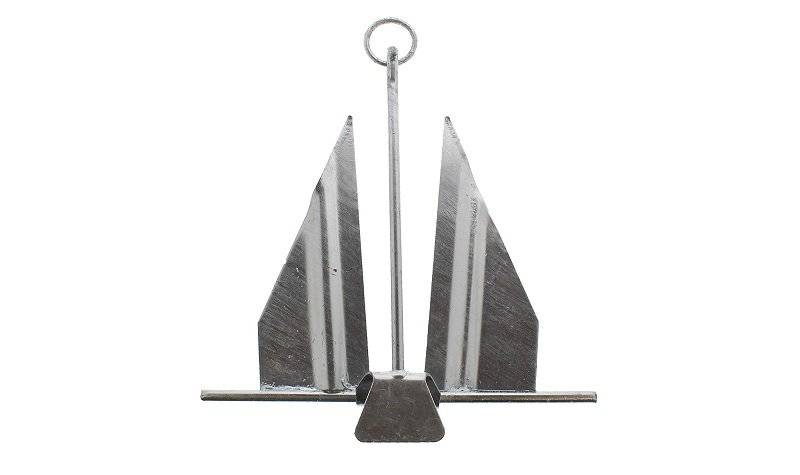 This Fluke anchor is also ranked as being cost-effective and high performance, meant for boats with a length up to 24 feet which can be used in stronger currents and provide a good grip.
It is made from aluminum and magnesium and has a length of 23" and a width of 13.5 while being lightweight. The anchor is resistant to saltwater and it has a strong grip due to its sharp sturdy flukes and it can be used on rocky, muddy, and sandy seabeds, but it works best on rocky ones is designed to work in-depth of over 40 feet.  
It is recommended that you keep an eye when deploying and retrieving if used on rocky seabeds because its flukes might be damaged if too much force is applied.
If you need a cost-effective and good performance anchor, take a look at this model, it may be just what you need.
Pros:
6.  Fortress FX-7 Fluke Anchor
The FX-7 Fluke Anchor is a product made in America, it is a very sharp and durable anchor made from aluminum and magnesium alloy which is not affected by corrosion, with a strong holding power (it can hold boats up to 27 feet) and it can be used on different seabeds: sandy, muddy, gravel.
It is computer designed, therefore it has no week spots and no welds and has a length of 24" and a weight of 4 lbs.
The company offers a lifetime warranty and the strength of the anchor was tested by the U.S Navy and the U.S Coast Guard, therefore boat owners can rest assured that the anchor will keep the vessel still even in strong currents and unfavorable weather conditions.
The only downside of this type of anchor is that it might be a bit challenging to assemble but otherwise, it is a good choice for anyone who is looking for a durable and sturdy anchor.
Pros:
7.  Crown Sporting Goods Galvanized Grapnel Anchor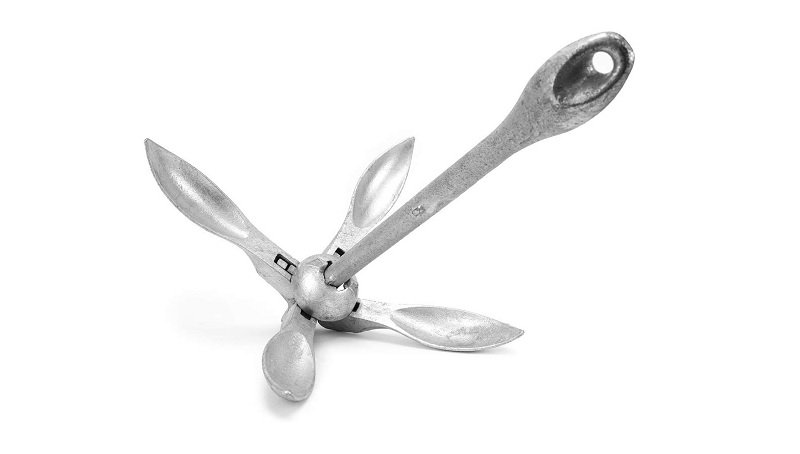 This type of anchor is decently priced and very efficient, with good holding power and it can be used for boats with an LOA of 24 feet. It is designed to work for kayaks, inflatable boats, and lightweight pontoon vessels.
It is made from galvanized steel which won't be affected during time by saltwater, 4 retractable flukes that can be locked in place with a twisting locking mechanism and it works best on stone, coral and gravel seabeds and its hold will resist in strong currents. The anchor also comes in 7 sizes, so there is plenty to choose from (1.5, 3.5, 5.5, 7, 9, 13, and 17.5 lbs). The length of the biggest one of the range is 18" and it weighs 17.5 lbs.
Its main advantage is that it is easily foldable so it does not take much space when you store it. Also, there are no sharp edges, so you don't need to worry if you use it on an inflatable boat.
If you're looking for a heavy-duty anchor and you are on a budget, you should give this one a try.
Pros: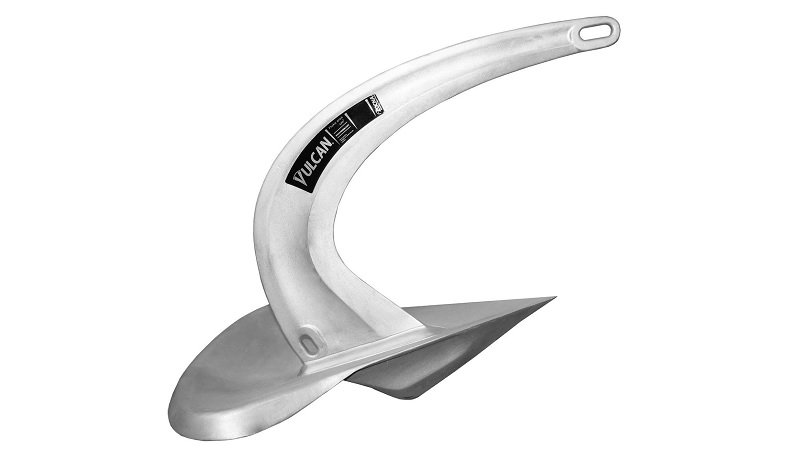 This plow anchor from Rocna is a very appreciated product among boat lovers, as it offers a strong holding power and it penetrates easily different types of seabeds; it works on sand, mud, stone, and gravel.
It comes in 10 sizes, ranging from 9 lbs up to 121 lbs with a length between 18.6" to 44.6".
The anchor is made from stainless steel and galvanized mild steel which is designed to last a lifetime. The company will also offer a lifetime warranty that covers breaks, bends, and manufacturing defects.
Even if this product is on the more expensive side, it is designed to work with different types of vessels and hulls while offering reliable holding power, therefore you should definitely check this one out if you're on the hunt for a good anchor for your vessel that can be used even in the ocean.
Pros:
The Boat Anchor Buying Guide - The Types Of Boat Anchors For Sale
As mentioned at the beginning of the article, the most important tool to have aboard your boat is the anchor. There are numerous types of anchors, meant for different types of boats and seabeds. To make your search and choice a little bit easier, we've put together a list of the types of anchors:
Delta wing anchors are sturdy and durable anchors that feature a triangular blade that has a sharp pointed end that will easily find a hooking point in sea, rivers, and lakes as. They have a deep penetration into the seabed and offer a stronghold for your boat, so you don't have to worry if you find yourself in strong winds, currents, and changing tides.
Yes, these anchors have shaped a mushroom, as their name suggests and when using them, make sure that you put them into the water headfirst.
They have great holding power in all weather conditions, especially the bigger models, which provide the best stability and they are optimal for long-term mooring.
The claw-shaped anchors are great because they can be set up easily, deployed, and retrieved without any difficulty and, due to their shape, they find holding points with ease into the seabed, but be aware that their holding power is not so good compared to other types of anchors.
A popular option for your boat may be the fluke anchor, also known as crown and cruising anchor. Its sharp flukes work best on sand and mud seabeds, soft ground mainly, they are not to be used on rocky seabeds though, so keep this in mind.
This type of anchor is great due to it shape (grappling hooks) which is very helpful when finding a holding point, this is basically the plus of this model. Small and compact but can grab anything and are suitable for most seabeds. They are also easy to launch and retrieve. Keep in mind that they work best for small boats because they can't hold much weight.
The plow anchors are similar to Delta wing anchors but with the mention that they are shaped like a farming plow, meaning they will go smoothly into the seabed and have a stronghold. However, you should be aware that they are not so easy to store due to their specific shape.
One of the most important aspects to take into consideration when choosing the anchor for your boat is actually related to your boat's size. You have to keep in mind that a heavier anchor will bring a stronger hold, but at the same time, if the anchor is too big for the boat, it can actually be detrimental, such as affecting the hull integrity.
Make sure to talk to some well-known brands that will be able to give you directions and show you a chart regarding the most suitable anchor for your vessel, taking into consideration the size, hold, weight and dimension.
The best anchor for your boat is one that can provide strong holding power and at the same time not take too much space on the deck.
You should always check what is the anchor's hold power and before making a purchase, it would be a good idea to check the reviews posted by other clients.
Keep in mind that different types of vessels need different types of anchors. If you have a rear-anchoring boat you will need a different type of anchor than someone who anchors their boat at the front.
Always keep in mind that it's not a good idea to anchor the boat in the middle, it can make the vessel capsize if the weather conditions are bad.
Before purchasing a new anchor, you should consider the areas where you'll drop the anchor and most important, what's the seabed like in that area.
Different types of anchors work on different types of seabeds: grapnels will be great on rocky seabeds, flukes on muddy ones and plows will go well on sand.
However, flukes and plows don't work as good on rocky sea bottoms and grapnels will have a hard time if used on the sand.
Claw anchors can be used on most seabed types, but don't expect to have great results.
It's better to check all the details and to plan ahead before getting a new anchor.
One very important aspect to take into consideration before buying an anchor is, of course, the materials that were used when it was made. Make sure you get an anchor that is made from materials that won't be damaged by water, so you can avoid rust and corrosion.
Stainless steel and aluminum are on the pricier-side of anchors, but you can also choose a more budget-friendly alternative, such as plastic-coated anchors and galvanized steel ones.
What Is The Best Boat Anchor?
Choosing the best boat anchor is for sure a very important aspect for any boater, and their many details to be taken into consideration.
Depending on the vessel's type, weather conditions, seabed type, different anchors will be required. If you go fishing on a lake you'll need a specific anchor and if you sail on the ocean, you'll definitely need another anchor type.
However, there are a few great anchors that need to be taken into consideration, such as:
The Crown Sporting Goods Galvanized Grapnel Anchor, which is budget-friendly and compact. Ideal for inflatable kayaks and canoes. It is sturdy and durable and also easy to use in moderate weather conditions.
If you do not have a specific budget and you are interested in an exceptional product, then you should consider buying a Mantus M1 Marine Anchor. It is made from top-notch stainless steel and galvanized carbon steel which won't rust and has a lifetime warranty. It also comes in different sizes in order to shape more types of vessels.
An in-between anchor, which will provide very good performance but also has a decent price is the Lewmar Galvanized Delta Anchor. It is a plow anchor made from galvanized steel and works best on mud, gravel, and sand. It can be used for small and big boats alike, even in tough weather conditions.
What Size Anchor Do I Need for My Boat?
When choosing the most suitable anchor for your boat, you need to keep in mind its holding power, meaning how much weight can hold your new anchor.
You should be aware that during bad weather conditions the anchor will need to support a bigger weight than it should provide during a calm day.
In order for you to have a better understanding regarding this matter, please take a look at the table below, where you'll find more in-depth information:
Frequently Asked Questions
1.

What size anchor do I need for my boat?

One that is suitable for your boat's size, that has a good holding power but is also easy to store and that is suitable for the seabed on which it will be used. Take a look to see the recommended ones.

2.

What are anchor lights on a boat?

An anchor light is a white light that any boater has to display when the vessel is at anchor and it is usually placed on the mast or close to the stern or the bow. The light has to be visible from 360-degrees and it is used in order to inform other boaters that a boat is anchored for the night.

3.

What is the best anchor for a recreational boat?

Fluke-style anchors are the top choice for most recreational boats with overall lengths of 30' or less. Fluke anchors provide sufficient holding power considering their small size. By design, they fold flat and are easy to stow in storage compartments.

4.

Do new boats come with anchors?

Depending on the type of vessel, it will come with different standard equipment, but is it a wise decision to buy yourself an anchor that will be the most suitable for your boat, in case that the boat is not shipped with an anchor. However, luxury boats are usually equipped with anchor kits.

5.

How much chain on a boat anchor?

Usually, 1 foot of chain for every 1 foot of your boat's length. For example, a 25 ft boat should have 25 ft of chain on its anchor rode.
Take your time when choosing the best boat anchor for your vessel in order to find the perfect one for you.