Some of the links in this post are affiliate links. This means if you click on the link and purchase the item, we will receive an affiliate commission at no extra cost to you. All opinions remain our own.
What more could you want from your boat than to be able to enjoy it for as long as possible? For this, you need to take care of it and one way to do this is by painting it. That's being said, it's important to invest in the best boat paint today.
The best boat paints can help you maintain your boat's good looks and shape. Learn what the best paint boat options are and a few useful tips on how to choose and apply them.
1. Rust-Oleum Marine - Boat paint for Fiberglass, wood or metal
This is one of the best boat paint for fiberglass, wood and metal boats. Moreover, you can also use it for the vessel's metal surfaces located above the waterline.
What benefits does this paint entail? For instance, it provides a smooth finish that ensures a neat and uniform look. This is something you definitely want to achieve when painting your boat.
The oil-based composition is adaptable and easy to apply, with good leveling results. It's fast drying (in 1 to 2 hours) and covers up to 100 sq ft.
Also, its durable coating resists abrasion and adverse meteo conditions while providing long-lasting UV protection.
Also, it performs quite well in terms of gloss retention, which means your boat will look as good as new for a while. The solid gloss effect you achieve with this paint not only lasts long but can also withstand the effect of UV rays.
What are the cons? As it often happens, strong and durable paints contain different chemicals, this one too. It produces strong fumes, so you need to wear safety equipment and paint your boat in a ventilated place.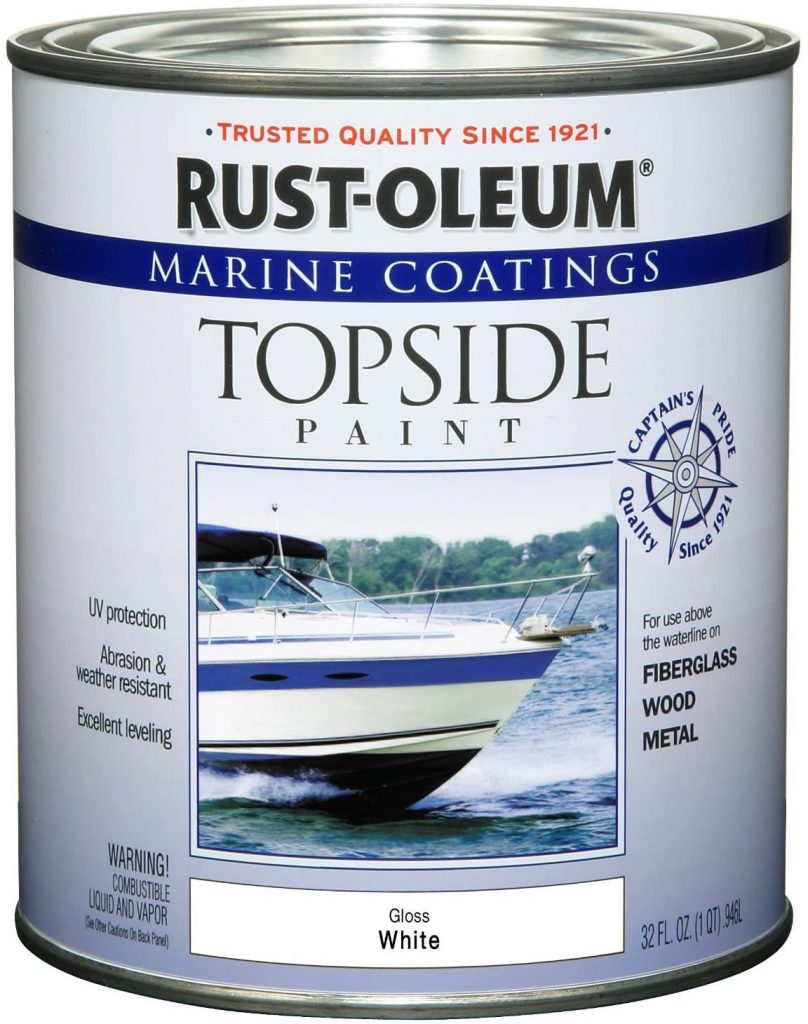 2. TotalBoat Wet Edge Topside Paint
This is a very good option if you want to spray your boat to get the paint job done. This product is known for its long-lasting effect. It creates an ideal protective coating for vessels and it also ensures the glossy look you might want to achieve.
One of the main benefits of this paint is that, unlike other similar products, it is quite easy to clean.
Moreover, it comes in a variety of colors, which enables you to personalize your vessel's look and make it stand out. If you're looking for different boat paint design ideas, a wide range of colors is always a good start point.
The results you get with this paint are bound to be excellent, especially if applied with quality painting tools. The abrasion resistance is also good, however, there are also downsides.
For example, you need to apply it in several layers, and you might not get an immediate response if you contact their customer support.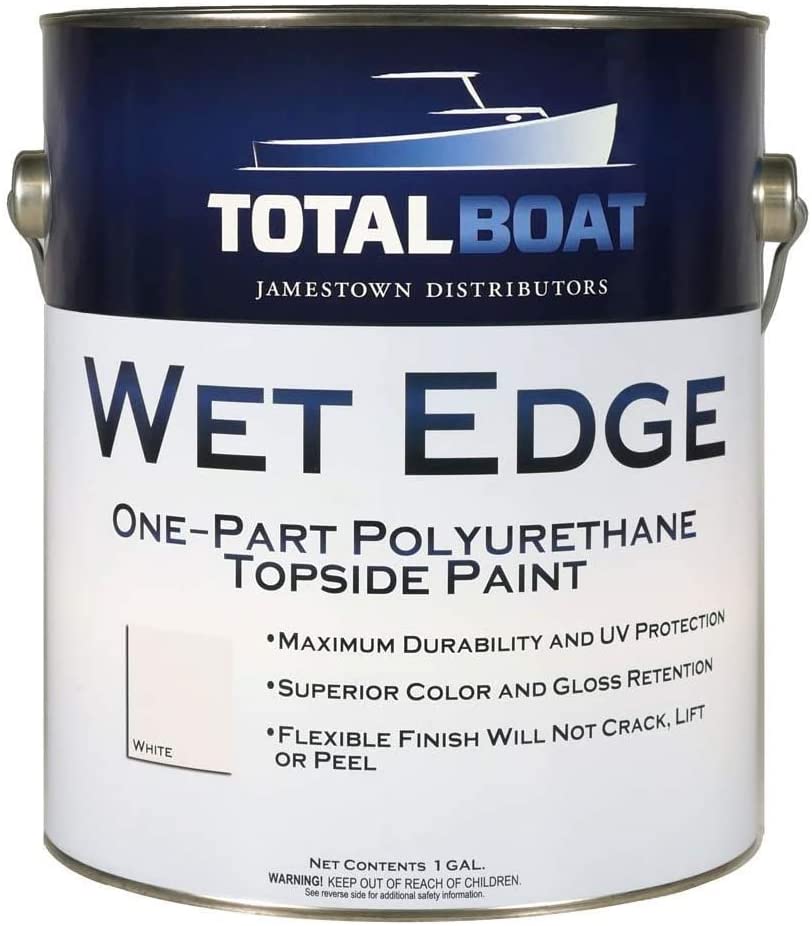 3. Interlux Fiberglass Bottomkote Antifouling Paint
This product is ideal as powerboat and sailboat paint. Most users praise this paint for its efficacy.
If you are looking for stunning results that are bound to stand the test of time, this is an option you should definitely consider.
The durable finish you get with this paint will please your sight as time passes and the color doesn't fade. You can also tackle the problem of paint buildup with Interlux paint and another great advantage is that it dries instantly.
If you're eager to learn how to paint a sailboat, this Interlux product is a good and easy to use option you can start with, this paint may disappoint you, however, in terms of price as it is more expensive than other boat paints out there.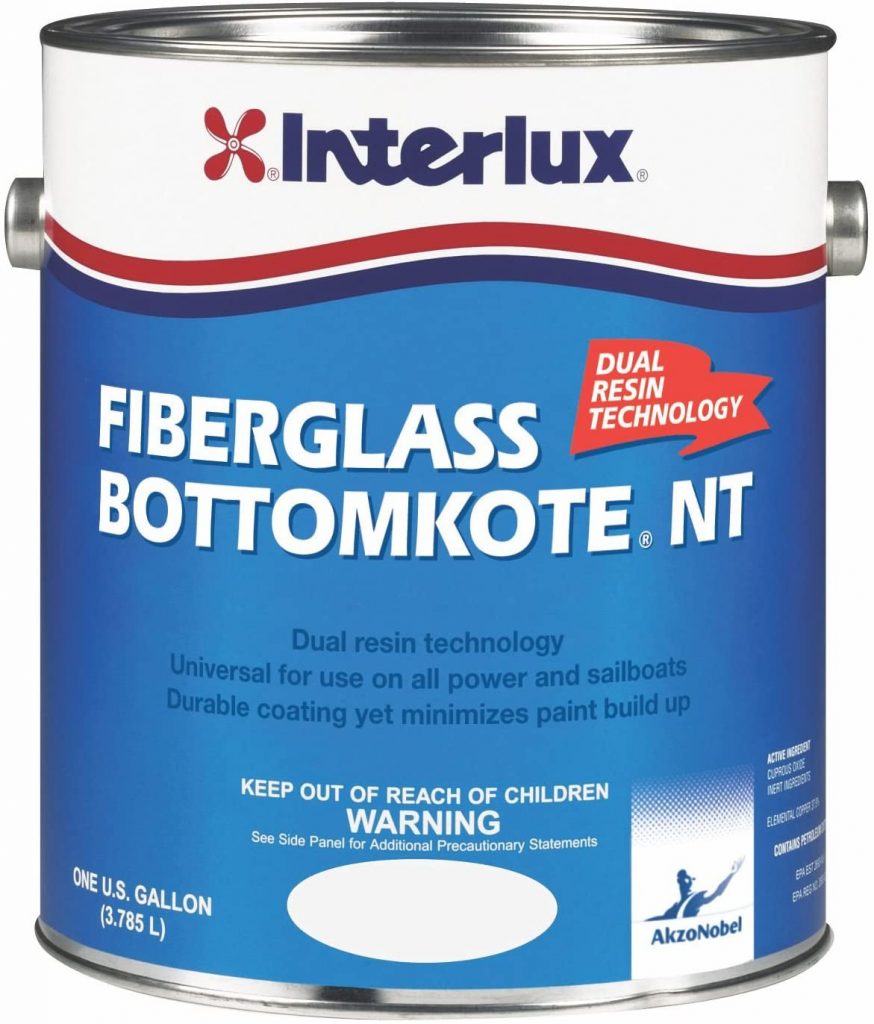 4. TotalBoat Aluminum - Best Boat Paint for Aluminum
Many boat owners adhere to this option to take care of their aluminum or galvanized boat. This is one of the best boat paints for aluminum.
The TotalBoat paint is a safe and long-lasting option that will guarantee you the protective coating you're aiming for.
Applying this paint can boost your boat's resistance to different environmental conditions. Applied correctly, it can make your old boat look brand new once again.
This formula is devoid of chromate and it is also one of the few paints that don't have a strong or unpleasant smell. You get to choose from multiple color options if you buy this product and you can enjoy the result of your work in as little as 1 hour – the time it takes to dry.
However, to enjoy all these benefits, you will most likely need to apply several coats. Furthermore, you also have to check the colors carefully as they might not always correspond.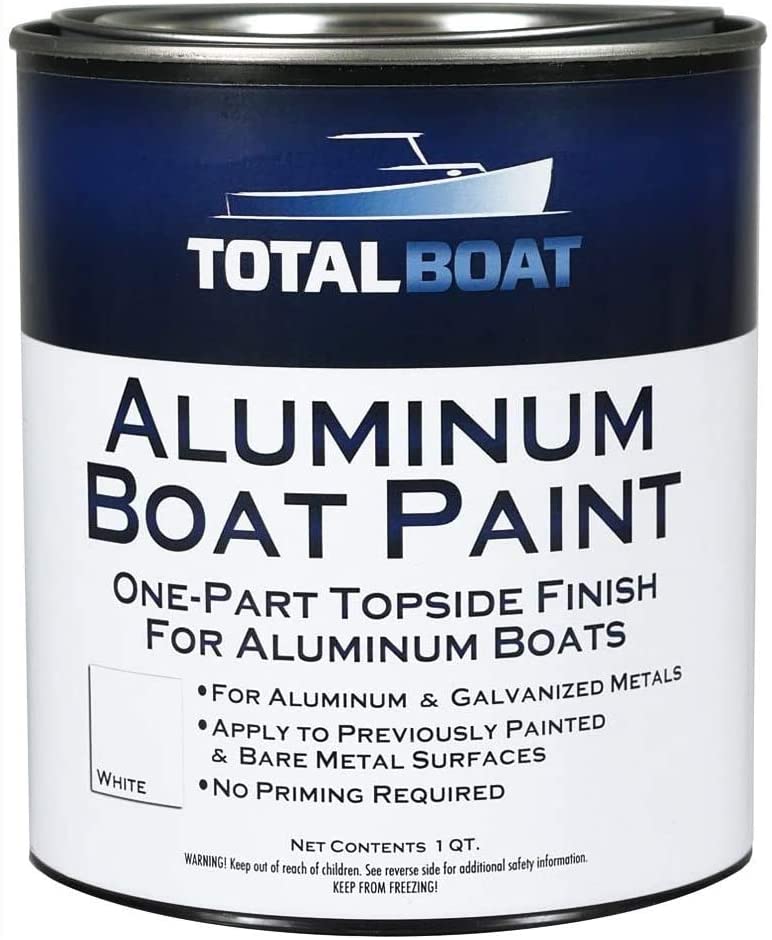 5. Aluma Hawk Aluminum - One of the Best Boat Paints for Aluminum
This is one of the best boat paint for aluminum you can find online and in stores. It is ideal for aluminum or fiberglass boats and many sailors praise it for its quality.
The Sea Hawk is a reliable and safe option for vessels and other submergence applications. You can deploy this product both as a topcoat, but also for the initial layer.
For this paint, we recommend you to use foam rollers (make sure to grab a few packs). You should switch rollers every couple minutes. Do not try to use regular house paint wool rollers because they will provide a poor finish.
The biggest advantage of this paint is that you don't need more than a layer to gain good results, which makes it a good investment and helps you save time and effort.
The Sea Hawk paint also dries quite quickly and has a good capacity to prevent corrosion.
Moreover, you don't need a primer to use it. In terms of cons, remember that you need a thinner for this paint that's pretty thick and you also have to paint with skill and confidence since it dries immediately.
For aluminium applications, the surface must be clean, dry and free of wax, grease and dirt. We recommend you to sand with 80 grit sandpaper and clean. To etch the surface, wipe it clean with white vinegar before applying the coating. The etched area should then be cleaned with water and dried with clean cloths. Wipe off the area with isopropanol (isopropyl alcohol), then dry it with clean cloths.
For previously painted surfaces, you have to remove any loose paint with a scraper and sand with 180-220 grit sandpaper. Using a tack rag, wipe away any sanding residue. Use this boat paint to touch up any bare spots before applying two full coats of Aluma Hawk. 
In addition, you can apply this b oat paint over plywood or epoxy resin but first of all, make sure you clean the surface once more before applying it.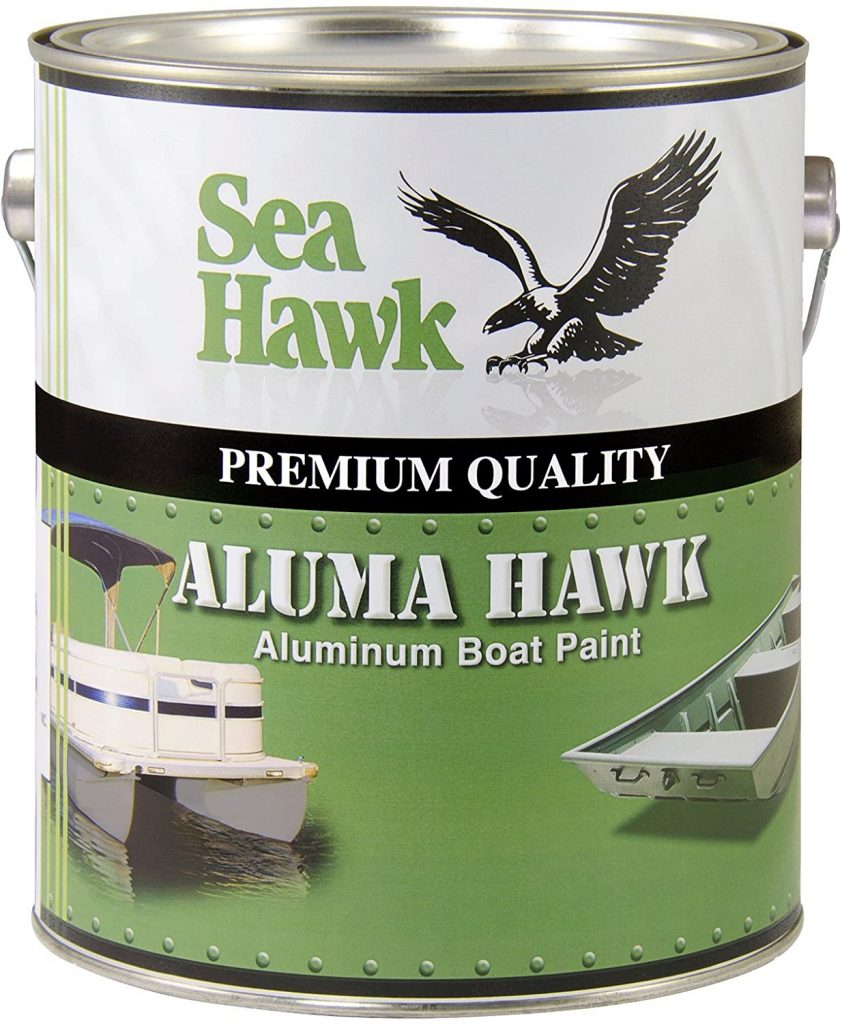 6. TUFF Coat UT-100 Non-skid Coating
TUFF Coat UT-100 is a non-skid coating which has a tick and rubberized formula, being durable, easy to clean and available in many colors.
Use this non-skid coating with confidence and you're bound to get a good quality finish. It can be used to paint the inside of an aluminum boat, a fishing boat's floor, a pontoon deck, the front deck of a bass rig, and even wooden pieces. You will always get a hard coat no matter where you use it.
Tuff Coat is simple to apply and appears to be long-lasting. The coat's abrasion resistance demonstrates its durability.
This boat paint is chemically resistant, making it an excellent choice if you want to keep your watercraft protected at all times. It will also keep the wood decking from dampness for a long time, giving a great moisture protection. Because this boat paint is free of harmful ingredients, you can feel safe using it.
Furthermore, the application is simple to use. Because this paint contains a lot of thick rubber, blending it with a drill mixer will be considerably easier. Before applying the Tuff Coat, you must first apply the MP (Metal Primer). Tuff Coat 2 component primer is recommended.
In order to clean the boat when needed, you can use soap and a soft-bristled brush.
7. Rust-Oleum Marine Flat - Best Boat Bottom Antifouling Paint
If you're wondering how to paint a boat hull, this product from Rust-Oleum can help you. It is specially designed to ensure a comprehensive solution for different types of boats, whether they're made of wood or fiberglass. This paint is dedicated to paint the bottom of a fiberglass boat.
With this paint, you can also handle steel surfaces. The paint's formula promises to offer a robust solution against the deterioration caused by different marine factors such as algae or barnacles.
Whether you sail in freshwater or out on the sea, this paint can successfully help you protect your vessel.
The Rust-Oleum paint has outstanding adhesive properties, so painting boat hulls with it will ensure a good outcome.
Furthermore, it is widely recognized as one of the best antifouling boat paints.
In order to appy this boat bottom paint, make sure you clean the boat thoroughly. You can use any roller like a medium knap.
To mask the transition line, make sure you use blue painters tape in order to mask the transition line. Paint two coats: a thin coat one day, and a second thin coat the next day. Every season, give it a good power wash and a good rollering (hit with roller).
When it comes to its downsides, keep in mind that this paint has a very pungent smell and is also pricier than other options.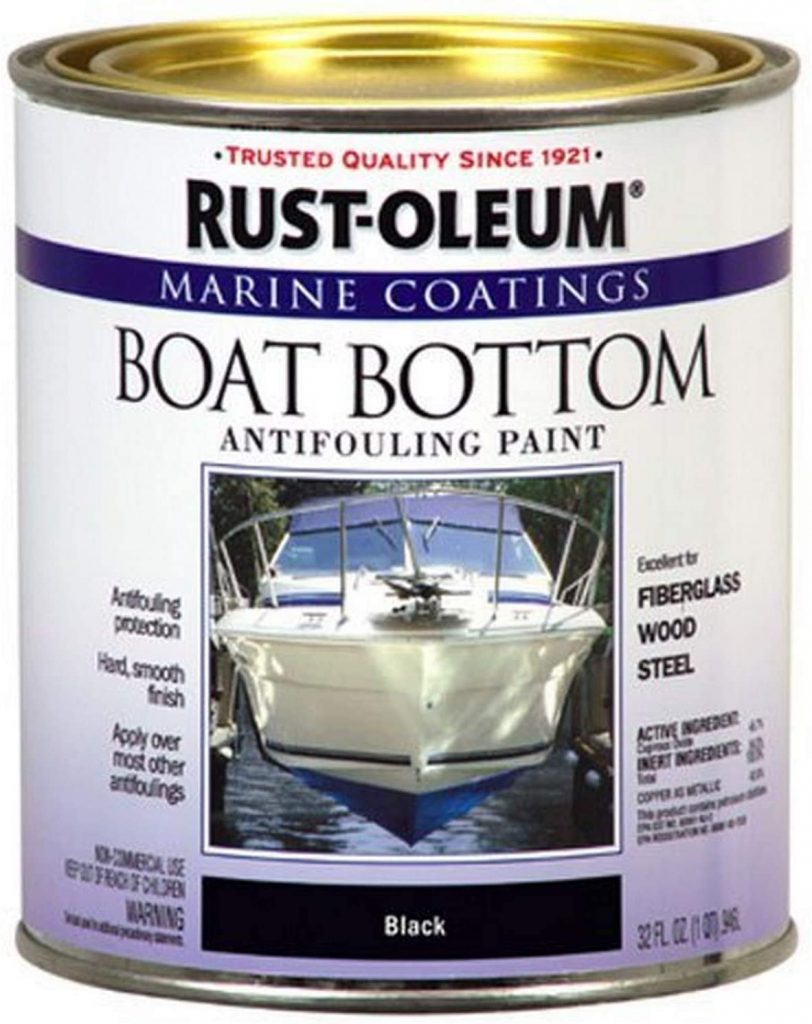 8. Interlux Brightside Polyurethane Paint
You can safely rely on this choice if you're looking for the best paint for boats, one that you can spray on fiberglass boats.
It is very good both for protection but also for its ability to restore fiberglass boats' good looks. This is one of the best boat paints in terms of durability, value for money and it's easy to use.
The key to this paint's outstanding resistance is the fluoro microadditive in its composition. Due to this element, the coat is also easy to clean and less prone to get stained. This way, you also invest less time in cleaning and maintenance.
When applying the paint, you must make sure you don't skip the sanding step as you can compromise the end result.
If you want to use this to paint your boat below the waterline, you need to know that if your boat will be on the water for more than a few days, you must use an antifouling boat paint below the waterline.
In order to use this boat paint, you need to use a thinner like Interlux 333 because the thinned paint proceus a smooth finish.
Also, you will require several layers to achieve the coat you hope for.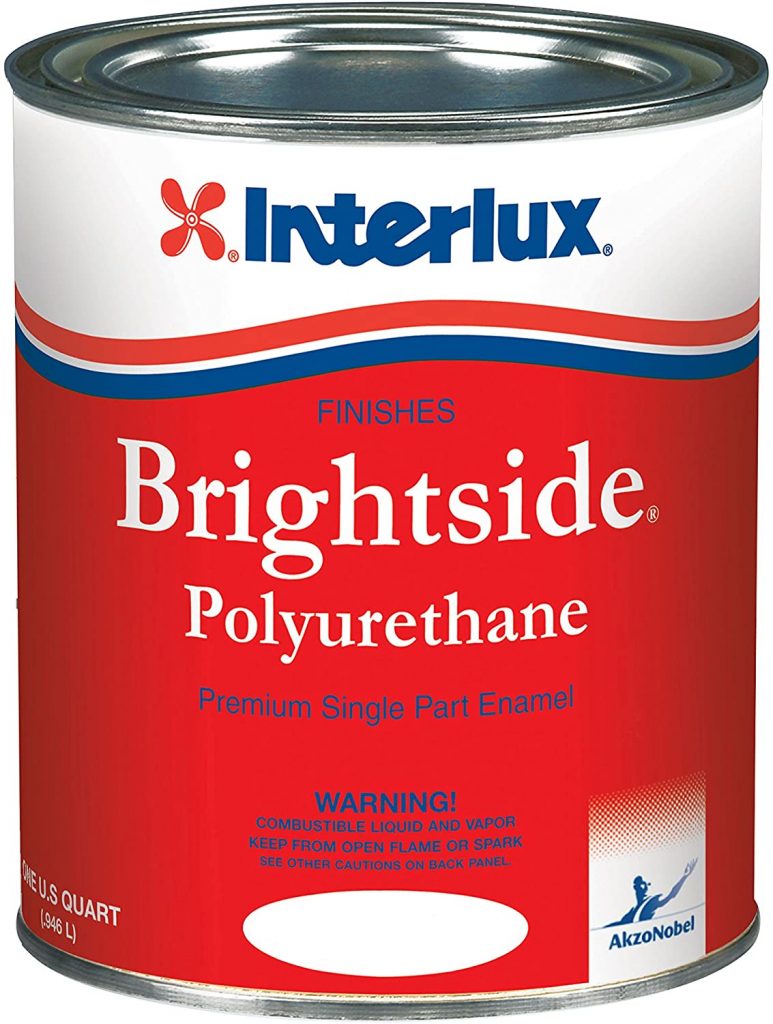 9. California Products Marine Paint
This product for roll and tip is considered a premium paint that can successfully be used both by professionals and amateurs. You can use this paint on a wide variety of objects, which makes it practical and economical and you don't need impressive skills to get a satisfactory result.
This product offers good quality at a fair price. You can use it for oil rigs and equipment.
It provides an efficient solution against rust and corrosion, enabling you to maintain your vessel in good conditions in the long term. Even if it's not an expensive boat paint, it covers well, looks fabulous and is marine rated.
If you want to know what thinner could be used for this boat paint, our recommendation is Xylene.
One of the biggest cons of this paint is the fact that it is not antifouling, so pay attention if you want to paint your boat bottom.
Don't worry if it smells like fumes while it's on because that will go away once it dries. You should use a well ventilated area or to paint the boat outside.
Also, it might require more than one coating.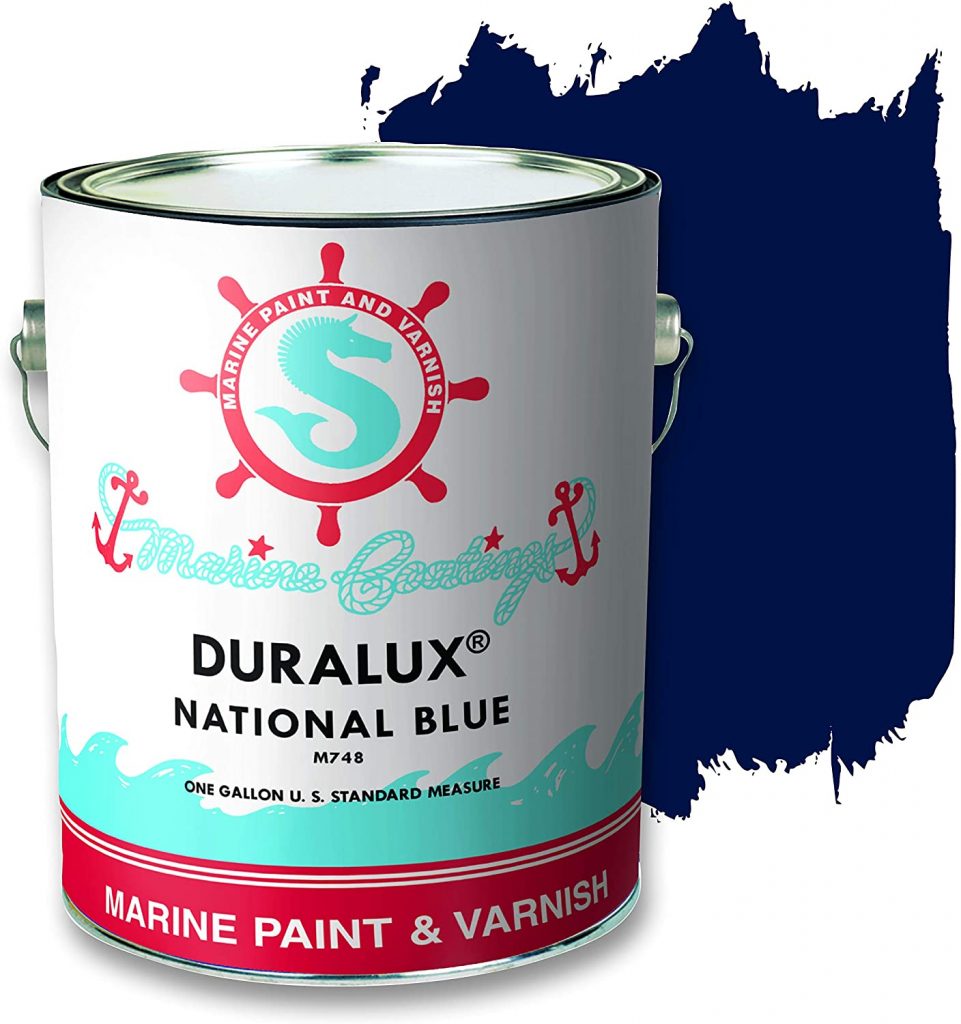 10. Pettit Ez-Poxy Topside Polyurethane Paint
This high-quality product is widely appreciated for its premium qualities. Its single-part polyurethane composition, together with the silicon it contains, make this glossy paint easy to apply and help you achieve a shiny finish.
This boat paint is ideal for those who don't have a lot of experience in painting as it is very easy to apply. Moreover, you can get a lasting and shiny coating without insisting too much or applying it repeatedly.
This is truly an ideal choice if you are looking for a long-lasting glossy effect and a resistant finish.
The Pettit Ez-Poxy paint is available in a wide range of colors, more than 20, and in different variants such as semi-gloss or glossy.
While this product does bring along numerous benefits, it also has some drawbacks. For example, applying it can get a little bit messy and there are also some inconsistencies in the color palette, so you have to be careful when you choose.
What's the best paint for aluminum boats?
TotalBoat Aluminum Boat Paint is definetely one of the best boat paints for aluminum.
This paint can be used on aluminum canoes, pontoons, dinghies, and other aluminum hunting and fishing vessels. It's fine to skip the primer or etching. 
This boat paint for aluminum offers protection against corrosion, abrasion, chemicals, and UV rays.
The manufacturer recommends to apply between 2 and 3 coats by brushing, rolling or spraying. Without sanding between coats, overcoat in just 1 hour at 72°F (or 22°C). Without priming, achieve superior adhesion to prepared aluminum.
It takes 48 hours to dry completely but the result will satisfy you because does not fade, peel, or chip. Cleaning up is simple, as all you need is water and soap.
This boat paint for aluminum will stick to old sanded paints but the surface must be oil free from your hands.
What's the right paint for fiberglass boats?
Since many boaters out there own fiberglass vessels, it makes sense to add this question to the list.
The most suitable types of paint for a fiberglass boat include the following:
• Acrylic latex – this paint can adhere to the surface quite well, has great durability and usually doesn't crack and is also easy to apply.
• Urethane paint – with this paint, you can cover different types of outdoor surfaces. It contains chemical solvents, therefore, you must wear proper protective equipment while using it.
• Blend paint: this type of paint is made of a mixture of acrylic resin and urethane. It is one of the strongest types of paints and has outstanding adherence.
What to watch out for when buying boat paint?
Buying boat paint can prove to be a challenging task if you haven't done this before. Now that you are aware of what the best boat paints are, your job is certainly easier.
However, if you are not able to come across one of those brands, or if you're simply new at this, here are some basic things to consider when buying boat painting:
1) Your budget: this aspect will definitely influence your choice, so set a maximum budget for your paint before you start searching for a satisfying product.
2) Your boat's material: there are different types of paint for different surfaces. You need to make a choice accordingly. Each product states its purpose, so it shouldn't be too difficult to get a boat paint that's suitable for your vessel, whether it's made of aluminum, fiberglass, or wood.
3) The composition: most paints contain chemicals, but their amount is also important. While many durable choices yield great results, they might also be toxic and pose health risks if you don't apply them correctly, so this is another aspect you should consider.
4) The color: needless to say that there are different colors to choose from, since you're not likely to paint your boat every year, we recommend you make this decision carefully.
5) The expected result: you want your boat to look all shiny and new. For this, you need to get a paint that has proven results in ensuring a smooth surface and a uniform look.
6) The time the paint for boats requires to dry: while some paints have the capacity to dry faster, others require more time. Depending on your needs, you might want to opt for a product that dries faster.
7) The part of the boat where you can use the paint: one aspect that really interests you is whether your paint will be able to withstand the action of water. This way, you'll know if it's safe to apply it below the waterline. You should find indications in this regard on the product's label. If not, don't forget to ask before you purchase.
8) Warranty: this is always something nice to have, especially if you're ready to invest in a long-term project. No matter how much you spend on your boat paint, you should only pick one that's accompanied by a warranty in case any problems occur with your product.
How to prepare your boat before painting it?
Like any other paint job, boat painting also requires some basic preparation.
Any guide or tutorial teaching you how to paint boats will also tell you what prep steps are necessary. Here are a few things you should do before you get down to work:
Clean your boat: eliminate all the dirt and sand that definitely lies on your boat's surface. Use plenty of water, a soft and clean cloth, and scrappers to eliminate all the dirt.
Remove all the items: all the removable objects that are currently taking space in your boat should be removed. The non-removable hardware should be covered using painter's tape while you paint.
Eliminate the waxy finish: this is a must-do before you start your painting boat endeavor. To remove the waxy coating, you should use a solvent and a rough sponge.
Fix any defects: this might not always be the case, but if there are any visible dents or holes on your boat's surface, you should try to fix them first. Otherwise, you won't achieve the neat result you dream of.
Sand the boat: before you start painting a boat, you should also sand the boat in order to get an even coating in the end. There are different types of sanders you can use for this.
Other boat paint important factors to consider
How does paint for boat work?

Boat paints, just like any other type of paint create a coating for your boat.

This is a necessary barrier that will protect your boat's material and help you maintain it in good condition for as long as possible.

Painting boats is an essential step in maintaining them in good condition. The paint contributes to the vessel's good looks and tackle the problems caused by saltwater or other environmental factors that can deteriorate the boat's exterior.

Where can you start looking for the right paint?

There are myriad options to take into account, especially if you live in or near a big city.

The shops that typically sell these products are hardware stores or boat supply stores. You can simply type 'boat painting near me'on Google and easily find out where these stores are.

You can also find marine supplies and paints at a home improvement shop. However, the easiest option to get your preferred choice delivered right at your door is to order it online.

All the paints we've mentioned above are available online on this article.

How to paint a boat's bottom?

The right paint for the bottom of your boats should be one that stands the test of time and the action of different environmental factors.

Multi-season paints are a good choice as they are made to last at different temperatures and in different environments. Another reliable option is a copper paint that can protect your boat in rough conditions.

How to maintain your newly-painted boat?

There are different maintenance tips you can rely on to maximize your paint's durability and make your effort worth it. If you've just found out how to repaint a boat and you put effort and passion into giving your vessel a makeover, here is how you can maintain it:

What are the best paint brands?

Let's start by highlighting that all the products listed above were carefully evaluated and selected based on their features and customer reviews. They are all reliable options. Yet, if you want to know what the best brands are, these include Rust-Oleum, Interlux, Flexdel, TotalBoat.

How do I paint the boat's bottom on a trailer?

In order to paint the boat bottom on the trailer, you need to jack the front part of the boat up by using a trailer jack. Then, you'll need to place some pieces of wood or another type of support under the vessel's framework midst.

The boat's weight will be supported by the pieces of wood or cinder bocks you're using as the trailer jack goes down slowly. After you've positioned the boat carefully, you can start painting its surface. When you are done, let it dry according to the instructions provided on the boat paint you're using.

After the paint dried, it's time to lift the blocks so that the boat's front goes down. Place the blocks and wood pieces below the edges of the boat's underside and jack the front of the boat up steep so that you can reach the rest of the framework.

What is the best paint to use on fiberglass?

In terms of longevity and gloss retention, two-part polyurethane paints are the best paint to use on fiberglass boats. These paints are extremely thin, necessitating numerous coats. They chemically harden, however, to an extremely robust finish that will last for many years.
Painting or repainting a boat is not something you can do in a rush. It takes time to look for and choose the most suitable paint boat and to apply it according to its instruction.
However, since you now know what the best boat paints are, you're one step closer to making the right choice and giving your vessel an excellent new look.