The Balearic Islands are known worldwide for their natural treasures. Secluded beaches, a scenic landscape, and amazing turquoise waters are some of this archipelago's assets. One of the most popular sailing routes that will help you discover this area goes from Ibiza to Formentera. Here are some of the beauties you can check out during a 6 days cruise.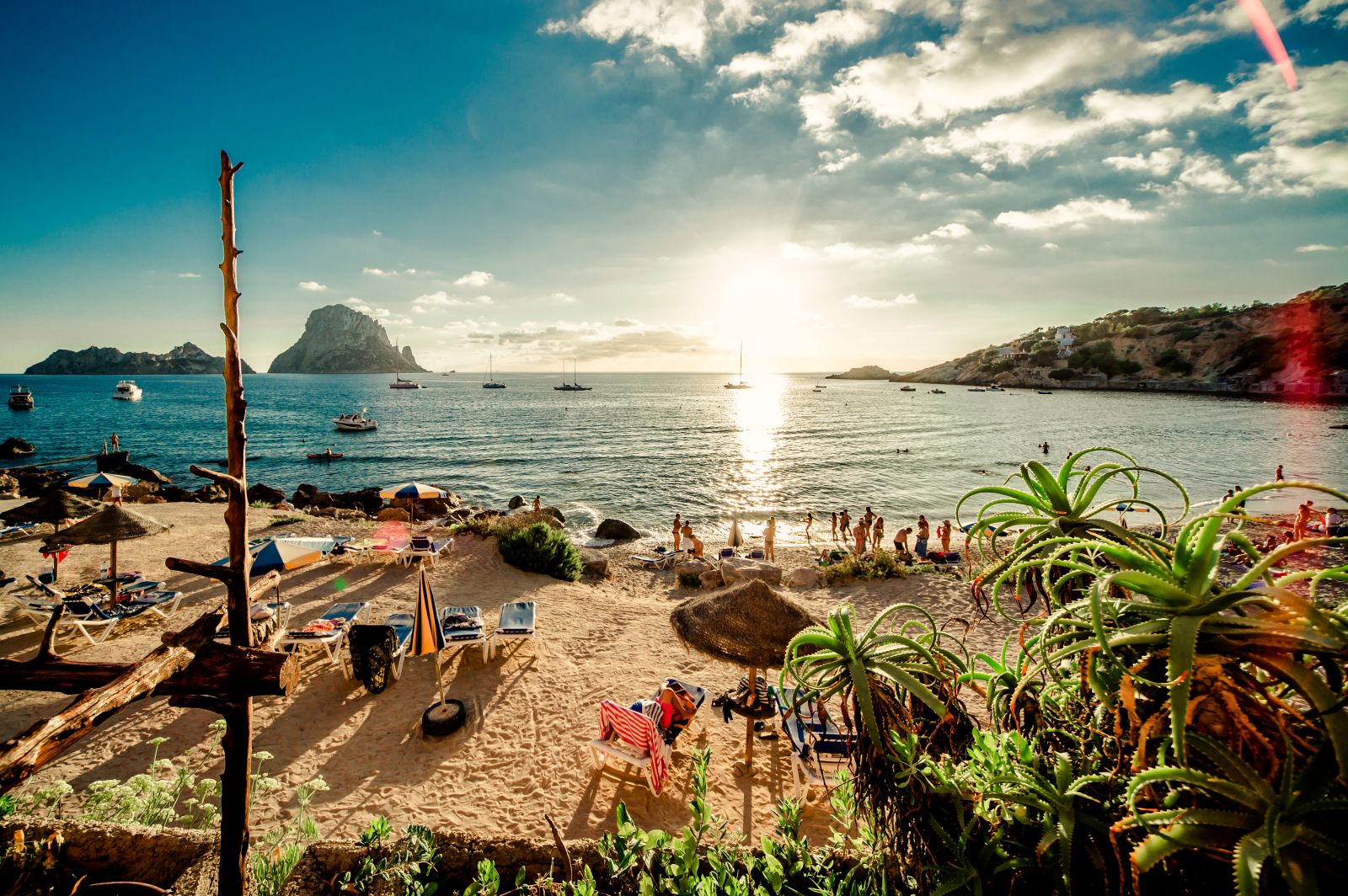 Day 1: Sant Antoni – Cala Bassa- West Coast
As you stroll through Ibiza's West Coast, you'll get the chance to discover some of nature's wonders like intricate trails, secluded beaches, and mysterious caves.
Ibiza island is rich in beautiful bays and one of the most renowned ones is Sant Antony. We suggest you start your journey from here. Sant Antoni hosts one of the liveliest resorts on the island. If you spend your first day here, you'll find it hard to choose where to dine and go for a drink in the evening. The resort features a large spectrum of restaurants, bars, and clubs. Moreover, it is also the best place where you can learn to dance because there are countless performances and events you can attend.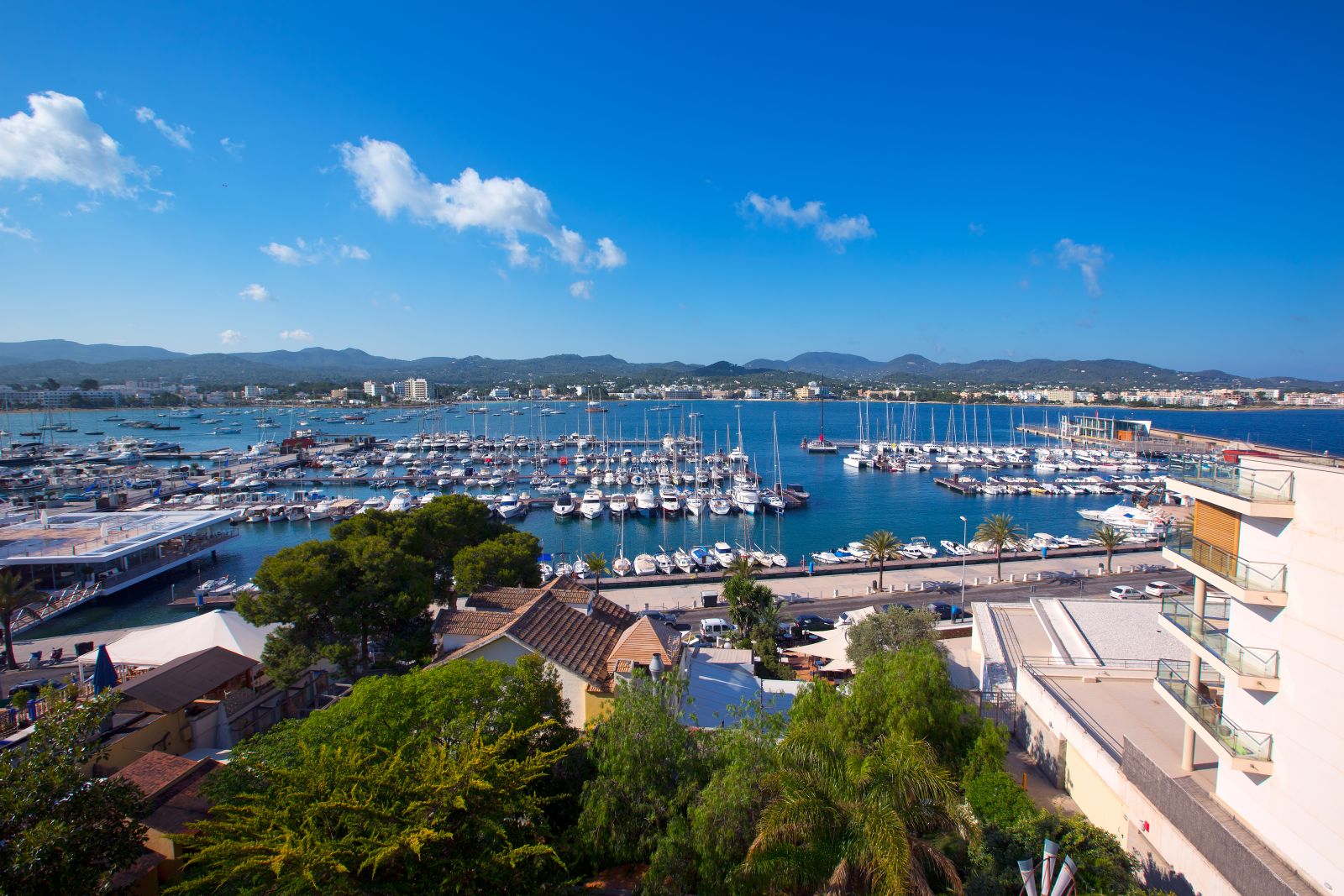 As for the setting, Sant Antoni will offer you a scenic panoramic view and a relaxing atmosphere. Puerto de Sant Antoni de Portmany and Club Nautic Sant Antoni are two top marina reservation facilities where you can dock your boat safely during your stay.
Another nearby destination you shouldn't miss is Cala Bassa, a splendid cove where you can chill out on fine sandy beaches, enjoy the crystal-clear waters or spend a memorable night in a club.
Day 2. South – West Coast
Ibiza's south-west coast is a perfect choice for a romantic getaway on your second day of the trip. This area of the island features some of the most extraordinary panoramic views where you'll love to take some photos with your beloved one. This region's huge open spaces convey a feeling of freedom that will cast all your worries away. This coast is a must see for those who feel at ease by the sea shore and want to reconnect with nature. One of the area's landmarks is Es Vedra, a mystical island where you can admire the majestic rocky landscape and find out some interesting theories related to this place's origins. Atlantis is another must-see in the nearby: this fascinating cove is a perfect challenge for hikers.
Those who just want to laze in the sun, will love the fine beaches of Cala d'Hort, Cala Salada, Cala Conte or Punta Galera.
If you want to book a berth in this area, we recommend the Puerto Deportivo Coral Mar harbor located in Cala Corral.
Days 3-4. Formentera
Formentera is the smallest island belonging to the Pityusic archipelago. Despite its reduced size, this island is at least as charming as its bigger sister Ibiza. Most tourists who come to Formentera seek a less-mainstream location and a laid-back atmosphere. To their delight, this is what they find as soon as they dock on Formentera's shore. This island is a perfect stop on your third and fourth day of the cruise because it offers the perfect chance to take a break and recharge your batteries before you head off to Ibiza.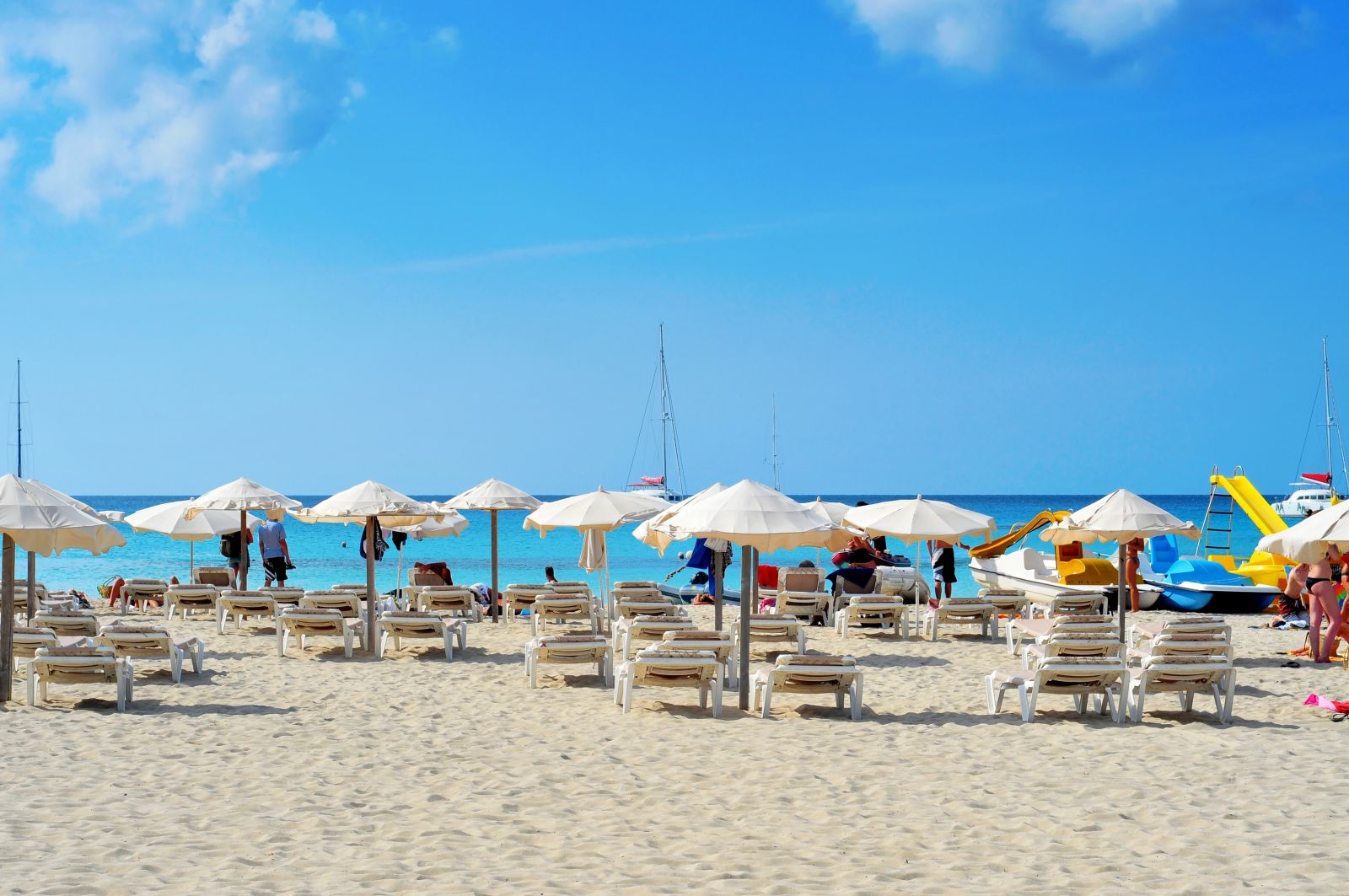 Formentera's unspoiled natural setting offers a breathtaking view of imposing cliffs, vast beaches, and lush vegetation. Some of the most beautiful beaches you should visit during your stay are located in Cala Saona, Es Caló de Sant Agustí, Platja de Migjorn, Platja Illetes, Platja de Llevant
The impressive cavern Cova d'en Xeroni, the beautiful wetland area at Salines, the lighthouses at Cap de Barbaria or Faro de La Mola are other objectives you shouldn't skip. This island's ancient history is also one of the local attractions and some of the most impressive vestiges are Torre de sa Punta Prima, Torre de Sa Gavina, Torre De La Gavina and Torre del Cap de Barbaria, The island's main settlement, Sant Francesc, is a welcoming place where you can enjoy the view of the massive fortress-church, eat a fine meal in a cozy restaurant or buy souvenirs in one of the numerous chic shops.
For a berth booking facility, we recommend the Formentera Mar, a well-provided port, located in a beautiful bay in the city of La Savina.
Day 5.  Ibiza
After you got some rest in Formentera, it's time to head off to Ibiza again and visit the most thrilling spot on the island, the town of Ibiza. This stylish place offers everything you might desire for a dream vacation. Cultural events and historic treasures, exciting nightlife opportunities, and fine dining options merge together in Ibiza creating a unique magical atmosphere.
Ibiza's Old town called Dalt Villa is the best place to go if you love history and want to take a long walk through ancient streets and admire the sea and the ruins. The Santa Maria d'Eivissa cathedral is one of the town's landmarks that will impress you, and so will the Punic necropolis of Puig des Molins.
Some of the best beaches around are Es Vedra,  Cala Compte, the beach in Talama Bay, Cala Conta, the Figueretas Beach, Cala Llentia.
Every traveler who comes here is looking forward to spending unforgettable summer nights in this town enjoying some tasty cocktails and partying. There are countless clubs where you can have fun from dusk till dawn and also a large number of fine restaurants where you can indulge in a lavish meal the day after.
For a marina reservation in Ibiza town, our suggestions are Puerto Deportivo Marina Ibiza and Marina Ibiza, one of the largest harbors in Spain.
Day 6.  Ibiza East Coast
Ibiza's east coast is an ideal destination for those who want an all-inclusive and worry-free vacation. This area's extensive tourism has turned it into one of the most elegant and developed regions in the Balearic archipelago. You can find everything you seek for on this coast, ranging from rustic and affordable accommodation facilities to high-class hotels and restaurants. This chic store is filled with bars, clubs, shops and restaurants, but if you're not here merely to party and spend money, there are plenty other things to do. The east coast features some vast beaches where you can laze in the sun all day long and get a perfect suntan. Water sports are also popular here and you'll find sufficient rental options if you want to take up to a new nautical activity.
This shore is also rich in natural beauties you would love to see. The beautiful Sa Caleta beach is one of them and here you will also be able to visit the unique Phoenician ruins. One of the best holiday resorts on this shore is situated in Santa Eulalia, an effervescent and charming town. If you look for a chill place where you can unwind and enjoy some quality time with your family, San Carlos and Cala San Vicente will suit you just fine.
For berth booking options on the east coast, we recommend Puerto Deportivo de Santa Eulalia
Ibiza and Formentera are two of the most popular summer destinations for sailors all over the world. These islands have a little bit of everything from a vast array of beaches and picturesque settings to luxury dining and accommodation option, and ancient ruins. If you want to lean more about sailing routes in the Balearic Islands, check out other recent posts on our blog.