Summer is well underway and for most of us the obvious choice when it comes to spending time away from home is the beach. From the wide Atlantic beaches in Portugal and France, to the rugged North Sea coastline and the sun-soaked beaches of the Mediterranean, Europe offers something for everyone. Check out the most wanted beach destinations in 2016, as voted by tourists.
1. Barcelona, Spain
With 7 beaches stretching over 4.5 km along the coastline, Barcelona is an ideal place for a relaxing but culture-infused holiday. It consistently ranks as one of the best beach destinations in the world for a few years now. Located in the neighborhood of the city with the same name, the sandy beach of La Barceloneta is one of the oldest and largest in the city. In fact, it's so old that it's mentioned by Miguel de Cervantes in his masterpiece Don Quixote. Apart from the sports and leisure activities available, there is a volunteer service that offers assistance for people with reduced mobility to enjoy the water.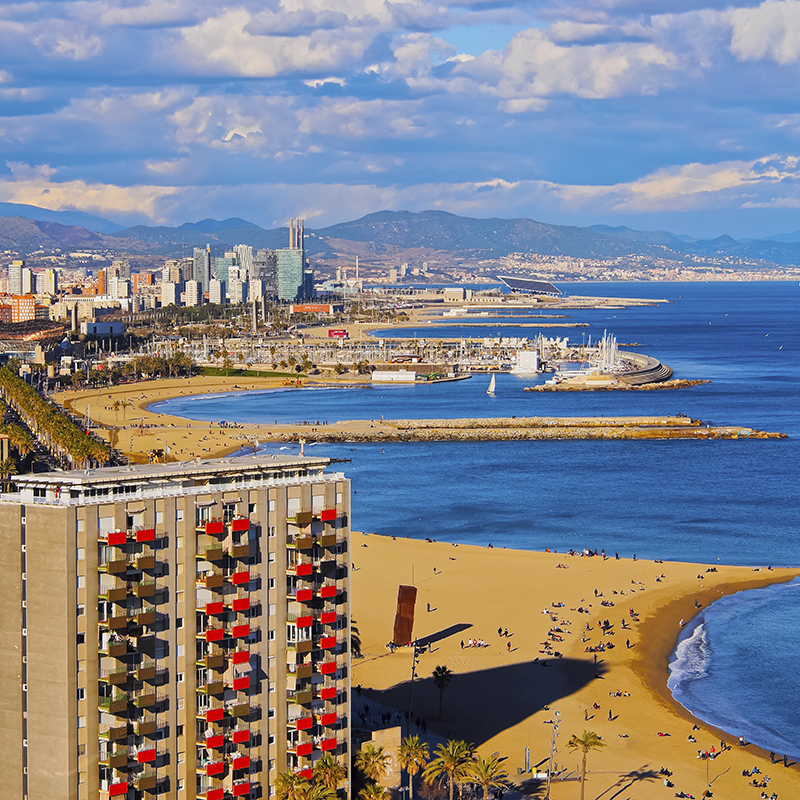 Because La Barceloneta is a fishing quarter, this is one of the best places to eat in the city. The numerous restaurants along the boardwalk offer a wide selection of fresh fish, paellas and tapas. A typical tapa for Barcelona is the so-called "bomba", a potato ball filled with meat and served with a variety of sauces. Port Olimpic, the marina that hosted the sailing events at the 1992 Summer Olympics, is located nearby, as well as the Parc de la Ciutadella, a 280,000 m2 area that includes the Barcelona Zoo and the Parliament of Catalonia. You can cruise around Barcelona's port by taking Las Golondrinas, traditional boats that leave from the Columbus Monument (Mirador de Colom).
If you're planning to sail there, we recommend Port Segur-Calafell Marina,  that hosts sailing competitions and water sport races; OneOcean Port Vell, part of Barcelona's Port and Port Forum, where you can enjoy underwater sports.
2. Cannes, France
Known throughout the world as the host of the annual Cannes Film Festival, this exclusive location on the French Riviera has 7.5 km of sandy white beaches. Since the harsh winters erode most of the beach, sand is brought in each year before the season starts in May, hence their perfect appearance. Most of the coastline in Cannes is reserved for private beaches – 33 in total – that range in price from the expensive ones on La Croisette, where parties are held during the Film Festival, to more accessible options along Boulevard du Midi. The 13 public beaches and 2 municipal ones are quite popular among the locals and tourists on family holidays. Two great public beaches are Les Rochers, perfect for snorkeling, and Plage Mace, where you can find the book lending service Pages a la Plage in case you want to spend some hours reading and relaxing on a sunbed.
Cannes is associated with luxury hotels and restaurants and is famous for being the go-to place of the rich and famous. It is by no means an accessible destination and maybe that's part of its charm. Cannes is truly a unique experience, a place that makes you feel special. Nearby visitors can enjoy Saint Tropez, Nice and Monaco, also popular among jet setters.
Have a great time at Vieux Port de Cannes marina, located in the city center close to Palais des Festivals. From there you can explore the French Riviera and have the perfect summer getaway.
3. Palma de Mallorca, Spain
The first thing you see in the Bay of Palma is the massive Gothic cathedral that seems to guard the bay. It's one of the highest cathedrals in Spain and offers breathtaking views of the city and surrounding areas. Right next to it lies La Almudaina, a royal residence dating back to Moorish times. Another Gothic treasure overlooking the city is the circular Bellver Castle, 3 km west of the center. The view from the top is simply stunning and well worth the hike.
For a relatively small island, Mallorca is not short on beaches. From the crowded ones in Palma to the quiet beaches in the North, you'll surely find a patch of sand to lay your towel. The more adventurous visitors can enjoy a variety of water sports.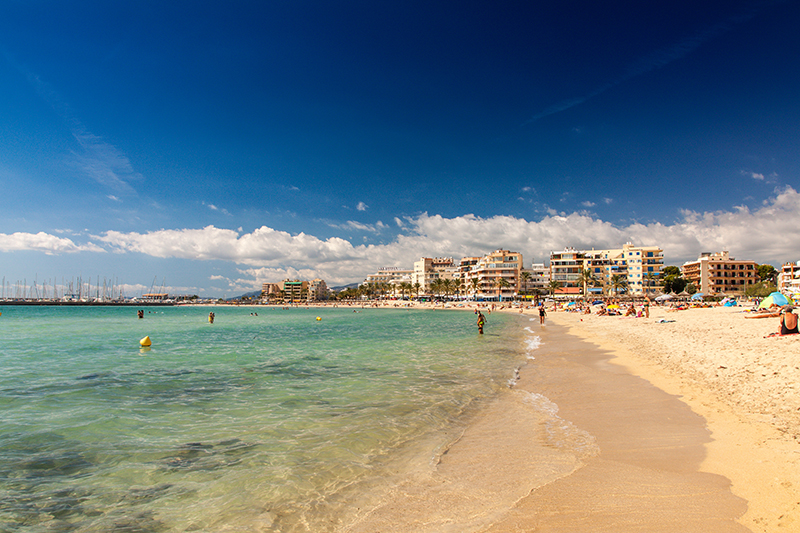 A perfect place to anchor your boat is Cal Boquer Beach, a relatively secluded bay near Puerto Pollenca. You can also try Cala Figuera beach in North Mallorca, a spectacular bay with some of the bluest waters in the Mediterranean. If you plan to spend your time more in the capital, the Cala Mayor beach is the closest to the city center. It has calm and clear waters and offers a variety of services, including access for people with disabilities. About 10 km east of Palma de Mallorca you will find the island's largest beach, Playa de Palma, with an average width of 50 m. The white sand and shallow clear water make it a perfect destination for a family trip.
Enjoy your time in Palma de Mallorca by anchoring your boat at Puerto Deportivo Marina de Cala d'Or or at Alcudiamar Marina.
4. Fira, Greece
The capital of Santorini is built on steep cliffs overlooking the Aegean Sea and the caldera resulted from the volcanic eruption that destroyed the island 3,600 years ago. The white-washed houses against the red cliffs offer a one of kind panorama.
One of the best known beaches on the island is the Red Beach with its red cliffs and black volcanic sand. It's a small beach 12 km away from Fira and it's usually crowded but the views are worth the trip. Next to it lies the White Beach, that gets its name from the white cliffs that surround it. Most of Santorini's beaches are covered with volcanic sand that gets very hot during the day so, sandals or flip-flops are highly recommended.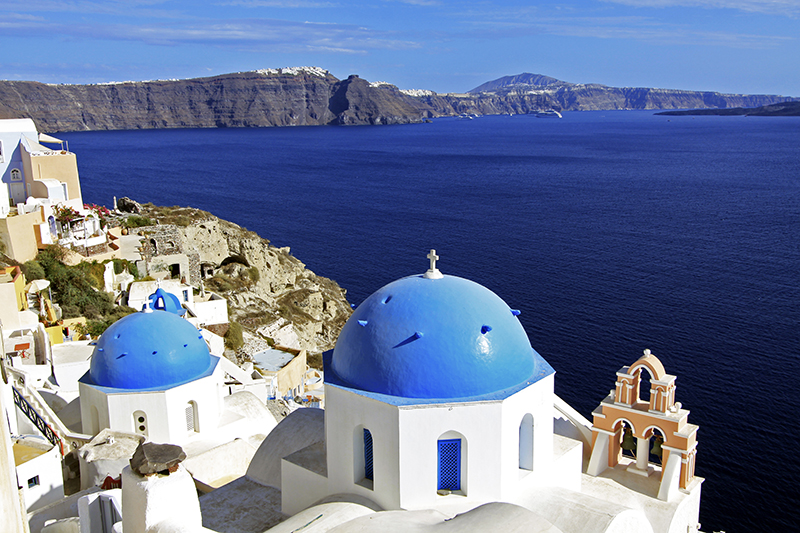 The Kamari beach is quite popular among tourists due to an excellent tourist infrastructure that includes hotels, restaurants and night clubs. The Mesa Vuono rock dramatically rises from the sea, offering amazing views of Kamari. On the other side of the rock is Perissa, another tourist-friendly beach that is very close to the archaeological remains of Ancient Thera. The Vlykhada beach on the southern side of Santorini has a small port for fishing boats and yachts, as well as some interesting rock formations that are worth checking out.
From the Marina Vlikhada you can explore the coastline, catch some fish or just enjoy the impressive views of Santorini's cliffs.
5. Lagos, Portugal
Lagos was the starting point for many expeditions during Portugal's Age of Discovery and this turned a relatively obscure settlement into one of Europe's largest ports. Today Lagos enjoys a reputation of being one of Portugal's most tourist-friendly cities, with a population of 22,000 that almost doubles during the summer months. The city center and its diverse architectural heritage are perfectly preserved. Here you can admire the Moorish Castelo do Governadores, Ponta da Bandeira fortress and a restored section of the city wall. Enjoy traditional Portuguese dishes in one of the numerous restaurants and then stop at the Municipal Museum to admire a collection of Roman mosaics, Islamic artefacts and stone tools. From the museum you can access the baroque Church of Santo Antonio.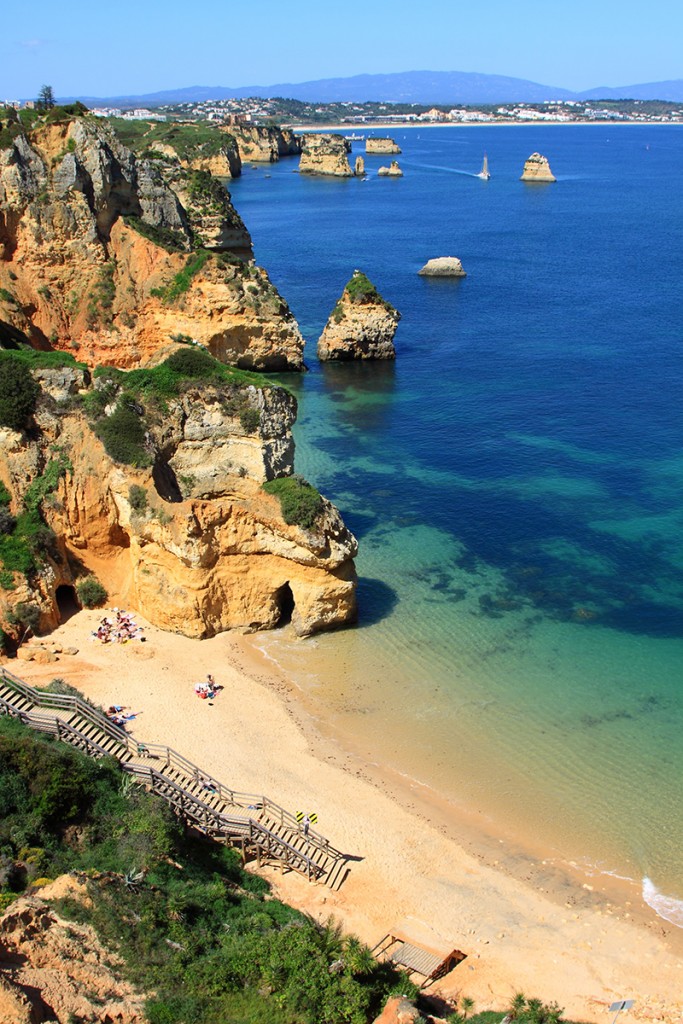 One of the reasons Lagos is so popular with tourists is that its beaches are some of the best in the Algarve. Usually nestled between high rocks, these sandy stretches offer a large variety of leisure and sports activities. Among the most striking natural features in Algarve is Ponta da Piedade, with its grottos, arches and sea caves that you should not miss.
The longest beach in the region is Meia Praia, at 4 km. It's located in the  East of the marina and here you can try paragliding, bodyboarding or wind surfing. Due to the long summers in Algarve, this is a perfect year-round destination. You can feel great at Marina de Lagos, an award-winning port located in Faro District.
6. Ischia
The volcanic island of Ischia is only 30 km away from Naples, a rustic paradise that has become more and more popular in recent years. Still not as famous as its neighbor Capri, Ischia nevertheless surprises its visitors with its numerous beaches and hiking trails.
Start your tour in Ischia Porto with Castello Aragonese, a rock fortress built 2,500 years ago and then head to Torre del Mare, a XV century watchtower that is now part of Ischia Cathedral. Most visitors choose the towns of Ischia Porto, Forio and Lacco Ameno on the North coast as in the South you will find quieter villages like Sant'Angelo. If you feel up to it, you can hike to the top of Monte Epomeo – the highest peak on the island – where you'll be rewarded with spectacular views and a great lunch in rock carved restaurant, La Grotta da Fiore.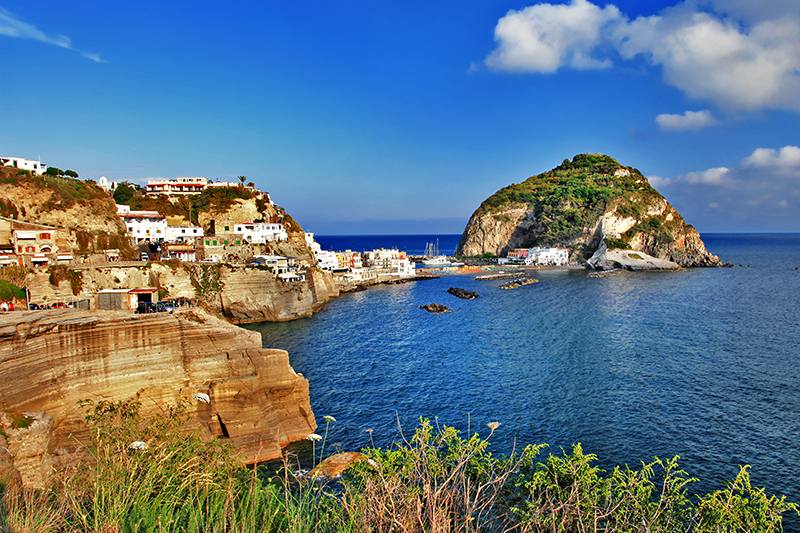 Beaches are generally divided between public and private so, for some you will have to pay an admission fee. The Maronti beach is one of the most popular on the island, while in Panza you will find the hot thermal springs in the Bay of Sorgento. Since Ischia has 37 km of coastline, you will certainly find a place to dip your toes in the water. Don't forget to enjoy the local cuisine, which of course includes seafood but also rabbit bred on local farms.
We recommend the Marina di Ischia, which is specialized in recreational activities and tourism.
7. Marbella
One of Costa del Sol's major tourist attractions, Marbella is somewhat similar to Saint Tropez in that it usually entices rich people. Due to this, the town is full of luxury hotels and restaurants, designer shops and large golf courses. It prides itself on its lively nightlife that gives Ibiza a run for its money.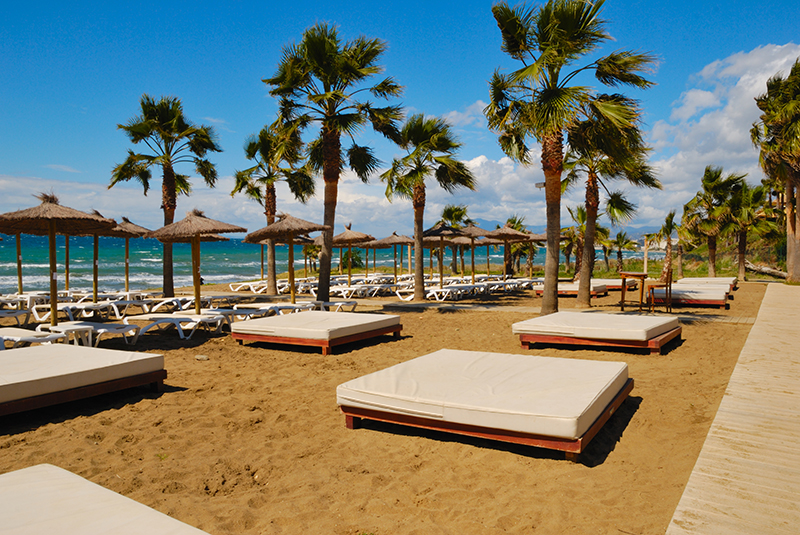 Marbella boasts 27 km of coastline divided in 23 beaches. The exclusive Playa Nagueles is on the so-called Golden Mile, which is actually 6.4 km long and where Marbella's most luxurious hotels and villas are located. Here you can see the Palace of King Fahd of Saudi Arabia who was a frequent visitor and reportedly spent up to 5 million euro per day in Marbella. Another exclusive location is Nikki Beach near Don Carlos Hotel, one of Costa del Sol's most famous beach clubs.Renting a sunbed will cost you about 300 euro but it comes with champagne, DJs and a lot of other entertaining shows.
Should you decide to come to Marbella by boat, our recommendation is the Puerto Deportivo Maritimo de Marbella, an ideal location for water sports and yachting.