Discover the most enchanting things to do in Venice! From romantic gondola rides to exploring historic palaces, our guide unveils the best experiences Venice has to offer.
Venice, a captivating city in northeastern Italy, is renowned for its unique water-based transportation and mesmerizing architecture. This historic gem is built on 118 small islands within a lagoon and is interconnected by a network of canals and charming bridges.
Its fascinating history dates back over a millennium. It was founded in the 5th century and rapidly grew into a maritime powerhouse during the Middle Ages.
Today, Venice is a place where gondolas glide gracefully along picturesque canals, and Gothic palaces rise from the depths of history. It's definitely one of the best places to visit in Europe.
Whether you're drawn to its art, culture, or simply the allure of its unique atmosphere, Venice promises a tapestry of experiences that will leave you spellbound. In today's article, we'll discuss the best things to do in Venice when you prepare for your next trip to Italy. 
Why to Visit Venice?
The city-state of Venice, known as the Republic of Venice, greatly impacted trade between Europe and the East, amassing great wealth. It was also a center of art, culture, and innovation, boasting famous figures like Marco Polo and producing renowned artists such as Titian and Canaletto.
In 1797, Venice fell to Napoleon, marking the end of its independence, and later became part of the Austro-Hungarian Empire and, eventually, Italy in the 19th century.
Today, Venice's rich history, stunning architecture, and unique canal system continue to enchant visitors worldwide, making it a UNESCO World Heritage Site and a must-visit destination for history and culture enthusiasts.
Venice is an absolute gem for travelers like you. The city's unique charm lies in its winding canals, iconic gondolas, and stunning architecture. Start your adventure by taking a leisurely gondola ride through the narrow waterways. Don't forget to kiss your significant other on the Bridge of Sighs for that classic Venetian moment.
St. Mark's Square is a must-visit, where you can sip on espresso at an outdoor café and feed the pigeons while marveling at the grandeur of St. Mark's Basilica. Explore the maze-like streets, where every corner unveils a hidden treasure.
Be sure to try some authentic Venetian cuisine, like fresh seafood risotto or cicchetti, at a local bacaro. Venice is a place where every turn is a picture-perfect postcard waiting for you.
When the sun sets, Venice transforms into a romantic wonderland. Take a romantic stroll along the Rialto Bridge, where you can buy souvenirs and enjoy some of the best gelato in town.
For art enthusiasts like you, the Peggy Guggenheim Collection and the Doge's Palace offer a peek into Venice's rich cultural heritage. If you're feeling adventurous, hop on a vaporetto (water bus) and explore the nearby islands of Murano for glassblowing magic or Burano for its colorful houses and lace-making tradition.
Venice may be small, but its beauty and charm will captivate you at every turn, making it a destination you'll never forget.
Best Things to Do in Venice
Exploring Venice on foot is the best way to immerse yourself in the city's charm and uncover its hidden treasures. The city's intricate maze of narrow streets and picturesque alleys is a delight to wander through, revealing stunning architecture, quaint shops, and cozy cafés at every turn.
Walking around the town allows you to appreciate the intricate details of Venice's historic buildings and bridges while stumbling upon local gems that might be missed when using other modes of transportation.
Plus, with no cars to contend with, Venice's serene atmosphere and the soothing sound of lapping water create an unforgettable experience that captures the essence of this unique and timeless city.
1. Mark's Basilica (Basilica di San Marco)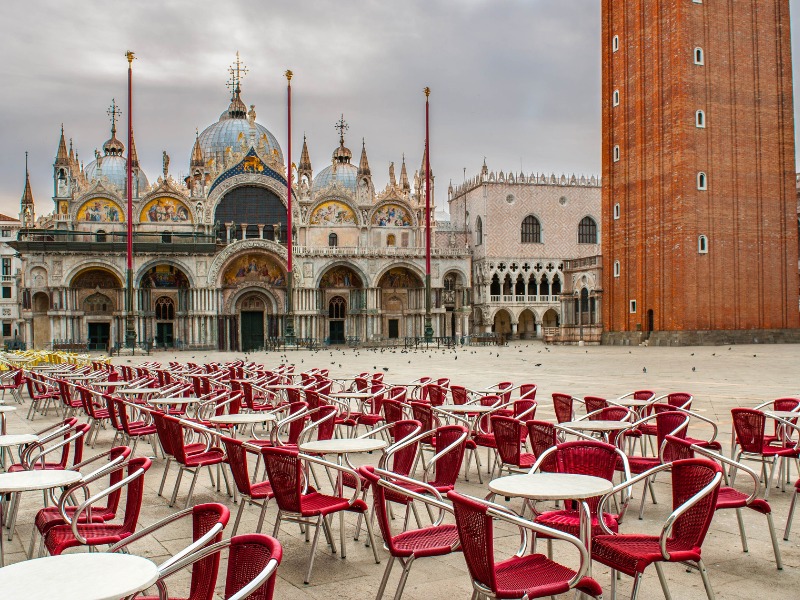 During your visit to Venice, you should see La Basilica di San Marco in the heart of Venice's St. Mark's Square. It is a breathtaking masterpiece of Byzantine architecture and a symbol of the city's wealth and power during its maritime glory days.
This iconic church, consecrated in 1094, boasts a dazzling façade adorned with intricate mosaics depicting biblical and historical scenes. Its interior is equally impressive, featuring a treasure trove of art and relics, including the famous Pala d'Oro, a golden altarpiece adorned with thousands of gems. One of the Basilica's unique aspects is its five domes, each topped with a statue of a winged lion, the symbol of Venice. Visitors can also ascend the Campanile (bell tower) to enjoy one of the best views of Venice.
Location: St. Mark's Basilica is located in St. Mark's Square (Piazza San Marco)
Operating Hours:
The schedule hours are from 9:30 am to 5:15 pm (from Monday to Saturday)
Sunday: 2 pm to 5:15 pm
Last admission at 4:45 pm
Admission Fees:
Onsite: €3
Online in advance: €6
Additional fees apply for access to the Pala d'Oro, the Museum, and Loggia dei Cavalli.
Website:
Please check the operating hours and the admission fees on the official website.
Skip-the-line ticket for St. Mark's Basilica and the Doge's Palace
With a skip-the-line ticket for St. Mark's Basilica and the Doge's Palace in Venice, you'll unlock a seamless and efficient way to explore two of the city's most iconic attractions.
Say goodbye to long queues and hello to more time spent admiring the stunning mosaics and rich history of St. Mark's Basilica and delving into the abundant history of the Doge's Palace, the former political center of the Venetian Republic. It's the perfect way to make the most of your visit, maximizing your time to soak in these historic landmarks' art, architecture, and culture without the hassle of waiting in line.
2. Mark's Square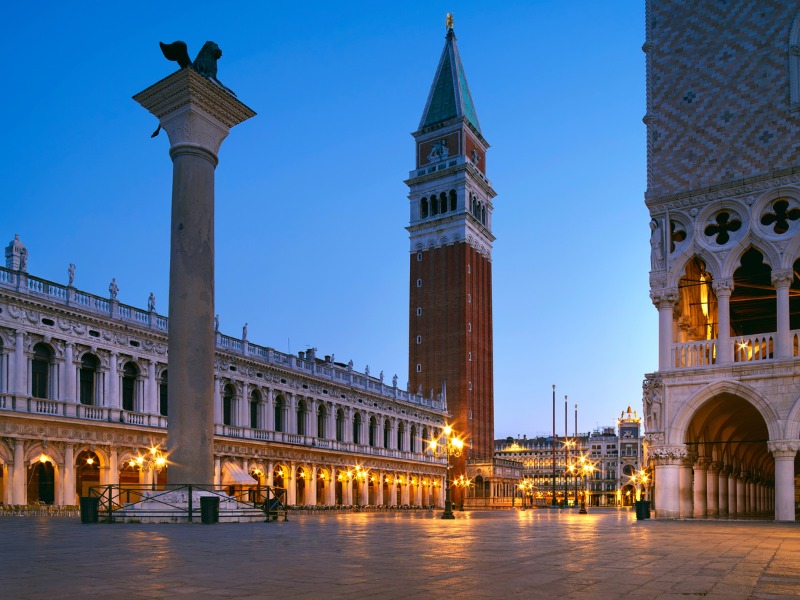 Among the places to visit in Italy, we mention St. Mark's Square, also known as Piazza San Marco, and one of the oldest parts of Venice. Located in the center of Venice, it is a must-see during your time in Venice for its rich historical significance and captivating ambiance.
This iconic square has been the central gathering place in Venice for centuries, with origins dating back to the 9th century. It's surrounded by architectural marvels, including St. Mark's Basilica, the Campanile (bell tower), and the Doge's Palace. The square has witnessed countless events, from grand celebrations to political rallies. Interestingly, it's one of the few places in the city referred to as a "piazza" instead of a "campo," highlighting its unique status.
Today, it continues to be a vibrant hub where visitors and locals gather to enjoy live music, feed the famous pigeons, and sip coffee at historic cafés, immersing themselves in Venice's timeless allure.
3. The Campanile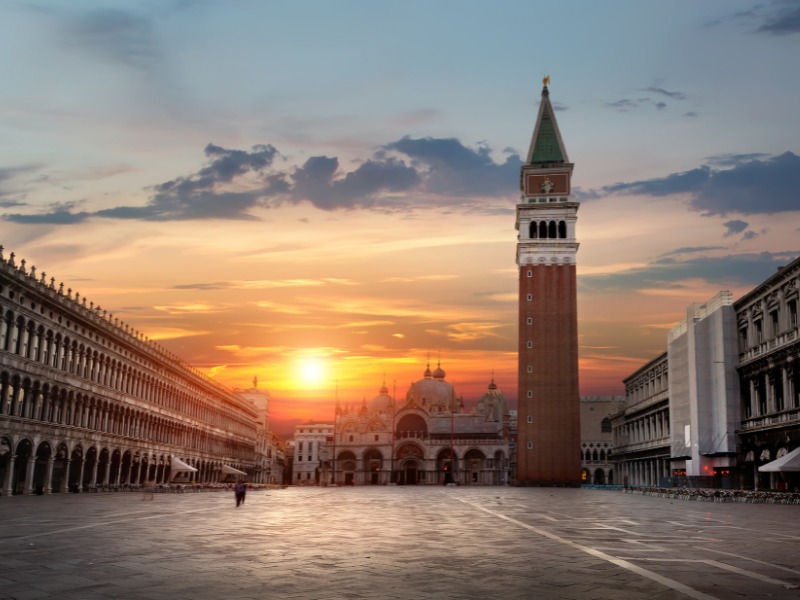 During your stay in Venice, one of the top things to do is climb the Campanile, the iconic bell tower in St. Mark's Square. It is not just an opportunity for breathtaking panoramic views of Venice; it's also a journey through history. Standing at 323 feet, this towering masterpiece was originally built in the 9th century as a watchtower. The present brick structure, with its distinctive belfry and golden angel weathervane, dates back to the 16th century.
Remarkably, it once served as a lighthouse to guide ships into the city's harbor. As you ascend the top of the bell tower and climb the 360 steps or take the elevator, you'll not only witness sweeping vistas of Venice and the lagoon but also appreciate the architectural and maritime heritage that has shaped this magnificent city over the centuries.
It's a must-do experience for history buffs and anyone seeking a bird's-eye perspective of Venice's timeless beauty.
4. The Doge's Palace (Il Palazzo Ducale)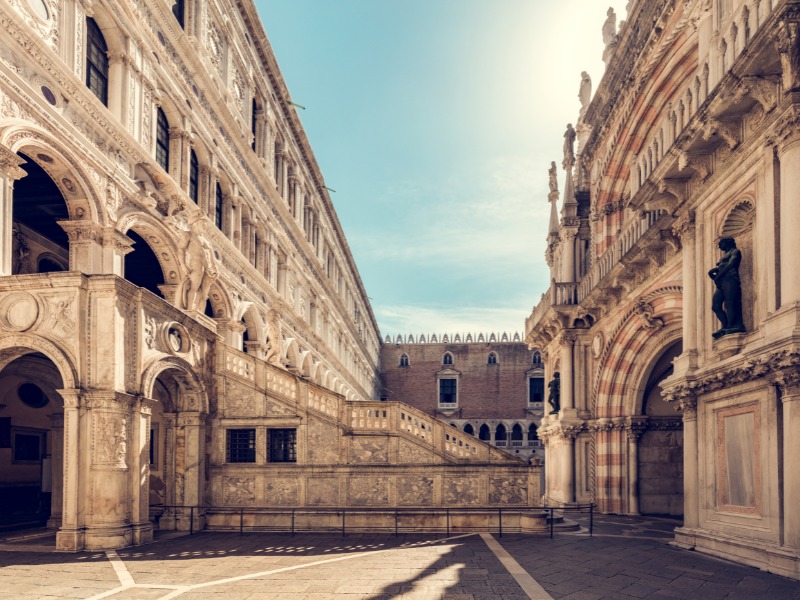 Another place to visit when you spend a day in Venice is The Doge's Palace, or Il Palazzo Ducale, which is a captivating testament to Venice's political and artistic grandeur.
This stunning Gothic palace served as the seat of Venetian government for centuries, with its construction dating back to the 14th century. It's a masterpiece of Venetian architecture, showcasing intricate details and masterful artwork, including works by famed painters like Tintoretto and Veronese.
You can explore the opulent chambers and the grand Council Hall and even walk across the famous Bridge of Sighs, which connects the palace to the adjacent prison. The Doge's Palace is a fascinating glimpse into Venice's history. It offers a profound understanding of the city's enduring influence, making it a must-visit for history and art enthusiasts.
Location:
The Doge's Palace is located in the heart of Venice, Italy, situated on St. Mark's Square (Piazza San Marco)
Operating hours
Procuratie:
Monday to Sunday: 08:00 am- 23:00 
Doge's Palace:
Monday-Thursday and Sunday 09:00 am – 18:00
Friday and Saturday: 09.00 am – 11.00 pm
Website:  During your trip to Venice, make sure to book the tickets on the official website.
5. The Islands of Murano, Burano, and Torcello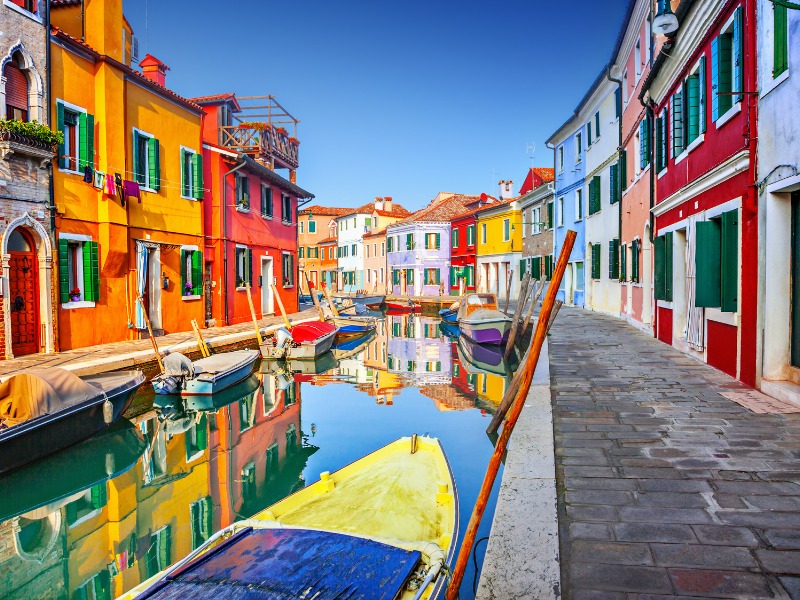 Among the best experiences in Venice is exploring the Murano, Burano, and Torcello islands by boat. It is a delightful Venetian excursion and one of the best ways to discover the city. Each island offers a unique experience: Murano is renowned for its centuries-old glassblowing tradition, allowing you to witness artisans at work and discover exquisite glass creations.
Burano's colorful houses and intricate lace-making heritage make it a photographer's dream, and its seafood dishes are a culinary delight. Torcello, the most serene of the three, boasts ancient churches, lush gardens, and a peaceful ambiance that transports you back in time.
A boat trip to these islands provides a captivating escape from Venice's bustling canals and a glimpse into the diverse culture and craftsmanship that flourish in the Venetian Lagoon.
6. Discover the Grand Canal and the Rialto Bridge 
One of the highlights in Venice is visiting the Grand Canal, and the well-known Rialto Bridge is like stepping into a living postcard. The Grand Canal is Venice's main waterway, bustling with Vaporetto water buses, sleek gondolas, and historic palaces lining its banks. A leisurely ride along this winding "street" offers a front-row seat and a great view of the city and Venice's architectural splendor, including the ornate facades of palazzos like Ca' d'Oro and Palazzo Barbaro.
The Rialto Bridge, one of Venice's most famous landmarks, is a stone marvel that arches over the Grand Canal. It's the ideal spot to soak in the city's bustling atmosphere, shop for souvenirs at the lively Rialto Market, or indulge in Venetian cuisine at nearby restaurants. The bridge and the Grand Canal are quintessential Venice experiences, offering a captivating blend of history, culture, and picturesque scenery that's not to be missed.
The Grand Canal and Rialto Bridge become a romantic wonderland when the sun sets over Venice. As the city's lights reflect on the water, an evening stroll along the canal's edge is enchanting. Couples and photographers flock to capture the magical atmosphere. At the same time, the Grand Canal's bustling daytime energy gives way to a more serene and romantic ambiance when you can enjoy the beauty of Venice. Exploring the Grand Canal and Rialto Bridge is essential to any Venetian adventure, whether it's the vibrant daytime scene or the ethereal twilight charm.
7. Visit Teatro la Fenice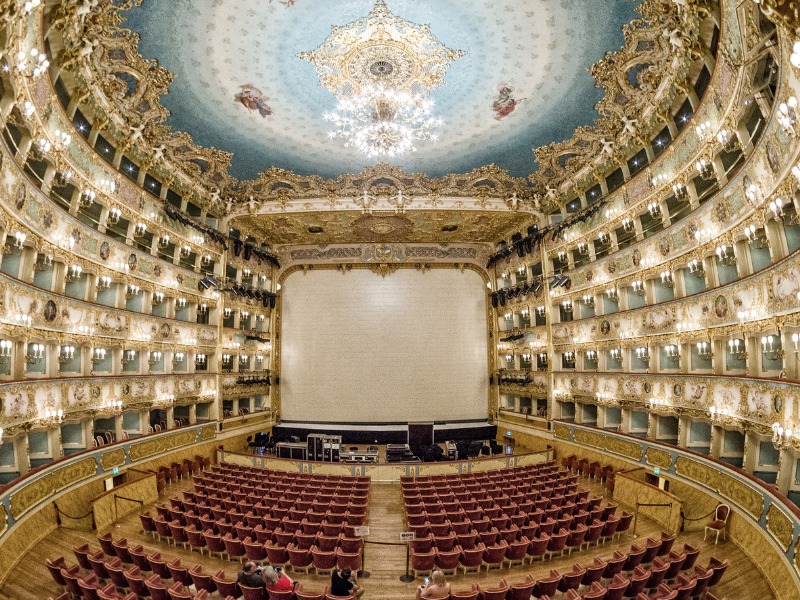 One of the top attractions and important landmarks of Venice is Teatro la Fenice. 
Teatro La Fenice, or "The Phoenix," is a legendary opera house in Venice, Italy, with a rich history and captivating charm. First opened in 1792, it has risen from the ashes multiple times due to fires, earning its name. This grand theater has hosted premieres of famous operas by composers like Verdi and Rossini, making it a cornerstone of Italian opera history.
The opulent interior showcases stunning chandeliers, intricate frescoes, and plush velvet seating, providing an immersive experience for opera enthusiasts. Its remarkable acoustics and intimate setting make it a must-visit for music lovers, and guided tours provide insight into the theater's rich history, including its reconstruction after a devastating fire in 1996.
One fascinating fact about Teatro La Fenice is its long-standing tradition of commissioning new works. Giuseppe Verdi's "La Traviata" and "Rigoletto" both premiered here, cementing the theater's reputation as a hub for innovation in opera. Additionally, the theater has seen performances by world-famous artists like Maria Callas and Luciano Pavarotti.
Its significance in opera and its historical resilience following fires make Teatro La Fenice a cultural gem that continues to shine brightly in Venice's cultural landscape.
8. The Basilica Di Santa Maria Della Salute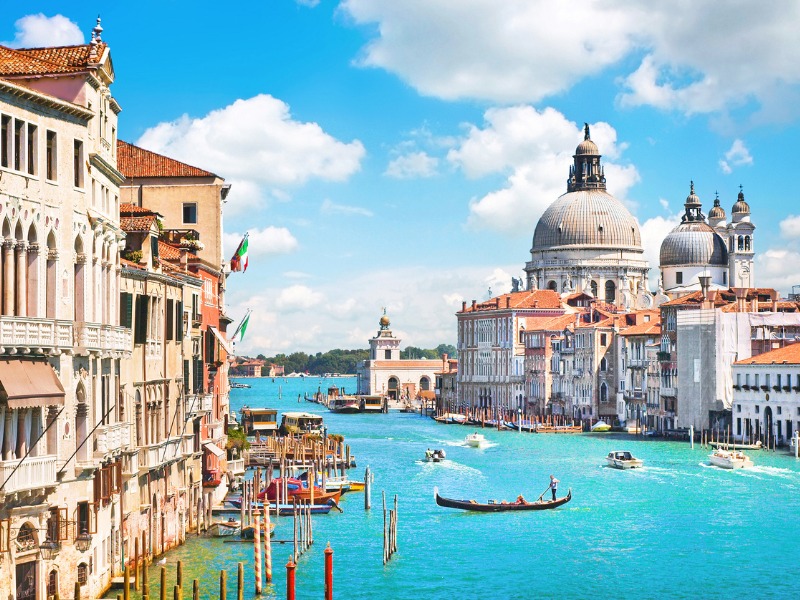 Another Venice attraction is The Basilica di Santa Maria della Salute, often called La Salute. This stunning church graces the entrance to the Grand Canal in Venice, Italy.
This architectural masterpiece was constructed in the 17th century as a token of gratitude for the city's deliverance from a devastating plague. Its distinctive octagonal design, crafted by Baldassare Longhena, showcases a harmonious blend of Baroque and Renaissance elements.
As you approach La Salute from the Grand Canal, its grand dome and elegant façade make for a breathtaking sight. Inside, the church houses a treasure trove of art, including works by renowned Venetian painters like Tintoretto and Titian, making it a place of worship and a cultural sanctuary.
One fascinating fact about La Salute is its annual festival, celebrated on November 21st. During the "Festa della Madonna della Salute," a temporary floating bridge, known as the "Ponte della Salute," is erected over the Grand Canal, allowing Venetians to pilgrimage to the church.
Locals and visitors participate in this tradition, making it a vibrant and heartfelt expression of devotion. It is a testament to the city's resilience in the face of adversity and its enduring cultural and spiritual significance, making it a must-see landmark for those exploring Venice.
Location:
The Basilica is located at the entrance to the Grand Canal.
Operating hours:
Summer (April 1-October 31): from 9:00 to 12:00 and from 15:00 to 17:30;
Winter (November 1-March 31): from 9:00 to 12:00 and from 15:00 to 17:30.
You can buy tickets for la Sacrestia and the la Balaustra on the official website.
Admission to the Major Rotonda is free and without a ticket or offering, while the Minor Rotonda is reserved for the personal prayer of the faithful and various liturgical celebrations.
9. The Church of San Giorgio Maggiore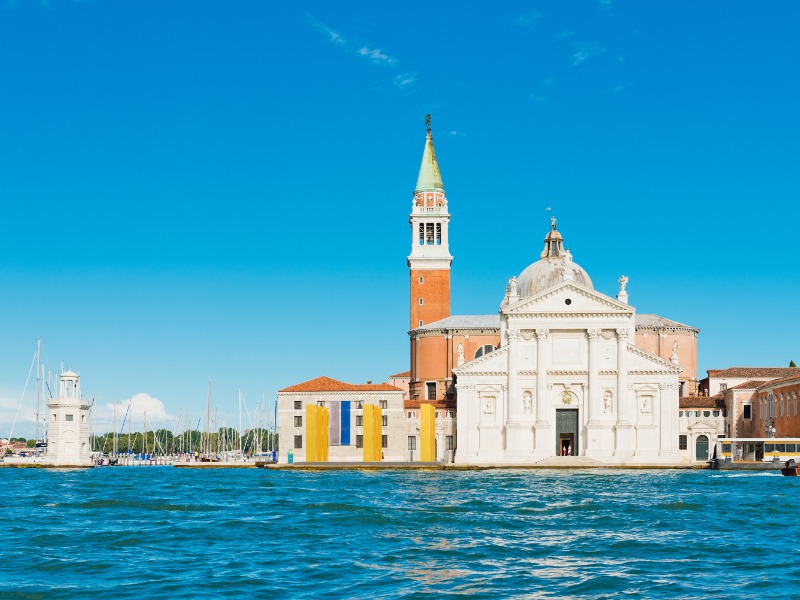 Visiting the Church of San Giorgio Maggiore is like discovering a hidden gem in the heart of the city, and it is one of the best places to visit in Venice. This neoclassical masterpiece, created by the famous architect Andrea Palladio in the 16th century, showcases his innovative architectural style.
The church's pristine white facade and harmonious proportions stand out against the Venetian skyline. Inside, you'll find exquisite artworks, including Tintoretto's "The Last Supper" adorning the high altar. The panoramic view from the church's bell tower makes a visit truly special, which offers unparalleled vistas of Venice, St. Mark's Square, and the lagoon.
It's a serene escape from the crowds and a chance to appreciate Palladio's architectural genius, which is why it's a destination that should not be missed by art and architecture enthusiasts.
10. The Collection of Peggy Guggenheim
Another attraction in Venice and one of the 20 best things you should not miss is the Peggy Guggenheim Collection, housed in the historic Palazzo Venier dei Leoni along the Grand Canal in Venice, a treasure trove of modern art. An American art collector and patron, Peggy Guggenheim lived in Venice and amassed an impressive collection of 20th-century masterpieces. Her collection includes works by prominent artists such as Picasso, Kandinsky, Pollock, and Dalí.
The palazzo, a striking 18th-century building, provides a charming backdrop to this exceptional collection. Visitors can explore Peggy's art-filled living quarters and the enchanting sculpture garden while immersing themselves in the transformative power of modern art. The Museum is a testament to Guggenheim's dedication to supporting emerging artists and her enduring legacy as a prominent figure in the art world.
One interesting fact about the Collection is its iconic resident, Peggy's pet dogs. She had a pack of beloved Lhasa Apsos, and they are now buried in the palazzo's garden, where visitors can pay their respects. The Museum offers an unparalleled journey through modern art and a glimpse into the life and passions of its formidable collector. It remains a cultural beacon in Venice, attracting art enthusiasts and visitors worldwide to appreciate its unique blend of art, history, and personal charm.
 Location: 
The Museum is located at the Palazzo Venier dei Leoni, which stands along the Grand Canal.
Operating Hours: 
The Museum is open every day from 10 am to 6 pm. 
On Tuesday, the Museum is closed.
Website: 
Make sure to buy tickets on the official website.
11. The Scuola Grande di San Rocco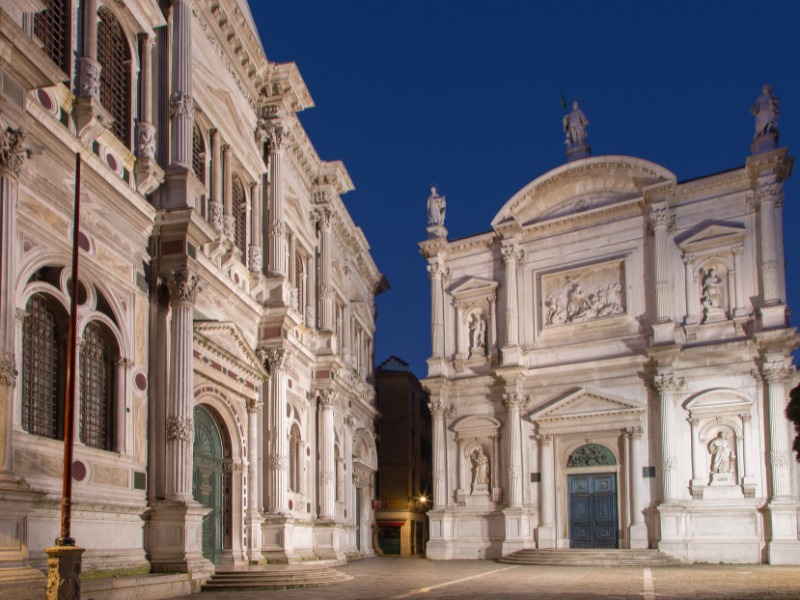 When creating your Venice itinerary, include The Scuola Grande di San Rocco, a hidden treasure in Venice, a splendid illustration of Renaissance architecture, and a confirmation of the city's opulent artistic legacy. Built in the early 16th century, the Scuola Grande di San Rocco headquarters was a charitable confraternity.
The highlight of this architectural masterpiece is its interior, adorned with an astounding collection of works by Tintoretto, one of Venice's most celebrated painters. Tintoretto spent 23 years decorating the Scuola's interior with masterpieces like "The Crucifixion" and "The Last Supper," showcasing his remarkable skill in depicting dramatic scenes and capturing raw emotions. The Scuola also houses a vast collection of valuable art, including sculptures, paintings, and intricate woodwork, providing visitors with a comprehensive view of the town's artistic and cultural legacy.
One fascinating fact about the Scuola Grande di San Rocco is the tradition of lighting thousands of candles during special occasions, creating an awe-inspiring and ethereal atmosphere. The Scuola's elaborate façade also boasts intricate sculptures and decorative elements, making it a remarkable example of Venetian Renaissance architecture.
This hidden treasure offers a profound and immersive experience, making it a must-visit for art enthusiasts and history buffs, offering a glimpse into Venice's golden age of artistic creativity.
12. Take a gondola tour and discover Venice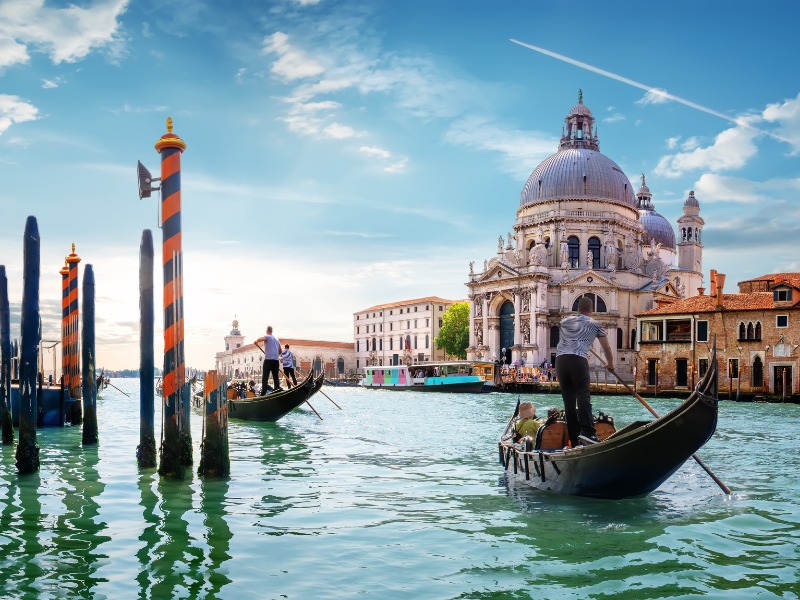 One of the best things to do in Venice is go on a gondola ride. 
Discovering Venice by gondola is an enchanting journey through the city's centuries-old waterways, offering a unique perspective on its history and culture as well as one of the best experiences in the city. Gondolas, the iconic black boats propelled by skilled gondoliers, have been an integral part of Venetian life for over a thousand years. Originally, they were the primary mode of transportation for Venetians navigating the city's canals, and each gondola is uniquely crafted with ornate decorations and symbols representing Venice's history.
Today, taking a gondola ride is a quintessential Venetian experience. Gliding along the narrow canals and beneath charming bridges, you'll gain a deeper appreciation for the city's architectural marvels and the serene ambiance that has captivated visitors for centuries. Let the gondolier serenade you with a traditional Venetian song, enhancing the romantic atmosphere.
One interesting fact about gondolas is their unique construction. They are asymmetrical, with a slight lean to the right, which helps counterbalance the gondolier's weight. Additionally, the iron prow of a gondola often features a stylized representation of Venice's Doge's cap and six prongs, representing the six sestieri (districts) of Venice.
While taking a gondola ride can be a bit pricey, it's a once-in-a-lifetime experience that lets you see Venice from a different angle and appreciate the city's deep connection to its aquatic roots. Whether for romance or exploration, a gondola ride is a timeless adventure that reveals the true essence of Venice.
13. The Bridge of Sighs (Il Ponte dei Sospiri)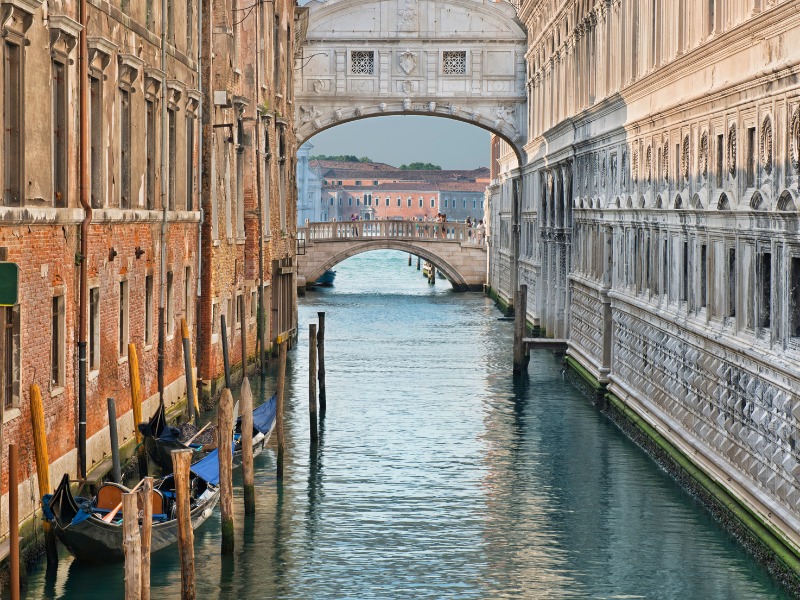 The Bridge of Sighs, known as Il Ponte dei Sospiri in Italian, is an iconic landmark that captures romance and intrigue, and it's one of the oldest bridges in Venice. Built in the early 17th century, this enclosed white limestone bridge connects the Doge's Palace to the New Prison across the Rio di Palazzo.
The bridge earned its poetic name from the supposed sighs of prisoners who glimpsed their last view of the city and freedom before being incarcerated, often never to return. Its unique architecture, featuring small windows with stone bars, adds to the sense of mystery and melancholy surrounding the bridge. 
The Bridge of Sighs embodies Venice's storied past and is a favored location for tourists to capture photos and savor the city's enduring charm.
14. Cannaregio district and Campo del Ghetto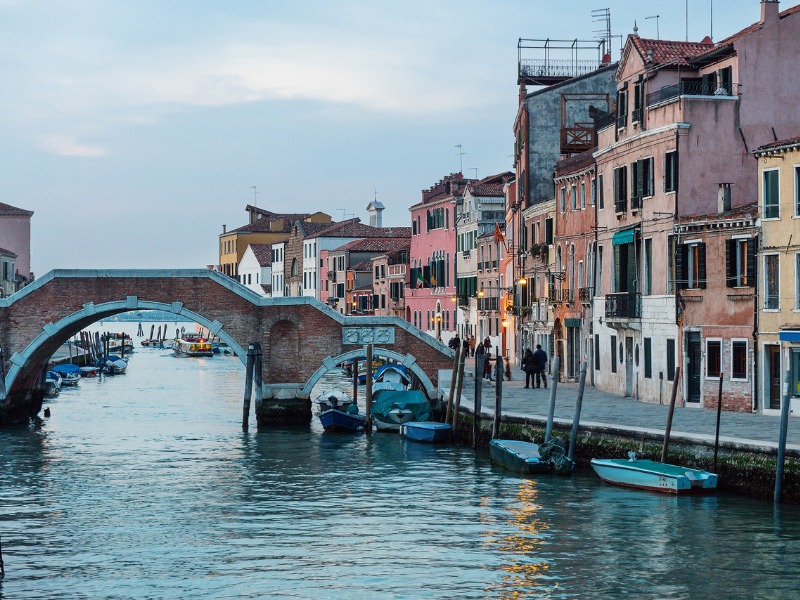 Another experience in Venice that you should not miss is exploring Venice's Cannaregio district, particularly the Campo del Ghetto, which offers a fascinating journey through the city's diverse history and cultural heritage. Cannaregio is one of Venice's six historic districts, known for its picturesque canals, charming alleys, and vibrant local atmosphere where you could do some sightseeing in Venice. Within Cannaregio lies Campo del Ghetto, the historic Jewish quarter.
In the 16th century, the Venetian Republic confined its Jewish population to this area, making it one of the world's first ghettos. Despite these restrictions, the Jewish community thrived here, and today, visitors can explore its synagogues, museums, and shops. The Jewish Museum of Venice, housed in the beautiful Scuola Levantina, offers a rich collection of artifacts, manuscripts, and art that chronicles the history of Venetian Jews. Campo del Ghetto is a charming square where you can enjoy a coffee at a local café and immerse yourself in the district's unique ambiance.
Interestingly, the term "ghetto" originated from the Venetian word "ghèto," which referred to the foundry where cannonballs were made. The Jewish quarter was near this foundry, hence the name. Cannaregio and Campo del Ghetto provide a compelling blend of history and contemporary life, allowing visitors to appreciate Venice's multicultural past and present. It's a district filled with hidden gems, where you can experience the city's cultural diversity and savor authentic Venetian cuisine at local trattorias.
15. The Dorsoduro district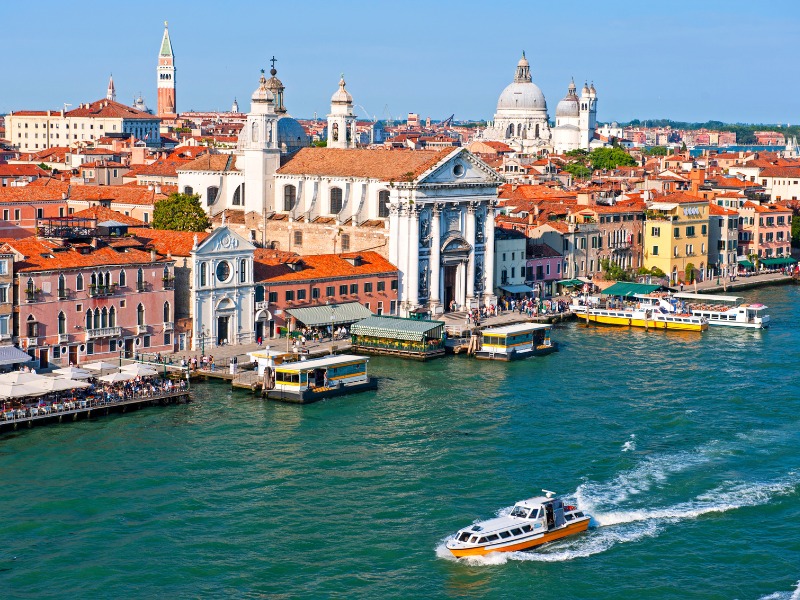 Dorsoduro district in Venice is a captivating blend of history and artistry that you could enjoy during two days in Venice. It's known for housing some of the city's most renowned museums and cultural institutions, including the Gallerie dell'Accademia, which boasts an exceptional collection of Venetian paintings, and the Collection of Peggy Guggenheim, with its treasure trove of modern art. Dorsoduro's name derives from its relatively solid ground compared to the other districts, as "dorso duro" means "hard back."
This allowed for the construction of grand palazzos and churches, such as the imposing Basilica of Santa Maria della Salute. Dorsoduro also embraces the city's timeless charm with its picturesque canals, intimate squares, and meandering streets, making it a beloved destination for art enthusiasts and those seeking an authentic Venetian experience.
16. San Giorgio Maggiore Island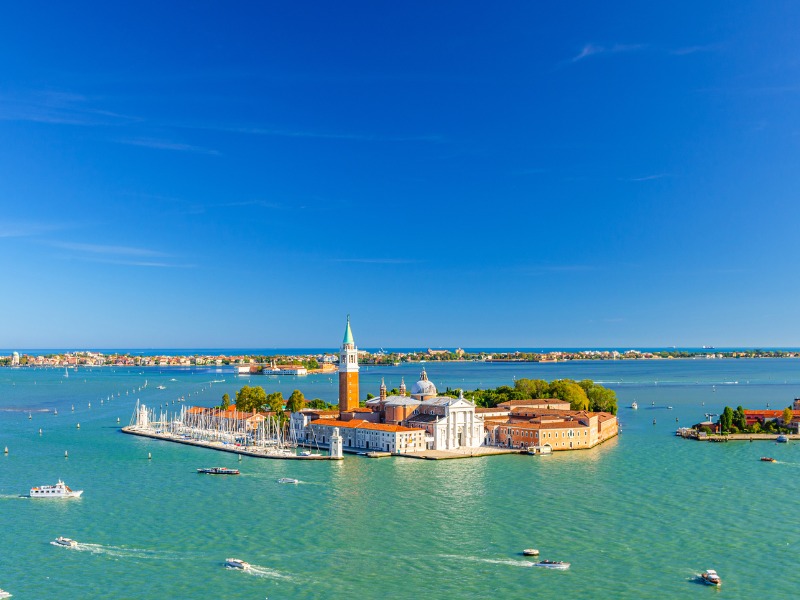 Another thing to see in Venice is the island of San Giorgio Maggiore, a tranquil escape from the city's bustling canals and crowds. The island is dominated by the majestic Basilica of San Giorgio Maggiore, designed by renowned architect Andrea Palladio in the 16th century. This architectural masterpiece offers a serene oasis adorned with exquisite artworks, including Tintoretto's "The Last Supper" inside the church.
The island also houses the Fondazione Cini, a cultural center dedicated to art and music, and a bell tower that rewards climbers with breathtaking panoramic views of Venice. San Giorgio Maggiore's serene gardens and waterfront promenade make it an ideal spot for strolls, and its role in Venice's cultural and architectural heritage makes it a must-visit destination for those seeking a deeper understanding of the city's artistic legacy.
17. Lido di Venezia Beach
You can't visit Venice without seeing Lido di Venezia, often simply referred to as Lido, which is a delightful experience that offers a different perspective on Venice. Situated between the Venetian Lagoon and the Adriatic Sea, this narrow strip of land is renowned for its expansive sandy shores, drawing in sun enthusiasts and water sports aficionados alike.
Lido has a unique history as the site of the Venice Film Festival, one of the world's oldest and most prestigious film festivals, held annually since 1932 at the historic Palazzo del Cinema. Lido is also home to elegant Art Nouveau villas, charming streets, and an 18-hole golf course, adding to its allure as a destination for leisure and relaxation. Visitors can explore the island by renting bicycles or simply enjoy the laid-back atmosphere and local cuisine at the numerous beachfront restaurants and cafés.
An interesting fact is that Lido di Venezia was once a sandbar, and its name is derived from the Italian word "lido," meaning "shore" or "beach." Its transformation into a popular resort destination began in the late 19th century when grand hotels were built along the shoreline, attracting tourists and dignitaries worldwide.
Lido is not only a haven for beach lovers but also a place where you can escape the crowds of Venice while still savoring its unique charm. For a day trip, accessible by a Vaporetto ride from Venice's main islands, Lido provides a relaxing and picturesque retreat that complements the rich cultural experience of the city. Make sure to include it on the list of the best things to see when travelling to Venice! 
18. The Carnival in Venice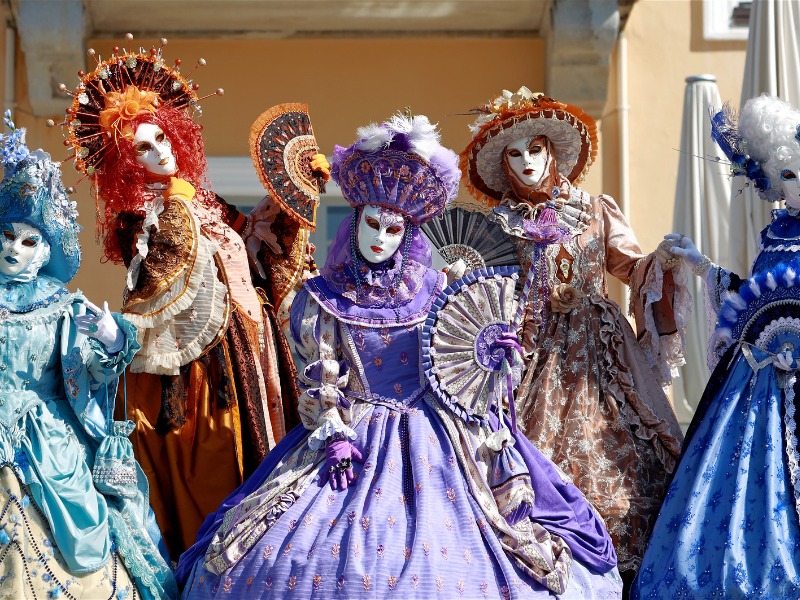 Venice would not be complete without its magnificent Carnival, featured in every Italy travel guide. 
One of the highlights of Venice is The Carnival, renowned for its opulent masks and extravagant costumes. It is a centuries-old tradition that dates back to the 12th century. The Carnival was originally a time for Venetians to indulge in festivities before the austerity of Lent, offering a brief respite from daily life.
During its heyday in the 18th century, the Venetian Carnival was famous throughout Europe for its grand masquerade balls, elaborate masks, and lavish costumes. Masks, in particular, played a significant role, allowing people of all social classes to mingle anonymously, fostering a sense of equality, and freeing participants to engage in playful and sometimes provocative behavior.
One interesting fact is that the tradition of wearing masks during the Carnival was so popular that strict laws were regulating their use. Masks allowed Venetians to transcend societal roles, providing an opportunity for political satire and social commentary.
Today, the Venice Carnival is a globally recognized event, drawing tourists from all over the world. It features a grand opening ceremony in St. Mark's Square, where participants don traditional costumes and masks. The festival has numerous events, including masquerade balls, music performances, and street entertainment. The Carnival's enduring popularity is a testament to Venice's rich cultural heritage and its ability to capture the imagination of people of all ages.
19. Gallerie dell'Accademia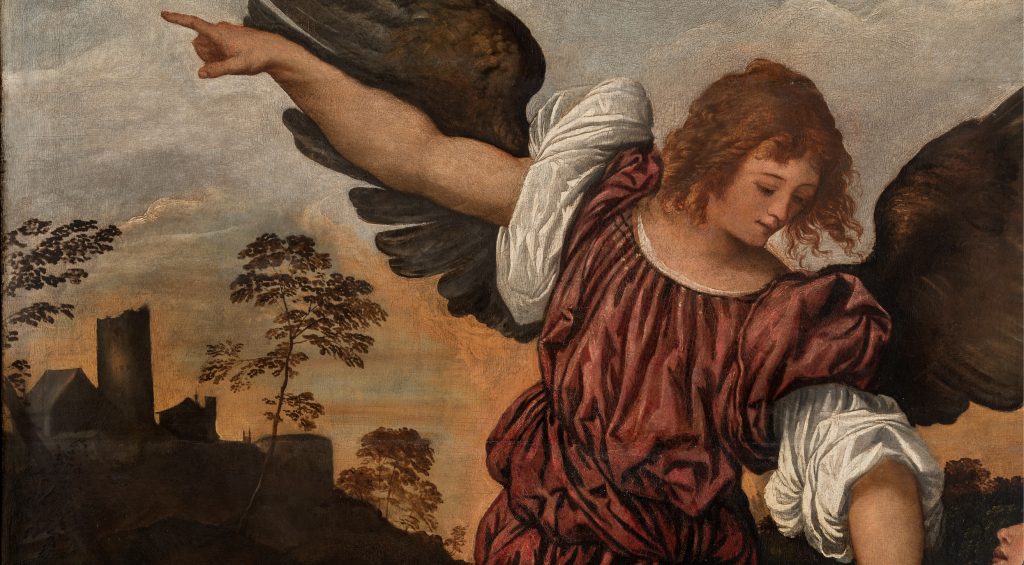 Among the best places in Venice, we mention The Gallerie dell'Accademia, a treasure trove of Venetian art and culture, containing an extraordinary assortment of paintings covering the period from the 14th century to the 18th century. Originally founded in the 18th century as an art academy, it later evolved into a museum to preserve and showcase some of the city's finest artistic achievements.
The gallery's most celebrated work is Michelangelo's masterpiece, "David and Goliath," an incomplete sculpture that provides a distinctive glimpse into the artist's creative journey. The Gallerie dell'Accademia is also home to an impressive collection of Venetian Renaissance and Baroque paintings featuring works by renowned artists like Titian, Tintoretto, and Veronese. Interestingly, the gallery's location was once a church and convent, and its transformation into an art institution played a crucial role in preserving Venetian art during Napoleon's rule when numerous religious establishments were repurposed or destroyed.
Another notable aspect of the Gallerie dell'Accademia is its contribution to the cultural identity of Venice. The Museum's carefully curated collection showcases the evolution of Venetian art over the centuries, highlighting the city's role as a vibrant center of artistic innovation and creativity. It gives visitors a deeper understanding of Venetian culture and its enduring influence on the art world. The Gallerie dell'Accademia remains a must-visit destination for art enthusiasts and history buffs, offering a unique opportunity to immerse oneself in the rich artistic heritage of Venice.
Location: Campo della Carità, Dorsoduro
Operating Hours:
Gallerie dell'Accademia can be visited on mondays from 8:15 to 14:00, respectively from tuesday to sunday from 8:15 to 19:15.
For more details, visit the official website.
20. Libreria Acqua Alta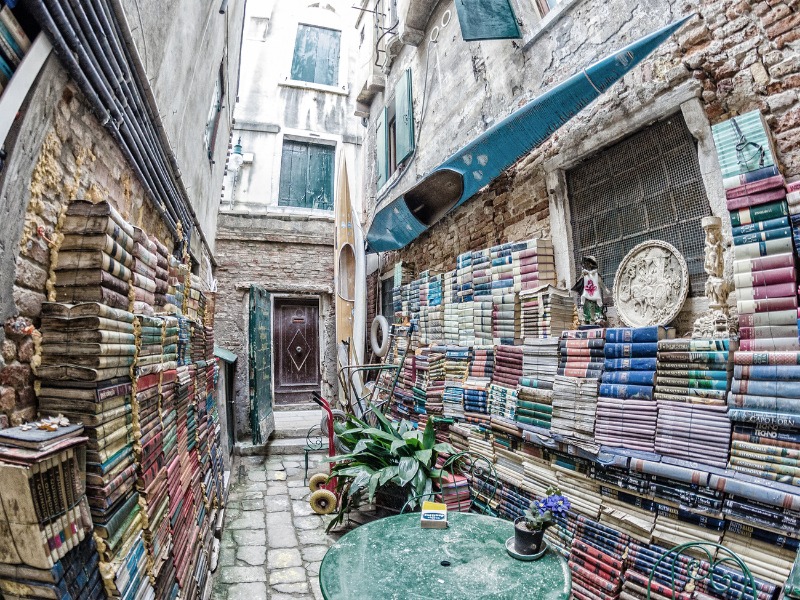 When you're in Venice, you should also include the 'Libreria Acqua Alta' in the guide to the best things to visit. 
Libreria Acqua Alta, or the "Bookstore of High Water," is a one-of-a-kind literary haven nestled in Venice's Castello district. This enchanting bookstore has a unique claim to fame: it's designed to withstand Venice's frequent floods, which often result in rising water levels. To combat this, books are stacked in gondolas, bathtubs, and waterproof bins, creating a whimsical and rustic atmosphere.
The shop's eclectic collection ranges from rare books to vintage magazines, providing a treasure trove for bibliophiles and collectors. One particularly charming feature is the staircase made entirely of books, leading to a narrow canal where visitors can relish picturesque vistas of Venice.
Historically, Libreria Acqua Alta was founded by Luigi Frizzo, who sought to create a sanctuary for books at risk of being damaged by the city's notorious acqua alta. The shop's name pays homage to this watery challenge.
Another intriguing fact is that it's a popular spot for photography enthusiasts, thanks to its eccentric decor and the opportunity to capture images of books floating on the water. This quirky yet endearing bookstore embodies Venice's resilience and creative spirit in the face of its unique environmental challenges, making it a must-visit destination for book lovers and travelers seeking a truly memorable experience in the city of Venice.
Interesting Facts about Venice
Often referred to as the "City of Canals" or the "Floating City," Venice is one of the most mesmerizing and iconic destinations that holds a special place in the annals of history.
Established more than 1,500 years ago on a cluster of 118 small islands within the Venetian Lagoon, Venice ascended to become a formidable maritime republic during the Middle Ages. Venice emerged as a powerful maritime republic in the Middle Ages. Its strategic location allowed it to flourish as a major trading hub, connecting the East to Western Europe.
Venice became known for its wealth, art, and distinctive culture, producing legendary figures like Marco Polo and timeless works of art by Titian, Tintoretto, and Canaletto.
One fascinating historical fact is that Venice's unique urban layout was designed to navigate the challenges of its lagoon setting. The city's canals served as thoroughfares and defensive moats, while its elegant palaces and ornate churches emerged as architectural marvels.
Today, Venice is renowned for its stunning architecture, intricate bridges, and the Grand Canal, which winds its way through the city's heart. Venice also boasts world-famous events like the Venice Carnival and the Film Festival, drawing travelers from around the globe to experience its rich history, art, and enduring allure.
List of Free Things to Do in Venice
Exploring Venice on a budget? You're in luck because this enchanting city offers a variety of free activities to enjoy. Make sure to include them on your Venice bucket list! Begin by strolling along Venice's picturesque canals, crossing iconic bridges like the Rialto Bridge and the Bridge of Sighs.
Wander through charming neighborhoods like Cannaregio and Dorsoduro, where you can soak in the city's unique atmosphere and architecture without spending a dime.
Make sure to seize the chance to explore a few of Venice's magnificent churches, including the Basilica di San Marco and Basilica di Santa Maria della Salute, since admission to these historical sites is frequently complimentary.
Another cost-free delight is exploring Venice's vibrant markets, like the Rialto Market, where you can browse colorful produce and local delicacies. Head to Campo Santo Stefano or Campo Santa Margherita for a dose of culture, where street performers and artists often showcase their talents.
And if you're into history, take a leisurely walk through Venice's picturesque cemeteries, such as San Michele Cemetery Island, where you can discover the final resting places of notable figures.
With a little creativity and a willingness to explore, Venice offers a plethora of free activities that allow you to savor the city's unique charm without breaking the bank.
Best Time to Visit Venice
The best time to visit the city largely depends on your preferences and priorities. The spring months of April to June and the early fall period from September to October are generally considered the most favorable. The weather is pleasant during these times, and the city experiences fewer crowds, making it ideal for sightseeing and outdoor activities.
The months of July and August during the summer can become notably warm and congested, with high humidity and increased tourist numbers. Still, it's also when you can partake in events like the Film Festival and enjoy longer daylight hours. Winter, from November to February, is the least crowded season, but Venice can be chilly and experiences occasional flooding, known as "aqua alta."
It's a great time to explore indoor attractions and savor Venetian cuisine. Ultimately, the best time to visit the city depends on your personal preferences, whether you prioritize pleasant weather, cultural events, or fewer crowds.
Venice, with its timeless beauty, rich history, and unique charm, is an unparalleled destination for travelers seeking an unforgettable experience. Its enchanting canals, historic palaces, and intricate bridges create a visual feast that transports visitors to another world. The city's artistic legacy, from Renaissance masterpieces to contemporary cultural events like the Venice Film Festival, ensures something to captivate every art enthusiast.
Moreover, Venice's culinary delights, including fresh seafood and delectable cicchetti, offer a mouthwatering taste of Italian cuisine. Whether you're navigating the labyrinthine streets or gliding along the Grand Canal in a gondola, Venice's magnetic allure never wanes.
Beyond its aesthetic appeal, Venice invites travelers to explore its rich history and unique cultural tapestry. Iconic landmarks like St. Mark's Basilica, the Doge's Palace, and the Galleria dell'Accademia are living testaments to centuries of artistic and architectural achievement.
The city's traditions connect vividly to its past, from the Venice Carnival to historic regattas. Additionally, Venice's capacity to blend serene, off-the-beaten-path corners with bustling piazzas and vibrant markets ensures that every visitor can find their Venetian adventure. In essence, Venice's magnetic appeal is an invitation to immerse oneself in the beauty of a city that has transcended time, making it an extraordinary destination for travelers worldwide.
Did you enjoy this article on things to do in Venice? Help us spread the word by sharing it with your friends.