Are you a Bali solo traveler, pondering over the question: 'Is Bali safe to travel alone?' Let's delve into the experiences of traveling to Bali alone and the safety aspects of Bali solo travel.
Bali is frequently named as one of the best travel destinations in the world – and it's not hard to see why. 
With such a variety of things to see and do, Bali quite literally offers something for everyone, regardless of age, background, or budget. 
The endless warm weather soaks the stunning landscape of beaches, rainforests, and rural towns in sunshine and good vibes. At the same time, the friendly locals welcome all to share the joys of their idyllic island. 
As a country popular with digital nomads, Bali is a safe and welcoming place for solo travelers.
Top Reasons to Visit Bali as a Solo Traveler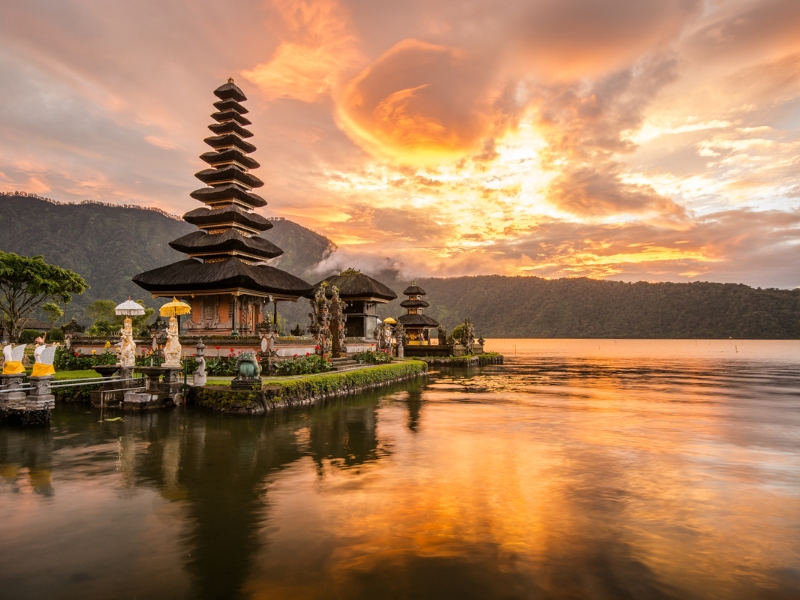 People travel to this stunning country for a myriad of reasons, drawn to its well-known party scene, spiritual retreats, and incredible scenery. So there's always a diverse mix of interesting people to make friends with. 
Here are our top reasons why Bali is an excellent destination for a solo holiday.
Incredible culture and history
The island of Bali is dripping with history and cultural delights. Throughout the island, there are countless relics to explore. Named as the land of a thousand temples, Bali is teeming with breathtaking ancient religious monuments. 
From sea temples set above the rolling azure waters to ancient moss-covered temples hidden deep in the dense rainforests, you could spend days exploring these beautifully constructed, unique buildings. 
The best part about many of these sacred places is the significance they still hold for the locals in Bali – at many of the temples, you can see people dressed in elaborate costumes, reenacting religious stories through traditional Balinese dance. 
A mecca of healing
As a country with deep spiritual roots, Bali is often sought out as a destination for solo travelers looking to embark on a journey of self-discovery and self-healing. 
The tranquil energy that is believed to radiate from this island offers a haven for those seeking enlightenment, meditation, and yoga enthusiasts. 
People flock worldwide to heal their mind, body, and soul under the everlasting sunshine on this beautiful island. And as so many people come together in this cultural melting pot, there are a great variety of culinary delights to be found. 
Vegetarian and vegan options are readily available, and restaurants are extremely accommodating towards specific dietary requirements.
Friendly and safe
The islanders of Bali are genuine, kind, and friendly people. Many of them speak English, and with so many other travelers and ex-pats around, you won't have any trouble finding someone to connect with. 
Bali is considered a very safe place to travel solo, especially as everyone is keen to offer recommendations on places to see, eat at, and stay, as well as being happy to help you if you need some advice.
If you're concerned about finding your way on your own or are new to solo traveling, consider booking a guided tour to Bali. With a pre-planned yet flexible itinerary and no end of local knowledge and expertise, you can be reassured that you'll see some of the best places on the island. 
Plus, joining a tour is a great opportunity to make like-minded new friends while exploring together.
Affordable luxury
Throughout the island, the accommodation and eateries are all architecturally beautiful and appear far more expensive than they actually are. Dotted along the tropical coastline, you'll find plenty of luxurious places for a fraction of the expected price, making it much easier to enjoy a nice meal or book a private room when traveling alone. 
If you would like to try your hand at surfing, you can hire a board in Bali for far less than in other popular destinations. With countless beaches boasting crystal clear waters waiting for you, it's a great place to test your surfing skills. 
Much of the beauty of Bali is within its natural landscapes, and as of yet, most of these are free to access. From traversing lush rainforests to finding hidden waterfalls and natural pools to relaxing on the white, golden, and black sands of the dreamy bays across the coastline – you can enjoy paradise for free. 
Easy to travel around
Thanks to its popularity with tourists, Bali has a more advanced network of roads than other places in Indonesia. Most people opt for a moped to get around, and you can hire one for a small fee.
Many companies offer pickup and delivery services to the airport and hotels. So, it's a very accessible way to begin your adventures from the offset. 
Be sure to always wear a helmet and take caution when driving around the island, not only for safety but also due to the steep fines police will impose if they see you doing otherwise. Despite being abroad on a largely laid-back island, standard road safety rules such as not drinking and driving still apply. 
You'll want to go back, again and again
Bali is one of those destinations that everyone has fond memories of. No matter how much time you spend soaking up the sun on the postcard-perfect beaches or exploring the fascinating ancient temples and villages, there's always something else to see and do here. 
Is Bali Safe to Travel Alone?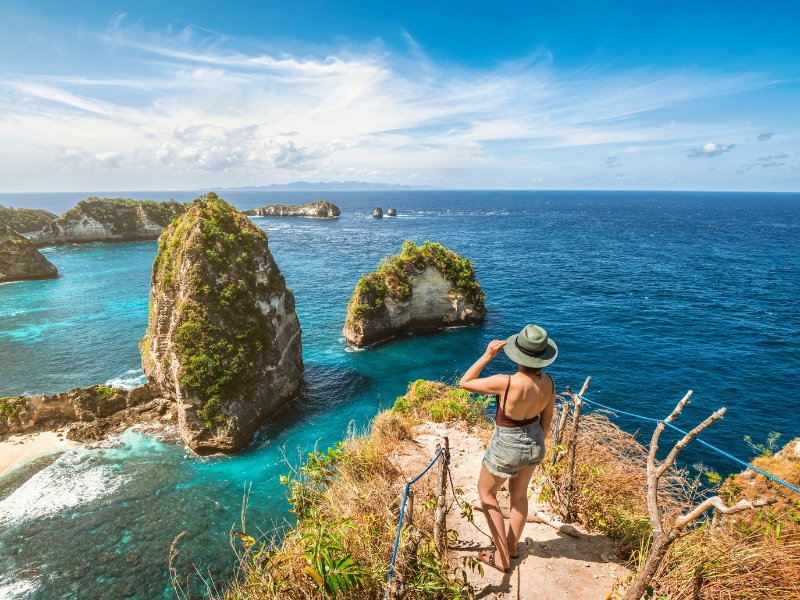 Bali is considered a safe destination for solo travelers, including women traveling alone. The island is renowned for its welcoming and friendly local community who are accustomed to tourists and are often eager to help. Nonetheless, like any travel destination, it's important to remain vigilant and follow certain safety guidelines.
Respect local customs and traditions, which plays a significant role in Balinese daily life. Dress modestly, particularly when visiting temples or attending local ceremonies. Secondly, be aware of your belongings and avoid displaying valuable items openly. While violent crime is rare in Bali, petty theft like pickpocketing can occur, especially in crowded tourist areas.
In terms of health, make sure to drink bottled water and be careful when consuming street food. If you plan on engaging in outdoor activities, like hiking, swimming or diving, ensure they are conducted with certified guides or reputable companies. Always take necessary precautions like wearing helmets when riding motorbikes and use reliable transportation services.
However, it's advisable to have travel insurance that covers theft, loss, accidents, and health issues while abroad.
Overall, Bali is a friendly, beautiful place for solo travelers, but maintaining awareness and taking precautions can make your trip safe and memorable.
Overall, we'd definitely recommend Bali as a great choice for solo travelers.
Best Things To Do in Bali When Travelling Alone
Nusa Lembongan Island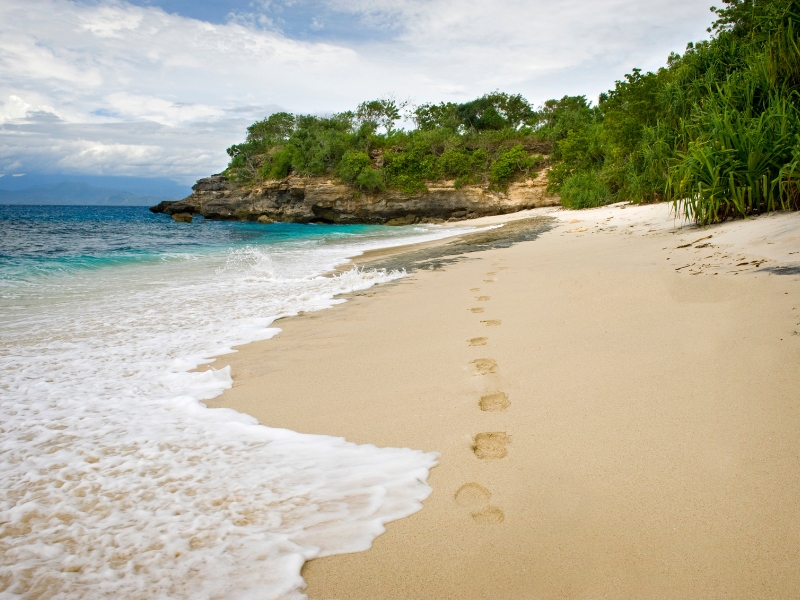 Just a short boat ride from mainland Bali, Nusa Lembongan Island is a paradise for those seeking unspoiled beaches, vivid coral reefs, and a relaxed island atmosphere. 
The island is known for its spectacular diving and snorkeling spots, where visitors can explore a colorful underwater world teeming with marine life. 
Whether you choose to bask on its beautiful beaches, explore its mangrove forests, or surf the crystal-clear waves, Nusa Lembongan provides a tranquil escape from the bustling tourist crowds of Bali.
Tegalalang Rice Terraces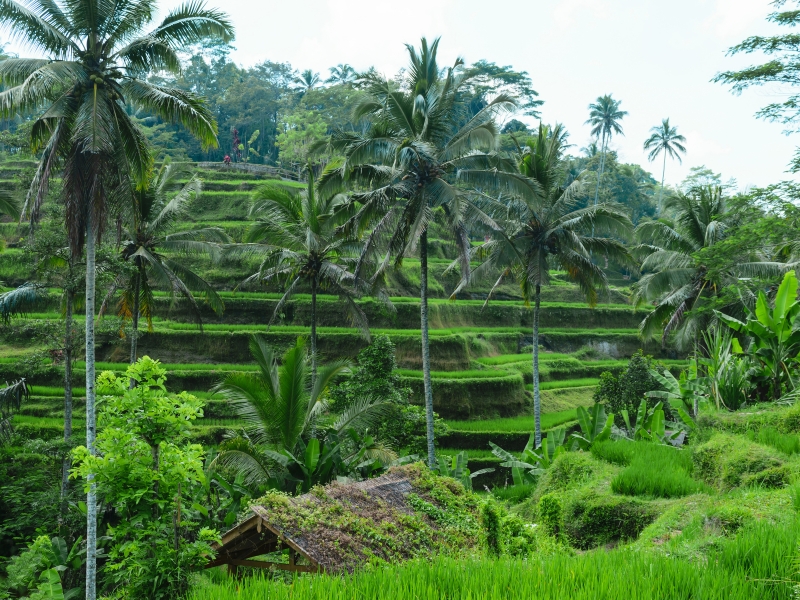 Among the rolling hills of Ubud, Bali, lie the breathtaking Tegalalang Rice Terraces, a UNESCO World Heritage site. They offer a serene retreat from the bustling towns, with the scenic vista of sun-kissed rice fields stretching in beautiful cascades. 
The terraces present a unique opportunity to understand the traditional irrigation system called "subak." 
One of Bali's iconic landscapes, the Tegalalang Rice Terraces are not just for viewing but also for exploring; walking paths meander through the rice fields, immersing visitors in the vibrant rural life of Bali.
Diamond Beach, Nusa Penida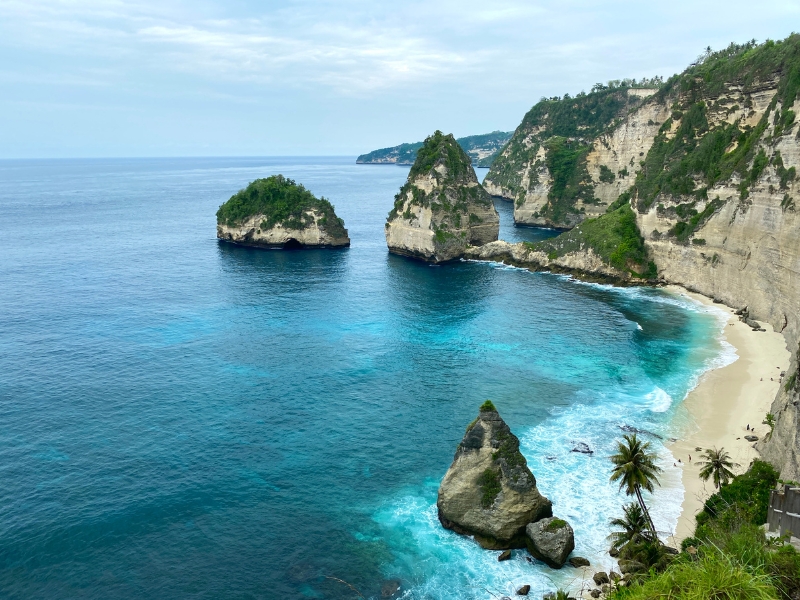 As one of the most spectacular beaches in Bali, Diamond Beach, located on the eastern tip of Nusa Penida, offers a distinct blend of awe-inspiring beauty and raw natural charm. 
Its unique diamond shape, crystal-clear turquoise waters, powdery white sands, and towering cliffs add to the picturesque allure of this hidden gem. 
The beach provides an unparalleled serene ambiance, making it perfect for sunbathing, swimming, and capturing those perfect vacation photos.
Ubud Monkey Forest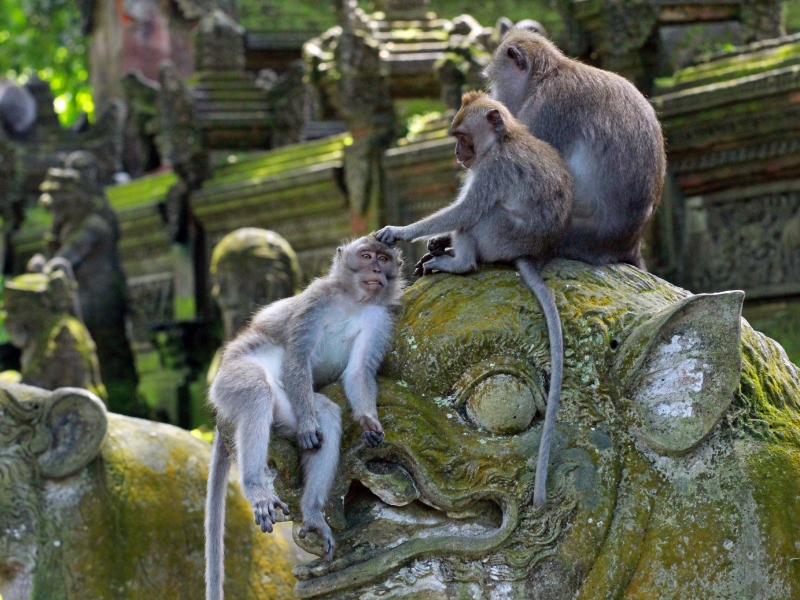 Nestled within the vibrant town of Ubud, the Sacred Monkey Forest Sanctuary, commonly known as Ubud Monkey Forest, is an essential stop for animal lovers and culture enthusiasts alike. 
This captivating sanctuary is home to over 700 long-tailed macaques living freely amongst ancient temples and lush greenery. Besides the unique opportunity to observe these fascinating creatures up close, the forest also holds spiritual significance, with three revered 14th-century temples providing a peek into Bali's compelling spiritual heritage.
Tegallalang and Jatiluwih Rice Terraces
Bali's cultural landscape is profoundly shaped by its picturesque rice terraces, particularly those of Tegallalang and Jatiluwih. 
These locations offer expansive views of lush rice paddies that sprawl across the contours of the hillsides, maintained by the traditional Balinese cooperative water management system of "subak." 
While Tegallalang, located near Ubud, is famous for its close proximity to tourist centers, the Jatiluwih Rice Terraces are a larger and less crowded alternative.
As a UNESCO World Heritage site, these terraces are unquestionably worth seeing for their sheer size, beauty, and testimony to Bali's agricultural traditions.
Pura Ulun Danu Bratan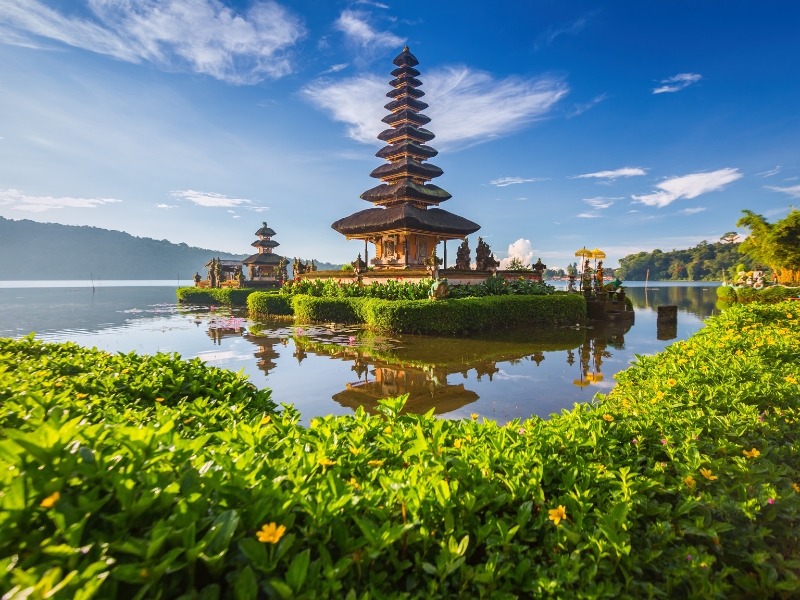 A trip to Bali would be incomplete without visiting the iconic Pura Ulun Danu Bratan, a picturesque water temple perched on Lake Bratan in the mountains near Bedugul. 
The temple's serene atmosphere and its breathtaking backdrop of a calm lake surrounded by mountains make it a photographer's dream. 
As one of Bali's most important temples, it is a magnificent example of traditional Balinese architecture as well as a sacred space for ceremonies honoring the lake and river goddess Dewi Danu.
Nusa Dua Beach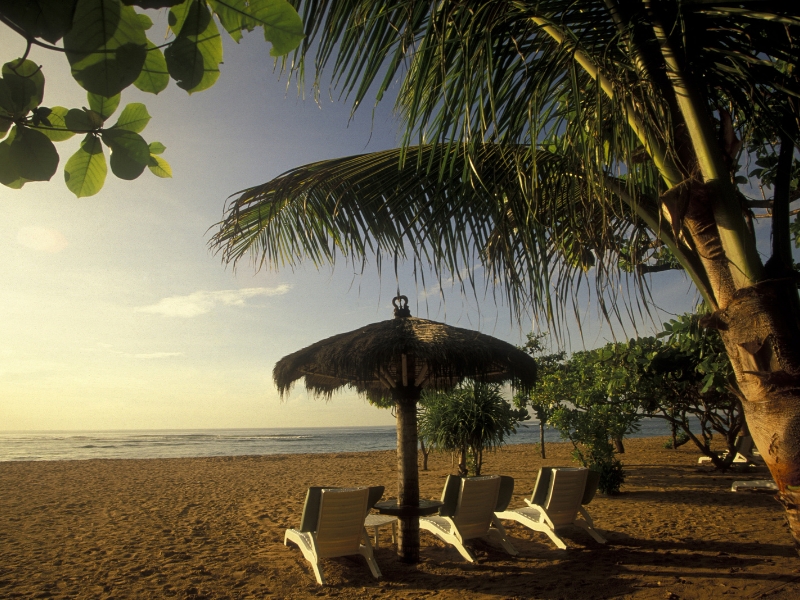 Located on the eastern coast of Bali's Bukit Peninsula, Nusa Dua Beach is an idyllic destination renowned for its pristine beaches, crystal-clear waters, and luxurious beach resorts. 
Its well-maintained and peaceful environment makes it an excellent location for water sports, sunbathing, and leisurely beach walks. The beach is also renowned for its nearby traditional art markets and world-class dining venues, giving visitors a taste of Balinese culture and cuisine.
Last Words on Solo Travel to Bali
In conclusion, Bali emerges as an exceptional destination for solo travelers. Its warm hospitality, cultural richness, and wide array of attractions make it a place where one can freely explore, learn, and unwind.
The island's diverse offering – from the tranquil rice terraces of Ubud to the vibrant marine life of Nusa Lembongan, and from the spiritual serenity of Pura Ulun Danu Bratan to the exciting beach life of Nusa Dua – ensures that every solo traveler will find something that resonates with their preferences.
Moreover, the opportunity to engage with the Balinese people, partake in their traditions, and indulge in their unique cuisine can provide enriching and unforgettable experiences. In this era of exploration and self-discovery, Bali is indeed a worthy contender on any solo traveler's bucket list.
Embrace the adventure, soak in the beauty, and you may just find that you're never truly alone in the journey of traveling alone.