When one thinks of holidays in Greece, where does the mind drift to? For culture vultures, Athens is the obvious venue. A thronging city surrounded by millennia of history draws visitors from across the globe. 
Thessaloniki has become a popular destination for city breaks as new air routes open up. Northern Europeans and Americans are traveling to the country's second-largest city since it serves as a gateway to explore the broader region of northern Greece. 
Moreover, you can explore the beautiful beaches of Halkidiki, the historical sites of Vergina, or the monasteries of Meteora. Over 2400 hours of sunshine fall on this area each year.
However, for beach and boating holidays, the Greek islands unsurprisingly dominate the conversation. It is hardly surprising when there are at least 220 inhabited islands, giving travelers many options, from the party crowd and five-star resorts of Mykonos to the traditional villages of Tinos.
With an eye on the unspoiled, coastal locations on the mainland have also started to twig the interest of the more adventurous traveler.
Here is a list of the best-hidden gems in Greece:
On the western tip of the Peloponnese region lies one of the most spectacular beaches in Greece, and some say the world. However, you won't be rubbing shoulders with sun worshippers and fighting to get a lounger; there's very little tourist trapping at Voidokilia. 
Here, a network of semi-circular sand dunes combine to form a horseshoe-shaped beach facing the Ionian Sea. Turn round, and you'll see Gialova Lagoon – one of Europe's premier birdwatching spots. 
Natura 2000 protected, the lagoon plays host to over 250 migratory birds, of which 79 are feared to be under threat of extinction. Expert guides offer tours by foot or bike, highlighting different species. For those arriving via the Ionian Sea, boat moorings are available in the marina at nearby Marathopoli.
Lavrio has a rich history dating back to ancient times. It was known as "Thorikos" in antiquity and was an important center for the extraction and processing of silver and lead.
The charming port town of Lavrio has been described as 'Attica's best-kept secret.' However, it's not likely to remain so for long. Only 36 miles (60km) from Athens, the Greek government has big plans for the place. 
Plans are underway to connect Lavrion to Athens airport – where a good many tourists commence their holidays in Greece – by rail, and the port will be upgraded to facilitate cruise ships heading toward the Aegean Islands. 
For now, you can enjoy an ice cream from the farmer's market every Thursday and wash down the local mixed seafood platters – pikilia – with local drinks at the ouzeris in relative peace.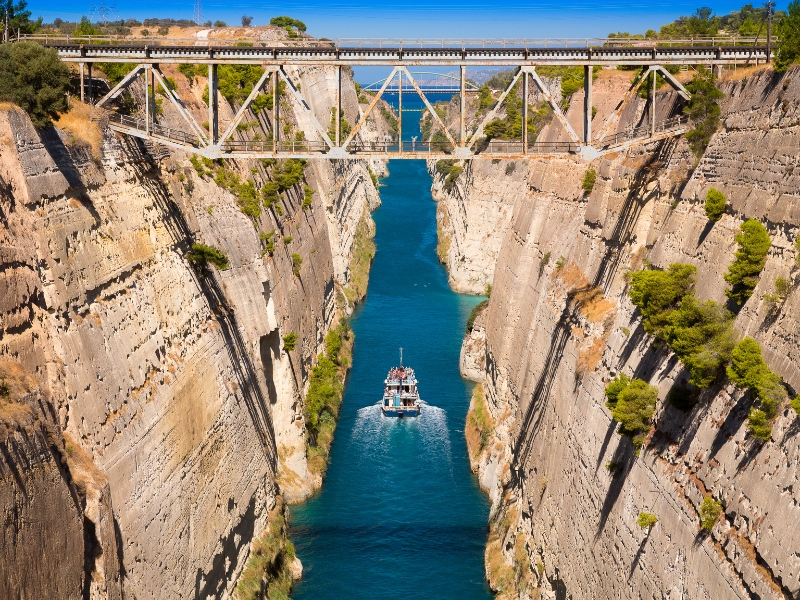 For an unforgettable sailing experience, consider navigating the four-mile artificial canal that connects the Gulf of Corinth in the Ionian Sea with the Aegean Sea's Saronic Gulf. The canal closed in 2021 after a landslide, but additional safety measures have been adopted, and it's reopened as of June 2023. 
Around 11,000 tourist ships chart the shortcut through the Peloponnese each year; small boats can generally only be admitted up to a width of 58 feet (17.6 meters) and a draft of 24 feet (7.3 meters). 
Accommodation and sustenance can be had at the charming town of Corinth on the west side of the canal. On the east side, sailors can pay homage to the sea god Poseidon at the ancient temple in Isthmia.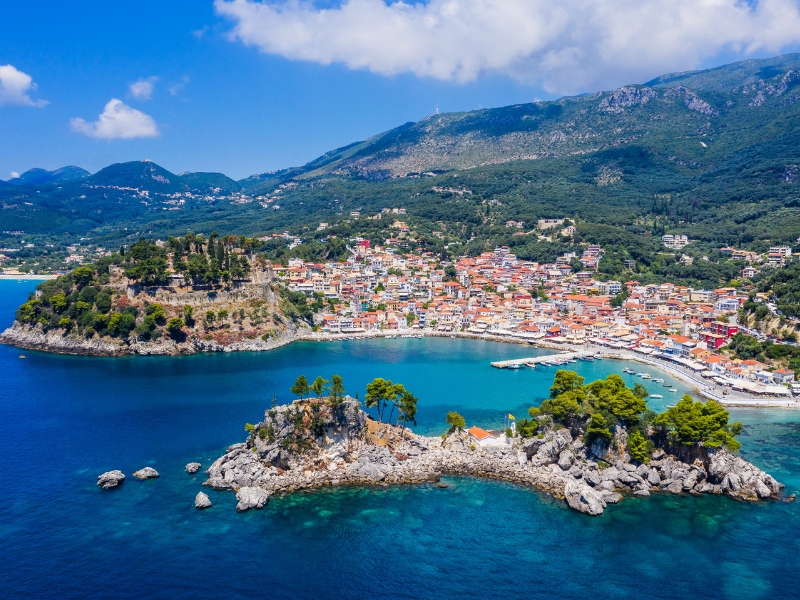 Popular with privateers as a launch point for sailing to Corfu, there's plenty to see and do in Parga itself. Parga is a little more modern than many Greek towns, and its importance began in the 14th Century. The castle atop the hill the town is built on was erected by the Venetians when it was part of their empire.
The popular yachting venue of Sivota is around half an hour away, and Albania can be reached by car in less than two hours for a day trip or longer.
Accommodation in Parga tends to be self-catering; this is a good thing because tavernas line the seafront, selling fish plucked directly from the waters. If you prefer your beans Heinz rather than Gigantes, Caravel at the harbor makes an excellent English breakfast.
With almost 30 million tourists visiting Greece in 2022, the idea of hidden gems sounds something of a misnomer. However, with so many travelers heading straight to the islands, there can be serenity to be found on her coastlines.
Monemvasia, a hidden medieval town, is perched on a rocky island connected to the mainland by a causeway. With its narrow streets and ancient walls, it feels like a journey back in time.
This hidden gem is situated in the southeastern part of the Peloponnese peninsula, and it's unlike any other place you'll encounter in Greece.
The medieval town of Monemvasia, which clings to a huge rock rising dramatically from the sea, is the main draw of the area.
The town's rich history includes periods of Byzantine, Venetian, and Ottoman rule, each leaving its mark on the architecture and culture. Don't miss visiting the imposing Monemvasia Fortress, which offers breathtaking panoramic views of the surrounding sea.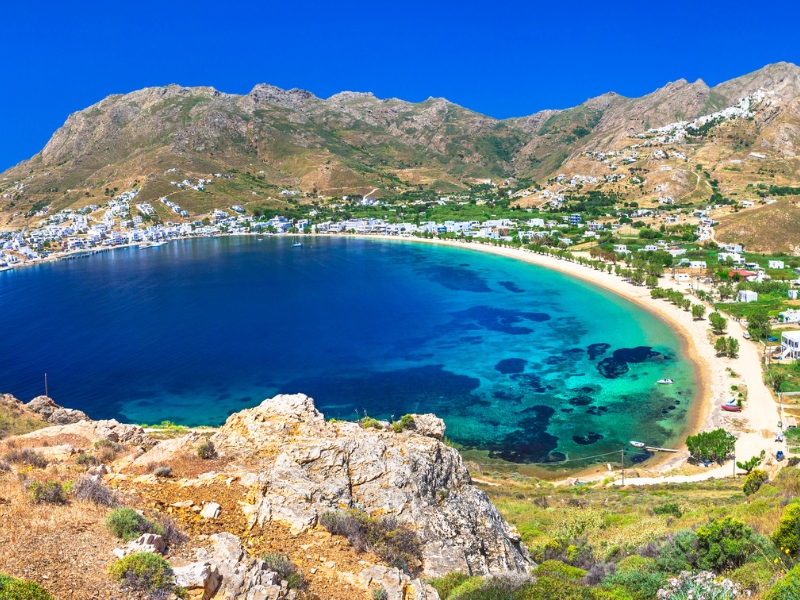 Serifos, one of the Cycladic islands in Greece, is a serene and picturesque destination that captivates travelers with its tranquil charm and rugged beauty. Located in the heart of the Aegean Sea, Serifos is a hidden coastal gem worth exploring.
The island's dramatic landscapes are characterized by rolling hills, rocky cliffs, and pristine beaches, making it a haven for nature enthusiasts and those seeking solitude. Serifos offers a refreshing break from the bustling tourist crowds often found on more popular Greek islands.
One of the island's highlights is Chora, the main town, where traditional Cycladic architecture meets narrow winding streets. Here, you can stroll through charming alleys, dine in local tavernas, and soak in the authentic Greek atmosphere. Serifos also boasts numerous beautiful beaches, such as Livadi, Psili Ammos, and Kalo Ambeli, where you can unwind and enjoy crystal-clear waters.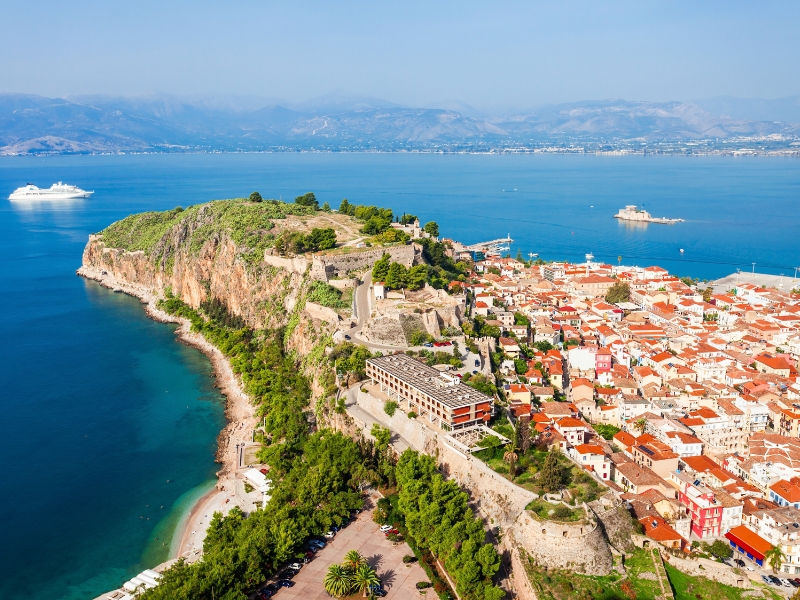 Nafplio, a coastal town situated on the northeastern coast of the Peloponnese peninsula in Greece, is a place where history seamlessly intertwines with beauty.
The town is crowned by the Palamidi Fortress, a formidable Venetian castle that stands proudly atop a hill. Adventurous souls can climb the 999 steps leading to the fortress, which offers panoramic views.
Nafplio's old town is equally captivating, with neoclassical architecture, narrow streets, and cozy squares.
You can spend hours strolling through its charming lanes, discovering boutique shops, and enjoying traditional Greek cuisine at local tavernas.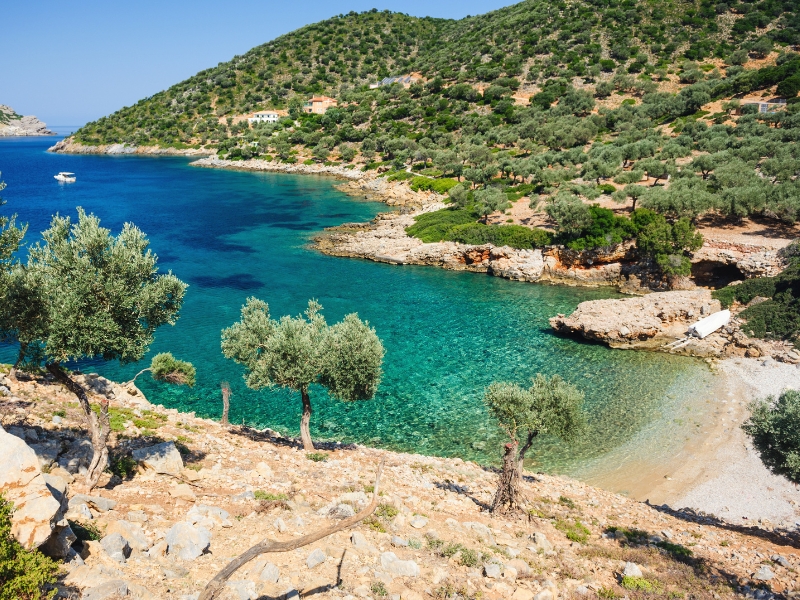 Alonissos, nestled in the Aegean Sea as part of the Sporades Islands, is a true hidden gem of Greece. This enchanting island is worth visiting for its pristine, untouched beauty and commitment to preserving its natural environment.
Alonissos is a haven for nature enthusiasts and those seeking a tranquil escape. The island is home to the Alonissos Marine Park, a protected area that harbors a diverse range of marine life, including the endangered Mediterranean monk seal. You can embark on unforgettable diving and snorkeling adventures to witness this underwater wonderland.
Sithonia, the middle and arguably the most pristine of the three peninsulas in Chalkidiki, Greece, is a true coastal paradise that appeals to nature lovers, adventure seekers, and those yearning for tranquility. Located in the northern Aegean Sea, Sithonia perfectly combines natural beauty and cultural charm.
The peninsula is renowned for its untouched beaches, many of which remain hidden and secluded. Whether you are looking for a remote cove to escape the crowds or a family-friendly beach with amenities, Sithonia has it all. Vourvourou, in particular, stands out with its crystal-clear waters and views of the nearby Diaporos Island.
Sithonia also boasts lush forests and rugged landscapes, making it a haven for hiking and outdoor enthusiasts. Exploring the hiking trails, such as the one leading to Mount Itamos, rewards you with breathtaking vistas of the peninsula and the Aegean Sea.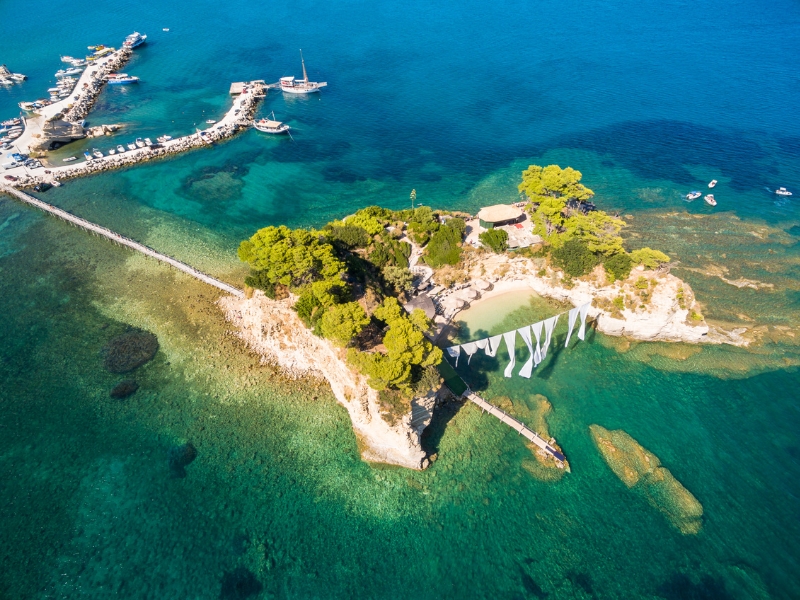 Cameo Island, a hidden gem nestled in the Ionian Sea, is a tiny but enchanting paradise located just off the coast of Zakynthos, Greece. This idyllic islet, also known as Agios Sostis, offers visitors a slice of Greek heaven characterized by its natural beauty and serene atmosphere.
What sets Cameo Island apart is its striking landscape. The islet is connected to the main island of Zakynthos by a wooden footbridge, creating a sense of isolation and exclusivity. It is the ideal location to unwind and enjoy peace, thanks to its white sandy beach, clear waters, and rich vegetation.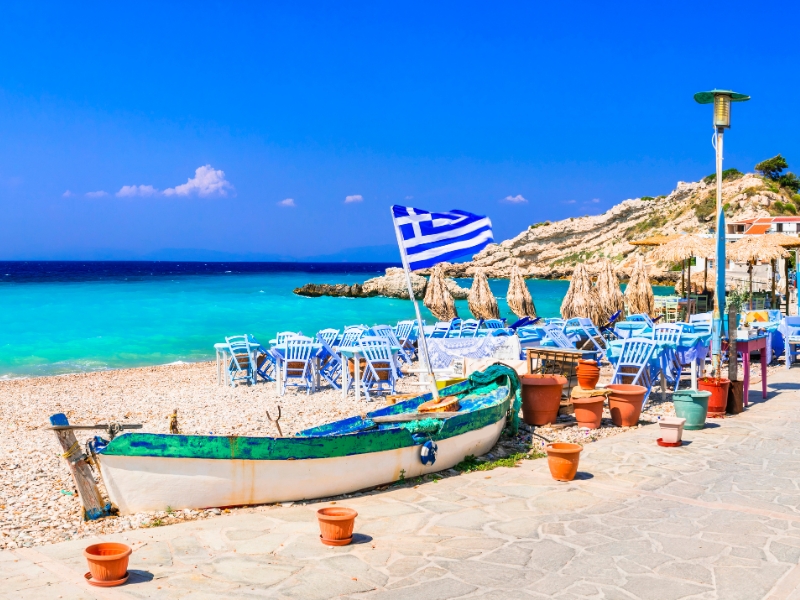 Kokkari, a picturesque fishing village on the island of Samos in Greece, is a coastal gem that captures the essence of traditional Greek island life. Located on the northern coast of the island, Kokkari is renowned for its natural beauty, charming harbor, and warm hospitality.
One of the defining features of Kokkari is its scenic waterfront, lined with colorful fishing boats and seafood tavernas. The center of the village is this charming harbor area, where locals and tourists converge to eat freshly caught seafood and take in the laid-back vibe.
Kokkari's beaches are another highlight, with crystal-clear waters and pebbled shores.
Lemonakia Beach and Tsamadou Beach are among the most popular choices, offering opportunities for swimming, sunbathing, and water sports.
Porto Timoni is a must-visit destination for those seeking pristine landscapes and stunning vistas.
This captivating spot is located near the village of Afionas on the northwestern coast of Corfu. It's accessible via a scenic hike from the village through olive groves and along rugged cliffs. The effort is well worth it, as the reward is the sight of two crescent-shaped beaches separated by a narrow strip of land.
The two beaches at Porto Timoni are known as "Afkos" and "Agios Georgios." Afkos, the smaller of the two, features calm, crystal-clear waters ideal for swimming and snorkeling. It provides an intimate and peaceful setting for beachgoers.
Agios Georgios, on the other hand, is the larger beach, characterized by its golden sands and slightly rougher waters. This beach offers a more traditional beach experience, complete with sunbeds and umbrellas available for rent.