The second largest city on the French Riviera, Nice, is mostly known for its exclusive hotels along the Promenade des Anglais, a 7 km long seaside walkway that's very popular not only with the rich and famous, but also with bicyclists, skateboarders and families out on a stroll. The city is ideal for those seeking to relax in the sun but also for discovering architectural treasures. As Lonely Planet says of Nice in its guide of must-see places, this bewitching coastal city has so much going for it, it's almost embarrassing – fabulous markets, an enticing old town, glorious architecture and a wealth of super restaurants.
Top reasons to visit Nice
Soak up the French Riviera atmosphere. A long time magnet for European royalty, aristocracy, artists and businessmen, the French Riviera is a modern cosmopolitan location whose glamourous history is apparent at every step. Hotels like Palais de la Méditerranée and Negresco are world famous for their celebrity guests, while Picasso and Chagall used to rent villas here. Take trips to nearby St. Tropez, Monaco and Cannes to experience the full French Riviera package.
Architectural treasures wherever you look. From the aforementioned hotels on Promenade des Anglais, to the Old Town buildings and Chateau de l'Anglais on Mont Boron, Nice is full of impressive architecture. Place Massena, the city's main square, is surrounded by red ochre buildings. For the best views of Nice, the neighboring bay of Villefranche-sur-Mer and Cap Ferat peninsula, take the lift to Mont Boron, a large natural park with a few hiking and biking trails.
Take a trip to Eze. This medieval village perched on a hilltop close to the Italian border offers breathtaking views over the coastline. The botanical garden here, built among the ruins of a castle, has an impressive collection of plants from the Mediterranean area, the Americas and The North Africa. A long steep path connects the village with Eze-sur-Mer and then to Saint-Laurent, where you'll find a beautiful and somewhat secluded beach.
Spend time outdoors. Nice and its surroundings feature a geographical diversity and a mild climate ideal for all kinds of sports, from water activities to alpine skiing, hiking, canoeing, paragliding or rafting.
Travel tips
1. Air travel. Nice Airport is the third busiest airport in France with several daily flights to Paris and direct connections to most major cities in Europe, as well as America and Canada (seasonal), plus a number of destinations in the Middle East and North Africa. The city center is easily reachable through one of the many bus or train connections.
2. Boat travel. Nice is located right on the coast, so it's easy to spot and maneuver into. There are several marinas in the area with a full range of services. Direct ferry routes connect the city to Ajaccio and Bastia in Corsica, Calvi and Ile Rousse.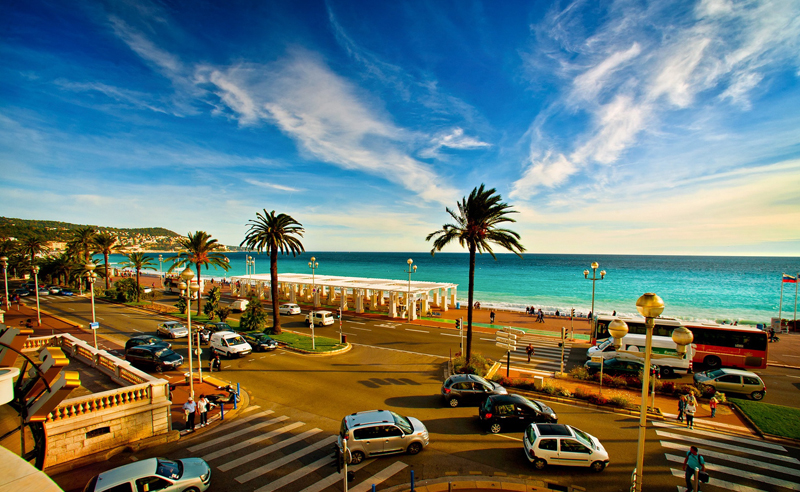 3. Bus travel. Nice is connected with major European cities through long distance bus rides operated by Eurolines and Lignes Express Regionaux. Buses are available to Marseille (between 9-12 euro for a ticket), Toulon (5 euro) and Aix-en-Provence (5-9 euro for a ticket).
4. Car travel. The easiest way to access Nice is the A8 highway, if you're coming in from the west exit 50 will lead you along the coast to Promenade des Anglais. From the east, follow the Corniches, a panoramic route from Menton to Nice.
5. Train travel. The SNCF train network connects Nice to the rest of France, the journey from Paris with a TGV takes 6 hours at a price of about 100 euro. There are 3 train stations in the city: Gare Nice Ville, the central one, Nice Riquier and Nice St Augustin. Trenitalia offers connections to Milan, Genoa, Rome and Venice.
6. Planning your time. Divide your time by visiting towns and villages on the west and then east of Nice, as they have different flavors and exemplify the area's diversity. The A8 highway provides a fast connection to Monaco, Cannes and St. Raphael, and the coastal train will take you to some of the most amazing villages you've ever seen.
7. When to go. It's best to avoid going in peak season, July and August, when the city is very crowded. Cannes is usually fully booked in May, for the duration of the film festival, so go in April, June, September or even October, the weather is just still pleasant. Winters here are moderate, the Esterel massif protects the area from strong winds.
Things to do
Sights. Promenade des Anglais, Old Town (easily reached from a street parallel to Promenade des Anglais), Opera of Nice (in the Old Town), Castle Park (east of Old Town), Musée Masséna (65 rue de France), Museum of Modern and Contemporary Art (Yves Klein plaza), Matisse Museum (164 av des Arènes de Cimiez), Nice Observatory (bd de l'Observatoire), Chagall Museum (4, av Dr Ménard).
Shopping. From major brands to local artisans, Nice offers plenty of opportunity to splurge. In the pedestrian area leading to Old Town you'll find everything you need: clothing stores, perfumeries, leather shops, bakeries, chocolatiers and wine shops. La Chemise Tropezienne on 35, rue Gambetta offers a wide selection of gorgeous beach clothing in Mediterranean colors. If you're interested in antiques, take a stroll through La Promenade des 100 Antiquaires that extends from Place Garibaldi to the port. Stop at the fish market and pick up some fresh seafood and combine it with olive oil from Alziari (14, rue St-François-de-Paule) for a delicious dish. Crystalized fruit, a Nice specialty, is sold at Confiserie Florian du Vieux Nice on 14, quai Papacino.
Nightlife. Indulge in a drink at Bar Le Relais in the iconic Hotel Negresco, or listen to live music at Blue Lady Pub, a pub frequented by French and foreigners alike. The famous Casino Barrière on La Croisette is open from 10 am to 3 am (4 am on weekends and 5 am during summer). La Siesta, an entertainment center with the largest beach club in France, draws about 15,000 people on weekends from June to September.
Performing arts. You have many options here, including the Opera, National Conservatory, Cinema Rialto, the Lemon Festival in March, the Nuits de Sud music festival in August, and the National Theatre.
Attractions
Amongst the many attractions on Côte d'Azur, we recommend seeing the perfume factory Fragonard (take the N285 from Cannes, then the N85 saying Grasse, Castellane and follow the signs to Centre-Ville); the Corniches, three roads with spectacular views (Grande Corniche, Basse Corniche, Moyenne Corniche); the seaside town of Port Grimaud, close to St. Tropez (known as the "Venice of Provence"); Villa Ephrussi de Rothschild, located on Cap Ferrat just over the Mediterranean; Menton, a town on the French-Italian border with its own dialect; and Antibes, a coastline city founded by the Greeks 2,500 years ago that today stands on ramparts built in the 16th century to protect it from pirates.
Restaurants
If you're looking for more upscale places, try Astoux et Cie Brun, a staple of fresh seafood since 1953; Chantecler, a two Michelin star restaurant inside Hotel Negresco; Daniel Desavie's restaurant 7 km from Mougins village, where you'll find on the menu such delicacies as lobster with tabbouleh and orange-mango vinaigrette. More affordable options include Attimi in Place Massena; Chez Pippo Socca in the Old Town, serving traditional chickpea pancakes; and Cosmo Bar, a modern brasserie in Villefranche-sur-Mer with spectacular views from its terrace.
Marinas you might like
Port de Nice is continuously developing through five major activities: boating / yachting, cruising, fairing, freight, event parking. Nice marina is also very well attended by sailboats, yachts as well as by "les Pointus", wooden fishing boats of the early century that are typical of the Mediterranean. Covering an area of ​​23 hectares, the port of Nice consists of 2000 linear meters of quays with 900 linear meters of commercial docks, 15 hectares of water and 800 linear meters of pontoons.