Are you looking for the cheapest entry-level boats? Here's a comprehensive list of the most affordable entry-level boats.
Many sea and boat-lovers contemplated at least once the idea of buying their very own boat and indulged in the dream of a sunny day spent in the middle of the sea, on the deck with their friends and family, enjoying beautiful moments surrounded by the stunning blue waters.  Beginner boat enthusiasts should take into consideration a few aspects before deciding to buy a boat, depending on their budget, different needs, and personal preferences. 
We've made a guide for you with the most affordable entry-level boats if you are in the marked for a new dream-boat.
1. All-Purpose Fishing Boats: Lund 1650 Angler SS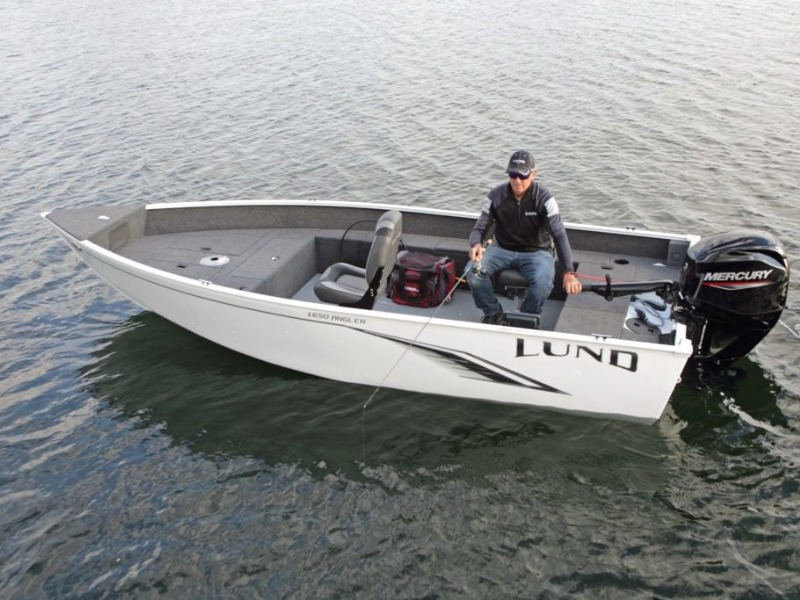 In this first category, you will find numerous cheap boar options at a reasonable price; since these boats are designed for fishing, they come with fewer facilities, thus the costs are much lower. Not mentioning that due to their rather small dimensions, the all-purpose fishing boats can be stored in a garage. They could easily fit a family of four and can be found on the market at prices ranging between $10,000 to $20,000. 
For example, the Lund 1650 Angler SS is a great option for freshwater fishing and can also be used in saltwater bays that are protected. It comes with a 40 HP outboard, a driver's side console, a livewell and it can fit maximum five persons. You can buy it at around $15,547 which could even be paid in monthly installments. 
2. Aluminum Fishing Boats: Tracker Topper 1542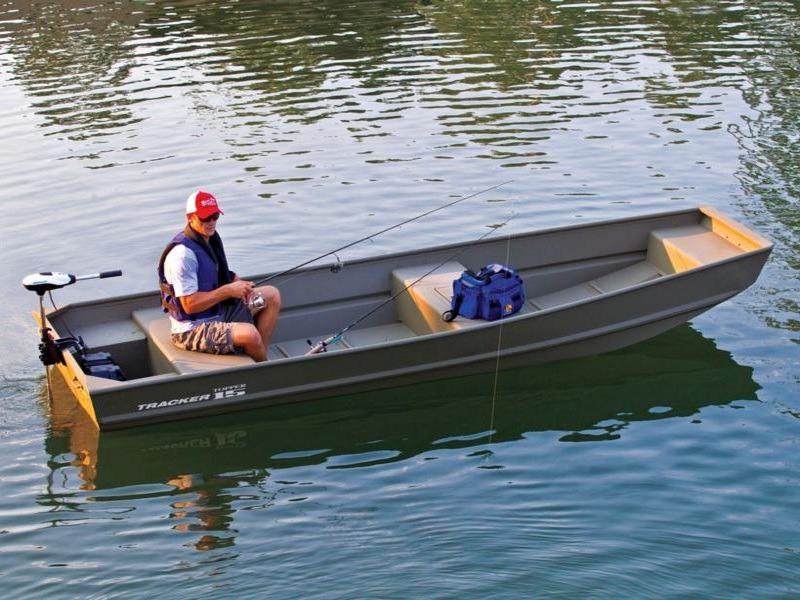 The next cheap boats category is aluminum boats: they are durable, easily transportable, lightweight, and inexpensive. Since they are lightweight, they make a good choice for people who own light-duty tow vehicles.
Even if these boats do not come with trendy, luxury features, they are guaranteed to offer you a nice fishing experience. 
Among them we mention the Tracker Topper 1542, designed for protected bodies of water and is powered with an electrical motor or a small outboard. You'll find this particular model at the cost of $1,595. 
3. Bass Boats: Ranger RT188P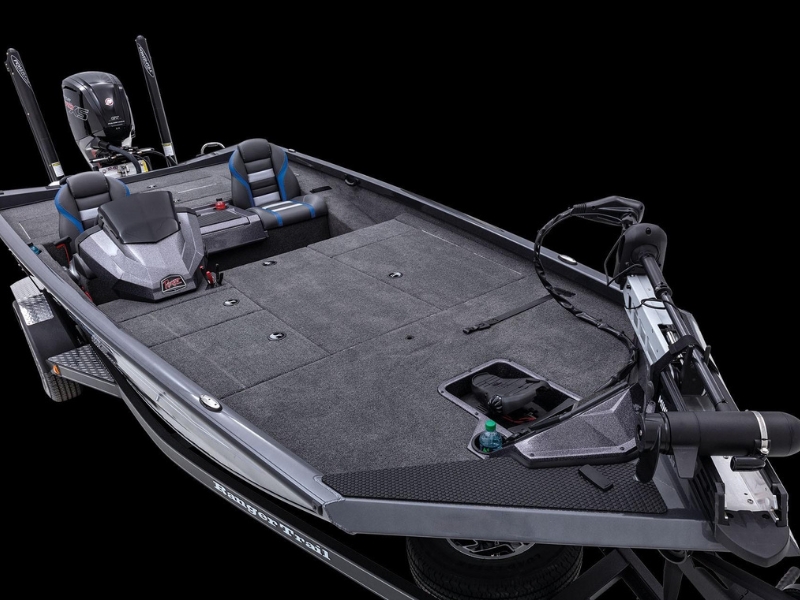 Among this third option, you will inevitably find some very expensive bass boats models, but a great affordable boating choice is the Ranger RT188P. It's a great option if you are on the market for a new boat from the bass fishing selection.
This model comes with 115 horses as well as a fish-finder, a bow-mount trolling motor, multiple livewells and several rodboxes. It also has an onboard tackle stowage and battery charger.  Except coming with all these great features and good-looks, you can find this boat at the price of $27,095.
4. Bay Boats/Flats Boats: Mako 18 LTS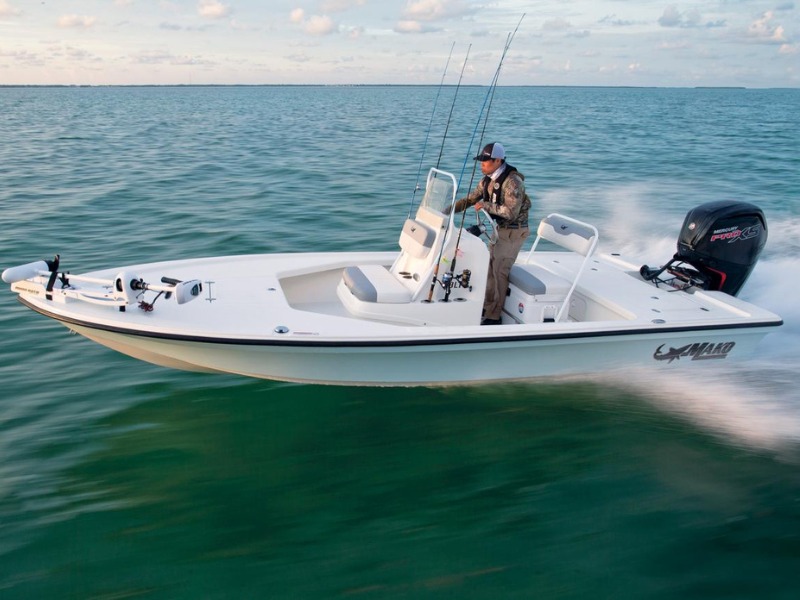 If you live near a coastline and you are into saltwater fishing, a good option for you would be a bay boat or a flat boat.
They usually vary in price, depending on their size, but you can find one at a good price, like the Mako 18 LTS, which costs about  $30,000 and comes with several features like the flush-mount vertical rodholders, an 18-gallon livewell. This model can carry 5 passengers. 
5. Bowriders: Regal 1900 ES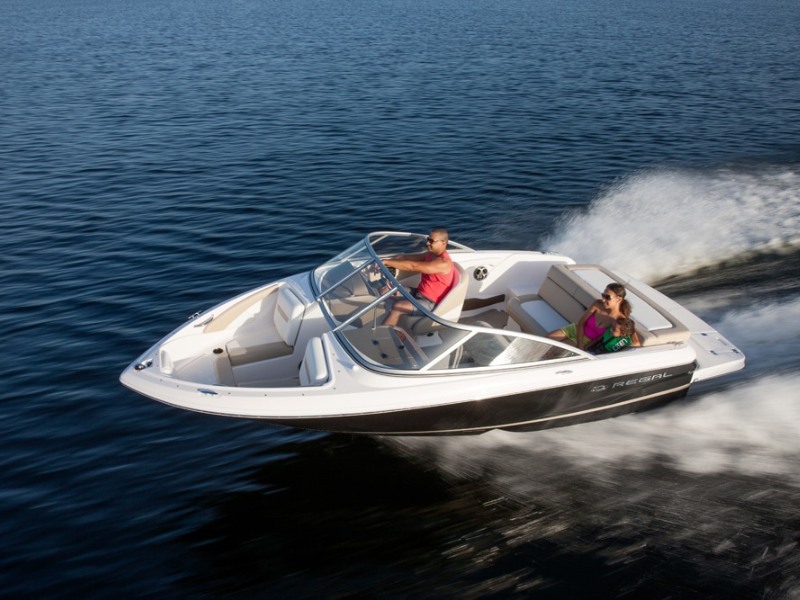 An afordable and popular boat among the first-time boaters is represented by the bowriders, as they are versatile and adaptable to most people's preferences, should it be day cruising or watersports.
Bowriders come in a diverse range of shapes and sizes, this is why you should compare different models before you decide what would be the best option for you.
For example, the Regal 1900 ES is quite affordable, it costs around $30,000 and it can hold up to 9 people and can be used either for sailing or any type of watersport you'd like. 
6. Cabin Cruisers: Jeanneau NC 795
Cabin cruisers are on the more expensive end of the spectrum; they can usually be found at around $80,750.  You may also opt to buy a used boat and in this case the price will be lower.
The advantage of owning a cabin cruiser, such as the Jeanneau NC 795, is that you can go overnight cruising with your family or friends and have everything you need right on your boat. Plus, you'll have the freedom to visit a new place every summer weekend. 
7. Center Consoles: Robalo R160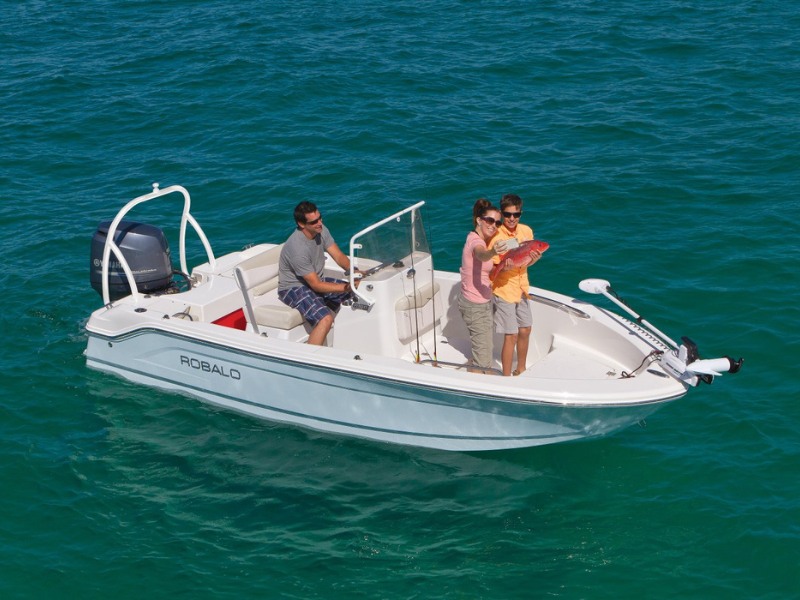 Center consoles are another affordable boats that are usually used for fishing trips but can also be used to pull water-toys and enjoy a hot summer day with your loved ones.
The Robalo R160 is rather inexpensive, you can find it at around $23,295. A center console is great for those who love fishing, but can also be used for boating on a nice summer afternoon. 
8. Cuddy Cabins: Rinker 22MTX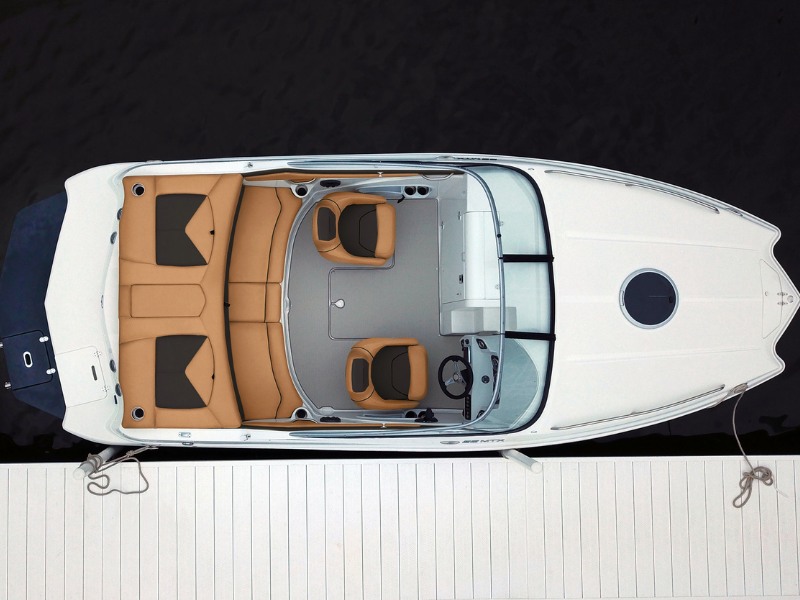 Cuddy cabins are a great alternative if you're interested in having a boat where you could spend quite comfortably a few nights onboard without needing to spend a fortune, like you would do when buying a yacht. A cuddy cabin provides a place to sleep, basic sanitary facilities and some of them have a kitchen as well.
The Rinker 22MTX costs about $47,380 and it comes with everything you'd need for a mini-vacation. 
9. Deck Boats: Bayliner Element E18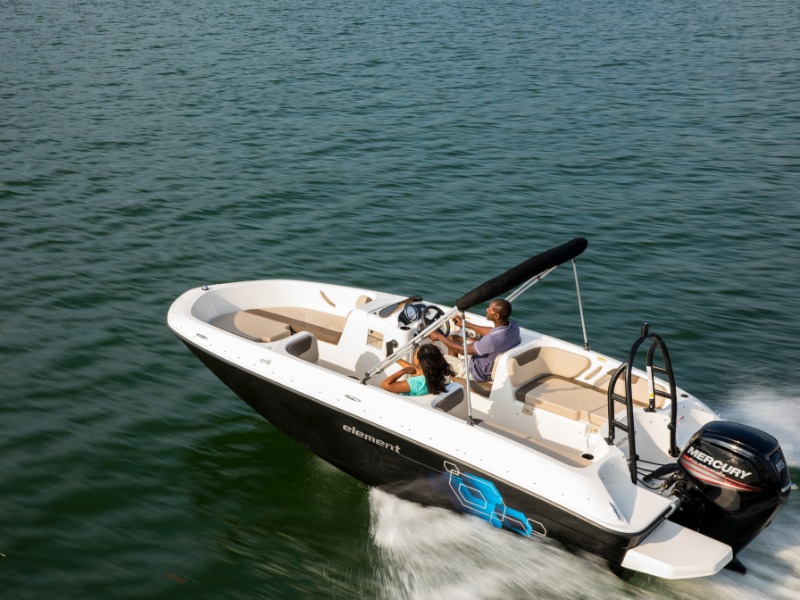 This is another example of a great and cheap boat that will bring fun into an ordinary summer day. It is designed for different water activities and inexpensive due to their simplicity.
For example, the 21-footer Bayliner Element E18 has enough room for 10 people and comes with a trailer and 115 HP outboard. Its cost rises to $28,000, but there are also more affordable models, such as the 18-foot model ($20,000) or the 16-foot one ($15,299). 
10. Dinghies: Walker Bay 10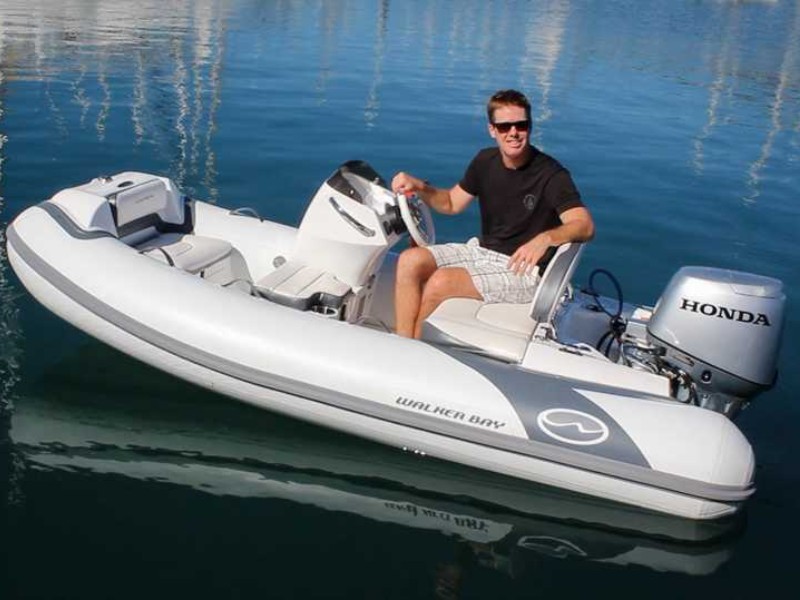 Dinghies are usually used along a bigger boat, but they can also be used to explore the nearby body of water or go fishing with a couple of friends. The Walker Bay 10 can fit 3 people and it's inexpensive. You can buy one for about $1,279. 
If you'd want, you could even add a sail or an outboard (up to 3 HP). 
11. Fish-and-Ski Boats: Lowe FS 1700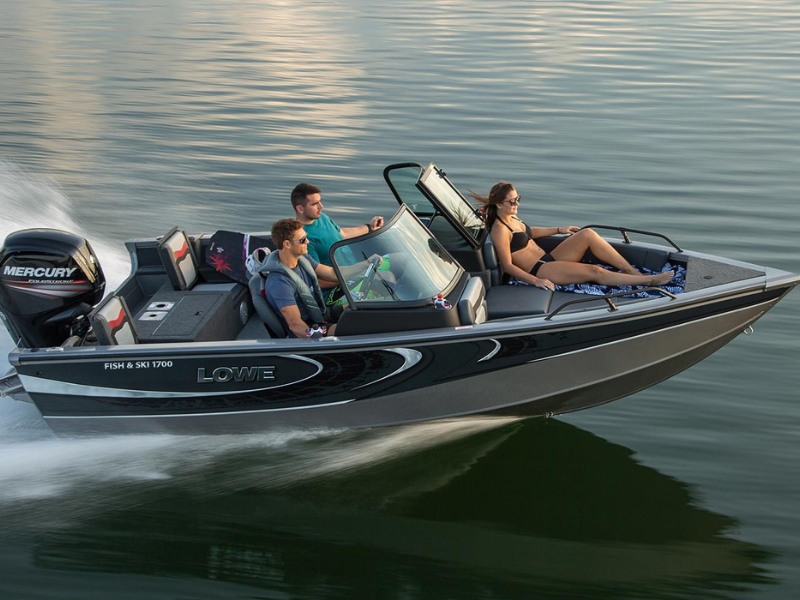 For someone who enjoys fishing and watersports, the fish-and-ski boats category is the perfect choice where they could find the perfect boat for them. As the name suggests, these boats are designed for fishing and towing so that they can be used for numerous watersports with friends, family, and children.  
The Lowe FS 1700 has a trailer, a 60 HP outboard, and its price is around $20,495. 
12. High Performance Boats: Donzi 16 Classic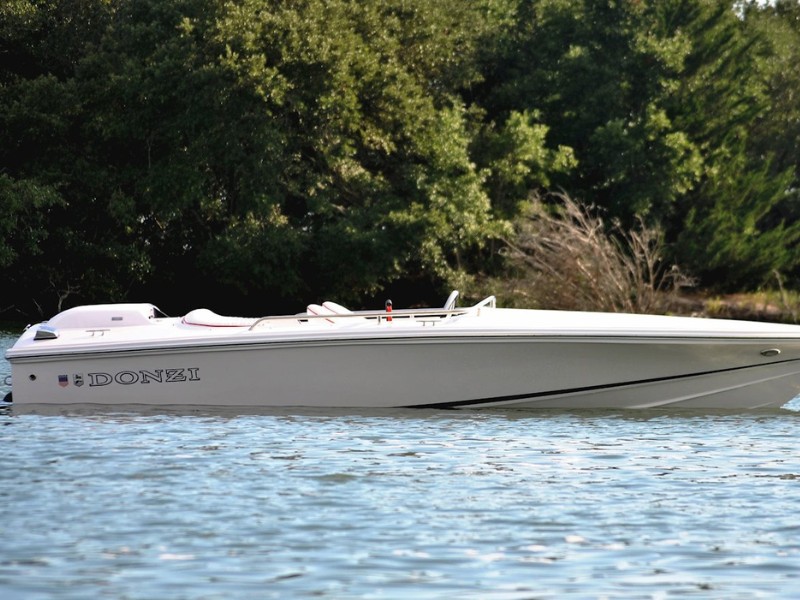 For those who just love the feeling of adrenaline rushing through their bodies and can't say no to a good exhilarating ride, a high performance boat is for them.
The Donzi 16 Classic can be fitted with 200 or 250 horsepower and it's guaranteed to provide a thrilling experience each and every time. Regarding the costs, usually this type of boats is more expensive than others so be prepared to pay around $61,900.  
13. Inflatables: Sea Eagle 10.6sr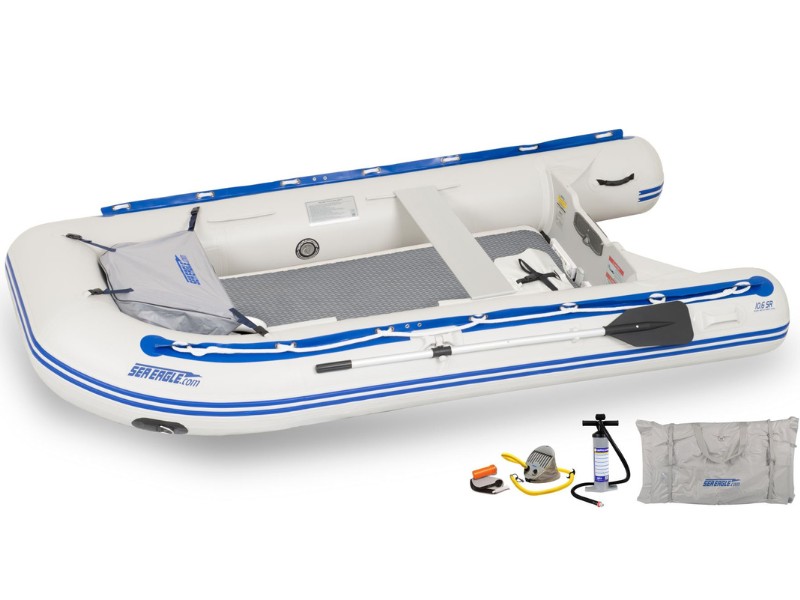 Inflatables represent a particular type of boat, taking into consideration that they are easy to store and they take up only a little bit of space when they are deflated. You can find storage for them under your couch or in a closet.
They are also quite an inexpensive boating option, like the Sea Eagle 10.6sr, costing around $2,499. It comes with a portable outboard, but you could add your own Bimini top, seats or fishing rod holders. 
14. Jet Boats: Scarab 165 G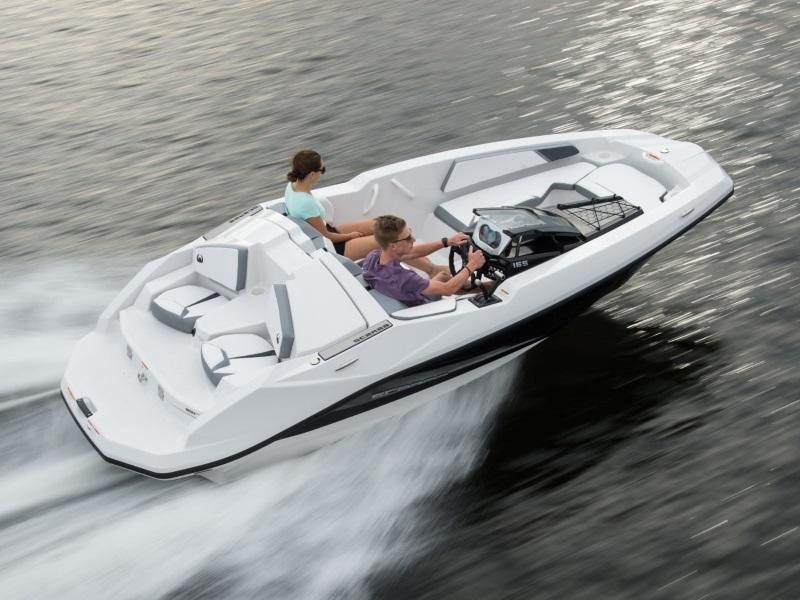 This boating category is quite popular among the first-time buyers and are designed for some water and sporty fun.  In this category, we mention the Scarab 165 G which comes with other features as well, such as a ski-tow eye, swim platform loungers as well as USB charging ports. It's price is around $24,433.
15. Motor Yachts/Power Cruisers: Sea Ray Sundancer 350 Coupe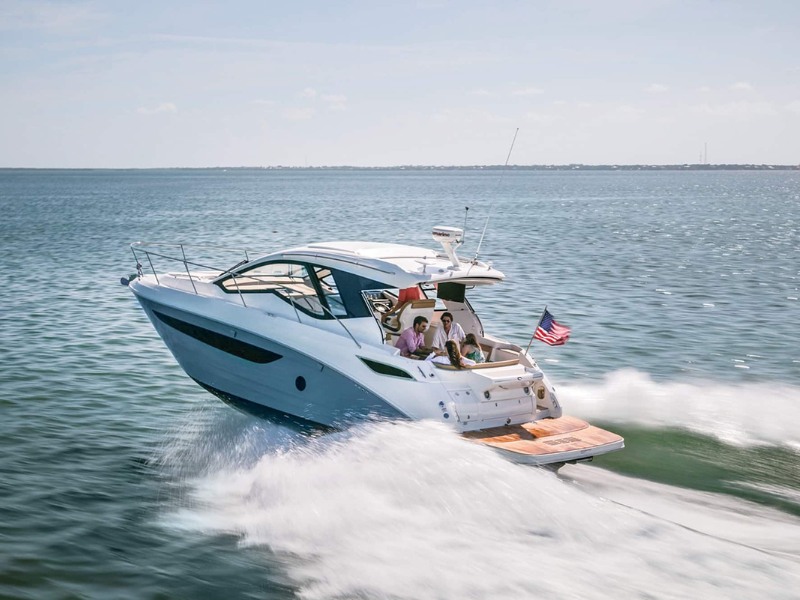 Motor yachts and power cruisers are definitely low-cost compared to what you'd have to pay if you were to buy a waterfront house and they do offer all the comfort anyone would want and need to have aboard their vessel.
These boats come with two bedroomsm a kitchen, bathroom, a livingroom and the Sea Ray Sundancer 350 Coupe also has a sunroof over the helm, a bow lounger, and outside cockpit air conditioning. Buying a used model could be an opportunity to respect your budget and don't break the bank. 
16. Multi-Hull Power Boats: World Cat 230CC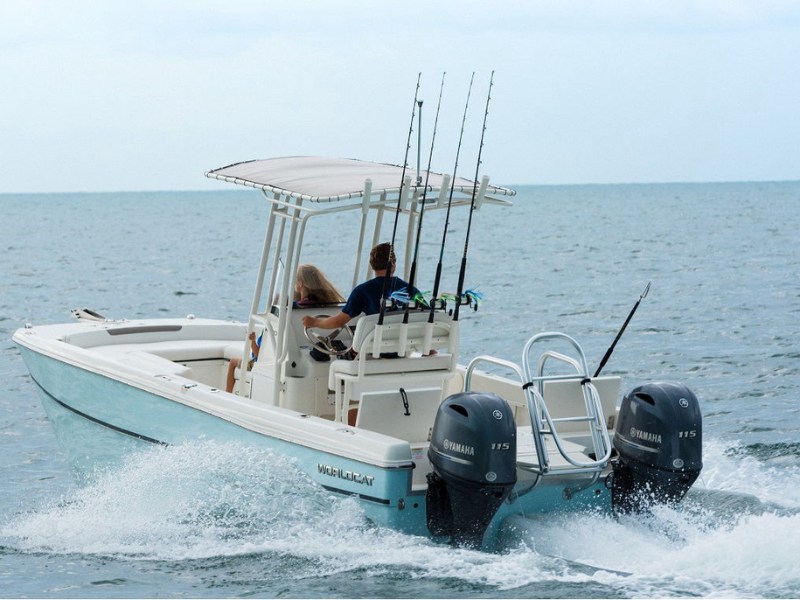 Multi-hull power boats are considered to be more expensive than other boats at first glace. But they come with numerous advantages a monohull won't have such as a bigger space that could fit 10 persons.
For example, the World Cat 230CC, which is a 23-feet boat with the capacity mentioned previously and twin engines. Aboard a boat like this you'll also enjoy a smooth twin-hull ride, which is not always the case with monohull boats. Depending on your needs and preferences, this could be a good option for you if you're in the market for a multi-hull boat. 
17. Personal Watercraft (PWC): Yamaha WaveRunner EX Series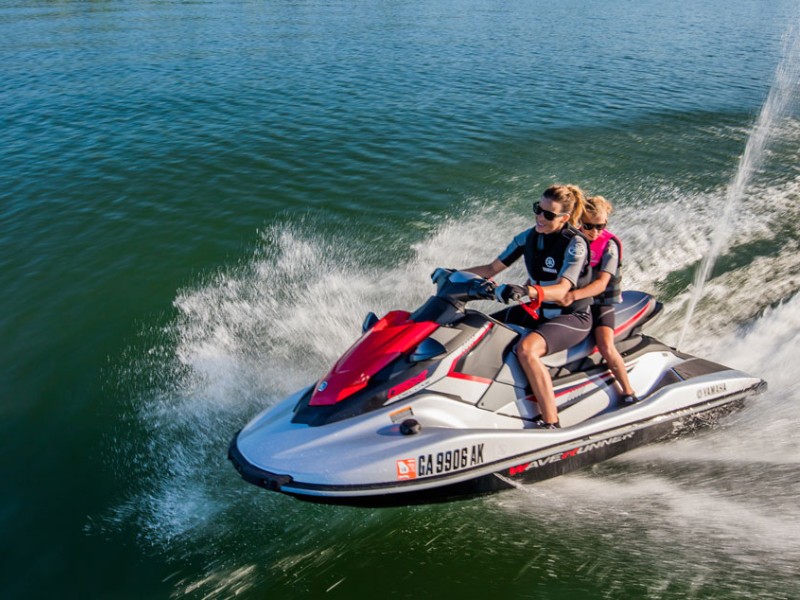 They're inexpensive and thrill-inducing and they will bring great fun to you and a couple of your friends!  The Yamaha WaveRunner EX Series is the best choice for you if you love speed, watery twists and turns, splashes and adrenaline! It comes with a 1049-cc Yamaha TR-1 jet engine and it costs about $6,899.
18. Pontoon Boats: Godfrey Sweetwater 1886 C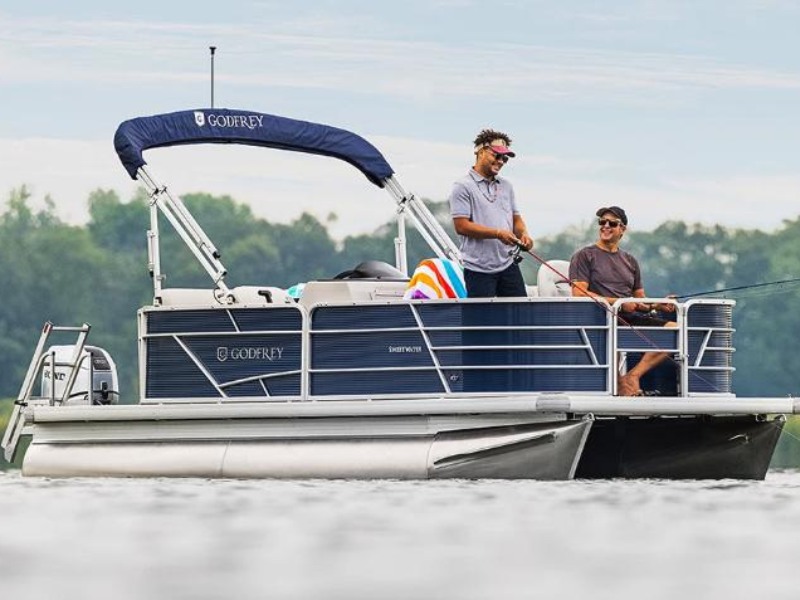 One of the perks of this type of boat is that you can fully customize it according to your budget and your heart's desire. You can choose the most simple model with the bare-minimum or you can go full-on and get it with nicest features. The choice is yours. 
A nice model is the Godfrey Sweetwater 1886 C, which provides space for 10 people and comes with a 40 HP outboard, a cocktail table, a swimming ladder and numerous seats. It's an affordable boating option and the price is around $26,000. 
If you'd like to further customize it, you could add a Bimini top, a stereo system, a chilled cupholder to keep the beverages cold.
19. Sailboats: Beneteau First 14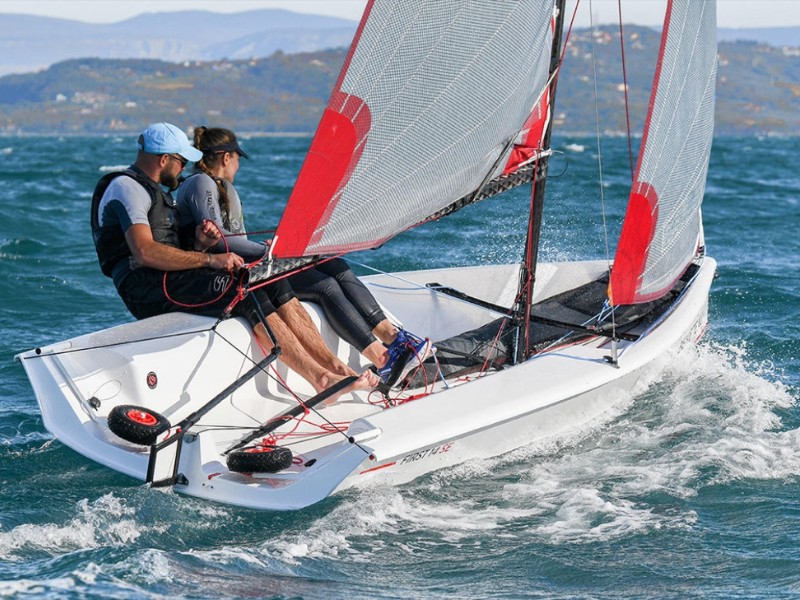 Beneteau is a very popular sailing boat producer and their models are a favorite for many people, either if they are experienced sailors or if they just discovered this passion and would like to buy their first boat. Since it's a sailing vessel, their biggest advantage is that they do not need power supplied by engines.
Depending on your needs and preferences, if this is your first sailing boat, you could chose the Beneteau First 14, which is a cheap boating option and a simple one as well. You can buy one for $10,800. 
However, if you would like a sailing boat that has a cabin, you could chose instead the First 18 for $28,800. Both of them are great options for first-time buyers. 
20. Ski Boats/Wake Boats: Four Winns HD 200 Surf
As interest in towed watersports increased, as it did during the past ten years, ski and wake boats grew in popularity. If you are a fan of speedy water sports and surfing or water skiing brings you joy, then you should consider this boating category.
Usually, this type of boats is more on the expensive-side but you could still find a good deal, such as the Four Winns HD 200 Surf which provides anything you would need (tow points, wake tabs, and ballast tanks). The cost of this particular model is around $50,000.
21. Sportfishing Yachts: Boston Whaler 345 Conquest
If you are looking forward to making a commitment and buy yourself a sportfishing yacht, we would suggest you take into consideration the Boston Whaler 345 Conquest, which is equiped with everything you would need for cruising in luxury and also fishing. 
Buying a yacht is at the end of the day acquiring an asset which you can use for many, many years to come and that you can call it "yours" without needing to charter one ever in your life. It costs around half a million dollars but make sure you check all the offers in order to get the best deal and of course the best value for your money.  
22. Trawlers: Ranger Tugs R-23
You might be a little surprised to learn that there are many smaller, more cheap trawlers to take into consideration since most people associate trawlers with being large and costly.
The Ranger Tugs R-23 is a $115,000 pocket yacht is perfect for a family of four and includes full kitchen facilities, a bathroom, and an open cockpit perfect for tanning or fishing. 
23. Walkarounds: Striper 200 Walkaround OB
If you would like to take your family and especially young children fishing,  cruising for a day, or even spending a few nights camping onboard you should take into consideration the Striper 200 Walkaround OB. It provides a place to sleep, shelter from the elements, and a bathroom and you can buy this model for $66,893. 
Starting with inexpensive dinghies and ending with luxurious sporting yachts, we hope our selection will be helpful if you are a first-time boat buyer. There are so many options, models, categories. Just make sure you chose what is best for you and of course, your budget!
We hope you enjoyed our selection of the most affordable entry-level boats. Share this post with your friends who might be interested.