Pontoon boats, which are regarded by many as being incredibly versatile, are the best option for people who like fishing, who prefer day cruising, and even for those who enjoy watersports. They are comfortable and luxurious but more affordable than buying a yacht. 
We've created a comprehensive article about the 12 best pontoon boats that won't break the bank and their features to help you choose the most suitable option for you. 
1. Bennington S 188 SL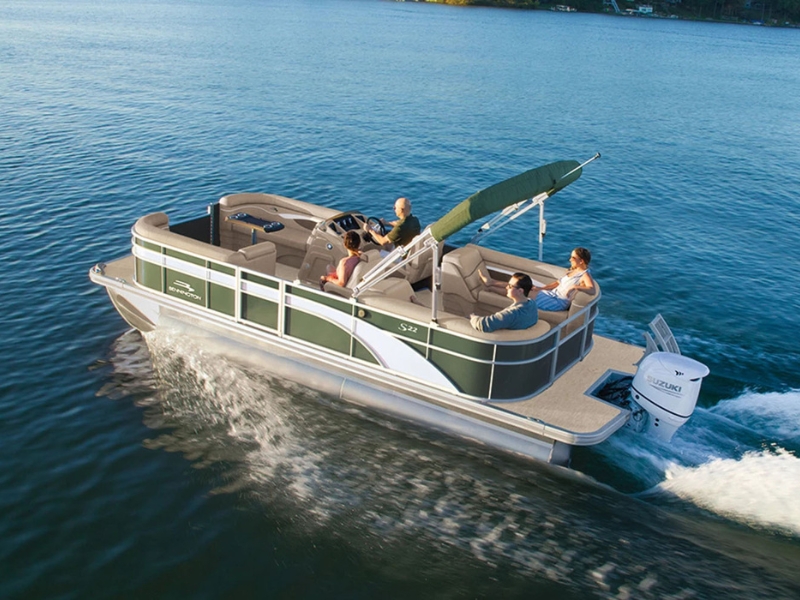 The Bennington S 188 SL is considered one of the most affordable pontoon boats and the company Bennington is known to be making some of the best ones on the market. Even if its price is not that high, the boat is luxurious and comfortable. Moreover, it's one of the most affordable entry-level boats.
It comes with an L-bench with a sun-pad, both a Kicker KMC45 sound system, and a 10′ Bimini top. It also has a huge storage capacity, and it is easily transportable, as its hull only weighs 1,663 pounds. 
You can customize it to your preferences, as it comes in 13 different configurations so you have plenty of options. 
2. SunChaser Geneva Cruise 20 CRS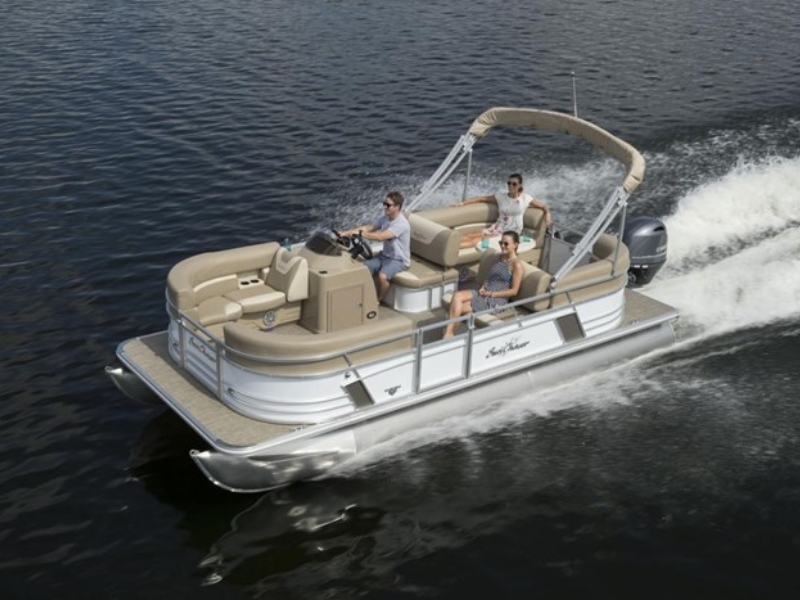 Compared to other models, the SunChaser Geneva Cruise 20 CRS offers a little bit more deck space than the usual pontoon boats. A large L-shaped lounge with a diner is present aft to port on this type, while the starboard side is left open behind the helm chair. 
It has a 60-horsepower Yamaha motor and you could even add the third tube, and the boat will have 200-horsepower, which will significantly boosting performance and speed.
3. Sylvan L-3 DLZ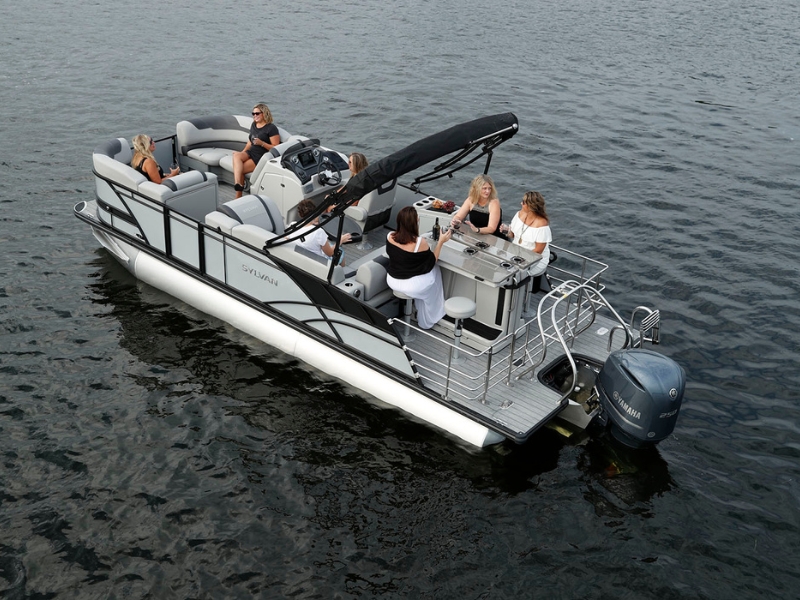 The Sylvan L-3 DLZ  is another cheap pontoon boat and it is considered to be among the best models. It has two loungers looking forward in the bow and a back lounger with multiple seats that can accommodate six people. It is versatile and comfortable and features a USB port, an AM/FM stereo with 4-6 speakers, a Helix depth finder, and simple-to-read gauges.
There is plenty of fun to be had along with some comfort conveniences you won't find on every pontoon, including plush seats, a ski tow bar, a stainless-steel boarding ladder, and a pop-up change area for privacy.

The spacious but comfortable seating makes this a fantastic choice for both large and small groups. The expanded rear deck is perfect for those wishing to have fun on the waters. Even the bow seating area may be transformed into a bar for beverages and socializing with the bar variation, as the name suggests. Sylvan wins the top rank because no other yacht can compete with these features and have this attractive appearance without substantially raising the price.
4. Lowe SF 212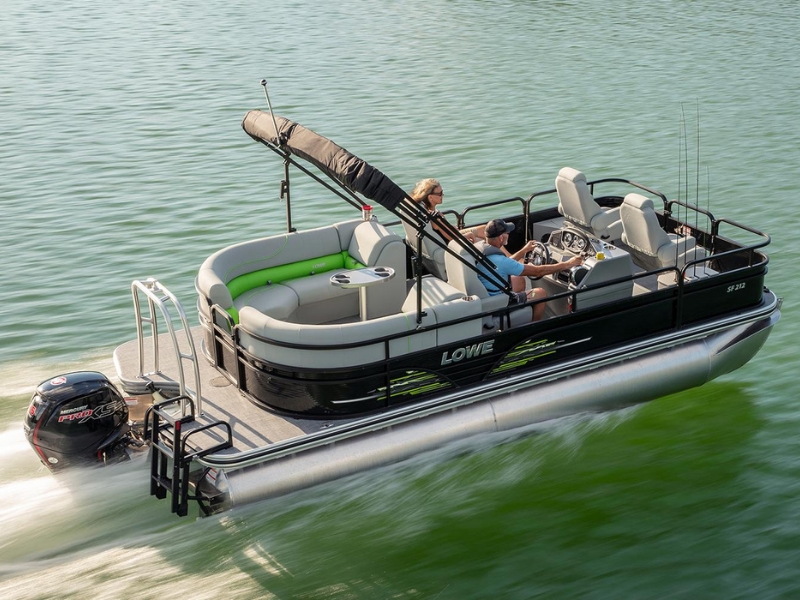 The Lowe SF 212 is an affordable pontoon boat that takes less space than other models. Since it's a mid-sized range pontoon boat, the price is lower but is still has numerous features to be enjoyed.
It is jam-packed with the kind of comfort and convenience amenities you'd want in a luxury cruiser and it also comes with  two really nice pedestal chairs which you can go on a fishing trip with your friends and family.

The Jensen built-in audio with Bluetooth will blast your favorite songs if you'd rather to kick back and unwind, enhancing your sailing experience. Lowe, more so than any other manufacturer of pontoons this size, really figured out how to provide you everything you'd want in a larger boat in a more reasonable space at a more affordable price.
5. Princecraft Brio E 210-2S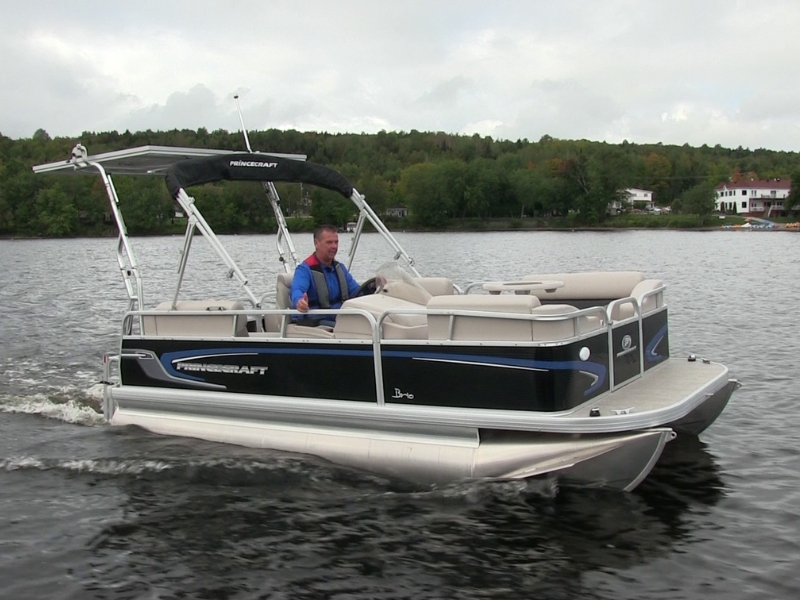 Over the last few years people have become more and more interested in protecting the environment and finding sustainable solutions for small everyday changes that are more ecological and don't have such a negative impact on the planet. Reusable bags, carton packaging, solid shampoo, shower gel, conditioner, growing your own vegetables, electric cars, reusable energy. 
But what about an electric boat? 
If you are too one of the people interested in a more eco-friendly boating alternative, we think the Princecraft Brio E 210-2S will be perfect for you! Thanks to this inexpensive pontoon boat, you'll have a low carbon footprint because it does not need any gasoline. 
For 2022, Princecraft completely redesigned its Brio electric pontoon series, and the 210-2S is a true highlight. 
The Brio's Torqueedo electric engine replaces the outboard's polluting and noisy gas engine. Its battery life is approximately 4 hours, but you can prolong it further by installing 24V and 48V solar panels and additional batteries. A fast charger is also available to let you leave the dock quickly and easily. According to the setting and weather, you can extend your time on the lake by up to 6 – 10 hours. 
The seating, full camper enclosure, folding forward fishing seats, and other conveniences truly contribute to a pleasant experience overall. There is enough for nine people and plenty of space on the deck.
6. Regency 250 LE3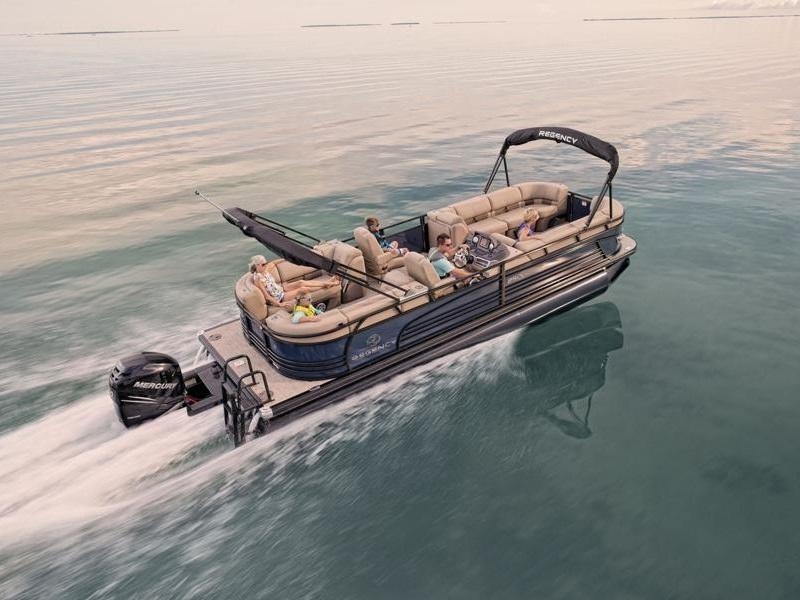 Do you enjoy watersports and the thrilling sensation that come with speed? Then, the Regency 250 LE3 would be the perfect choice for you! Usually, pontoon boats are not meant for speed, but this one sure is! 
The 350 HP Verado engine that powers this model allows it to reach speeds of up to 50 mph. When you pair that with an opulent interior, you have a fantastic cruising boat that outperforms most other pontoons when it comes to tubing and water skiing. 
Due to its luxurious features you can also enjoy a sunny day cruising and enjoy a little bit of peace and quite while lounging in the boat's aft section. 
7.  Bennington SV Cruiser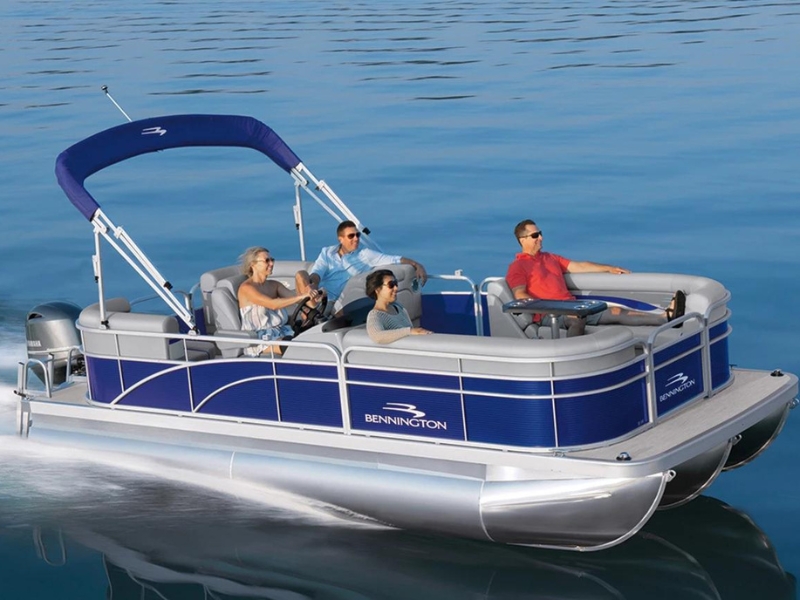 Bennington offers another great affordable pontoon boat, the Bennington SV Cruiser, one of the best-selling options among this boating category. It is luxurious, comfortable, and perfect for a day out on the water spent with family and friends. You can customize it as you please (Quad Bench, L-Bench, or Fishing floor option) plus 11 other facilities. 
You can choose between a 27-foot Quad Bench with space for you and 13 other people or bass chairs that can be swiveled to provide you a 360-degree view of your surroundings. You can choose from a variety of settings and alter them to suit your needs.
8. Sun Tracker Bass Buggy 16 DLX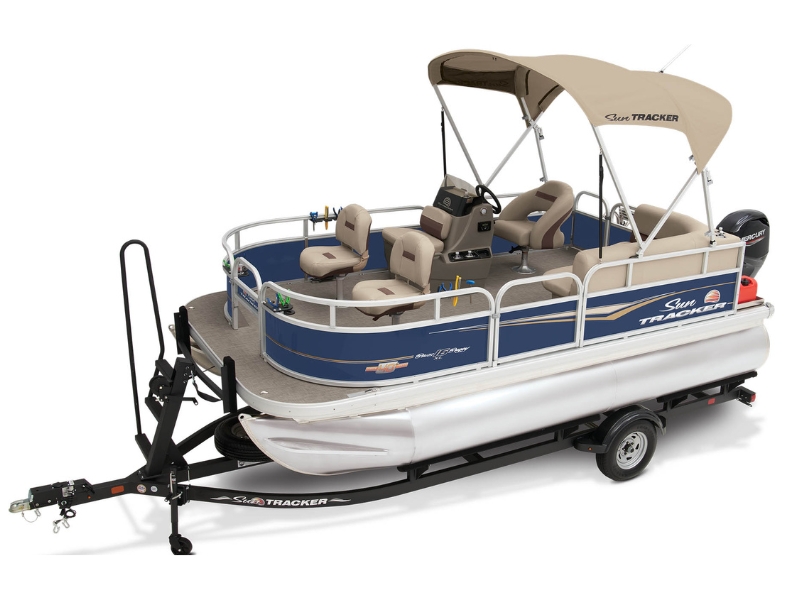 For those who prefer fishing to day cruising or watersports, the Sun Tracker Bass Buggy 16 DLX is the perfect cheap pontoon boat! 
There are two folding fishing chairs fixed on it if you need to use the area for something else. Turn on the trolling motor, make use of the live wells, and store your rods to make the most of every fishing excursion you go on with family and friends.
Another advantage of this pontoon boat is its huge storage facility that has underneath. It also comes with consoles with mounted rods and drink holders to free up your hands for reeling in the day's catch. There is enough space for all of your gear, and it was specifically created with anglers in mind.  
9. Bennington S 21 L Bench
Yet another affordable pontoon boat created by Bennington! If the other two models did not strike your fancy, we think this one will!
The Bennington S 21 L Bench is the perfect day cruiser and includes an L-shaped seat with a sun pad and a ton of storage underneath.

This particular model has the advantage of being offered in 13 distinct configurations, which the maker can alter to your taste and preferences. All for a reasonable price! 
Although Bennington is renowned for producing some of the best pontoons available with premium design and luxury, their more budget-friendly S-line does not in any way resemble a hurried job made of sub par materials as you may find in the less expensive versions from other manufacturers. The floor designs are so versatile, and the seating still has a sumptuous appearance and feel that you really feel like you're getting your investment back.
10. Cypress Cay C 171 Cruise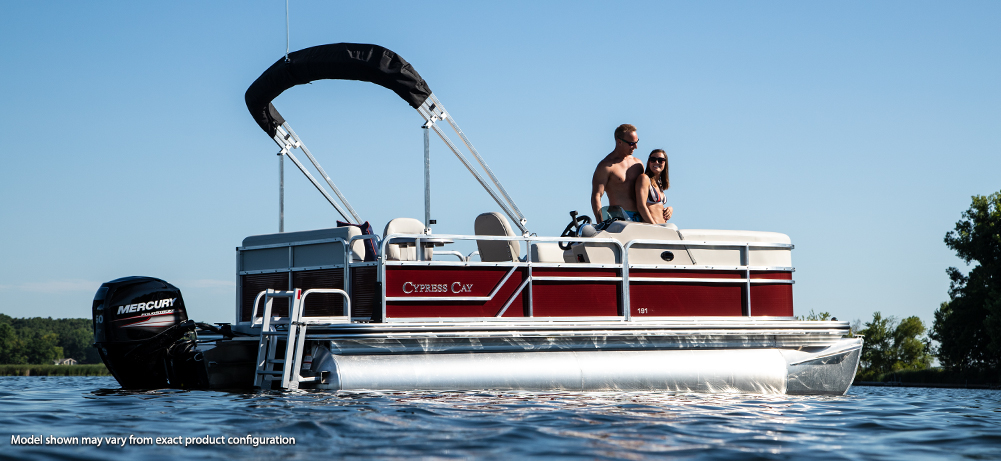 The Cypress Cay C 171 Cruise is perfect who someone who prefers a smaller pontoon boat equipped with all the features you could possibly need and want. It is also a cheap pontoon boat that costs under $18,000. 
It comes with an aft forward-facing sofa, pedestal chairs for the helm and passengers, and a pair of forward loungers, the C 171 Cruise also features an unconventional seating layout. Therefore, despite this boat's small size, all eight passengers may find a comfortable place to sit.
11. Sun Tracker Party Barge 20 DLX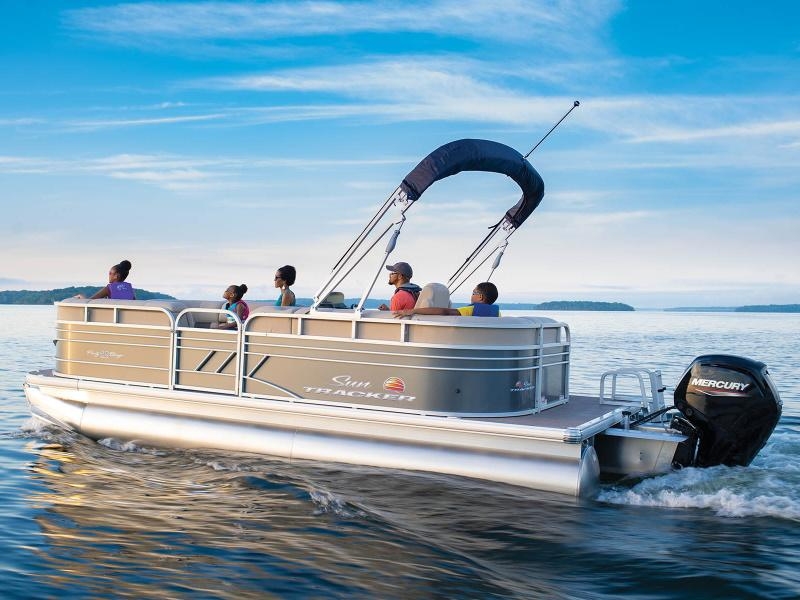 The Sun Tracker Party Barge 20 DLX is an inexpensive pontoon boat equipped with a 90 horse Mercury FourStroke, so it's quite a speedy one, too! 
The trailer has brakes, a forward boarding ladder, and a tandem-axel set-up. Along with the helm chair, seating comprises a couch, couch, and L-lounger arrangement. 26-ounce upholstery over multi-density foam cushioning adds to the comfort.
The maker of this model was thoughtful and it included a feature that does not exist on most pontoon boats: a gate that can be accessed by wheelchairs.
12. Princecraft BrioE 17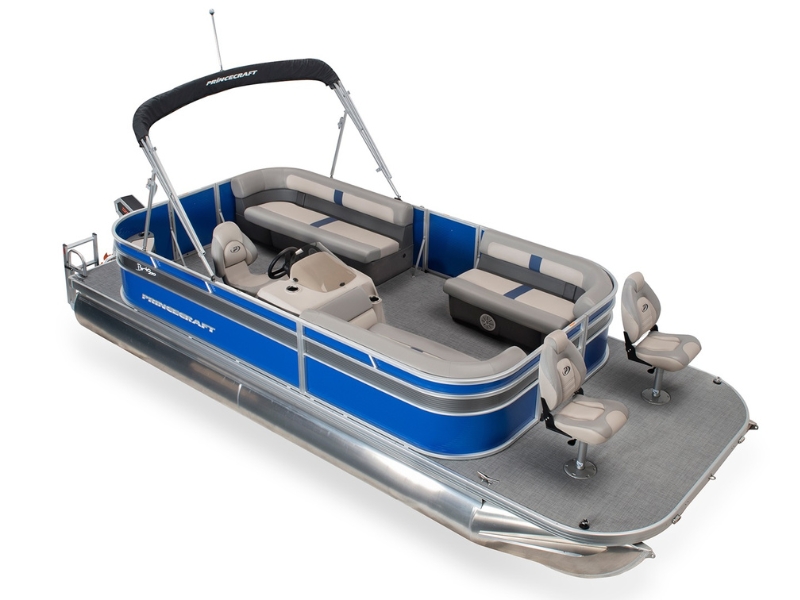 This is another eco-friendly affordable pontoon boat that will come in handy if you reside on or near a lake that forbids gasoline motors or if you simply want to leave the smallest carbon imprint possible. 
Powered by a Torqeedo Cruise 2.0 2,000 watt electric outboard (equivalent to a five-horsepower gasoline engine), speeds will be leisurely and the cruising range will be constrained.
The base cost is just over $13,000; however, you could add $8,000 to receive the two 24-volt solar panels. With two huge couches on the port side and a smaller set plus a helm station with a driver's seat on starboard, the BrioE 17 is similar to any other "regular" pontoon save from the power system.
We can all agree that many pontoon boats are luxurious and comfortable, and they come with numerous features. Some are perfect for those who want to enjoy a perfect day cruising with their family and friends, other are great for fishing, and there are also many models which you can use for various watersports if you are a thrill-seeker who enjoys adrenaline! 
If you choose the right pontoon boat that fits you and your preferences, there's no need to spend a fortune on a yacht!