Looking for the best things to do in London? Then you have arrived at the right place. Here's a comprehensive London bucket list with must-dos and places to visit in the capital of the UK.
London, often referred to as the "Gateway to Europe," stands as one of the most visited cities on the continent. This destination is genuinely awe-inspiring, boasting a remarkable past, thriving traditions, and a flourishing financial system.
Regarding politics, London is the heart of the United Kingdom's governance. The city houses the UK Parliament, where significant decisions are made and historic debates unfold. The monarchy's presence, with Buckingham Palace as its focal point, adds an element of regal tradition to the political landscape.
Economically, London is a juggernaut. It's not only the financial capital of the UK but also a global financial hub. The City of London, often referred to as "The City," is a financial district known for its international banks, investment firms, and stock exchanges. This financial prowess contributes significantly to the UK's economy.
Culturally, London is a melting pot of diversity. People from all corners of the world call it home, making it a truly cosmopolitan metropolis. Its museums, theaters, and art galleries attract culture enthusiasts, and its diverse culinary scene reflects the city's international character.
In terms of tourism, London consistently ranks among the top destinations worldwide, drawing millions of visitors annually. Its blend of history, culture, and modernity creates an irresistible allure for travelers.
Navigating its bustling streets and iconic landmarks, one can't help but feel the pulse of a city that has played pivotal roles in shaping the world, both politically and economically. 
As the most visited city in Europe, London continues to be a dynamic and influential global player on multiple fronts.
The London Bucket List
Welcome to the bustling metropolis of London, where history, culture, and modernity intertwine in a spectacular dance. The vibrant capital of the United Kingdom is a city that effortlessly blends history, culture, and modernity. With its rich tapestry of experiences, there's something to delight every traveler.
Whether you are visiting for the first time or have traveled here before, this guide will walk you through the best things to do in London.
From iconic landmarks like Buckingham Palace to hidden gems like Neal's Yard, this comprehensive travel guide will help you create the ultimate London itinerary.
So, fasten your seatbelts and get ready for your visit to London! Let's explore the wonders of this magnificent and vibrant city and find the epic things to do while visiting the famous London!
1. Westminster Abbey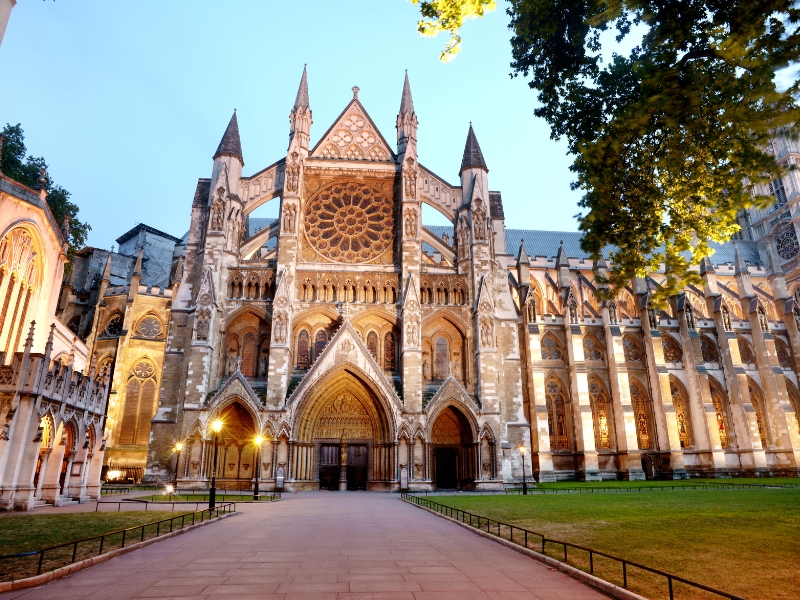 Westminster Abbey is a magnificent Gothic masterpiece steeped in history and tradition. It has played a central role in countless royal ceremonies, from coronations to weddings. The abbey is an architectural marvel and a place where generations of monarchs and famous figures rest in peace. You can explore its awe-inspiring interior, which includes the Poets' Corner, honoring literary giants, and the stunning Lady Chapel.
Westminster Abbey stands as a symbol of Britain's rich heritage and continues to be a place of worship, celebration, and commemoration, making it a must-visit for those seeking to delve into the heart of British history.
2. Buckingham Palace
While you might not have tea with the King, a visit to Buckingham Palace is a royal attraction in London you must visit. Experience the Changing of the Guard ceremony. Explore the stunning gardens surrounding the official residence of the British monarch. It is the official residence of the British monarch in London and a symbol of royal grandeur. The palace is a recognizable landmark with its iconic balcony, where historic moments like royal wedding kisses are shared. 
Although you cannot explore the main palace's interior, you may see the splendor of the Changing of the Guard event, which is held in the forecourt. The court also offers beautiful views of St. James's Park and is surrounded by notable attractions like St. James's Palace and The Mall. Buckingham Palace is a testament to British royalty and a must-see on any London experience.
3. London Eye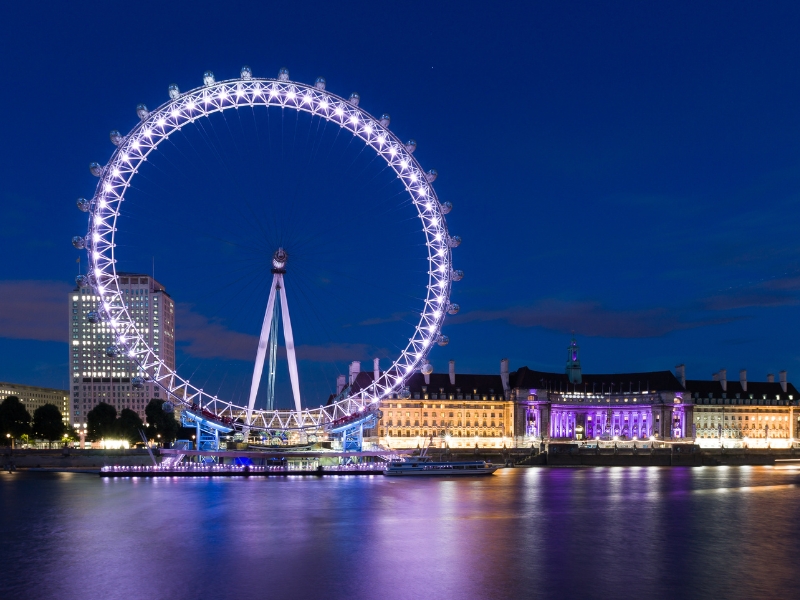 Also referred to as the Millennium Wheel, London Eye is a famous Ferris wheel on the South Bank of the River Thames. Standing at an impressive height of 135 meters, it offers the best views and breathtaking panoramic views of the city's skyline. The London Eye comprises 32 sealed and air-conditioned passenger capsules, each representing one of London's boroughs. 
Enjoy a slow rotation on the London Eye while seeing spectacular views of the city and glimpses of well-known sites like St. Paul's Cathedral, Buckingham Palace or Big Ben. It's a must-see destination for those seeking a distinctive view of London's grandeur and splendor.
4. Tower of London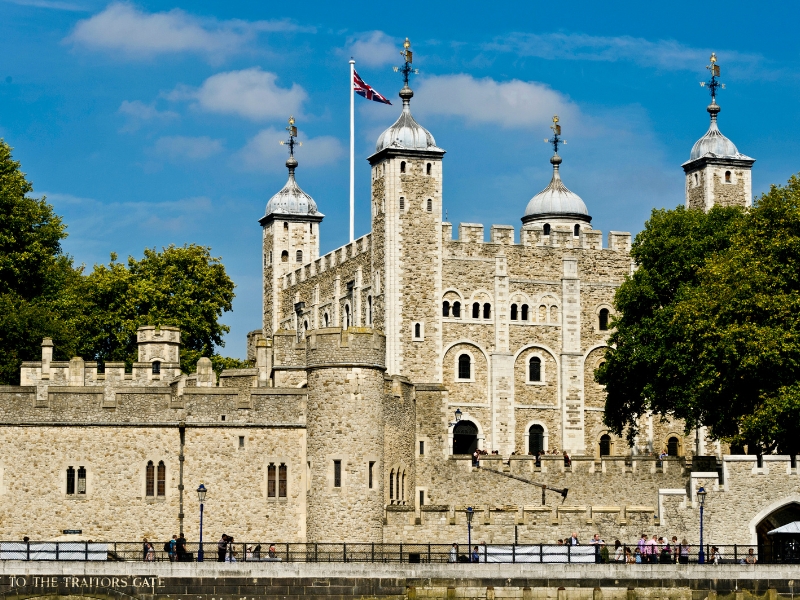 Delve into history at the Tower of London, a UNESCO World Heritage Site with a captivating past. It is a beautiful historical fortress that has worn many hats over the centuries—a royal palace, prison, mint, and even a zoo. It's most famous for housing the Crown Jewels, including the dazzling Imperial State Crown. Exploring the Tower allows you to step back in time as you wander through its medieval chambers, cross the drawbridge, and visit the iconic White Tower. 
Remember to say hello to the resident ravens, guardians of the realm according to legend. With its rich history and royal connections, the Tower of London is a must-visit for history enthusiasts and those seeking a glimpse into England's regal past.
5. Borough Market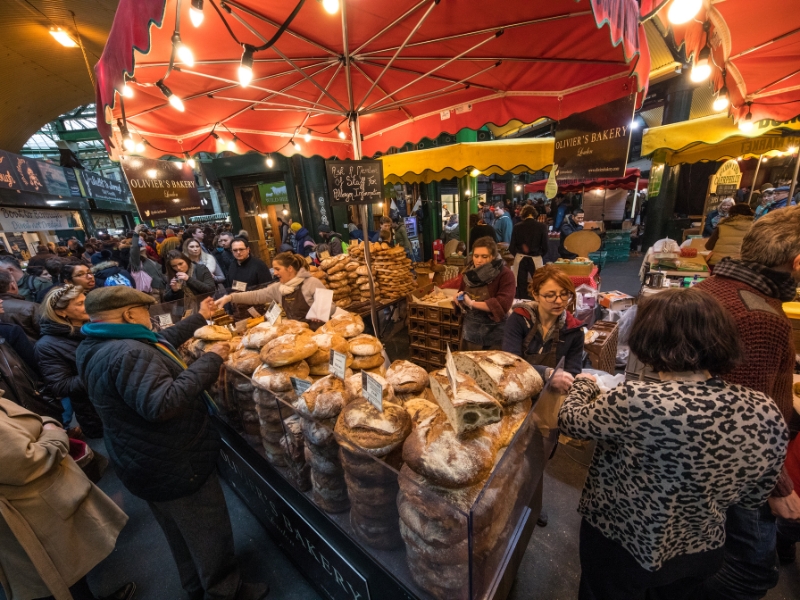 Foodies rejoice at Borough Market, a culinary paradise in the heart of London and a place to see. Sample gourmet delights, savor international street food, and indulge your taste buds in this gastronomic haven. It is a food lover's paradise nestled in the heart of London. Dating back over a thousand years, it's one of the city's oldest and most renowned markets.
Here, you can embark on a culinary journey through many stalls and stands, each offering delectable treats worldwide. The renowned Borough Market is a haven for those seeking sensory pleasures. The market indulges every palate, from the finest artisanal cheeses to freshly baked bread.
The perfume of various spices permeates the air, luring people to the numerous stalls. And for those seeking something more substantial, the street cuisine is simply divine. With its diverse range of offerings, Borough Market is truly a food lover's paradise. It's where you can savor the flavors of London's diverse food scene and immerse yourself in its vibrant and aromatic atmosphere.
6. London Bridge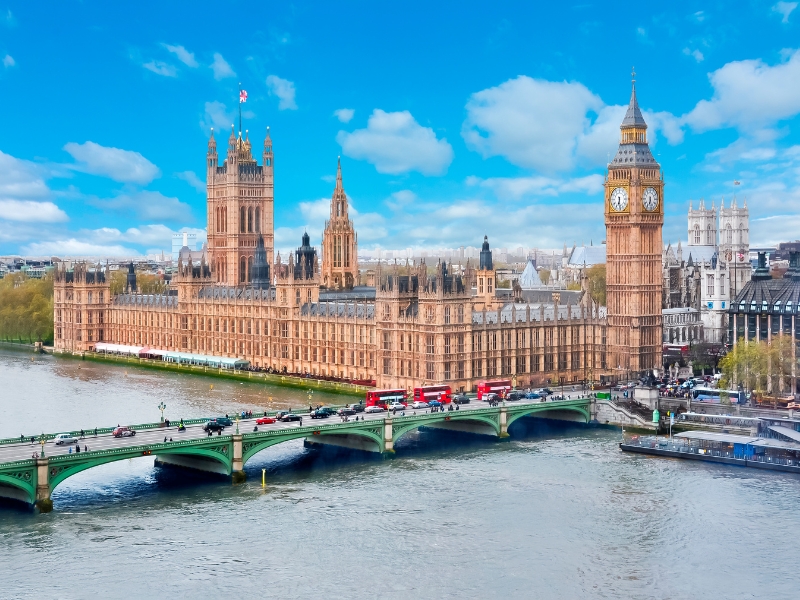 It is an iconic and historic structure that crosses the River Thames in central London. Often confused with the nearby Tower Bridge, London Bridge has a rich history dating back centuries. While the current bridge may not possess the ornate grandeur of some other London landmarks, its significance lies in its role as a vital river crossing and its historical associations. You can stroll across the bridge to enjoy picturesque views of the Thames and nearby landmarks, making it a charming part of any London itinerary.
7. St. Paul's Cathedral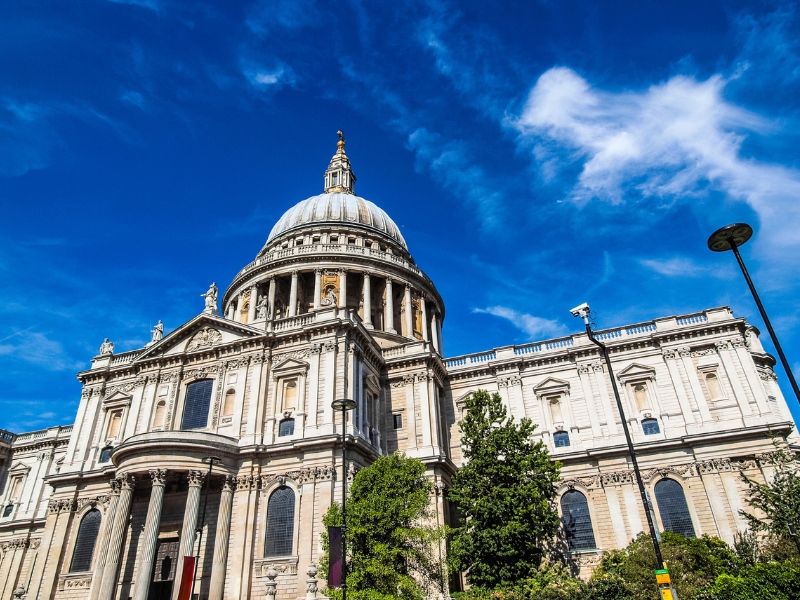 St. Paul's Cathedral is a remarkable piece of architecture that represents resilience. You can enjoy breathtaking views by climbing the Whispering Gallery and exploring its impressive interior. Sir Christopher Wren's magnificent dome is a notable element of the London skyline.
You can marvel at the intricate mosaics and the majestic high altar inside the cathedral.
During the Blitz in World War II, St. Paul's played a significant role as a symbol of hope and endurance. Today, it remains a place of worship and a testament to London's rich history and architectural excellence, making it a must-see destination for travelers.
8. Sky Garden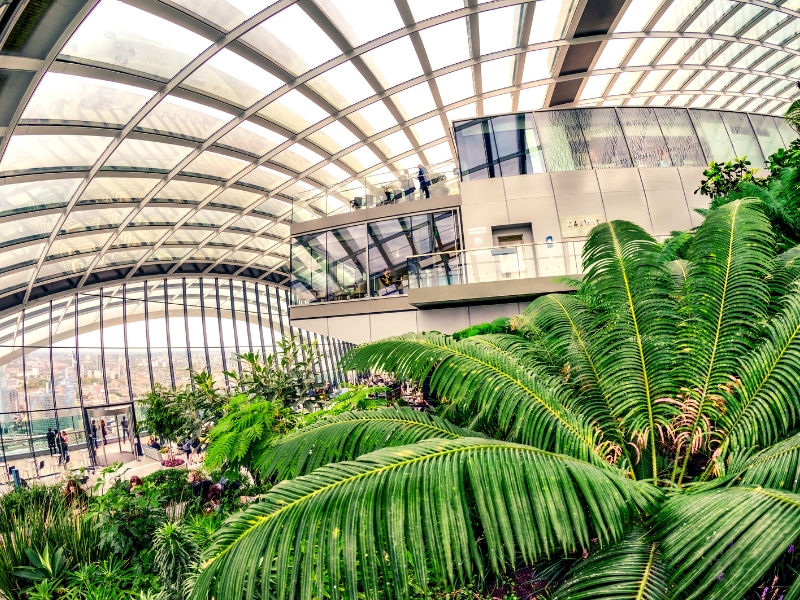 Experience London from above at the Sky Garden, a unique public and free-to-visit garden situated atop the skyscraper at 20 Fenchurch Street. It's an oasis amidst the city's hustle and bustle. Located atop the Walkie Talkie building at 20 Fenchurch Street, this lush public garden provides breathtaking views of the city's skyline. 
The verdant space is complete with tropical and Mediterranean plants, creating a serene environment to enjoy a coffee meal or soak in the atmosphere. Entry to Sky Garden is free, making it a fantastic budget-friendly option for those visiting London from a different perspective. 
Whether you're a nature enthusiast or seeking panoramic views, visiting Sky Garden is a delightful addition to your London itinerary.
9. The British Museum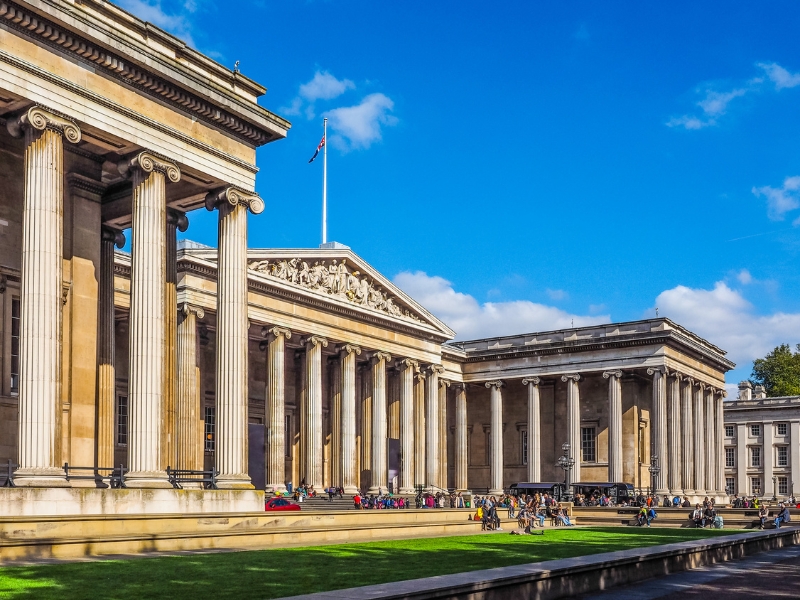 Discover worldwide treasures at the British Museum, the most famous museum in London. From the Rosetta Stone to the Egyptian mummies or Elgin Marbles, this museum is a journey through human history and culture, housing an extensive collection of artifacts worldwide. Founded in 1753, this iconic institution is home to many exhibits. 
With its grand neoclassical architecture and a diverse range of galleries, it's a place where you can journey through time and explore the heritage of civilizations. The best part? Admission is free, making it accessible to all who seek to delve into the fascinating tapestry of our shared past.
10. The London Zoo
If you're looking for a fun day in London, whether it's with your family or just to see some fantastic wildlife, the zoo is a place to visit in London. Explore the vast array of fascinating and diverse creatures from various corners of the globe at the renowned zoo in the heart of Regent's Park.
Take a leisurely and informative stroll through the extensive exhibits and gain invaluable insight into the vital conservation efforts to protect these magnificent animals. And remember to greet the adorable penguins, who will bring a smile to your face.
11. Tower Bridge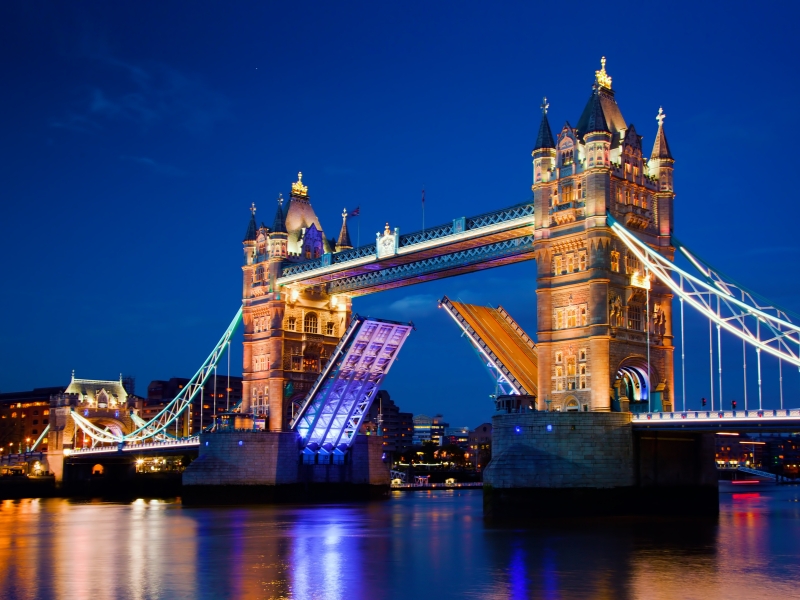 London's most famous bridge is Tower Bridge, the most photographed place in the city. Tower Bridge is 244 meters long and has two towers that connect a walkway constructed of six glass panels that provide spectacular views of the city. It is one of London's most iconic landmarks. 
This majestic drawbridge, with its twin towers and intricate Victorian architecture, spans the River Thames. The drawbridge of this structure is designed to serve a unique purpose – to allow tall ships to pass through. This impressive feature adds to the charm and specialty of the place. If you plan your visit carefully, you may have the privilege of witnessing this remarkable sight unfold before your eyes.
Inside, the Tower Bridge Exhibition offers an in-depth look at the bridge's history and mechanics, with breathtaking views from the high-level walkways. It's a must-visit spot that combines history, engineering marvels, and stunning vistas all in one.
12. Houses of Parliament and Big Ben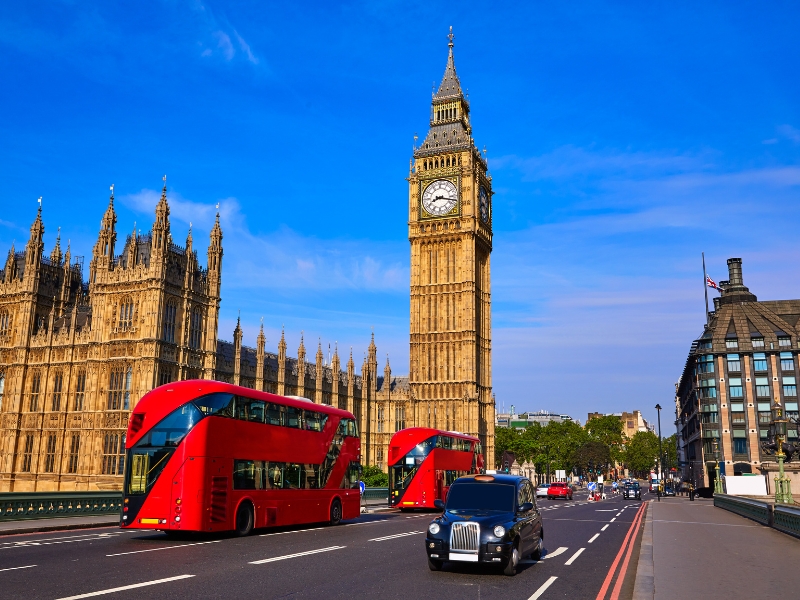 Admiring the majestic Houses of Parliament and the iconic Big Ben is essential to your London experience and on your list of things to do in London. These architectural wonders stand tall along the banks of the Thames River, creating a breathtaking sight you can't miss. While it's not possible to tour the Houses of Parliament without an invitation, you can still capture stunning photos of this historic landmark to cherish forever.
During medieval times, the Palace of Westminster was the primary residence of the monarchs of England. This historic structure features a magnificent Renaissance Gothic architectural style that is awe-inspiring.
Over the years, the palace has hosted numerous royal events, including 38 coronations and the funeral of Princess Diana. One of the most iconic features of the court is the majestic clock tower, commonly known as Big Ben, which stands an impressive 96 meters tall. The Tower serves as a symbol of the city of London and is a must-see attraction for visitors worldwide.
13. Covent Garden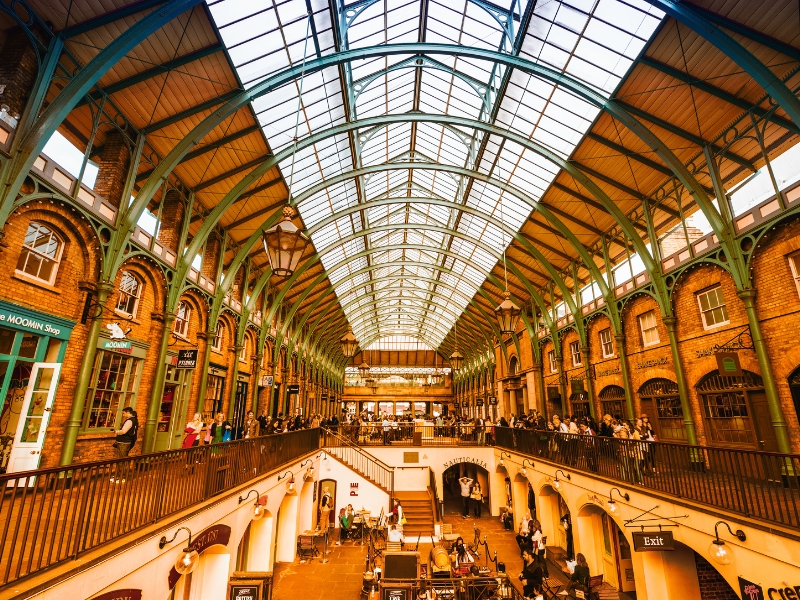 It has a rich history dating back to the 17th century, and it was initially a thriving fruit and vegetable market established by King Charles II. The area got its name from being part of the estate of the Earls of Bedford, the Russell family. It is famous for its street performers and buskers. You can catch entertaining acts ranging from magicians and musicians to living statues and jugglers in the market square.
In the centre of Covent Garden stands the Royal Opera House, one of the top opera and ballet houses in the world. It has a rich history and is renowned for its stunning performances. It is a shopper's paradise, featuring many boutique stores, designer shops, and unique finds. 
The area is also known for its diverse culinary scene, with numerous restaurants, cafes, and bars. Beyond dining, this cultural hub is home to theaters like the Donmar Warehouse and the Cambridge Theatre. It's a hotspot for theater enthusiasts.
14. The View from the Shard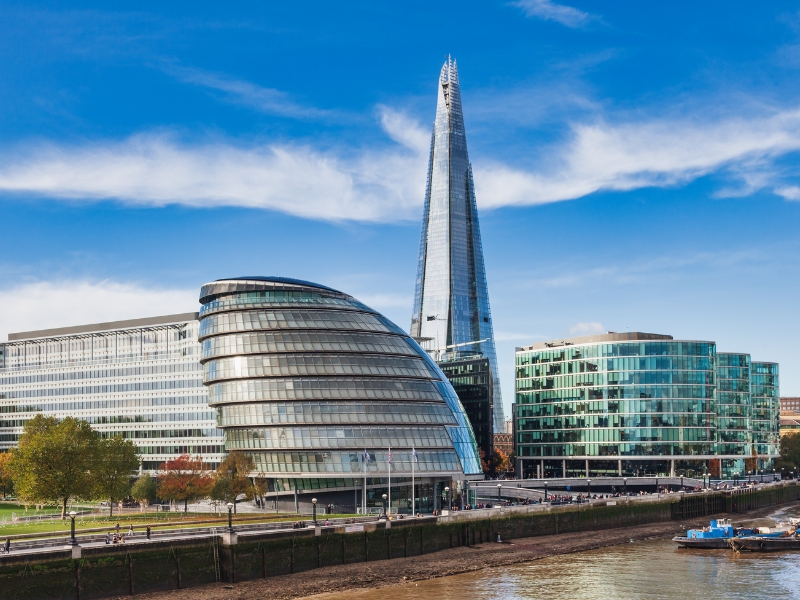 The Shard, situated atop the tallest skyscraper in Western Europe, boasts an unparalleled view of London's breathtaking skyline. Its observation deck provides a complete 360-degree view of the city, including the iconic landmarks of Tower Bridge, St. Paul's Cathedral, and the London Eye, all from 800 feet above the ground.
The allure of this experience is magnified at sunset and twilight when the city's twinkling lights create a stunning backdrop. With state-of-the-art telescopes and awe-inspiring vistas, the Shard is the place in London for anyone seeking to take in the best of London's urban landscape. It's definitely the best view of London.
15. Madame Tussauds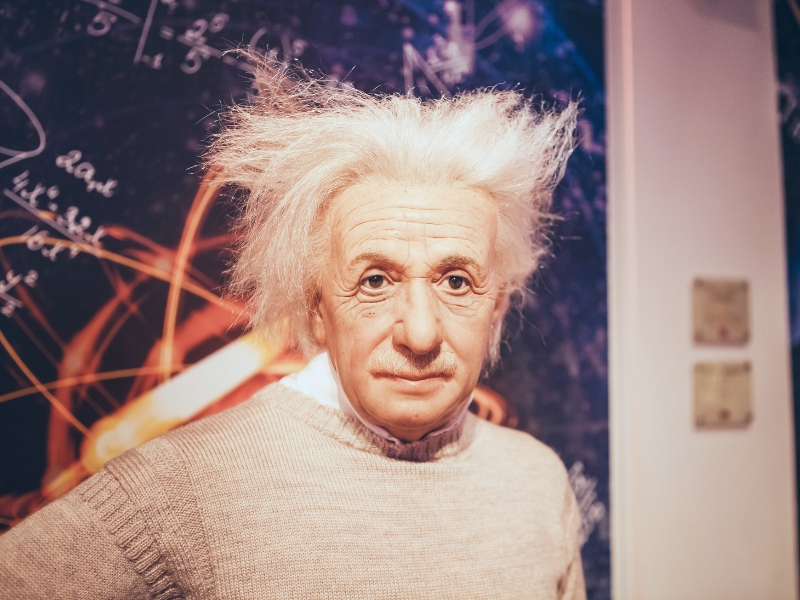 Nestled in the heart of London's Marylebone is an enchanting world where you can get up close and personal with your favorite celebrities, historical figures, and pop culture icons. This world-famous wax museum brings to life incredibly lifelike wax figures that'll have you doing double takes. 
From posing for selfies with the likes of the Queen, the Beatles, and Marvel superheroes to stepping into immersive movie sets and historical scenes, Madame Tussauds is a captivating journey through the worlds of fame, history, and entertainment. It's not just a museum; it's a chance to rub shoulders with the stars and create unforgettable memories.
Best Things to Do in London
There are plenty of things to see and do wandering through London streets. Discover a magnificent adventure waiting for you in this metropolis and its surroundings. London offers something for everyone, whether you're interested in history, culture, food, or adventure. 
Explore stunning palaces, world-famous museums, London parks, charming neighborhoods, and breathtaking scenery that will leave you with unforgettable experiences to treasure. This is undoubtedly one of the best places on your travel bucket list.
As you continue to explore London, here are more unforgettable experiences to add to your London bucket list.
16. Free to Visit Museums
London is blessed with an array of world-class museums, many of which are free to visit. Take advantage of the British Museum, the National Gallery, and the Tate Modern, which houses priceless art collections from around the globe.
17. Exploring the Thames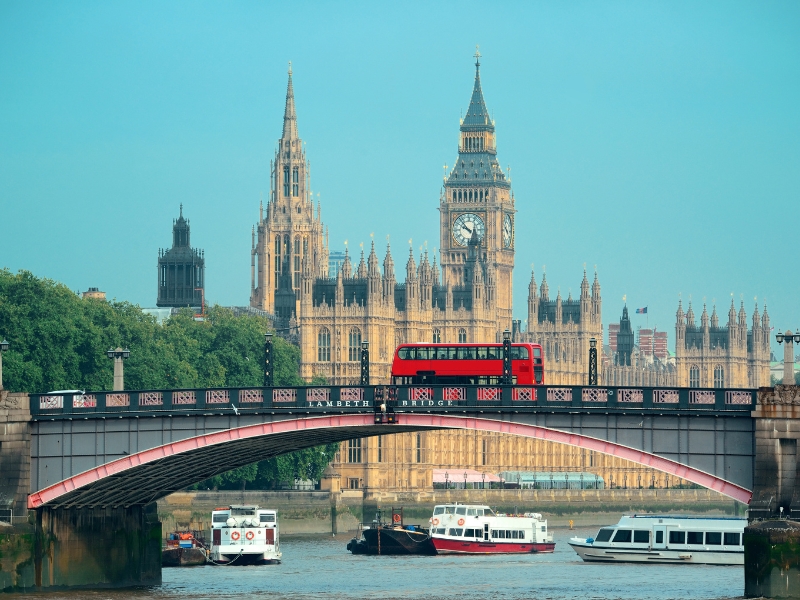 River Cruises: Cruise along the iconic River Thames and admire London's landmarks from a unique perspective. Choose from daytime sightseeing cruises or romantic dinner cruises that offer enchanting views of the city's illuminated skyline.
Several operators offer lunch or afternoon tea cruises, allowing you to savor delicious food while enjoying scenic river views. It's a unique dining experience. Some cruises take you to Greenwich, a historic area with attractions like the Royal Observatory, the Cutty Sark, and the Maritime Museum. 
Exploring Waterside Attractions: Discover attractions along the riverbanks, including the historic Cutty Sark in Greenwich, the dynamic Southbank Centre, and the remarkable Tower Bridge. It's a fantastic way to see London's landmarks differently and learn about their history.
You can explore these sites and enjoy a pleasant stroll in the area. Watch for wildlife along the riverbanks, including swans, ducks, and occasional seals.
18. London's Culinary Delights
Epicurean Adventures: London's culinary scene is a tapestry of flavors from around the world. Savor traditional British dishes like fish and chips at local pubs, indulge in international cuisines at Borough Market, and explore the diverse eateries in trendy neighborhoods like Shoreditch and Soho.
Afternoon Tea: Remember to catch the quintessential British tradition of afternoon tea. Enjoy delicate sandwiches, scones with clotted cream and jam, and an array of pastries at renowned tea establishments like The Ritz and Claridge's.
19. London's Sporting Spirit
Football Fever: London has you covered if you're a football enthusiast. Catch a match at legendary stadiums like Wembley Stadium, Arsenal's Emirates Stadium, or Chelsea's Stamford Bridge. The electric atmosphere and passionate fans make for an unforgettable experience.
Rugby Rivalries: For rugby fans, London hosts thrilling matches at stadiums like Twickenham, where the world's best teams compete. The crowd's roar and the adrenaline on the field create lasting memories.
Cricket venues: Londoners, known for their passionate embrace of sports, display unwavering loyalty to their cricket teams. Londoners are known for their ardent support of cricket teams, with iconic venues like Lords Cricket Ground and The Oval being epicenters of passion. These fans, from all walks of life, unite in team colors, engaging in spirited debates over pints and sharing the excitement of the game. For visitors, experiencing a cricket match in London is a gateway to the city's sports-loving soul and a chance to witness the camaraderie that defines this cherished sport.
20. Cultural Immersion
The West End: London's West End is renowned for its world-class theater productions. Secure tickets to iconic shows like Les Misérables, The Phantom of the Opera, or The Lion King for an evening of enchanting performances.
Historical Moments: Immerse yourself in history at the Churchill War Rooms, where you can step into the underground bunkers used during World War II. Explore the opulent Hampton Court Palace and imagine the lives of Tudor royalty.
21. Eventful London
Festivals and Events: Check London's event calendar to coincide your visit with festivals and events like the vibrant Notting Hill Carnival, the dazzling Lord Mayor's Show, or the literary celebration of the London Literature Festival.
Seasonal Celebrations: Depending on the time of year, you might witness the stunning fireworks of Bonfire Night in November, the magical Christmas lights that adorn the city in December, or the colorful displays during Pride in London in the summer.
22. Parks and Green Spaces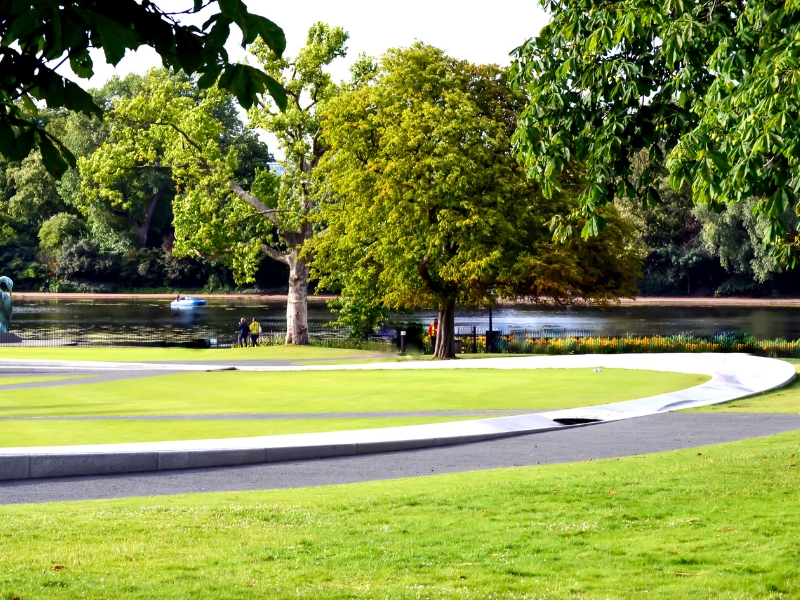 Kew Gardens: Spend a tranquil day at the enchanting Kew Gardens, a UNESCO World Heritage Site known for its stunning landscapes and glasshouses filled with exotic plants.
Hyde Park: Enjoy a stroll, rent a rowboat on the Serpentine, or relax in the expansive Hyde Park, one of London's most beloved green spaces.
23. The neighborhoods of Notting Hill and Portobello Road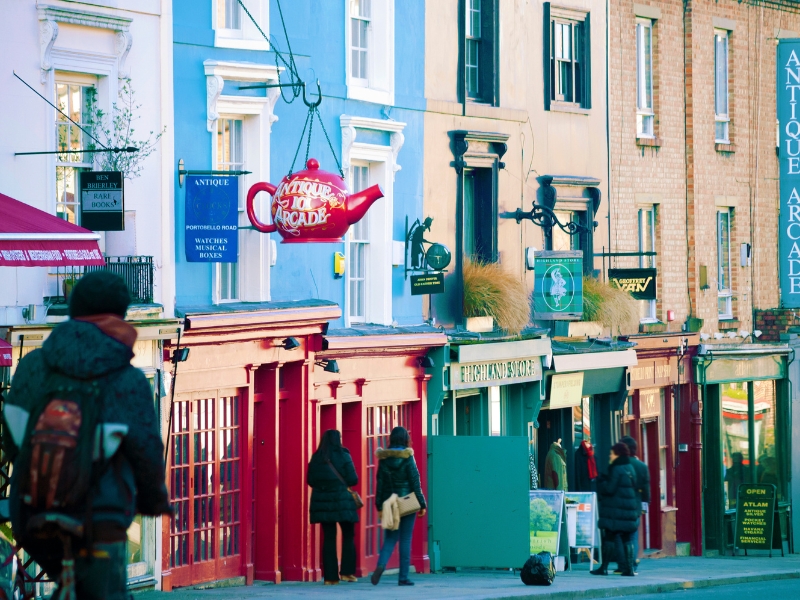 Notting Hill is a charming and affluent neighborhood in West London, known for its picturesque streets lined with colorful townhouses. It's a culturally diverse area with a vibrant atmosphere. The central hub, Notting Hill Gate, offers a mix of shops, restaurants, and cafes. 
Ladbroke Grove is famous for its annual Notting Hill Carnival, a celebration of Caribbean culture. Holland Park, adjacent to Notting Hill, boasts a beautiful park and grand residences. This neighborhood blends elegance and liveliness, making it a sought-after location for residents and tourists.
Portobello Road is a world-famous neighborhood within Notting Hill, celebrated for its lively and eclectic market. Portobello Road embodies the artistic and bohemian spirit of Notting Hill and is a must-visit destination for those seeking unique finds, cultural experiences, and a taste of London's delicious street life.
London is a shopping paradise for tourists, and the city's vibrant shopping scene draws visitors from all over the world. Let's explore some fascinating facts and information about shopping tourism in London, including the legendary Harrods and similar luxury shops.
24. London's Shopping Appeal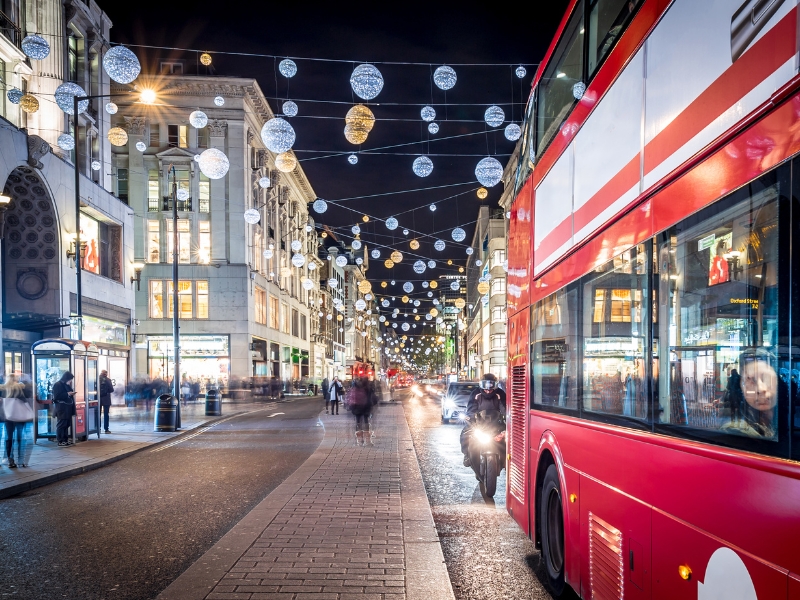 London is a shopping mecca, and its allure for shoppers is undeniable. Here are some key reasons why shopping tourism thrives in this bustling metropolis:
Diverse Shopping Districts: London boasts a wide array of shopping districts, each with unique charm. From the iconic Oxford Street, known for its flagship stores, to the trendy boutiques of Notting Hill and the luxury boutiques of Mayfair, there's something for every style and budget.
Luxury Shopping: London is synonymous with luxury shopping. The city is home to some of the world's most prestigious brands, including Burberry, Chanel, and Louis Vuitton. Bond Street and Sloane Street are renowned for their high-end designer boutiques.
Historic Markets: London's historic markets add a touch of nostalgia to the shopping experience. Explore Portobello Road Market for antiques, Borough Market for gourmet treats, and Camden Market for alternative fashion.
Harrods: The Crown Jewel
No discussion of shopping in London is complete without mentioning Harrods. This world-famous department store, located in Knightsbridge, is a retail institution like no other:
Opulence Redefined: Harrods is the epitome of luxury shopping. Its opulent halls and beautifully adorned rooms offer a truly unique shopping experience.
Exclusive Collections: Harrods is home to exclusive collections from top designers, making it a destination for fashion connoisseurs. You can find haute couture, jewelry, and accessories that are the epitome of style and sophistication.
Gourmet Delights: Harrods' Food Halls are a food lover's paradise. Explore a wide range of culinary delights, including fine wines, decadent chocolates, and gourmet delicacies from around the world.
Personal Shopping: Harrods offers a personalized shopping experience where dedicated stylists assist customers in finding the perfect items, ensuring a memorable and tailored visit.
25. Similar Luxury Shops
While Harrods is the most iconic, London boasts several other luxury shops that cater to discerning shoppers:
Fortnum & Mason: Known for its exquisite teas, hampers, and refined foods, Fortnum & Mason has been a purveyor of luxury goods for over three centuries.
Selfridges: Located on Oxford Street, Selfridges is a high-end department store offering a diverse range of luxury brands and designer goods.
Liberty London: This Tudor-style department store in Soho is celebrated for its distinctive prints and eclectic selection of fashion, accessories, and homeware.
Burlington Arcade: A historic covered shopping arcade in Mayfair, Burlington Arcade is famous for its fine jewelry and watch boutiques.
In conclusion, London's shopping tourism is a testament to the city's enduring appeal as a global fashion and retail destination. Whether you're seeking high-end luxury at Harrods or exploring the eclectic offerings of the city's markets, London's shopping scene is a delightful journey for travelers with a penchant for fashion, style, and gourmet indulgence. So, come prepared to shop 'til you drop and take home a piece of London's unique charm.
26. The Harry Potter celebration at King's Cross Station
In the heart of London, nestled within the bustling King's Cross Station, lies a magical celebration that will transport you straight into the enchanting world of Harry Potter. Imagine strolling through the station and stumbling upon Platform 9¾, where the Hogwarts Express departs for the famed school of witchcraft and wizardry. Here, at this whimsical spot, you'll discover a trolley seemingly vanishing through the wall, an optical illusion that never fails to delight visitors. Adjacent to this enchanting platform, a Harry Potter-themed gift shop awaits, brimming with wizarding wonders.
But what truly sets this experience apart is the camaraderie that thrives among fans. As you stand in awe of the mystical platform, you'll likely find yourself surrounded by fellow 'Potterheads' donning wizarding robes, proudly displaying scarves representing their Hogwarts houses, and even wielding wands. It's a testament to the enduring magic of J.K. Rowling's world and the powerful sense of community it fosters among fans of all ages.
You can explore iconic potter filming locations in London: Leadenhall Market, Millennium Bridge, Reptile House at London Zoo, Claremont Square, Australia House, Lambeth Bridge, and Warner Bros. Studio Tour London.
Exploring these Harry Potter filming locations in London is a fantastic way to connect with the wizarding world and relive some of the most memorable moments from the books and movies.
So, as you explore the diverse tapestry of London's attractions, take the chance to step into the wizarding world at King's Cross Station. It's a delightful reminder that magic is alive and well in the hearts of fans worldwide, and London is a city where dreams and reality effortlessly blend into one enchanting experience.
27. Take a Day Trip from London
While London itself offers a treasure trove of experiences, take advantage of the opportunity to explore the beautiful destinations that surround the city. London's strategic location makes it an excellent starting point for day trips to nearby attractions.
Oxford: Academic Excellence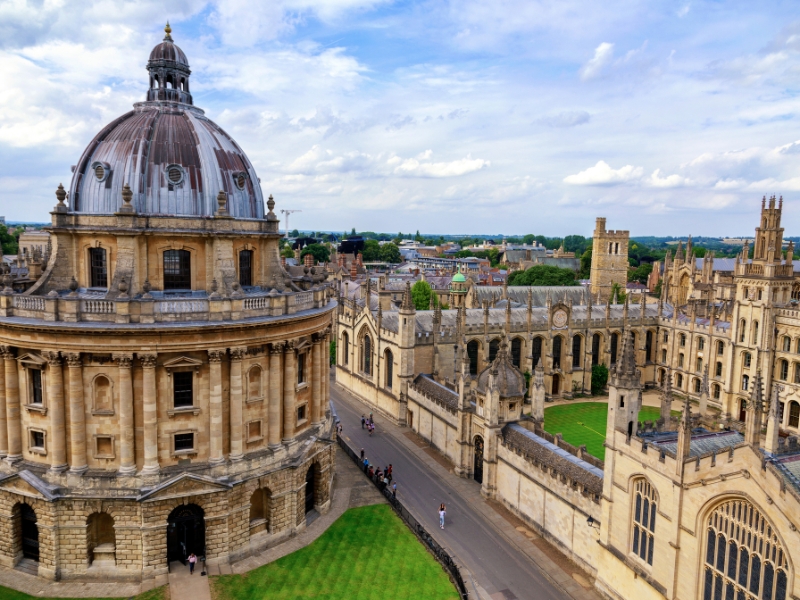 Journey to Oxford: Just a short train ride away, Oxford beckons with its prestigious university, historic colleges, and captivating architecture. Wander through the renowned Bodleian Library, explore the grandeur of Christ Church College, and stroll along the banks of the River Cherwell.
Cambridge: Idyllic Scenery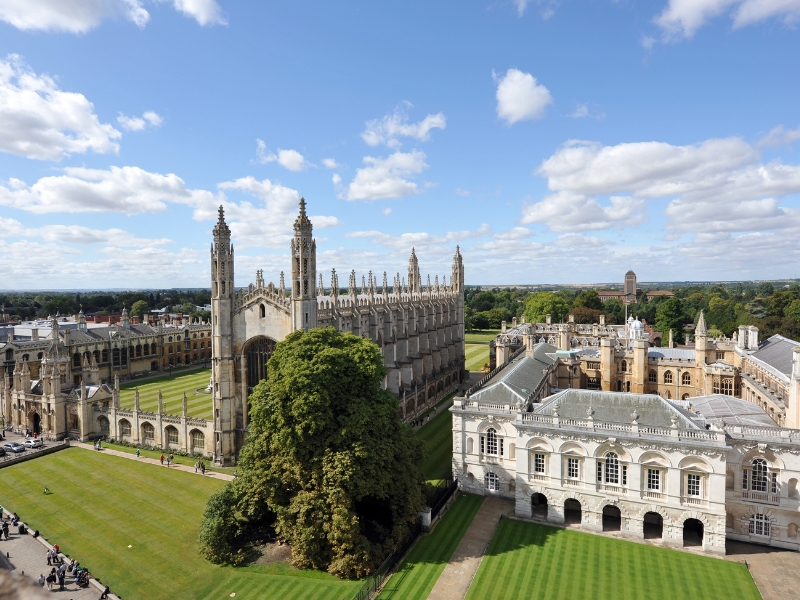 Discover Cambridge: Embark on a journey to the charming city of Cambridge. Explore the hallowed halls of Cambridge University, go punting on the serene River Cam, and be inspired by the lush green landscapes and medieval architecture.
Windsor: Royal Grandeur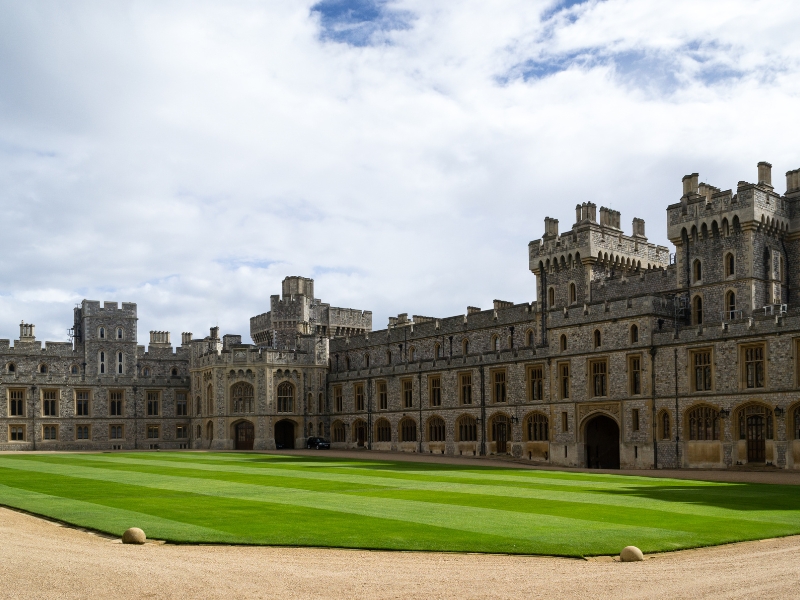 Windsor Castle: Embark on a journey to witness the grandeur of Windsor Castle, an architectural masterpiece that stands tall as the world's oldest and biggest occupied castle. Feast your eyes on the opulent State Apartments, adorned with exquisite artwork and lavish furnishings that exude grandeur and luxury. 
Take the chance to witness the iconic Changing of the Guard ceremony, a spectacle that leaves visitors in awe with its precision and tradition. And while you're at it, take a stroll through the charming town of Windsor, a quaint and picturesque setting that's perfect for a leisurely afternoon walk.
Bath: Roman History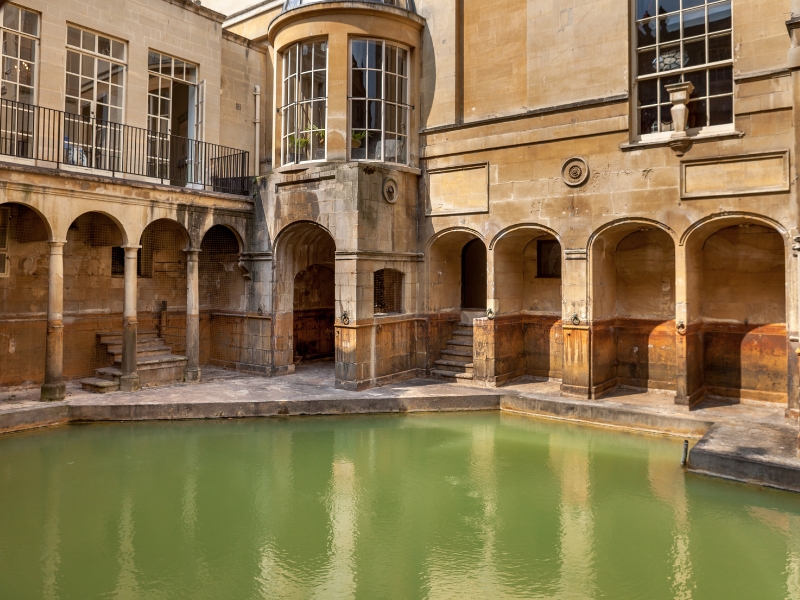 Roman Baths: Travel back in time to the ancient Roman era in the picturesque city of Bath. Admire the well-preserved Roman Baths, relax in the therapeutic waters of the Thermae Bath Spa, and explore the elegant Georgian architecture of the city.
Stonehenge: Mystical Wonders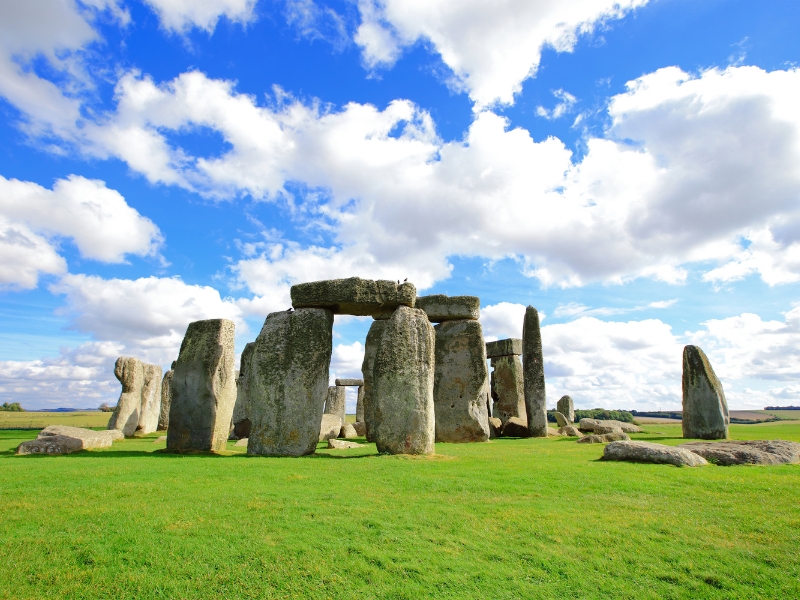 Mysterious Stonehenge: Venture to the enigmatic Stonehenge, a UNESCO World Heritage Site. Contemplate the mysteries of these prehistoric stone circles and discover the Visitor Center's informative exhibits.
The Cotswolds: Scenic Beauty
Countryside Charm: Experience the idyllic beauty of the Cotswolds, a region characterized by rolling hills, picturesque villages, and thatched cottages. Stroll through villages like Bourton-on-the-Water and Bibury to taste the quintessential English countryside.
Stratford-upon-Avon: Shakespeare's Legacy
Shakespeare's Birthplace: Journey to Stratford-upon-Avon, the birthplace of William Shakespeare. Explore the historic Shakespeare's Birthplace, wander along the River Avon, and soak in the literary heritage of the town.
Brighton: Seaside Escape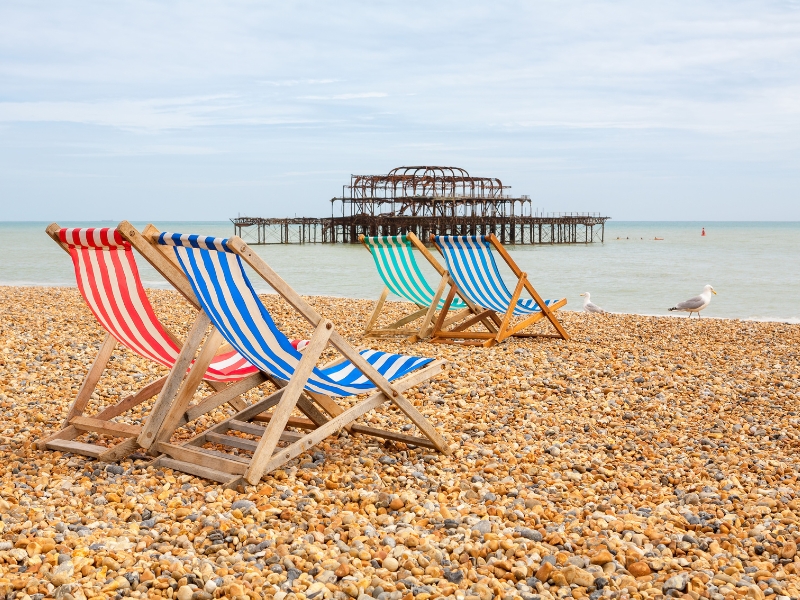 Brighton Beach: For a change of scenery, head to Brighton, a vibrant seaside town. Enjoy the pebble beach, explore the Royal Pavilion, and soak in the bohemian atmosphere of the famous Lanes.
Wimbledon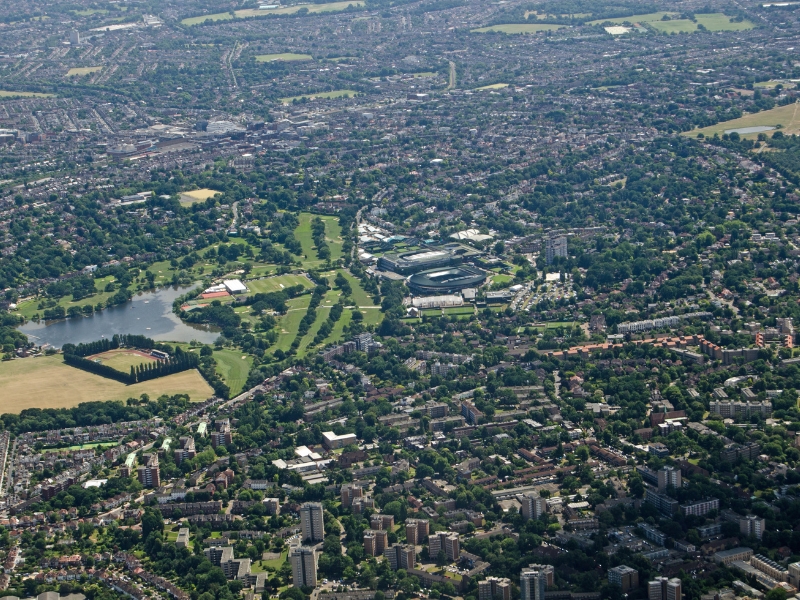 Often referred to as the "Mecca of Tennis," it is an absolute must-visit for travelers in London, especially if you love sports and culture. This iconic tennis tournament is one of the world's four Grand Slam events, attracting the world's finest tennis talents.
But it's not just about tennis; Wimbledon embodies a quintessentially British experience. Picture pristine lawns, strawberries and cream, and enthusiastic spectators sipping Pimm's – it's a delightful tradition. 
Wimbledon's Centre Court, with its retractable roof, ensures uninterrupted play, rain or shine. And if you're lucky, you might witness an epic showdown that will be discussed for years.
So, for sports enthusiasts and culture seekers alike, visiting Wimbledon offers a unique blend of world-class tennis and British heritage. It's not just a tournament but an experience that captures the essence of sport and tradition in one unforgettable trip.
How Many Days Should You Spend in London?
When planning your stay in London, you may wonder how many days you should spend there. Whether you have two, three, four, or even a week, organizing your time and prioritizing the things you want to see in London is crucial. Efficiency is vital for your time in London.
Spend your days exploring London's neighborhoods like a local. Wander through vibrant markets, sip tea at cozy cafes, and chat with friendly Londoners. Embrace the city's unique charm. Relax in London's numerous parks, such as Hyde Park and Regent's Park. Enjoy picnics, leisurely strolls, or a boat ride in serene surroundings. 
Explore and savor London. Start your day with a hearty English breakfast at a local cafe. Try classics like the Full English Breakfast or Eggs Benedict.
To beat London's traffic, use the efficient London Underground (the Tube) or hop on a red double-decker bus. Think about acquiring a contactless payment card or an Oyster card to make your travels more convenient.
You can enjoy traditional British fare at a nearby pub at lunch. Try fish and chips or a hearty pie. In the afternoon, visit one of London's world-class museums and check for any special exhibitions or events. Or consider grabbing a quick bite from a food vendor near the stadium or enjoy a classic pie at a nearby pub. Attend a sports-related event or explore iconic sports venues. Visit the Wimbledon Lawn Tennis Museum or the Lord's Cricket Ground for a guided tour.
Welcome the evening with an authentic English dinner. Book a table at a gastropub or restaurant that specializes in British cuisine. Taste dishes like roast beef with Yorkshire pudding. Savor dishes that blend traditional flavors with contemporary techniques. Check for evening events or concerts at venues like the Royal Albert Hall or the O2 Arena. London's nightlife offers a variety of entertainment options. Attend live performances, from West End shows to street musicians. Check out art galleries, theaters, and cultural events to soak in London's creative spirit.
Sports, events, and experiences. If there's a football match scheduled, consider attending one at a local stadium like Wembley or Stamford Bridge. Plan your route and use public transportation to reach the stadium. London's traffic can be congested on match days.
Additional Tips
Traffic and Transportation: London's traffic can be busy, especially during rush hours. It's advisable to use public transportation or taxis when needed. Plan your journeys in advance using apps like Citymapper or Google Maps.
Events: Keep an eye on London's event calendar for concerts, theater shows, exhibitions, and festivals during your stay. London offers a wide range of cultural experiences.
Local Cuisine: Remember to try traditional English dishes like bangers and mash, steak and kidney pie, and sticky toffee pudding at various restaurants and pubs throughout your stay.
Best Time to Visit London
Whether you're a fan of blooming gardens in spring or cozy pubs in winter, London has something to offer year-round. 
The best time to visit London is during the late spring (Springtime Splendor) and early autumn (Autumnal Charm), typically from May to September. The weather is generally mild during this period, with pleasant temperatures and longer daylight hours, making it ideal for outdoor exploration and sightseeing. The city comes alive with blooming parks, festivals, and cultural events. However, remember that London's weather can be unpredictable, so packing layers and an umbrella is always a good idea. Additionally, traveling during the shoulder seasons often means fewer crowds and more affordable accommodations than in peak summer months. 
London's charm is undeniable, but its unpredictable weather makes planning the perfect visit challenging. By considering your preferences, you can determine the best time to experience all this incredible city has to offer. Here's a breakdown of the seasons:
Spring (March to May)
Spring in London is a time of renewal and blossoming. The city's parks burst into life with vibrant blooms, making it an ideal season for outdoor explorations. Witness the cherry blossoms at Kew Gardens and take leisurely walks through Regent's Park. The mild temperatures are perfect for strolling along the Thames River and enjoying open-air markets like Columbia Road Flower Market.
Summer (June to August)
Summer in London is synonymous with festivals, open-air concerts, and a lively atmosphere. The city basks in longer daylight hours, allowing for extended exploration. Enjoy picnics in Hyde Park, attend the vibrant Notting Hill Carnival, and take in a play at the iconic Shakespeare's Globe Theatre. However, as London's weather is still erratic, be ready for brief downpours.
Autumn (September to November)
London takes on a warm and cozy ambiance as the leaves change colors. Fall is a fantastic time to visit London. The weather is still relatively mild, and you can enjoy the city's parks adorned in golden hues. Plus, you'll find fewer tourists compared to the summer months. It's an ideal time to visit cultural institutions like the National Gallery and British Museum without the summer crowds. Sip on hot chocolate while wandering through the historic streets of Greenwich, or indulge in a classic afternoon tea as the weather cools down.
Winter (December to February)
London at Christmas is magical! The city is truly a sight to behold during the winter season with its captivating festive decorations. The city sparkles with festive lights and decorations. Ice skate at enchanting rinks like Somerset House and savor roasted chestnuts at Winter Wonderland in Hyde Park. Delve into London's rich history at indoor attractions such as the Churchill War Rooms, or escape the chill by exploring the city's renowned shopping districts. Nevertheless, it can also be quite chilly and dim, so it is advisable to wear appropriate warm clothing and anticipate occasional rainfall.
Where to Stay in London
When visiting London, your ideal base depends on your interests. Your choice of accommodation can shape your London experience. From the trendsetting vibes of Shoreditch to the timeless elegance of Kensington and Chelsea, we'll explore London's neighborhoods to help you find the perfect place to rest your head.
Central neighborhoods like Westminster or Covent Garden are great choices for iconic landmarks. If you're into art and culture, South Kensington offers proximity to world-class museums. For a trendy, artsy vibe, Shoreditch is the perfect choice. Kensington and Chelsea exude elegance and upscale shopping. Greenwich charms with its maritime heritage if you seek a quieter, historic atmosphere. Each London neighborhood has its unique charm, so pick the one that resonates most with your travel style and interests.
Choosing the perfect London neighborhood to stay in might considerably improve your experience. Here are some suggestions:
Shoreditch: Trendsetting Vibes
Stay here if you're a fan of street art, trendy cafes, and a buzzing nightlife.
Shoreditch, in East London, is a hotspot for creatives and trendsetters. It's known for its eclectic street art, innovative galleries, and a vibrant atmosphere. Stay in boutique hotels or stylish hostels and immerse yourself in the artistic energy. Explore Brick Lane for its diverse cuisine and shop at vintage markets.
Kensington and Chelsea: Timeless Elegance
Stay here if you appreciate historic architecture, upscale shopping, and cultural institutions.
This affluent area in West London exudes timeless elegance. Here, you'll find luxury hotels, charming townhouses, and access to world-class museums like the Victoria and Albert Museum. Stroll through the beautiful streets, dine in Michelin-starred restaurants, and enjoy upscale shopping on King's Road.
Greenwich: Maritime Heritage
Stay here if you're fascinated by maritime history, scenic parks, and a peaceful atmosphere.
In Southeast London, Greenwich offers a quieter escape from the city's hustle and bustle. It's renowned for its maritime heritage, including the Cutty Sark and the Royal Observatory. Stay in cozy B&Bs, explore the historic market, and enjoy riverside walks in Greenwich Park.
Covent Garden: Theater and Entertainment
Stay here if you love theater, shopping, and lively street performances.
In the heart of the West End, Covent Garden is a hub for entertainment. It's home to the Royal Opera House and boasts a lively atmosphere with street performers and boutique shops. Stay in historic hotels and explore the charming cobblestone streets and piazza.
Camden: Alternative Culture
Stay here if you're drawn to alternative culture, live music, and eclectic markets.
Camden, in North London, is known for its alternative scene. Stay in quirky accommodations and immerse yourself in the neighborhood's unique charm. Visit Camden Market, discover live music venues, and explore the Regent's Canal.
Westminster: Iconic Landmarks
Stay here if you want easy access to iconic landmarks and a central location.
Westminster is a historic borough located in the heart of London, renowned for its iconic landmarks and attractions. Among these are the world-famous Big Ben, the Houses of Parliament, and the stunning Westminster Abbey, which draws visitors from all over the globe. For anyone wishing to experience the finest that London has to offer, Westminster is a must-visit location. Westminster is wrapped in decades of rich history and culture. Choose from a range of hotels, including those with views of the Thames River. Enjoy unparalleled proximity to London's most famous landmarks.
Southbank: Riverside Views
Stay here if you crave stunning views of the Thames River and cultural experiences.
Southbank offers riverside accommodations with breathtaking views of London's skyline. It's home to the Tate Modern, the National Theatre, and the London Eye. Stroll along the Southbank Center and enjoy cultural performances.
Soho: Vibrant Nightlife
Stay here if you're looking for a lively nightlife scene, eclectic dining, and theaters.
In the West End, Soho is known for its bustling nightlife, theaters, and diverse dining options. Stay in boutique hotels and explore the vibrant streets, from the famous Carnaby Street to the historic Ronnie Scott's Jazz Club.
East End: Cultural Diversity
Stay here if you seek cultural diversity, markets, and a blend of old and new.
London's East End offers a mix of historic neighborhoods and modern developments. Stay in converted warehouses, explore Brick Lane's curry houses, and visit the Museum of London Docklands. It's a testament to London's ever-evolving identity.
Last Words on London Bucket List
London, the bustling city of the United Kingdom, boasts a plethora of tourist attractions and charming spots. The streets are lined with iconic landmarks that have stood the test of time and other treasures in plain sight, just waiting to be discovered. 
There is truly something for everyone in this vibrant and historic city. This city is a constant source of wonder for visitors, leaving a lasting impression that will stay with you forever. As you say your goodbyes, remember that the enchanting allure of London will always be ingrained in your memories. Until next time, happy travels!