Berth Booking and Boating During COVID-19: Restrictions & Social Distancing
If boating is your passion and you had plans to venture into the sea and explore new shores this summer, given the recent coronavirus outbreak, you might be tempted to postpone or cancel your plans altogether.
We know how disappointing this can be and we, therefore, want to help you out and provide you reliable information on how safe sailing and berthing are during the pandemic. Read on and learn what precautionary methods you should apply in case you decide to set sailing.
Due to the coronavirus outbreak, many governments have imposed strict social distancing measure in order to contain the spread of the potentially life-threatening disease COVID-19. We are no longer allowed to gather in groups of more than several persons and we are strongly advised to keep a distance of at least 1,5 meters from each other in public spaces. These measures have, of course, repercussions on harbors and marinas which greatly impacts sailors' capacity to indulge in their passion. Moreover, they also apply aboard. This being said, let us see how social distancing measures affect boating.
Theoretically, you should only go sailing with people who live in the same household with you since contact with other people increases the risk of spreading or catching the virus,
If you want to drop anchor near a beach and spend some time there, you should not sit on the beach next to people you don't know.
The same applies while on the water, you should sail at a distance from other boats and avoid communicating directly with other boaters, let alone inviting them to come aboard your yacht or vice versa.
On a similar note, you should not invite any friends or family members who don't share the same household with you aboard.
When you refuel your boat, stay at a distance from other boaters whoa are also waiting at the fuel dock.
Wash your hands with soap thoroughly for at least 20 seconds after you touch any objects in a marina.
On your way to your boat, avoid contact with people. If you manage to book a berth in a marina, apply social distancing measures as much as possible and don't socialize unless necessary.
2. Berthing in Mediterranean Marinas
During the past weeks, many countries have closed their borders making it impossible to travel there by plane, train or car. When it comes to sailing, the situation might be a little bit more flexible, but it is all a matter of destination.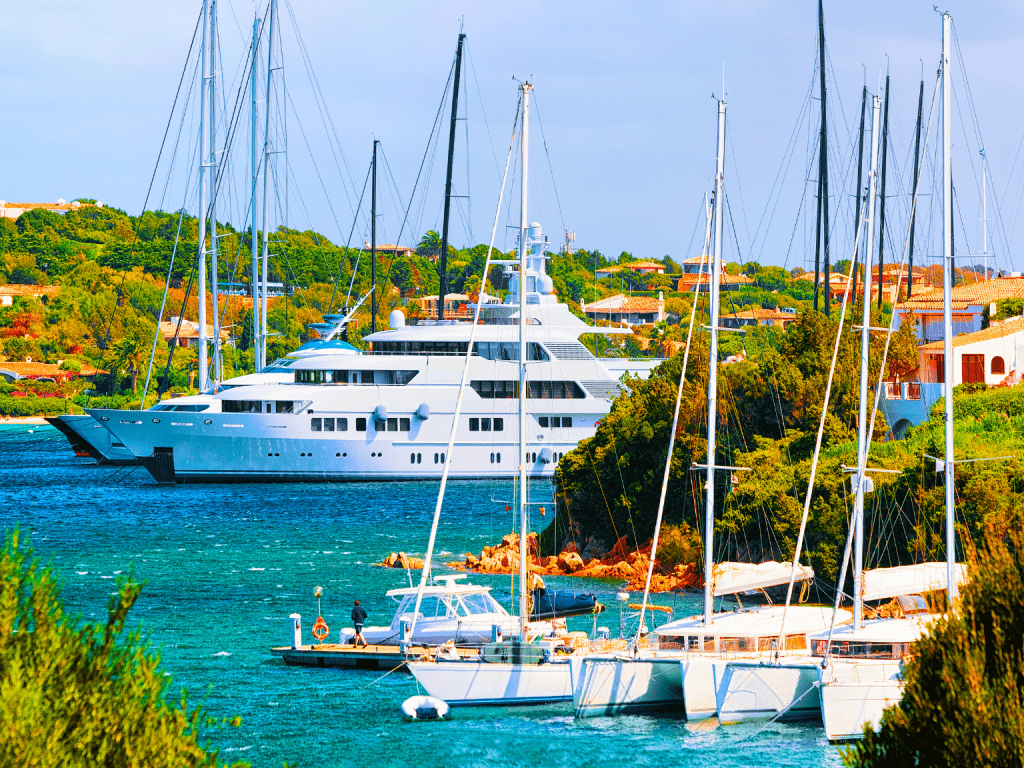 In some countries, it is still possible to sail, approach the coast or even book a marina reservation in one of their harbors. In others not. Therefore, the bottom line is that you must check each country's and port's regulations and limitations before you start your journey. Here below, you can see some popular marinas that have changed their regulations during the pandemic, find out what you can expect if you sail there.
Kindly be informed that even if during these hard times most of the ports are closed (no boats are allowed to enter or to leave), the marinas are accepting berth inquiries.
Please feel free to send us your berth requests so we can inform you about the marina's availability and price.
If you want to sail to these destinations or any other areas where this activity was not restricted, we can provide you short term moorings. Get in touch with us an tell us what your location of choice is, so that we can check its availability.
Furthermore, please be advised that you should also check on your own the internal procedures of each marina before your departure as the rules and restrictions differ from port to port and they are constantly updated. We are here for you, so don't hesitate to reach out to us for questions you might have, and we will strive to provide you the necessary information on moorings, marinas and berth booking.
3. Is Boating a Safe Social Distancing Activity?
The answer is – it depends. If you apply all the recommended social distancing measures such as keeping a distance between you and other boats while on the water and on the beach, and minimizing social interaction while you access your berth in a marina, boating can be safe.
Moreover, to maximize your safety, it is important to stick to the rule of doing this only with people you already live with. By avoiding interactions with people outside your household, you minimize your risk of a coronavirus infection.
4. Can I Get Assistance If I have Mechanical Problems While Boating During the COVID-19 Outbreak?
This is a problematic matter and it is normal to worry about this aspect as mechanical issues can literally ruin your boating trip or even leave you stranded in the middle of the sea. According to the information that is currently available, most on-the-water towing assistance services related to major fleets are still available.
Moreover, if you sail during the pandemic, and you encounter technical problems, you can also call the search & rescue or emergency service of the Coast Guard that is in charge of the area where you are sailing.
Nonetheless, before you decide to sail to any destination, we highly recommend that you check on the official websites of these entities or service providers or call them to make sure that you will be able to get help if needed.
5. Fuel Bunkering? Provisioning Services?
During these difficult times, we would like to thank you for being part of the MarinaReservation.com community, each and everyone of you contributed to the development of our berth-booking platform!
We would like to assure you that we will be on your side when you need our assistance and now it would be just the right moment.
Please note that you can rely on us if you are self-isolating on your boat, we can get in touch with the marinas where your yacht is moored and ask for supplies, fuel or any item that you may need.
Also, we have partnerships with many yachting agencies whose teams are multilingual and highly experienced marine professionals who are on hand to offer first-class yacht agency services to vessels cruising the Mediterranean waters.
If you are interested in this kind of services, please let me know and we will try to organize everything for you.
We are at your disposal for any query you may have.
6. How Do I Disinfect My Boat During the COVID-19 Pandemic?
It is known that the coronavirus which causes COVID-19 can survive on surfaces. Your boat is therefore prone to hosting the virus and you should properly disinfect it in order to be able to safely sail while minimizing the risk of infection.  
If the only persons accessing your boat are you and your family and none of you have recently been exposed to people who are sick or who have tested positive for the coronavirus, you are theoretically safe. However, if other persons, for example, staff members of the marina where you booked a berth, access your boat or touch any parts of it, you should disinfect it as a means of precaution.
You should use disinfectants that contain at least 60% alcohol to clean your boat accordingly. Nonetheless, pay attention when cleaning certain parts of the boat as some cleaning products such as bleach can cause discoloration to the canvass for example.
7.The Bottom Line on Sailing During the COVID-19 Outbreak
All in all, now that the warm weather is here to stay, which makes it almost impossible to spend time locked inside your home, sailing is a good pastime activity. Moreover, it can also be done in complete solitude, hence avoiding any risk of catching the much-feared virus.
If you have a boat, sailing in nearby areas where this type of travel is still permitted can be a fun and relaxing way of spending your free time. If you decide to give sailing a try during the pandemic, make sure you thoroughly respect all the social distancing rules provided by the local authorities in your area.