One of the things you'll have to pay for during your charter or sailing holiday is mooring fees or berthing fees.
What is a mooring fee? A Mooring Fee represents a time based charge applied to all vessels for staying in a marina or harbour overnight, and connecting to their facilities such as electricity or using their water supplies, toilet facilities, ropes and pontoons.
How Much Does It Cost to Dock a Boat?
How much does it cost to dock a boat in a marina? The answer is: it depends. It depends on different factors such as the place you want to dock. Mooring fees depend also on the type of vessel you have and how much time you want to dock. We are going to clarify these aspects and give you a quick overview of how much you have to pay for docking.
To dock a boat, you need an allotted place where you can secure it. This place can be found on a pier and it is called a slip (in USA) or a berth (in Europe). Berthing or mooring a boat allows you to easily embark and disembark. Slips or berths can be found on different types of piers: main piers, finger piers or floating piers.
How much does it cost to keep a boat in a marina? The Mediterranean can be expensive because of how popular it is. The French, Italian Rivieras and Croatia are the most expensive areas.
Mooring Fees in the Mediterranean
Mooring fees vary a lot in the Mediterranean based on the location you choose and the time of the year you travel. The peak season is the most expensive period and it ranges from July to the beginning of September. Besides the season, the length of the boat is a factor that will always influence docking fees for boats. If you rent a docking place for the whole season or for the whole year, you will get discounts.
The busiest period in the Med is between June and the end of September – the summer season.
Southern Europe is generally expensive because the Mediterranean is one of the most popular sailing destinations. Moreover, in the high season, most locations are crowded with tourists and so are the marinas where you can rent a slip or a berth.
The western countries such as France, Italy, Spain are more expensive than Greece for example. The annual mooring costs in France vary between €135 and €1350 / m per year (€45 to €450 per ft), the most expensive port being Old Port of Saint Tropez, which is double in price compared to Port of Cannes.
The prices in Italy range between €285 – €1350 / m per year (€95 to €450 per ft).
The mooring fees in Croatia are substantially higher than in Greece. In Croatia, yacht berthing or mooring fees range between €435 – €1050 / m per year (€145 to €350 per ft.) for a high season contract. 
Greece annual fees are between €225 – €525 / m per year (€75 to €175 per ft.).
Monaco is one of the most expensive destinations. A berth in Monaco costs about €1500/ m per year.
Check below the most expensive marina mooring fees in the following popular Mediterranean destinations for a 10 m boat. Some of them (Marina Capri, Port of Saint Tropez, Port Hercule, Ibiza Magna) are the most expensive marinas in Europe.
So, these are the marinas with the highest mooring fees for each country.
In the USA, mooring and slip costs for regular docks vary between 12$ to 50$/ft per year. Popular locations such as Los Angeles, or Florida have higher yearly rates which start from 120$/ft and may reach up to 240$/ft. For transient mooring, the docking fees are not calculated based on the boat's length and are 30$ on average.
Things to Consider When Picking a Mooring
When picking a mooring, there are different aspects you should take into account:
– the time of the year you want to go on holidays as prices vary accordingly
– the time of the day when your docking place is available based on the tide
– how much intimacy you want: a water mooring or anchorage enables you to enjoy the sea and the surroundings, on the other hand, a slip in a marina grants you access to many facilities
– each marina's policy; some only allow you to dock if you pay a membership fee.
Some of the basic terms you will hear in the nautical field are mooring, docking, anchorage and berth. They all refer to the same act of securing your boat in a fixed place, but let's see the differences.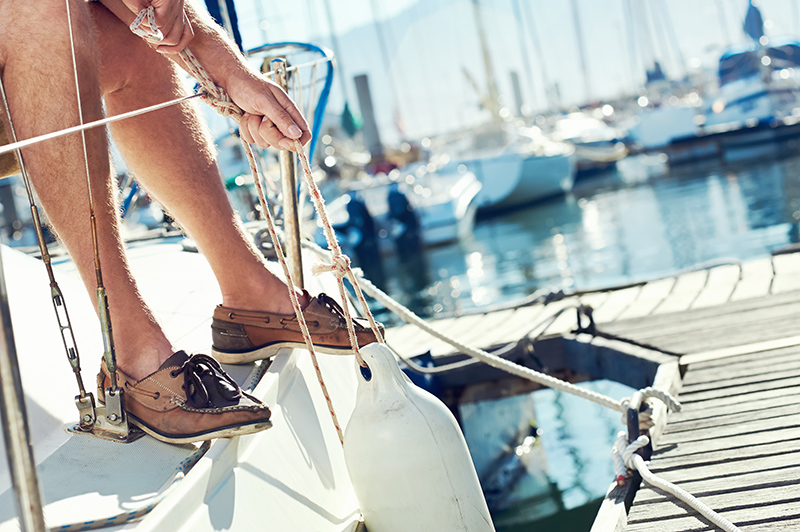 When you moor your boat, you can use an anchor to secure it against the seafloor or buoy. A mooring is a permanent place where you do this. This method allows you to keep your boat steady in one place but doesn't enable you to access the land directly. To do this, you'll need a dinghy.
Anchorages are places where boats may drop their anchors. Just like moorings, they don't provide direct access to the land. but they don't provide a permanent anchorage point either. Each boat uses its own anchor. Check out the best boat anchors.
Docking ensures direct access to the land. When you dock, you secure your boat to a fixed spot on the land. To dock, you need docking lines. The designated place where you secure your boat in a dock is a slip or berth. By analogy, docking a boat into a slip is like parking a car in a car parking.
Permanent mooring and transient mooring
If you book a docking place for the entire season, you get permanent mooring. If you book a berth per day, you get transient mooring. As you now know, there are different methods of keeping your boat steady in the water. With a little bit of practice, in no time you will be able to make the difference between mooring, docking and berthing and to maneuver your boat according to each scenario.
Berths are probably the best option if you want the maximum degree of safety and comfort. In a marina or harbour, you can find berths for any exigencies and people who are ready to assist you while mooring.
Advantages of Annual Berths
Annual berths mean that you pay an annual fee to dock your boat. The advantage is that you will pay 3 to 4 times less than you would if you rented a berth per day. Depending on the type of vacation you are planning, you might want to opt for an annual berth or not. If you plan on spending the whole time in one place, this is the best and cheapest option. Nonetheless, if you want to sail from place to place, the costs of turning back to the same docking place might be too high. In this case, transient mooring is the only choice. 
Premium services are available at different marinas. Some examples of such services are maintenance, repairs, fuel station, on-site cafés/restaurants, laundry service, Tv, Wi-Fi, wintering storage etc. If you opt for the latter, the marina will take care of your boat in the cold season, by pulling it out of the water, cleaning and storing it.
The more services are included in a marina's 'menu', the higher its rates will be. However, docking at a well-provide marina might cover all your needs during your holiday
Yes, it is possible. If you want to make a berth yours, you can buy it. Not all marinas provide this opportunity, but many do. The prices vary of course based on the location of the marina and the services it provides. Buying a berth can tackle forever the problem of keeping your boat safe. Then again, this might only be an option if you like to spend a lot of time in the same area.
If you want to reduce your docking costs so that you can spend more time at sea, go in the off-season. In this period, mooring fees are up to 70% lower.
In case you own a catamaran, note that these boats may be even 20% more expensive when it comes to docking. This is due to their larger size.
Many marinas offer additional services except for the basic package: slip, water, electricity. Of course, all the additional facilities imply extra costs. In many marinas, you are also asked to pay a deposit. Also, it's important to note that availability in the peak season is problematic especially in the Mediterranean. Therefore, you should book a berth in time to make sure your place is secured.
Docking and mooring fees are something you must definitely consider before buying a boat because together with it come more responsibilities. There are plenty other details to discuss regarding mooring costs. But it's easier to contact us directly once you chose the location you want to sail to. Based on it, we will offer you customized advice.